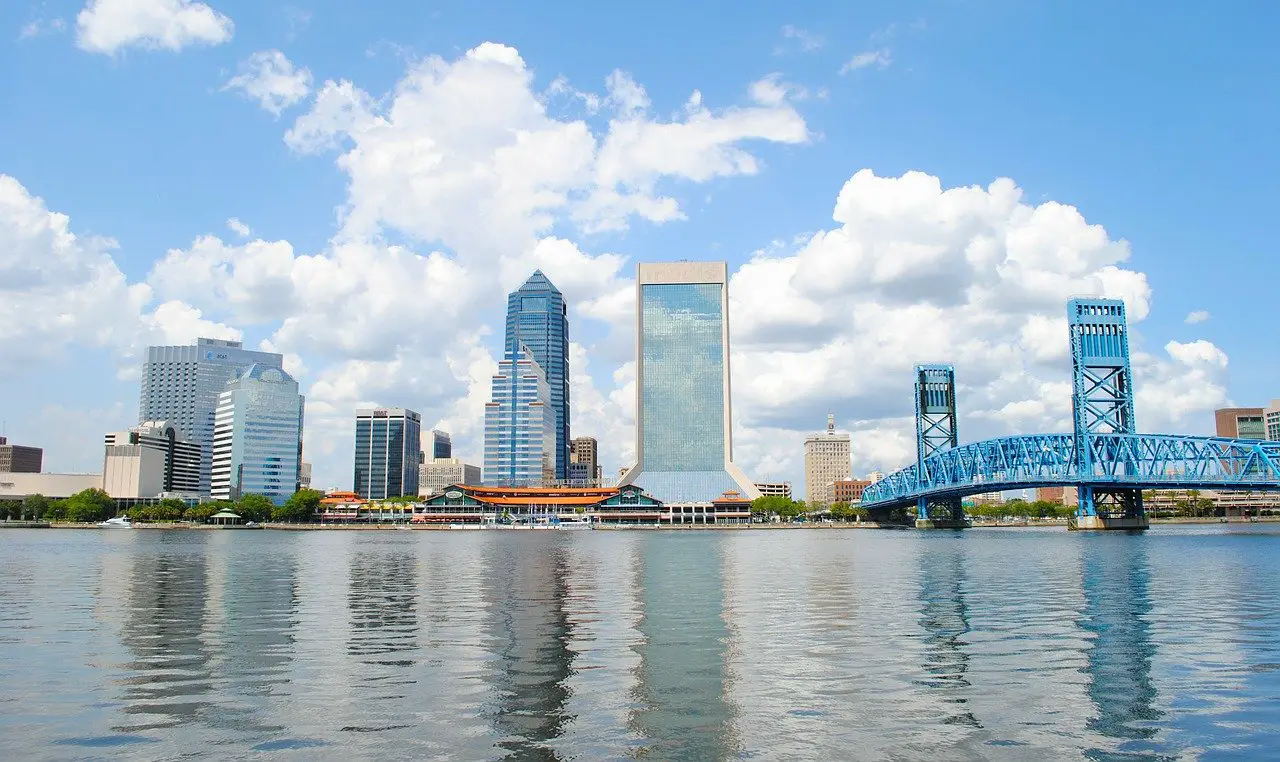 Jacksonville is the best place to live compared to Albuquerque or ABQ. It has a low unemployment rate, great neighborhoods, and recreational activities. In contrast, ABQ offers you pleasant weather along with its fantastic city attractions.
The First Coast or Jax, for most people, is the largest city in the continental US. With its area of 875 miles, Jax boasts about its stunning coastlines, world-class restaurants, and many more.
On one side, Albuquerque is a charming city on its own. It is rich in history, full of attractive vistas, and amazingly has an established art scene.
Both cities offer you unique living experiences. Hence, to get to know them more, here's how we compare Jacksonville against ABQ.
What are the Pros and Cons of Jacksonville vs. Albuquerque?
Living in Jacksonville and Albuquerque has corresponding advantages and disadvantages. Jacksonville is great for green urban spaces, while ABQ is for hot air balloons. Transportation is poor in Jax while more affordable in ABQ.
Jacksonville Living
Pros
Urban parks and green spaces

If there's one thing to like about the city, it is its record for having the country's most extensive urban park system. Jacksonville has over 80,000 acres of land and manages more than 262 designated parks.

The city has a sizeable green space to enjoy a quiet area. The parks are the perfect way to spend a weekend with your family. Morning and afternoon walk is possible when you choose to live in the city.

Beach everywhere

More than green spaces, Jax has a stunning display of endless coastline. When you drive minutes from downtown Jax, a 22-mile white sandy beach is waiting for you to explore. You can choose from Neptune Beach, Atlantic Beach, and Jacksonville Beach.

It is easy to soak in the sun, play with water, and enjoy the city's beautiful scenery. When the sun sets, nightlife starts in this part of the city. You'll find yourself enjoying the city life day after day.

Proximity to other major cities

Jacksonville is the best place to live if you want easy access to other major cities in the US. One of the most excellent parts of residing in the Jax is its convenient location and a gateway to other areas.

The city is near Georgia, Atlanta, Miami, Naples, and Orlando. It is a massive advantage for the residents, as they have plenty of places to look for employment. The location is very desirable for young professionals, too.

Sufficient number of learning institutions

If you are relocating with your family and have kids, you will never run out of options to find a good school. The city has more than 300 learning institutions to enroll your children. 60% of them are public schools, while the rest is private.

The city has the University of North Florida, Jacksonville University, The Art Institute for higher learning. Jax is an excellent place for receiving a quality education.

Competitive job market

Looking for a job is also easy when you move to Jax. The city is exhibiting positive growth in the employment sector. It is even home to some Fortune 1000 and Fortune 500 companies that provide jobs to the residents.

It offers finance, logistics, hospitality, and retail opportunities. You will have job opportunities to choose from that corresponds to your skills set.
Cons
Transportation

One of the weak spots of Jacksonville is its transportation. The city does not have a comprehensive public transportation system. Since it is a large city in Florida by land, public transportation must also be a priority.

It will take you longer to go from one place to another because of the distance you need to take. If the city had a reliable mass transit system, commuters would not be an issue.

Crime rate

Jacksonville is consistently ranking at the top when it comes to the crime rate in Florida. The city is still improving its peace and order regulation to make it safer.
Albuquerque Living
Pros
Cultural melting pot

ABQ has a higher degree of cultural diversity compared to other cities. There is a mixture of Mexican, Hispanic, and Native American in this part of the US. With this diversity, art, culture, and lifestyle became incredibly interesting.

Clean Air

Another thing to love about the city is clean air. ABQ has the lowest rate of air pollution with fewer particles and harmful substances. Since it is a big city surrounded by mountains and natural blessings, you can breathe in its clean air.

Sunshine everywhere

Albuquerque is the top choice if you are looking for a city with lots of sunshine. The city gets 310 of sun every year. Then, the rest are cold days.

It is easy to go and move around the city daily with this pleasant weather. Your days are more predictable where you can plan your schedule.

Beautiful mountains and landscapes

It is easy to fall in love with the city because of its natural beauty. ABQ is blessed with beautiful sites and stunning landscapes. For instance, the town has a panoramic view of the enchanting Sandia mountains. The scenery changes color throughout the day, from pink to purple or green to blue.

Lower traffic level

Getting around the city is super convenient. It even ranked as the 7th best city in the US for the public transport system. The level of traffic is low with helpful road signs for following. Commute time is also faster in ABQ, with an average of 21 minutes per travel.
Cons
Minimum wage is too low

The city is offering one of the lowest minimum wages in the country. It is hard to earn a decent amount of living given the rate provided by the state government. It is the same experience as most cities in New Mexico, too.

Struggling job market

If you are searching for work, you will likely experience difficulty. There is a higher degree of unemployment rate in ABQ. The state ranks at the lowest in the US for job creation, too.

ABQ might not be desirable for those who consider employment a significant factor in moving to a different city. Even though it has an affordable cost of living, the city offers a lower minimum wage like other cities in New Mexico.
Jacksonville or Albuquerque – Which is cheaper?
Jacksonville and Albuquerque have costs of living lower than the national average. However, between Jacksonville and ABQ, the latter is cheaper. The cost of living in ABQ is 3.7% cheaper than in Jacksonville.
| | | |
| --- | --- | --- |
| Living expenses | Albuquerque | Jacksonville |
| Housing | 88% | 78% |
| Food & Groceries | 96% | 99.2% |
| Health | 79.8% | 100.2% |
| Utilities | 97.2% | 102.8% |
| Transportation | 89.4% | 101.4% |
Data is based on 100 = US National Average
>100 means more expensive than the national average
<100 means cheaper than the national average
Housing Cost

Jacksonville is cheaper than ABQ in terms of housing costs by more than 10%. The median home price in Jax is $231,800, while $257,400 in Albuquerque.

The real estate market is still affordable and below the national average. But it is also exhibiting growth in housing prices. Jax even ranked as one of the top cities to buy properties in 2021.

Utility Cost

The cost of utilities is lower in ABQ than in Jax. Energy bills cost around $142.85 per month in Albuquerque, while $154.48 in Jacksonville. Telephone bill is also higher in Jax with $164 monthly cost while only $152 in Abq.

Food & Groceries cost

Food is also more expensive in Jacksonville than in Albuquerque. A loaf of bread can cost $3.34, a gallon of milk at $1.95, and a carton of eggs at $1.82. While $3,16 for a loaf of bread, $1.84 for milk, and $1.72 for eggs in ABQ.

You can save more in daily expenses with these prices when you choose ABQ over Jacksonville.

Transportation Cost

You will observe a significant price difference between Jacksonville and Albuquerque in transport.

There is a 13.4% variance in the transportation price between the cities, with Jax being higher.

It is due to the poor public transportation in Jacksonville, given the size of its land area.

Health care Cost

Healthcare is also more affordable in Albuquerque. You will pay 25.6% more for healthcare services in Jacksonville compared to ABQ. However, both offer healthcare costs below the national average.
Is Jacksonville bigger than Albuquerque?
Jacksonville is bigger than Albuquerque, with a land area of 874.3 square miles, while 189.5 square miles in ABQ. Jacksonville was also the largest city by area in the contiguous United States in 2020.
Jax also holds the title of being the largest city by land in Florida. It placed 12th among the top cities by population according to the 2020 US Census.
On the other side, Albuquerque is the largest city in the State of New Mexico by land. It is also one of the hugely populated cities in the states and ranked 32nd across the entire country.
Is Albuquerque safer than Jacksonville?
Jacksonville and Albuquerque have crime rates above the national average. Jacksonville has 33.9% violent crime recorded, while 51% in ABQ. Statistically speaking, Jacksonville is safer than Albuquerque.
Crime exists in most parts of the city, especially in the downtown. The town even ranked 5th in the US for the number of violent crimes recorded. More than violent crime, Albuquerque also has an ongoing issue with property crime.
The existence of crime can be attributed to the current unemployment issue. There is also a record of substance abuse in the population. The lack of police presence or shortage is a contributing factor, too.
On the other side, Jacksonville exhibited a reduction in crime rate in the past years. There are even neighborhoods in the city completely safe to raise a family.
Is Albuquerque warmer than Jacksonville?
Jacksonville and Albuquerque have a reputation for being warm cities. Both experience more sunny days than the rest of the United States. Nevertheless, Albuquerque is still friendlier than Jax by a certain degree.
The weather in Albuquerque is ideal for hot air balloon activities. Conditions like wind and air temperature are optimal for this kind of activity.
In comparison, Jacksonville also experiences long, hot, and oppressive summer conditions. Approximately, the city exhibits 221 sunny days every year. It is a perfect summer getaway in Florida, given its coastlines and stunning beaches.
Is Jacksonville better than Albuquerque?
Jacksonville is better than Albuquerque on many levels. Jax has a better job market, safer, and offers plenty of opportunities for quality living.
Moving to Jacksonville is easier compared to Albuquerque. There is a bigger chance of getting a job, and has many ways to raise a healthy family. With lots of green spaces and learning institutions, you will find the city the perfect place for you.
Plus, Jax has a strategic location that gives you access to other big cities in the state. If you like to see other places outside the city, it is easy to go to Naples, Atlanta, or Georgia.
Albuquerque vs. Jacksonville – Where are you moving to? Let me know your thoughts.