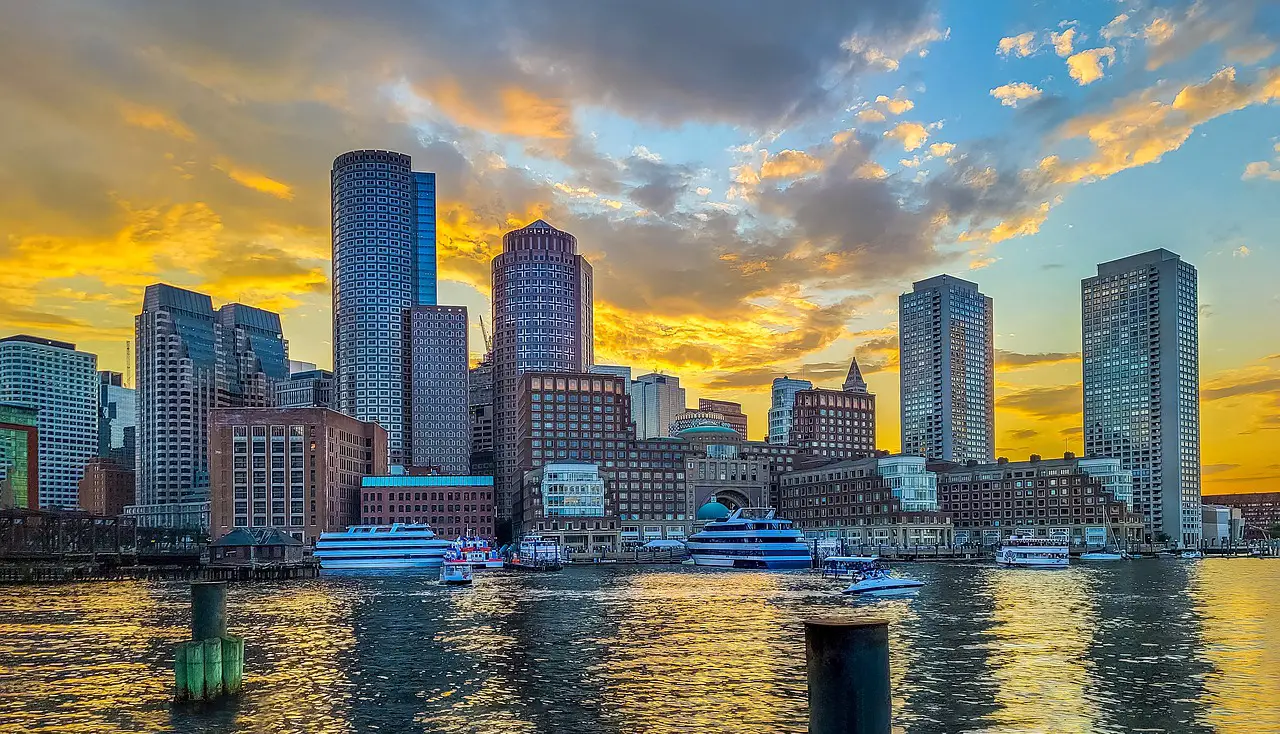 Boston is a better place to live in compared to Albuquerque. It has a small-town vibe but with all the perks of city life. On one side, Albuquerque offers you urban living close to the beauty of nature.
Boston City is a gateway to world-class schools, a diverse culinary scene, and an excellent health care system. It is the Cradle of Liberty with several historical and cultural offerings.
Comparatively, Albuquerque is a cultural center of New Mexico. It is famous for its stunning landscapes, cultural celebrations, and amazing sceneries.
Both cities offer a different way of life. But when it comes to a better quality of life and opportunities, Boston scores higher. Find out why, in this city comparison.
What are the Pros and Cons of Boston vs. Albuquerque?
Boston is an expensive city with excellent schools, a top-notch health care system, and plenty of opportunities. On the one hand, Albuquerque is an affordable city with a struggling economy and high crime rate.
Boston Living
Pros
Exceptional schools

Boston is home to Ivy League schools like Harvard, Cambridge, and MIT.

The city has several other prestigious universities, including Boston College and Boston University.

The country's top-notch and high-ranking universities are all in the city of Boston.

Even its public education system is just as impressive. The Boston public schools district caters to 125 schools with diverse populations. The school district has learning programs and curriculum that can benefit your children.

Highly developed health care system

Aside from excellent universities, Boston can boast about its health care system. The city is also home to the 3rd best hospital in the United States – Massachusetts General Hospital.

You will get exceptional health care service when you choose to move to Boston. The city offers innovative medical services. It also employs the top doctors, surgeons, and experts in the United States.

Accessible location

Living in Boston means being close to top destinations in the Northeast. You have easy access to famous beaches and other vacation spots. It is a great central location for travel.

You can also access major metros, including New York and Philadelphia. It is not difficult for you to go from one city to another when you live in Boston. You have the opportunity to visit the Maine coast, the slopes in Vermont, or a road trip to NYC.

Cultural entertainment and exciting activities

You have plenty of exciting things to do in the city. You can embark on culinary exploration, given the city's impressive food scene.

Seafood is plenty in this part of the Northeast. You can have the best-tasting clam chowder or lobster rolls.

Cultural entertainment is thriving with the Museum of Fine Arts and 58 more museums. For historical immersion, there is the Freedom Trail open for visit. The Charles River or Boston Public Garden is great for outdoor enthusiasts.

Sports culture

Boston is also home to several leading teams in sports. The city has the Patriots (NFL), Bruins (NHL), Celtics (NBA), Red Sox (MLB), or Revolution (MLS).

You can always wear the Boston City pride when you see these sports teams winning gold. The love for professional sports is very evident in the city. Thus, sports entertainment is thriving in Boston.

High walkability score

Getting around on foot in Boston is doable. It has a high walkability score where people go places by walking alone. Half of the residents do not use cars due to the reliable transit system and walkability.

Thriving job market and employment opportunities

Boston has a prolific job market, and finding a job would not be difficult. Big companies like Amazon, Google, Pfizer, and Microsoft boost the job rate in the city. Several industries like finance, education, and start-ups have available positions to offer.
Cons
High cost of living

One of the significant considerations before moving to Boston is the cost of living. The cost of living is way higher than the national average. It can go as high as 47% more, depending on the neighborhood and location.

Living in Boston is even more expensive than other big metros in the US like Chicago, Los Angeles, or Miami. The monthly rent can go as high as $3,500 in a mid-range location.

Extreme weather conditions

The cold weather can be brutal that goes below zero degrees. When the winter months come in Boston, it is necessary to dress in layers. It also applies during summers where the temperature can be scorching without using an AC.
Albuquerque Living
Affordable cost of living

If there's one thing ABQ can always boast about is its affordability. The cost of living is 5% below the national average. You can buy a house and property with your $200,000. Compared to Boston, the housing rent can heavily impact your monthly budget.

Small town living with plenty of cultural attractions

Living in Albuquerque means immersing yourself in Native American and Spanish heritage. You can visit the Old Town, which is the epicenter of ABQ.

It is a 1o-block neighborhood showcasing the old way of living. Then, the San Felipe de Neri Parish is a towering ancient adobe structure. Indian Pueblo Cultural Center, on one side, is a learning spot about Native Americans.

Proud of indigenous roots and heritage

If Boston is the Cradle of Liberty, ABQ is the heart of the Native American community. The city is a loving home to more than 5% of the Native American population. Several tribes reside in not more than 19 pueblos of the town.

Natural beauty at its finest

You will immediately appreciate the beauty of nature once you move to Albuquerque. You can spend time outdoors given that the city has the Sandia Mountains and the Rio Grande. These two major attractions are within minutes of downtown.

The Elena Gallegos Open Space and the Paseo del Bosque Trail offer the best hiking activity. It also has a BioPark with a botanic garden, aquarium, zoo, and Tingley Beach.

Craft beer and the city's regional cuisine

ABQ has a distinct take on New Mexico's regional cuisine.

It is a satisfying blend of Mexican, Spanish, and Native American flavors.

The El Pinto Restaurant, Cocina Azul, and Sadie's of New Mexico offer you a classic culinary experience.

Craft beer and breweries are also abundant in the city. The Marble Brewery, Tractor Brewing, and Bow & Arrow Brewing offer the finest craft beer in ABQ.
Cons
Crime rate

The crime rate is a massive letdown of the ABQ. It is one of the worst among the urban cities in the United States. The crime rate is way above the recorded national average and exhibits an upward trend. It ranks in both violent and property crime.

Education system is a huge fail

The education system needs improvement, especially the public school system. In terms of graduation rate, the city has the lowest. Students in ABQ barely finish high school contributing to the low graduation rate.
Boston or Alquerque – Which is more expensive?
The cost of living between Boston and Albuquerque is incomparable. In Boston, the cost of living is 68.9% more expensive than in Albuquerque, New Mexico.
| | | |
| --- | --- | --- |
| Living expenses | Boston | Albuquerque |
| Housing | 260.6% | 88% |
| Food & Groceries | 111.4% | 96% |
| Health | 89.7% | 81.1% |
| Utilities | 116.8% | 97.2% |
| Transportation | 131.8% | 89.4% |
Data is based on 100 = US National Average
>100 means more expensive than the national average
<100 means cheaper than the national average
Housing cost

Housing cost is prohibitive in Boston compared to ABQ. You need to spend $667,000 for a property purchase in Boston, while only $257,400 in ABQ. The price is almost comparable to other big cities like Miami, Chicago, and Los Angeles.

The price gap is exceptionally huge and around 196.1%. You will be able to buy two properties in ABQ with the kind of investment required in Boston.

Utility cost

The price of utilities is around 20% more in Boston than in ABQ. Given that Boston is a metropolitan city, the price difference is evident.

Food & groceries cost

Food and groceries are also more expensive in Boston than in ABQ. Food is 24% more expensive in Eastern Massachusetts than in the rest of the country; you have to pay more in Boston than ABQ. It is even one of the most expensive cities in the United States to eat.

You need $350 a month to have decent food on the table when you choose to live in Boston. Compared to ABQ, food cost is even 4% less than the national average.

Transportation cost

Transit cost is also costlier in Boston than in ABQ. You have to pay 50% more in transportation when you move to Boston than to ABQ.

Even if Boston has a high walkability score, you still need public transit when going to places. Parking fees are also higher in this part of Massachusetts that can go from $2 to $4.

Health care cost

For health care, you will also spend more in Boston than ABQ. Medical services are 12% more in Boston. It will vary depending on
whether you seek assistance from public or private hospitals. Private hospitals in Boston can also be costly.
Is Boston bigger than Albuquerque?
Albuquerque is bigger than Boston by more than 100 square miles. The city has a land area of 189.5 square miles, while Boston only has 89.63 square miles. However, Boston is more prominent in terms of population and economy.
Boston is the third most densely populated city in Massachusetts. The population can go as high as 2 million, especially during special events. The number fluctuates during workdays since residents of several towns work in Boston.
Meanwhile, ABQ has a more diverse population compared to Boston. The city's racial makeup includes Native Americans, Asians, White, Black Americans, and more. A good number of Mexicans are also part of the city's demography.
Is Boston safer than Albuquerque?
Boston is safer than Albuquerque. It ranked 13th as the safest city in the United States. On the one hand, ABQ has a crime rate higher than the national average.
The rate of crime in ABQ can be attributed to low employment, economy, and poor education system. Other factors like drugs, poverty, and financial safety impact the crime rate in the city. Drug-related crimes are rampant in ABQ, too.
On the one hand, given that life thrives better in Boston, property and violent crimes are less. If you move to expensive neighborhoods with 24/7 security, crime is significantly reduced.
Is Boston warmer than Albuquerque?
Albuquerque is warmer than Boston because of the high temperature recorded in a given year. The temperature in Boston can only go as high as 74 degrees, while ABQ can reach up to 90 degrees.
However, the weather in Boston can be blatantly extreme. Since it has a humid continental climate, summers are warmer with a high humidity level. Residents will resort to air conditioning to get through high temperatures.
Winters are also brutal in the city. The season comes with snow and ice. So, take some precautions to avoid slips and falls on the ice.
Meanwhile, ABQ has 300 days or more sunny days. Sunshine is part of the everyday living of the locals. Nevertheless, some parts of the city, like the Sandia crest, have snowfall during the winter season.
Is Boston better than Albuquerque?
Boston is better than Albuquerque. Even if the city is costly, Boston has more opportunities than ABQ. Education, employment, health, and entertainment outweigh the high cost of living in Boston.
If you want to upgrade your quality of living, choosing Boston over ABQ is ideal. You will experience everything the city has to offer. You can experience modern living along with exceptional offerings like education and health.
These areas are somewhat lacking in ABQ, given that it still has a developing economy. Thus, fewer opportunities to find employment. Nevertheless, affordability is still a significant factor to consider.
Did you find what you were looking for, or is something missing? Let me know in the comments below.