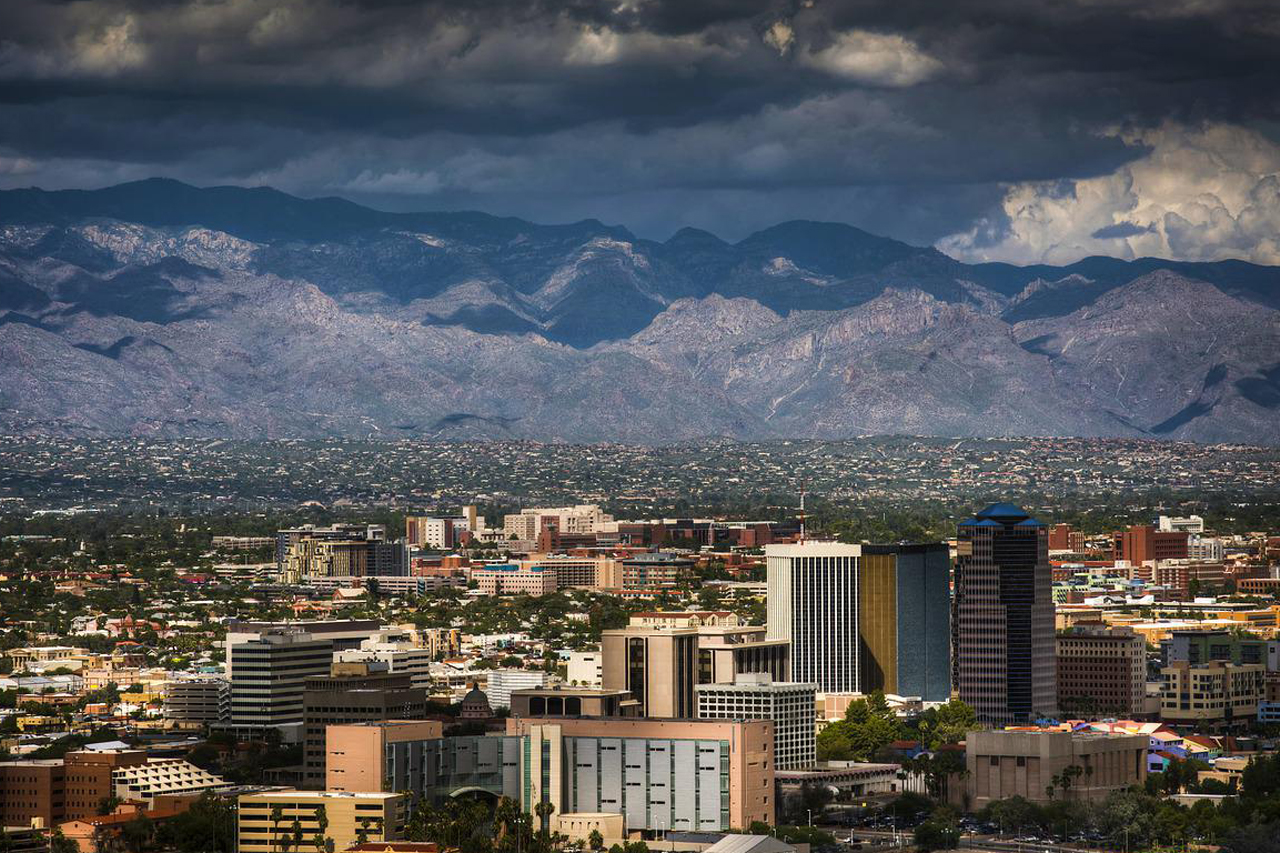 Sitting in Pima County, which is the second most populated city in Arizona, is the metropolitan of Tucson. "The Old Pueblo" houses the famous the University of Arizona and serves as a significant hub for the Union Pacific Railroad.
Tucson is well-known for its incredible Sonoran Desert, delectable Southwestern gastronomy, and some of the cleanest air in any large metropolis. This statement is true, as it also has a few hotspots and tourist attractions that are worth a weekend getaway for people under the age of 21.
If you plan a trip to this pleasant town, we have compiled a list of the top 11 best things to do here. Our guide includes some local favorites such as cinemas, museums, noteworthy arcade spots, and dining premises that should be at the pinnacle of your weekend itinerary.
1. Kitt Peak National Observatory
Tucson's most well-known educational and tourist destination is Kitt Peak National Observatory. The location is prominent for its insightful daytime trips, nighttime sky watching programs, fascinating displays, a fantastic gift shop, and breathtaking panoramic high mountain views.
Astronomer wannabe or those who love to explore the universe's wonders fit this unique sky observation deck. The observatory, which attracts millions of visitors each year and opened its doors to the public in 1958, is one of the world's largest astronomical observatories. Visitors have access to the world's largest and most diverse collection of research telescopes.
Visit the "Windows to the Universe," a new astronomy outreach facility that is innovative and spectacular. While touring this area, you can experience a new sense of wonder and enjoy a beautiful night sky. You may also go inside a working telescope, where the best views are breathtaking.
2. Playground Bar & Lounge
Tucson's booming downtown district houses several resto-bars that cater to all, and one of these is the Playground Bar & Lounge. It opened its gates to clients on January 12th, 2012, and provides the best sports streaming area, dining space, and event hosting.
You can eat inside the venue or on their lovely patio while enjoying a delicious meal from the hub menu. Age restriction wise, the outlet is for all ages until 10 PM. After 10 PM, it is 21 and over. Plus, their staff will serve no alcoholic drinks to minors.
This place might get a little busy on a Friday night but dread not because you can still spot a table here. Order from its sumptuous Hub menu and select your best meal from starters, mac and cheese, soups, fries and tots, sandwiches, greens, and mains. Brunch meals are also available, plus delectable ice cream for your dessert finisher.
3. Lucky Strike Bowl
Born on the Speedway Boulevard in Tucson, Lucky Strike Bowl is a favorite local hotspot for a great recreational experience. This ample space, primarily a bowling alley, provides a smoke-free atmosphere and family-friendly leisure activities and hosts important events. Also, the venue is one of the subsidiaries of the Vantage Bowling Center.
Lucky Strike Bowl has been serving Tucson residents since 1955 and is then one of the oldest family-owned operational bowling alleys in town. You'll never run out of stuff to do here, including over 32 bowling lanes, an arcade with classic and new games, a restaurant, a full bar, and pool tables. The place caters to all ages and all skill levels.
After playing, dive into the spot's favorite diner, a staple in every Vantage Bowling Center Premises, the Pizzano's. They offer freshly made New York Style Pizza, wings, burgers, nachos, breakfast meals, etc. There are also Mexican delectables like Cheese Quesadillas and Mini Chimi to satisfy your cravings.
4. Arizona – Sonora Desert Museum
The Arizona – Sonora Desert Museum, a famous international natural tourist hotspot, is one of Tucson's great finds. The location is a 98-acre zoo, aquarium, botanical garden, natural history museum, and arts center established in 1952 and is in the city's west area.
The nonprofit group analyzes the Sonoran Desert's evolutionary biology, plants, and living creatures and welcomes nearly 400,000 visitors each year. You can find more than 230 species of animals and 1,200 plant varieties in this family-friendly museum.
The Arizona-Sonoran Desert Museum has one of the most extensive mineral compilations globally. Small cats, such as bobcats and an ocelot, can be seen in naturalism grotto environments at Cat Canyon and a multi-species display called Life on the Rocks.
Garden, the stingray touch, Warden Aquarium, Earth Sciences Center, Mountain Woodland, and Desert Grassland are all part of the vibrant ecosystem and representation of the diverse biotic communities.
5. Roadhouse Cinemas
When visiting Tucson, film buffs should not miss Roadhouse Cinemas. This local favorite movie theater offers everyone a one-of-a-kind film streaming and dining experience. It also has some fantastic perks that make your movie streaming a one-of-a-kind experience that you should check out.
The well-known Roadhouse Cinema chain location features comfortable reclining seats in each auditorium, a full bar, and an excellent restaurant menu. Filmgoers will get too overwhelmed by its fantastic digital projection with 7.1 Dolby Digital Surround Sound, which outperforms some of the town's local cinemas.
Watching a film is best done with a meal to get the whole viewing experience. Cauliflower Wings, Burgers, Entrees, Pizzas, Salad & Bowls, and Beverages are among the appetizers available in the area.
To have a stress-free movie experience here, remember to book everything in advance, from tickets to food options.
6. Tucson Botanical Gardens
Tucson Botanical Gardens, an urban garden, is another must-see popular tourist destination in Tucson that will amaze you. The venue promotes responsible and appropriate use of plants and water in a desert environment through education and demonstration.
Tucson Botanical Gardens is a specialized orchard in Tucson that hosts rotating art shows, youth, and adult education, a diverse souvenir shop, the Cafe Botanica diner, and special events.
The Zen Garden, a Prehistoric Garden, a Barrio Garden, a Butterfly Garden, a Landscape Garden, and a Children's Garden are among the sixteen residentially weighted urban gardens on this 5.5-acre property.
The extensive collection will appeal to plant lovers, particularly those who enjoy succulents and desert things. Even on weekends, their diner serves brunch, so you'll be stuffed when you visit. Additionally, you can purchase Botanical Farm-related merchandise while also helping Tucson residents.
7. Pima Air & Space Museum
Aviation enthusiast gets a room here in Tucson for a great tourist attraction. Sitting here is the Pima Air & Space Museum, one of the world's most significant non-government-funded aviation & space museums. The showroom, which poses on 80 acres, first opened its doors to the public in 1976.
The exhibition has expanded continuously over the last four decades, encompassing six indoor showcase hangars. A showcase of nearly 300 airplanes scattered out over 80 acres on a 127-acre campus is one of its main interests.
Since 1991, it has also been the abode of the Arizona Aviation Hall of Fame. Everyone will see some of the most prominent aircraft you used to see in the sky, like the Boeing 777, Boeing B-17 Flying Fortress, and Boeing B-29 Superfortress. You get to see a McDonnell-Douglas DC-10 Flying Eye Hospital, the oldest surviving type of aircraft of its kind to be placed here.
8. Round1 Tucson
Whether you're looking for a place to visit that's all about having a good time, then Round1 is the place to go. This venue, housed within the Park Place Mall in Tucson, is a 50,000-square-foot multi-entertainment activity complex.
Round1 Tucson is among the branches of the Round1 international chain, which started in Japan in 1980 and got its first American franchise in California in the year 2010.
The hotspot welcomes everyone to dig into various fun activities, including a bowling alley, arcade games, billiards, darts, and a ping pong table. Plus, any entertainment hub would not be complete without delivering a food stall for every hungry stomach.
Spend your time here having fun because it has many Japanese games, including the classic Project Diva and Initial D racing. Classic Pizzas, Appetizers, Wings, Sandwiches, Desserts, and cold drinks are among the options for your food menu. Try your game bending skills here at Round1 Tucson.
9. The Loft Cinema
Without seeing a blockbuster film at The Loft Cinema, your winning movie theater experience in Tucson would be incomplete. This nonprofit art-house screens independent American and international movies, documentaries, classic art films, and special events.
This local favorite offers an excellent movie experience for everyone, especially families who enjoy bonding over significant movies. The 50-year establishment never disappoints viewers with its weekly and monthly events that you sure do not want to miss. A monthly short movie contest, weekend showings of cult classics, and a free monthly screening of a quintessential art film are the events you should attend at the movie theater.
Apart from its historic walls and technique of movie screenings, the site has a reputation for being multi-awarded in its industry. The Loft Cinema has also won several other awards, including the Lumies for Emerging Arts Organization and Best-Founded Arts Organization from the Tucson Pima Arts Council.
10. Gentle Ben's Brewery
Gentle Ben's Brewery will appeal to those under 21 because it is family-friendly and has a pleasant atmosphere. This brewpub, located inside the Main Gate Square, offers a variety of custom beers for those of the legal drinking age and brew-friendly devours and patio seating.
This place, founded in 171 and located in the heart of the University of Arizona, serves award-winning craft brews and bites to locals. It also has event spaces for group dancing or monthly DJ activities. Undoubtedly, most patrons here are students from the University.
If you're in Tucson or just passing through, don't miss out on a brunch at Gentle Ben's. Chicken Wings for appetizers, Lizzy Salad, Fish Tacos, California Burger, and Beer Battered Steak are some of the local favorites. In addition, they have weekly special promotions that will always surprise your taste buds.
11. Mystery & Magic Dinner Theater Playhouse
Tucson's only dinner theater is the Mystery & Magic Dinner Theater Playhouse. This one-of-a-kind venue combines a delectable 3-course candlelight dinner delivered by actors, a highly amusing murder mystery 3-act play, and a magic show. Furthermore, it allows the audience to participate in a unique experience available only in town.
The Mystery & Magic Dinner Theater Playhouse, which opened in 1989, has over 27 years of magic and dinner theater experience and brings the best live entertainment to the people of Arizona. It garnered a reputation among Tucson's top locations for an unforgettable date night. You can undoubtedly have a memorable Friday night here.
Witness the mystical fingertips of Ross the Magician, the show's headliner and an achieved expert magician who has performed in some of America's most famous locations. Bring your family members and enjoy yourself here.
The Old Pueblo is home to more than just the beautiful Sonoran Desert; it also has several unique and exciting hotspots worth visiting on your Arizona weekend trip. Experience a one-of-a-kind journey in the southern part of Phoenix, especially for those under 21 who want to relax and discover new things in Pima County's vast space.
We had a lot of fun putting together our top picks for our Tucson guide. We appreciate it and hope you enjoy it as much as we do!
It's also an incredible option for you to share your ideas with us. Please leave your suggestions in the comments section if you have anything in mind that you believe we might have overlooked. Stay safe!