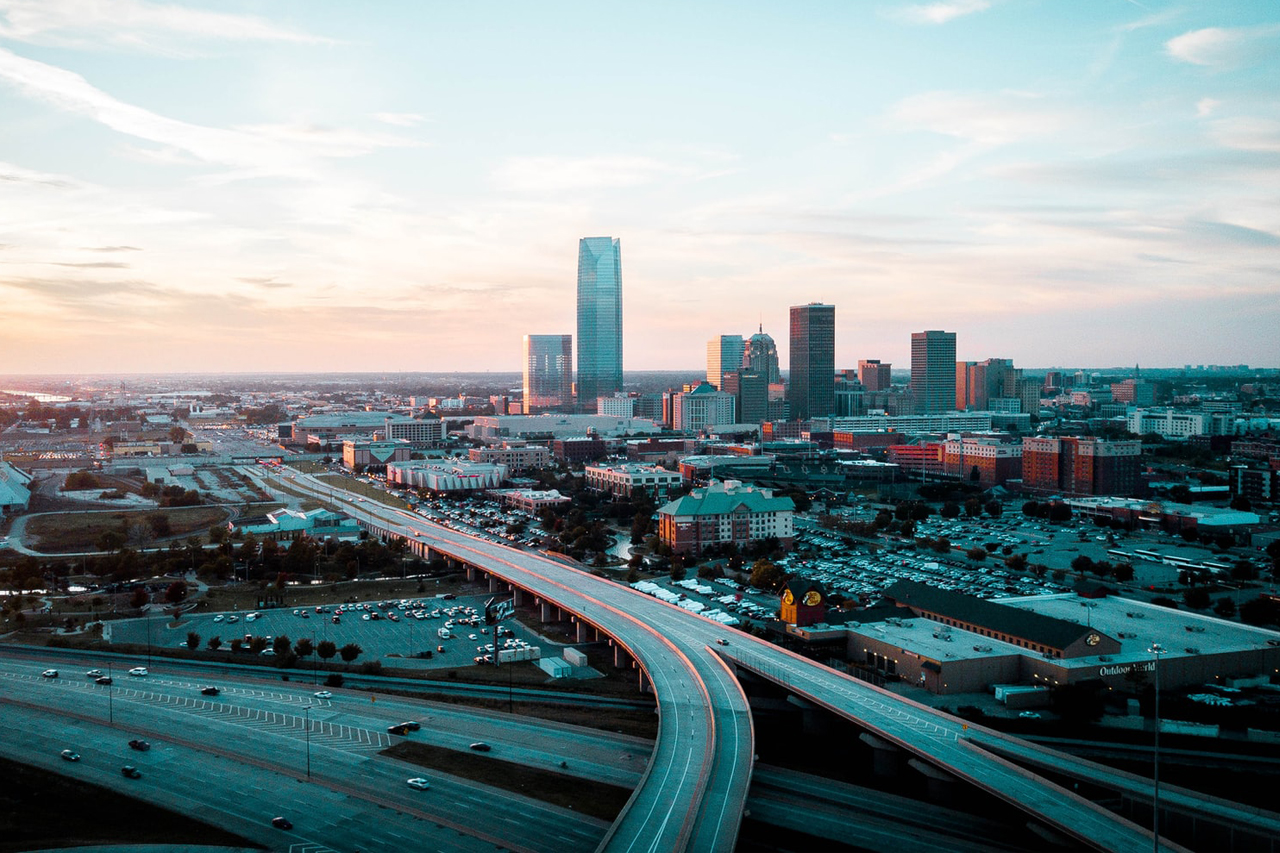 Oklahoma City is at the core of massive urban development with a dynamic environment and hospitable locals. It is Oklahoma state's capital city and has a growing population annually. Due to the city's vast land area, suburbs and metro areas cover 6,000 kilometers.
Besides being named The Horse Show Capital of the World and the third largest metropolis in America, OKC's Southern charm and top-rated museums captivate tourists worldwide, even those under 21. It has a history, art, parks, culture, entertainment, and cowboy atmosphere that are only admirably distinctive in Oklahoma City.
Navigating Oklahoma City without an exact plan and location to explore may be difficult, especially for tourists. Our guide provides a variety of things to do in OKC for individuals under 21. We've compiled a list of tourist spots that cater to different tastes and personalities.
1. Science Museum Oklahoma
Founded by Admiral John Elson Kirkpatrick on December 16, 1958, Science Museum Oklahoma was first known as the Oklahoma Science and Arts Foundation. Located in State Fairgrounds, the Science Museum Oklahoma aims to enrich people's lives by unveiling the relevance and wonder of science.
You will never run out of science-related things to do in the Science Museum of Oklahoma. Today, the museum now has more than 390,000 square feet of collections: historical, arts, and hands-on science experiences. Exhibits, Smart Space, The Science Shop, Kirkpatrick Planetarium, and Science Live are among the activities you can traverse inside.
Oklahoma City is the only metropolis in the USA that can claim astronaut involvement in NASA's space program at every stage. With this in mind, never miss out on the Science Museum Oklahoma's Destination Space. This activity provides an introduction to anything related to space. It has a Mercury Capsule Stimulator and the legendary Apollo program's history.
2. Frontier City
Frontier City is a Wild West-themed park established in 1958. Its features include a ghost farm, a mining train, robberies, jails, and gunfight shows when it first opened. Six Flags operates the amusement park, yet the EPR owns it. It soon became a favorite tourist destination for local families and tourists.
The amusement park is on Service Rd, Oklahoma City, offering a variety of rides like water rides, kids rides, thrill rides, and family rides. Some of the rides featured in the park are Soaring Eagle, Steel Lasso, Silver Bullet, Renegade Rapids, Gunslinger, Diamondback, and Winged Warrior. Additionally, Frontier City has live shows, restaurants, shops & gifts, and a merch store.
Don't miss the opportunity to play Frontier City's Quick Draw. Here, you can capture the nefarious robbers with an electronic gun. Besides this, add the Wild West Gunfighter Stunt Show to your list. Grab the chance to witness an action-packed stunt show in Frontier City. These two activities highlight the wild west culture of Oklahoma.
3. Oklahoma City National Memorial & Museum
Built after the tragic terrorist attack in Oklahoma City in 1995, Oklahoma City National Memorial & Museum honors the memory of the survivors, victims, and rescuers. It is a peaceful memorial located at 620 N Harvey Ave, Oklahoma City, OK 73102. The tragedy happened when a moving truck full of explosives detonated close to the Alfred P. Murrah Federal Building, killing 168 people.
The building formerly stood site turned into a monument for the victims. Oklahoma City National Memorial & Museum is among the most impactful and touching museums you will ever see. Visiting the area helps you learn about the arduous route locals took to bring about justice, healing, and lessons learned over the years. Explore their collections, archives, and galleries in silence during your visit.
Oklahoma City National Memorial & Museum's Survivor Tree is an American elm tree that witnessed and endured the entire attack. The tree is still standing and thriving, making it a symbol of resilience. The Survivor Tree is an integral symbol of the tragedy and new beginnings in the area.
4. Castle Falls
Castle Falls is an aesthetically notable structure modeled like a Normandy Castle. The original owner Bill Blecha created the castle from salvaged Oklahoma City building relics during the 1920s and 1930s. It all started with Blechas's fascination with castles towards the end of World War I. He promised himself to build one in the city of Oklahoma, and yes, he did it.
It has been 17 years since Castle Falls started its business. The building evolved from the historical wishful thinking of Blecha into an upscale European restaurant in Oklahoma City. The old-world style of the restaurant helps it develop into a venue perfect for weddings and tourists or locals dreaming of an intimate dining experience. Moreover, Castle Falls is a Diner's Choice Award Winner: Top 100 Most Romantic Restaurant in the U.S.
Besides getting fascinated with Castle Falls' charm, don't miss the chance to eat at The Cellar. It features an intimate, casual dining experience for a group of 9 people. They serve an appetizer, soups, salads, entrees, and desserts. Indeed, dining in this restaurant will feel like eating in a castle somewhere in the United Kingdom.
5. Oklahoma City Zoo
Situated in the Northeastern part of OKC, Oklahoma City Zoo is also a botanical garden that spans over 119 acres. The zoo first opened in 1904 in Wheeler Park. Oklahoma City Zoo's first animal was a deer fawn and only consisted of 125 animals by 1909. It is now the state's largest and most famous cultural attraction.
With over 1,500 animals, the Oklahoma City Zoo is among the best zoos in the nation. It may take you half a day to finish touring and strolling the area because of all the zoo's activities. Camel Rides, Elephant Express Train, Giraffe Feeding Platform, Rhino Feedings, Sea Lion Presentations, Stingray Bay, Safari Cart Tour, and Endangered Species Carousel are some of the adventures you can try.
What makes a trip to the zoo more exciting is the chance to encounter animals in person. The Oklahoma City Zoo offers Wild Encounters for people of all ages. It gives the guests a chance to get up close and personal with Galapagos tortoises, grizzly bears, Indian rhinos, sea lions, bison, and Asian elephants. Guests will be able to learn more from the expert animal caretakers of the zoo.
6. Bricktown Entertainment District
Bricktown Entertainment District was once a warehouse neighborhood in the late 19th and early 20th centuries. Rehabilitated into a fun and entertainment spot for locals and tourists alike, it is now the city's historic commercial crossroads.
In Bricktown Entertainment District, you can now experience the best things to do and experience in one place. As the metropolis' premier entertainment hub, get ready to cruise along the canal, watch sports events like basketball, dine at top restaurants, do a shopping spree, see a movie, attend concerts, or stroll along the repurposed warehouses day or night.
Among the stuff to do on this site, don't miss out on exploring the American Banjo Museum and the Centennial Land Run Monument. Commemorate the history of both music and Oklahoma's heroic settlers. In the end, you'll be mesmerized by all the fun and entertaining things the place offers.
7. Myriad Botanical Gardens
Located at 301 W Reno Ave, Oklahoma City, OK 73102, OKC's Myriad Botanical Gardens is a 17-acre botanical garden and interactive urban park. Since its inauguration in 1977, the gardens have preserved multiple layers of carefully planted areas surrounding a submerged lake in the Gardens.
After a long, exhausting day of fun, take a break and relax at Myriad Botanical Gardens. There is no better area to take a relaxing afternoon stroll surrounded by greeneries, horticultural displays, and flowerbeds. You can also find fountains, path walks, and a playground in the area. Moreover, Myriad Botanical Gardens have a patio, dining area, and an ice-skating rink during the winter season.
Built from 1983 to 1985, the Crystal Bridge Tropical Conservatory is a must-visit. It has exotic animals, multiple waterfalls, palm trees, and over 750 plants housed in this 13,000 square foot tropical greenhouse. The conservatory also uses acrylic panels for better illumination in the area.
8. State Fair Park
The Oklahoma State Fair has progressed from its modest beginnings in 1907 to become one of the top State Fairs in the country. It is one of Oklahoma's large fairs, and it takes place in mid-September each year. The state fair has been an important event in the city for more than a century.
One of the events that Oklahoma residents look forward to is its State Fair. Activities and events to expect are Xtreme Bulls & Broncs, Exhibits, Chickasaw Country Entertainment Stage, The Bandshell, The PATIO, Sky Eye Park, and Disney On Ice. They also host several competitions such as Arm Wrestling and Creative Arts. If you ever plan to visit the metropolis in mid-September, don't hesitate to include Oklahoma's State Fair Park on your bucket list.
Try America's largest traveling Ferris Wheel, Sky Eye Park, in Oklahoma's State Fair. On this ride, there are 36 gondolas, and it reaches a peak of 155 feet. A view of up to 15 miles awaits its riders and comprises over half a million LED lights that mesmerize goers. If you are a fan of Disney, catch the performance of your favorite characters on Disney on Ice.
9. La Brasa International Cuisine
Chef James Vu and his family purchased OKC's historic Kamps building. The Kamps building has been a deli, nightclub, live music venue, and butcher shop since 1910. Situated at 1310 NW 25th, Asian District, Oklahoma City, inside the Kamps building, La Brasa International Cuisine finally first opened its doors in 2013.
Chef Vu presents a unique interpretation of the international dishes he has tasted. Rather than removing the building's historical grounds, La Brasa added a metropolitan feel. It also serves exceptional food, including Peruvian cuisine. La Brasa transforms from a restaurant to a live music venue late at night.
La Brasa's menu is a fusion of cuisines. The dishes you should try on their menu are Chaufas and Pollo a la Brasa y China. Both foods are Chef Vu's Peruvian interpretation of China's dishes. Make sure you include these dishes on your list of dishes to taste when you visit La Brasa.
10. Civic Center Music Hall
OKC's Civic Center Music Hall's previous name was the Municipal Auditorium. The music hall, built-in 1937, has been in operation for 85 years and celebrated its 75th Diamond Anniversary in 2012. It is known as Oklahoma's performing arts center, located at 201 North Walker Ave. Oklahoma City, OK 73102.
The music hall entertains more than a million patrons yearly at their events. A grand reception hall, three theatres, various suites, and smaller rental facilities are all located inside the walls. Most of the Civic Center Music Hall performers come from the resident companies that see the civic center as their home: Canterbury Voices, Oklahoma City Ballet, Lyric Theatre of Oklahoma, Oklahoma City Rep, OKC Broadway, Oklahoma City Philharmonic, and Painted Sky Opera.
The Civic Center Music Hall of Oklahoma is a must-visit, especially for individuals who want to witness world-class performing arts. Get engrossed and feel the rhythm of every performance. Furthermore, don't forget to check the upcoming performers on their website before booking that airplane ticket to Oklahoma City.
11. National Cowboy & Western Heritage Museum
With a mission to gather, preserve, and display a globally recognized collection of art and artifacts, the National Cowboy & Western Heritage Museum's legacy started. Founded in 1955, the museum continues to stimulate guests' interest in the American West's enduring legacy.
The National Cowboy & Western Heritage Museum is America's preeminent institution of Western history, art, and culture that gives you a peek into the Western past. It showcases an outstanding collection of classic and modern Western art, including the works of the new and old generations of artists. There are over 10 million visitors that the museum welcomes each year.
Take a tour and explore the museum's exhibits to understand the West better. Discover over 28,000 Western and American Indian relics, artworks, trophies, and photographs. Also, you'll find paintings and artifacts devoted to the American cowboy, Victorian weaponry, frontier soldiers, Native American culture, rodeos, and Western performances.
Oklahoma City is more than just a large metropolitan in the USA because of its variety of top-rated museums, amusement parks, and historical landmarks centered on its Wild West culture and traditions. The city proves that it is a must-visit tourist destination even for those under 21.
Are you ready to explore the Wild West culture of Oklahoma City? Do you think all tourist spots on this list are worth visiting? We hope that our guide has influenced you to plan your next trip to Oklahoma City.