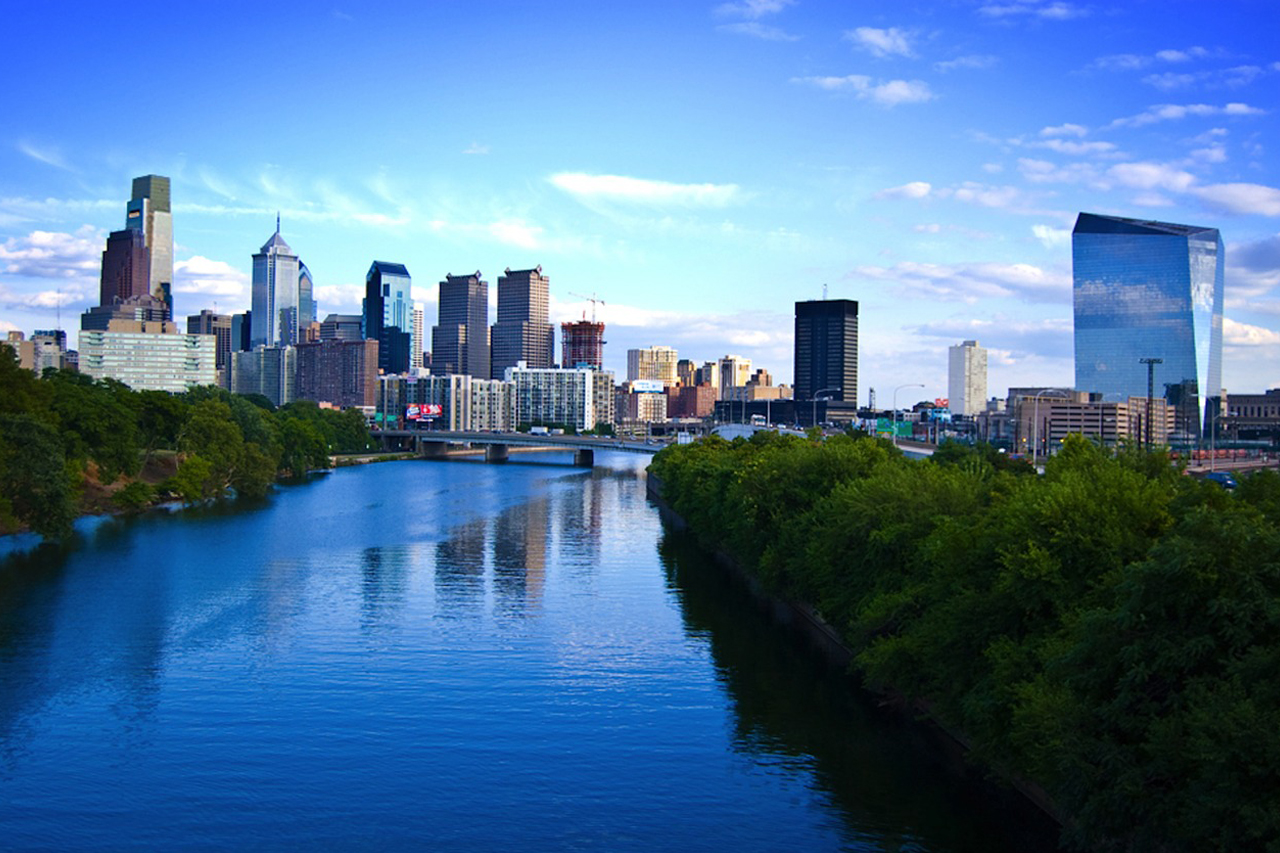 Philadelphia is an integral part of America's long history. It was the original capital city and the birthplace of the country. Since Philadelphia is also the oldest city in the United States, expect to see a lot of historical landmarks, sites, museums, and anything that relates to what America was like before.
Suppose you love to trace America's founding years and its rich history. In that case, it is only reasonable to visit Philadelphia to understand what the country was like in its early years. In Philadelphia, you won't need to rent or bring your car because the city is very walkable, bikeable, and has excellent transit.
It is convenient to go around Philadelphia without a car since the restaurants, shops, museums, and other tourist attractions are not that far. Besides its undeniable rich history, Philly also boasts up-and-coming attractions for millennials. Following are my recommendations for things to do in Philadelphia without a car.
1. Eastern State Penitentiary
The most haunting place in Philadelphia, located at 2027 Fairmount Ave, Philadelphia, PA 19130, is the Eastern State Penitentiary. Constructed in 1929, it is the world's first-ever actual prison to rehabilitate criminals through solitary confinement. The prison was also the most expensive and high-tech prison when it first opened.
The place is much the same as during its operational years, giving visitors a bone-chilling feeling. Despite the Eastern State Penitentiary's goal, it closed its doors in 1971 and has now been a public museum where people can visit for audio, guided, and haunted tours. It was also the home of two of the world's notable criminals: Willie Sutton and Al Capone.
Visiting Eastern State Penitentiary aroused my curiosity and, at the same time, gave me the chills since not much has changed since its closure. Aside from wandering the halls during the guided tour, they showed us a re-creation of Al Capone's prison cell.
2. Please Touch Museum
The perfect place to take your small kids during a getaway in Philadelphia is the Please Touch Museum. It is the ideal museum for children ages seven and below, where they can touch and experience what it feels like rather than just looking at artifacts. You can find Please Touch Museum at Memorial Hall, Fairmount Park, 4231 Avenue of the Republic, Philadelphia.
]I had a great time bringing my nieces and nephews to Please Touch Museum. We heard about it online, and the kids sure had a great time learning things through the museum's interactive exhibits. Some of the shows for kids to try here are River Adventures, Wonderland, and Happy Camper.
There are 18 permanent exhibits at the Please Touch Museum and programs to expand their learning. Woodside Park Dentzel Carousel is full of glimmer for kids who love rides with different animals, including carved rabbits, horses, goats, pigs, and stationary chariots. If you have kids on your trip, this museum is the best place to take them.
3. Betsy Ross House
Located at 239 Arch St, Philadelphia, PA 19106, is a historical house of the woman who sewed the first flag of the United States, Betsy Ross. The house is an essential landmark of the United States because of its rich history that influenced the country's unity.
Betsy Ross House is relatively small, yet there are many historical evidence and artifacts you can encounter during the tour. If you were wondering what makes it a historical site, the late president of the time, George Washington, asked Betsy Ross to sew the country's first flag to unify the 13 colonies. Thus, the flag came out to have 13 strips and 13 stars.
Besides touring inside the house, you can also visit Betsy Ross House's seasonal medicinal herb garden, gallery, courtyard, and her own grave. Don't miss the opportunity to visit Betsy Ross House, one of the country's most important historical landmarks, only found in Philadelphia.
4. Franklin Square
Established in 1683 with 8 acres, Franklin Square is among the five initial open-space city parks planned by William Penn. Situated at 200 N 6th St, Philadelphia, PA 19106, this city park is ideal for families because of its activities that appeal to both children and adults.
Franklin Square has served the locals and tourists for more than three centuries. Their restaurant, Square Burger, offers numerous delicious meals, including shakes, fries, burgers, etc. Here you can also find lots of activities to try, like a playground, Philly Mini Golf, and Parx Liberty Carousel.
You better not miss The Franklin Square Fountain Show, the city park's historic centerpiece. Franklin Square's 180-year-old fountain continues to be the park's most captivating feature, wherein people of all ages can enjoy a solemn moment watching the waters dance.
5. Italian Market
Another exciting place to go in Philadelphia is its famous Italian Market. It is United States' oldest outdoor market operating for over 100 years. Italian Market has withstood the test of time and is a haven for cooks and food enthusiasts because of its delectable authentic dishes.
Italian Market is a shopping district where immigrants worldwide sell their home dishes. It was once a place exclusive to Italian vendors. However, nowadays, you can see a variety of Korean, Vietnamese, and Mexican restaurants here. Most notably, you can find handmade pasta, sauce, cheese, oils, and chocolates from Italy.
Aside from being a food paradise, vendors at the Italian Market also know how to have fun. They have yearly events held here, such as the Italian Market Festival Procession of Saints, Free Musical Entertainment, tournaments, etc. You can check their website to see upcoming events you may want to join during your vacation in Philly.
6. Liberty Bell Pavilion
Situated at 143 South Third Street, Philadelphia, PA, is another must-visit historical site in Philly. Most tourists worldwide always include Liberty Bell Pavilion on their itinerary because of its significant role in the history of America as its symbol of independence and freedom.
Since many tourists flock to Liberty Bell Pavilion, you can expect long lines before arriving at the designated area. Here, tourists can learn more about the historical bell by looking and reading at exhibits telling its history. People believe that it rang on July 4, 1776, to mark the reading of the Declaration of Independence.
If you want to know more about the myth circulating on the crack found on the bell or to feed your curiosity, Liberty Bell Pavilion should be on top of your list when touring Philly. Do not also miss the chance to take a photo and include it in one of your most exciting memories in Philadelphia.
7. LOVE Park
Nothing beats taking photos at one of the most iconic sculptures in Philly. Located precisely at 16th Street and JFK Boulevard, Philadelphia, PA, LOVE Park attracts tourists worldwide who want to take a picture of the iconic LOVE sculpture made by Robert Indiana.
A sculpture of LOVE erected in 1976 symbolizes Philadelphia's Latin nickname, "The City of Brotherly Love." After we took a picture, we all head on a walking tour around the area to shop and dine at nearby stores. It is a popular photo-op area, but it is also a strategic location close to the city's different popular historic sites, galleries, and museums.
LOVE Park's location is so accessible that it only took us a few minutes to arrive at The Barnes Foundation. Another thing not to miss in LOVE Park is its frequent pop-up events like a Christmas Village. If you are around the area, don't forget to take a moment to indulge in the sight of the enormous iconic structure.
8. Rodin Museum
Located at 2151 Benjamin Franklin Parkway, Philadelphia, PA 19130, Rodin Museum opened its doors on November 29, 1929. Founded by Jules Mastbaum, a film exhibitor in the city, he began collecting Auguste Rodin's works in 1913, which led to the museum's creation.
Over 150 collections of Rodin's artworks of marbles, bronzes, and plasters are available here in Rodin Museum. You can also find four of the 19th-century sculptors' most famous works here, such as The Burghers of Calais, Eternal Springtime, The Thinker, and The Gates of Hell.
Furthermore, Auguste Rodin's paintings, drawings, and studies are available here. After getting fascinated with the French artist's works, I highly recommend chilling at the Garden Bar and ordering delicious meals and summer cocktails.
9. UPenn (University of Pennsylvania)
The University of Pennsylvania, also known as UPenn, is America's first university located at 3451 Walnut Street, Philadelphia, PA 19104. Founded in 1740, the university has been part of the city's precious history. The late US President Benjamin Franklin broke new ground in establishing UPenn and will always hold an influential critical role.
UPenn offers different kinds of tours that cater to the availability of any individual. They provide Campus Tours, Self-Guided Campus Tours, Virtual Information Sessions, Student-Led Virtual Tours, and Academic Programs & School Sessions. If you plan to include UPenn on your itinerary, I suggest taking their campus tours and seeing the city's oldest buildings here.
Parents seeking a university to enroll their children in or those interested in seeing the country's first institution should not miss a visit to UPenn. You can also visit the Penn Museum of Archeology and Anthropology or check out UPenn's bio-pond.
10. The Mutter Museum
A museum unique only in Philadelphia is The Mutter Museum. The museum is so bizarre that it attracts thousands of visitors yearly and earned its moniker as the "freaky museum." The Philadelphia College of Physicians owns The Mutter Museum, and you can find it at 19 S 22nd St, Philadelphia, PA 19103.
It is not a museum for everyone, but you should visit The Mutter Museum if you don't mind the creepy displays. Dedicated to an extensive collection of medical oddities, you can expect to see jars of human body parts, malignant tumors, human skulls, skeletons, boats of human skin, and other medical abnormalities captured on camera.
Among its collection of medical oddities, don't miss the chance to see sections of Einstein's brain on display here. I also saw the joined liver of the well-known Siamese twins. Head to the outdoor herb garden to get to know various healing plants on the much brighter side.
11. South Street
South Street is a famous business district in Philadelphia situated at 301 South St, Philadelphia, PA 19147. Established in 1993, South Street continues to provide a cleaner, safer, and well-managed district that helps the community. It boasts about 400 small businesses and independent shops ranging from restaurants, retail stores, etc.
People from all walks of life are welcome to come to South Street to enjoy, shop, sell, work, invest, and live. You'll notice ethnically diverse restaurants and stores while exploring South Street, which spans about 14 blocks. There is also live music and various performance venues to check here.
I am glad to have my dinner at one of the restaurants on South Street, the Emmy Squared Rooftop. I highly suggest starting your happy hour at this restaurant for those who want a scenic view of the sunset while dining. Emmy Squared Rooftop offers frozen cocktails, Detroit-style pizza, and a rooftop seating spot that completes your evening.
12. Pat's King of Steaks
Aside from its history, many people can say that Philadelphia is widely famous for its Philly Cheesesteaks. Pat's King of Steaks is the restaurant that invented the Philly Cheesesteak, so if you want to taste it, you should eat there. Located at 1237 E Passyunk Ave, Philadelphia, PA 19147, the restaurant started its journey in 1930.
The Olivieri family still owned and operated Pat's King of Steaks. The restaurant never ceases to amaze locals and tourists with its unique and original cheesesteak even after 90 years. Besides cheesesteaks, you can also order hotdogs, french fries, and fish cake from their menu.
Tasting the original Philly Cheesesteak at Pat's King of Steaks nailed my vacation in Philadelphia. If I am to visit the city once more, Pat's King of Steaks will be number one on my itinerary. I recommend trying their different cheesesteaks variety, such as pizza, mushroom, pepper, and mushroom pepper.
Philadelphia will always be one of the United States' most historic cities. However, the metropolis' charm doesn't end with its rich history. There are still a lot of attractions that are yet to be discovered in Philadelphia and will soon cater to a lot of millennials.
My getaway in Philly gave me many insights into one country's history that made it great today. I hope my list awakened the history buff in you and your fun spirit because visiting Philadelphia is worth it. Share your thoughts on Philly and discuss each one's journey by commenting below.