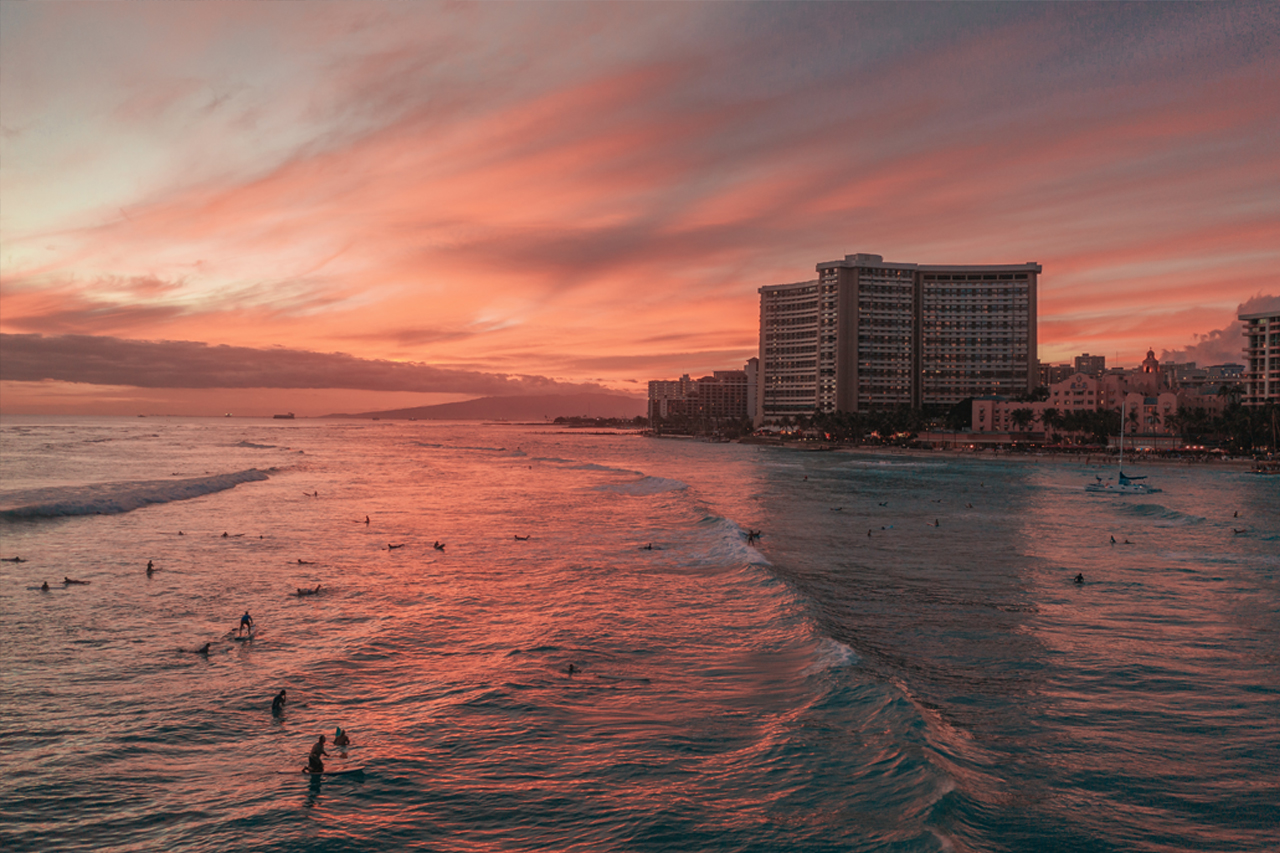 Honolulu, Hawaii, is the gateway of the United States island chain and a paradise tourist spot. This unique city is more than just home to fine beaches and a breathtaking ocean view. Scattered on the island are various beautiful places that are genuinely spot-on.
This metro area, sitting on Oahu's south shore island, offers various amenities for everyone that is too hard to resist. The sixteen kilometers stretch of the place has a wide range of beautiful attractions that can purely satisfy its guests. It has a wide array of fun things to see and do.
If you get confused about where you should start searching, we curated the top 11 best things to do for people under 21. We picked the best dining experience, arcade place, cultural spots, movie theaters, and big marketplaces in your Honolulu getaway.
1. Consolidated Theatres Ward with Titan Luxe
Consolidated Theatres Ward in Ward Entertainment Center in Honolulu's Auahi Street is one of the city's famous spots for a great entertainment experience. With thrilling shops and a diversity of restaurants and cinemas, the convenient location provides easy access to Waikiki and the island's thriving center city business district.
Titan Luxe brings you the best movie experience in its realistic effect. Guests of all ages love the ecstatic ambiance of this movie house which features luxury reclining chairs with reserved seating in all its auditoriums. The spot also has Honolulu's most significant movie screen, a comfortable seating option, and a good Dolby digital Atmos sound system.
Watching a good movie in Consolidated Theaters is best paired with a big bowl of popcorn and a cold soda sold at the film area's snack bar. Other food menu includes a Banh Mi-Style Hot Dog, Packed Baked Potato Fries, and Rice Bowls.
2. Rock-a-Hula
Rock-A-Hula is an entertainment site in Honolulu created by Legends in Concert and Star of Honolulu Cruises & Events within the Royal Hawaiian Theater. The venue features fantastic live acts, vibrant music, hula dancers, and a dinner option for everybody.
Guests of all ages, particularly those under 21, flock to the 750-seat Royal Hawaiian Theater to see a one-of-a-kind music event show performed by Waikiki's most extensive cast. The event center offers Hawaiian and Polynesian music, hula, and fire-knife dancing that you can enjoy while eating a delicious meal.
Watching a Rock-a-Hula show is best paired with stage-side dining with a full-course meal. Also, there is an opportunity to avail of the event's award-winning gourmet, from exquisite lobster and steak suppers to a luau buffet featuring a whole roasted pig.
3. Bishop Museum
The Bernice Pauahi Bishop Museum is a science and history museum in Honolulu's historic Kalihi district. Its total ownership of evolutionary biology specimens exceeds twenty-four million, with the entomological catalog alone accounting for more than 13.5 million samples. The location's moniker is also the Hawaii State Museum of Cultural and Natural History.
This building is America's third-biggest insect archive site. In addition to its international acclaim, it houses the world's most extensive catalog of Polynesian cultural relics and natural course specimens. This cultural center is ideal for children under 21 and anyone who enjoys artifacts from various biodiversity worldwide.
Do not miss out on the Jhamandas Watumull Planetarium, the Hawaii Sports Hall of Fame, and the Amy B.H. Greenwell Ethnobotanical Garden when planning to visit Bishop Museum. The Falls of Clyde, the oldest known sail-driven oil tanker, is also nearby the Hawaii Maritime Center.
4. Honolulu Museum of Art
The Museum of Art is a craftwork exhibition and archive center in Honolulu, Hawaii, located on Beretania Street. The building's collections have cultivated more than 50,000 works of art, making it one of the most significant single Asian and Pan-Pacific art collections in the United States.
Everyone enjoys the museum, especially visitors under the age of 21, because it is the largest of its kind in the state of Hawaii. This world-class establishment appeals to young people with curious minds who appreciate the diverse and unique collections of Hokusai, van Gogh, Gauguin, Monet, Picasso, and Warhol and traditional Asian and Hawaiian crafts.
It would be best if you did not miss the Doris Duke Theatre in Honolulu Museum and its extensive collection of Asian art. Art enthusiasts can also sign up at the Honolulu Museum of Art School, which provides studio art courses, workshops, and expositions.
5. Iolani Palace
The Iolani Palace, situated on King Street in Honolulu, was the official palace of the ruling elites of the Kingdom of Hawaii from Kamehameha III during the Kamehameha Dynasty to Queen Liliuokalani. It belongs to one of the National Historic Landmarks and is a member of the National Register of Historic Places.
This historical place is a haven for everyone, especially those people under 21 that appreciate the art of ruling the kingdom in the olden days. The site exhibits the delicate dresses worn by elite people during their reign. The fact that Iolani is the only royal palace in the United States premises that is open for public viewing is a must-see.
When touring the inside of Iolani Palace, do not miss the chance to see the collections of iconic historical pieces of the venue, such as sophisticated silverware, furniture, military items, and other notable materials. You can also witness special guardian training onsite.
6. The Laylow, Autograph Collection
The Laylow Autograph Collection is a Waikiki Hotel in Honolulu, Hawaii, on Kuhio Avenue. This lodging is near a busy street where you can immerse yourself in the vibrant life of the friendly neighborhood. There is an assortment of dining choices, including international marketplace, Chinatown, and Kaimuki.
This hotel is a must-see for any vacationer, especially families with children under 21. The place's friendly staff adds to the great ambiance, and they will greet you with a cup of pineapple. The venue also provides extra gifts to guests in their rooms, such as a gift basket filled with treats that children will enjoy. In addition, there is free shave ice in the pool area.
When visiting Laylow, try the Hideout enclosed restaurant, which serves Modern Hapa Hawaiian cuisine all day long in a laid-back, accessible lanai setting. After a satisfying meal, spend time strolling around the great Kuhio Avenue.
7. Regal Dole Cannery IMAX, 4DX, ScreenX & RPX
The Regal Dole Cannery IMAX, 4DX, ScreenX, and RPX on Iwilei Road in Honolulu, Hawaii, is a big film auditorium that currently displays international movies and is a member of the Regal Cinema theater circuit. It is a movie complex with multiple screens showing new releases, plush seating, and a concession stand.
The movie house is one of the best deals for kids under 21 because it offers a unique 4D experience that takes moviegoers to new heights. The location has a concession and a snack bar for your side while watching a good movie. Also, you can choose from over ten theaters in the hall.
When watching a movie at the Regal Dole Cannery, you should try the Regal Premium Experience (RPX) format. The RPX is a high-end, large-screen Regal Cinemas theater that reveals films and shows a digital form with enhanced video quality and sound system.
8. Chuck E. Cheese
Chuck E. Cheese in Honolulu, Hawaii, is a subsidiary of the American family amusement hub and pizza restaurant group founded in 1977 by Atari. The Honolulu location offers arcade machines, fairground rides, and character stage shows; former staples would include ball pits, crawl tubes, and animated character shows.
Because of its numerous benefits, this location is a fun entertainment haven for children under 21. The venue has a great arcade with new releases and great entertainment, and in-store performances for everybody to appreciate. This event center is also best with its birthday party organization.
There is always a video arcade not to miss here. Every time you play at Chuck E. Cheese, you should order their famed pizza, suitable for the entire family and one of the favorites of most patrons. In their gift shops, you can also buy t-shirts and other souvenirs.
9. Aloun Farms
Aloun Farms is a farming community in Oahu, Hawaii, which yields the most fantastic fresh island-grown produce. The farm has existed in operation for over four decades; considered one of the best on the island. This location also hosts an occasional farmer's market and is the best local farm in Hawaii.
Everybody, especially children under the age of 21, will appreciate the opportunity to see an authentic agriculture life on over 3,000 acres. Also, there are various things to do in this welcoming community, such as farm picking and other gourmet competitions and agricultural activities.
Visiting the large Aloun Farm will not be complete unless you take home locally produced products. Chinese cabbage, green beans, pumpkins, taro roots, Ewa sweet onion, and sweet corn are the farm's best-selling products.
10. Consolidated Theatres Kahala
Consolidated Theater Kahala is a local movie theater chain that opened in 1986, offering first-run movies, 3D functionality, and bargain matinees. The cinema complex in Kahala Mall has long been a fixture in Honolulu society and is one of the best film houses around Waialae Avenue.
Moviegoers, especially those under 21, will appreciate the location's unique features and cozy atmosphere. Everybody can enjoy the newest blockbuster films while taking advantage of Kahala Theatres' brand-new amenities, including deluxe recliner chairs and reserved seating.
Choosing a fantastic movie with the children will be a unique experience if paired with the cafe's delectable menu. It would be best to try their popcorn and combos and the turkey burger with fries, a popular side snack. For a healthy option, Shoyu Organic Butter Popcorn is also a must-try.
11. Ohana Hale Marketplace
Ohana Hale Marketplace is Hawaii's largest indoor retail market, the top shopping encounter in the Ward Village inside the heart of Kaka'ako, with more than two hundred retailers and fifty restaurants. The venue offers a shopping experience with various commercial shops, local produce.
Because of its funky marketplace, this large venue attracts thousands of people, tourists, and many locals under 21. The site houses a full array of goods and services in a single structure. You will go on a fabulous shopping spree inside this enormous venue.
Ohana Hale Marketplace has a variety of places to eat for people of all ages, particularly various international restaurants such as Ocean Taste, Nohea's Kitchen, and Bibiana-Fresh Korean Cuisine. Do not forget to stop by L & K Pho & Sandwiches for a tasty sandwich if you are inside the market.
There is more to Honolulu aside from its gorgeous beaches and pristine shorelines. No one can resist the charm that this metropolitan area gives to everyone. You will get a little overwhelmed with all the choices laid before you.
This place is heaven, and one way to enjoy it is to get your vacation right away and make a checklist for your next adventure.
Thank you for sharing ample time to read our checklist of the top 11 best things to do for people under 21. If you have something to add that you think we missed, please feel free to comment down below so we can include it in our Honolulu best finds.