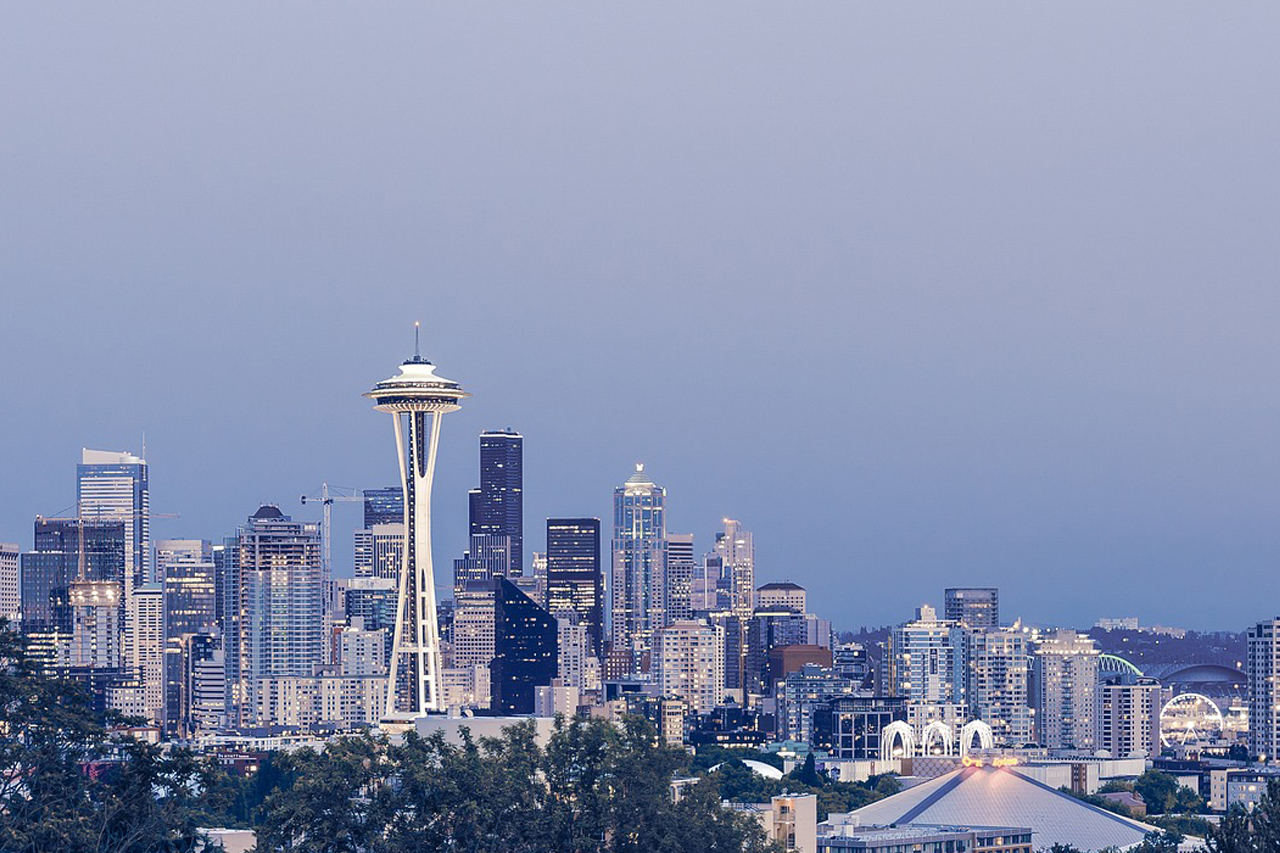 Being America's northernmost major metropolitan, Seattle is one of the country's top five fastest-growing cities. Aside from its impressive economy, Seattle's green landscapes have earned it the moniker "Emerald City" in the United States.
Seattle is known for its grunge music scene, world-class attractions, and futuristic landmark. For those under 21, the city promises plenty of unique tourist destinations you can enjoy – from modern architecture down to its historical roots.
To fully enjoy your vacation in this Emerald City, we've compiled the top 11 best things to do if you are under 21 years of age. Prepare yourself to take note of the city's tourist spots where some made it even to the list of the top visited sites in the world.
1. Space Needle
Seattle's futuristic and most famous landmark, the Space Needle, should be on top of your list. Space Needle, Seattle's saucer-shaped icon, was built for the World Fair in 1962 and made its grand opening on April 21 of the same year. Standing 605 feet tall, the Space Needle symbolizes humanity's Space Age ambitions.
Space Needle offers guests a 360-degree panoramic view. It has three main viewing areas: open-air view, observation level, and indoor observing deck. Furthermore, this 57-year-old Seattle icon is also among the most photographed structures globally. Space Needle is the perfect destination to witness the best view Seattle offers.
If you are ready to witness Space Needle's "Experience the Wow" slogan, you better not miss its upgrades. Skyriser is one of its new features, with tilting glass walls that give the impression of floating in the open air. Additionally, better not forget The Loupe, the world's first and only revolving glass floor.
2. Museum of Pop Culture
A non-profit museum founded in 2000 by Microsoft co-founder Paul Allen, the Museum of Pop Culture encourages guests to touch the exhibits. Yes, you read that right. It has always been a hands-off experience when touring museums. But, in MoPOP, it's the other way around.
Museum of Pop Culture is not your typical museum. Music and science fiction are MoPOP's primary focus. However, the museum also has exhibitions dedicated to horror films, video games, fine arts, fashion, and black leather jackets. Star Trek and Marvel fans will surely get woozy on their favorites' exhibitions.
Besides the Star Trek and Marvel displays, Sound Lab is MoPOP's unique feature you wouldn't want to miss. In Sound Lab, you can try creating sounds and unleash your musicality. You can also play in your very own virtual rock band in MoPOP.
3. Boeing IMAX Theatre
Located inside the Pacific Science Center, Boeing IMAX Theatre offers the ultimate IMAX experience in Seattle. Moreover, the Boeing IMAX Theatre is also one of the most advanced digital projection systems for enormous IMAX displays. You can visit the Boeing IMAX Theater at 200 Second Avenue North Seattle, WA98109.
The Boeing IMAX Theatre boasts a 60 feet high (six stories) and 80 feet wide screen that shows 2D and 3D. This theatre has a stereo sound of 12,000 watts, ensuring you have the ultimate theatre experience that you will never experience in others. The proceeds from your ticket purchase will also benefit the Pacific Scientific Center's science education support for children and families in Washington state.
Another thing you should not miss out on is Pacific Scientific Center's, Laser Dome. It is the most prominent and longest operating laser theatre worldwide, suitable for any age. Lasers will flash above your eyes as you recline and enjoy the colorful lights display and music from their employed DJs.
4. Sky View Observatory
The Columbia Center, developed by Martin Selig, completed its construction in 1985. Located on the 73rd floor of the 902 feet tall Columbia Center, Sky View Observatory is currently the most elevated public viewpoint in the Pacific Northwest. This infrastructure withstands hurricanes and earthquakes, making it a safe and ideal area for the Sky View Observatory.
Like Seattle's infamous Space Needle, Sky View Observatory offers a 360-degree panoramic view of the city. Upon arriving on the 73rd floor, a spectacular view of Mt. Baker, Space Needle, Elliot Bay, Bellevue, Mt. Rainier, the Cascade Mountains, and the fantastic city of Seattle awaits you.
The Sky View Observatory's public viewing will captivate your eyes and leave you in awe with the phenomenal view. Yet, don't miss out on trying the food and drinks their Sky View Cafe & Bar offers. Snacks and drinks are available here for those under 21 years of age. These are the snacks and drinks you can expect on their menu: wraps, flatbreads, lattes, and juices.
5. Central Cinema
Central Cinema, located at 21st & Union Seattle's Central District neighborhood, is a 120 seat dinner-theater establishment. The cinema began in 1963 and got renovated in 2020. This legendary theatre in Seattle attracts a lot of guests.
Although Central Cinema isn't as luxurious as other big-screen theatre giants these days, the vintage experience of the establishment is enough to guarantee an unforgettable movie experience. Each seat has a table in front and a 10′ x 20′ stage space in front of the screen. The cinema also caters to live events explaining its stage space and podium.
Compared to other theaters, Central Cinema is notorious for its trivia nights! Their MovieCat Trivia Night never disappoints as it consistently entertains guests. Joining their trivia night is a must-recommended experience distinctive to Seattle's legendary Central Cinema.
6. The Showbox
The Showbox has been operating for more than 75 years. This entertainment hot spot has hosted a diverse range of artists in the music industry since 1939, from locals to internationals. Although some shows are exclusive for people aged 21 and over, others are available to people of all ages.
Check out their roster of artists on tour if you're in Seattle. Artists that held a concert tour in the past in The Showbox are Muddy Waters, Pearl Jam, Duke Ellington, Prince, and many more. If you check their website, world-famous singer Celine Dion will hold her "Courage World Tour" in Seattle at The Showbox.
The Showbox SoDo located in the south SoDo district was once a warehouse that has turned into a concert venue. Their SoDo branch is more extensive than their main branch, boasting a brick architecture and terrific wood-beam with impressive production capabilities. Thus, make sure not to miss The Showbox SoDo.
7. Georgetown Morgue Haunted House
The terrifying morgue that turned into a tourist attraction is the Georgetown Morgue Haunted House. The facility is rich with tragic stories of death, which is among the most horrifying unsolved crime in the city. Its history includes the gruesome death of the nine morgue staff forced into the crematorium chamber and the story of the infamous Dr. Simons.
Since the city of Seattle's ownership of the place, the morgue once again opened to give a horrifying and haunting tour. Georgetown Morgue Haunted House offers a 2-hour self-guided tour where guests can walk through the facility with just animatronics. The tourist attraction uses low lighting, moving floors, sudden movements, strobe lights, a physically demanding environment, and intense sound & lighting effects.
Other than touring, Georgetown Morgue offers Escape Games that you must try. This exciting concept requires you to escape before the 60 minute time runs out. Participants in this game will play in teams of four to eight people. Teamwork, critical thinking, and logical thinking will help you uncover hidden mysteries that will lead to your escape.
8. Dimitriou's Jazz Alley
A club open for all ages is quite rare in Seattle. Dimitriou's Jazz Alley focuses on introducing the beauty of jazz music in a dynamic environment. The establishment first opened its doors in 1980 and has since received recognition for its world-class live jazz music shows. It is also a smoke-free establishment.
Dimitriou's Jazz Alley exudes an authentic bistro ambiance that many jazz enthusiasts love. Every week, the club hosts some of the jazz industries' most prominent artists. Some of the artists you can look forward to listening to are Judy Collins, Dianne Schuur, Earl Klugh, Bill Frisell, and many more.
The club supports local organic farmers, food producers, and fishers. They offer a dining experience that features Northwestern cuisine aside from the club's live jazz music. To complete your experience, you can enjoy your meal while listening to live music.
9. IPIC Redmond
Constructed in 2010, IPIC is known as America's premier luxury restaurant-and-movie theater. The theatre's mission is to yield superior entertainment and go beyond the conventional moviegoing experience. IPIC Redmond operates in 14 locations with seven premium restaurants nationwide.
IPIC Redmond serves a premium experience to its guests with its fully reclining leather seat known as Premium Plus or Premium Pod. Their boutique theaters have cutting-edge technology coupled with luxurious amenities and cuisine. You can press your button to avail of their dine-in-the-dark seat-side delivery.
You better not forget to indulge yourself with their new favorite burger, the Tuck Guacamole Burger. Its ingredients are a half-pound beef patty, lettuce, white cheddar, guacamole, pickled Fresno, crispy onion strings, and cilantro-line crema.
10. AMC Pacific Place 11
AMC Theaters started in 1920 and has always been a leader in the movie industry. They invented the movie industry's first-ever multiplex theatre and the first rewards program. Consistently thinking of innovative outputs with the movie-goers in mind, the AMC Theaters will soon be the significant theatre chain globally.
A few of the amenities at the AMC Pacific Place 11 are its power recliners, Coca-Cola Freestyle machines, installation of plush, and others. On two levels of the cinema, eleven screens play popular movies with various concession stalls. Furthermore, you can find their cafe on the top floor.
AMC DINE-IN offers the freshest ingredients and hand-crafted meals, allowing you to experience restaurant-quality food that you wouldn't want to miss. You can immediately proceed to your reserved seat after placing your order at the concession stand. The staff will deliver it to you as soon as they can.
11. Bob's Corn & Pumpkin Farm
Your vacation trip in Seattle won't be complete without visiting at least one place full of greeneries. Established in 1982 at Snohomish, WA, Bob's Corn & Pumpkin existed for generations. Around 40 acres, this farm has a diverse range of farm-related activities suitable for people of all ages.
A day won't be enough to explore all of Bob's Corn & Pumpkin Farm activities. You can eat, tour, buy, and participate in this farm's various activities. Recreations included in the admission are hayrides, trike track, play area, giant corn maze, kids maze, cow train, big slides, corn crib, gaga pit, rope maze, sandpit, u-pick pumpkins, apple canon, and bonfire rentals.
Located in the Cathcart Valley, you'll have a great time finding a way out in their exciting mazes with your friends or family. From all the activities, their 12-acre corn maze is not one to miss out on when visiting the farm. Their enormous maze is in two categories: Night Maze and Kids Maze. These mazes aim to make people appreciate the greeneries in Seattle's county side.
Seattle isn't only a great place to live economically. This Emerald City is brimming with tourist attractions like museums, parks, farms, and entertainment that even people under 21 can enjoy.
We hope that this article encouraged you to take the trip to America's Emerald City. After reading the article, do you have any tourist destinations you might want to add? Is there any place on the list that inspires you to book a flight to Seattle? Please comment down below and let us know your thoughts.