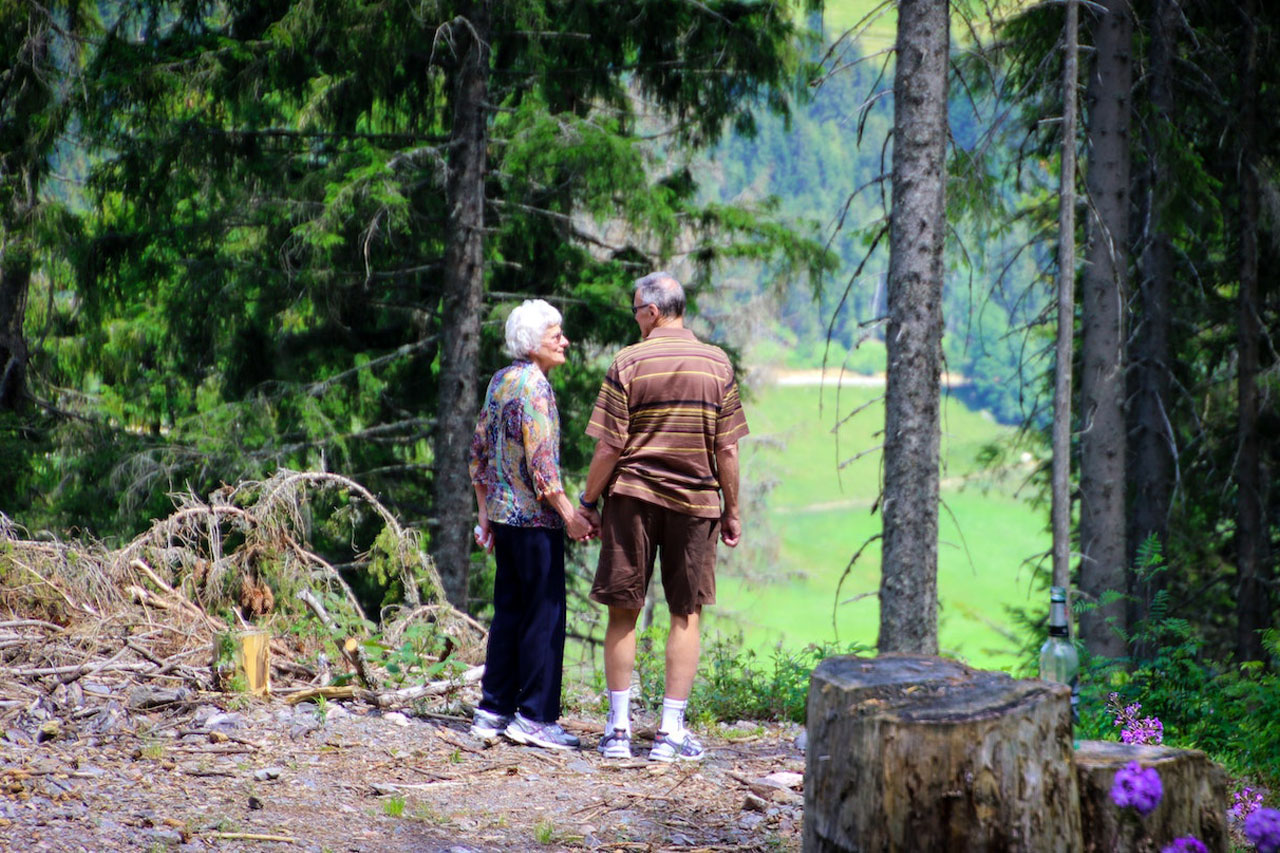 Hawaii is a world-class tourist destination that's always on top of the list serving top-tier picturesque spots. From stunning beaches to enormous volcanoes, Hawaii may seem like an adventurous tourist spot captivating the younger generation.
Luckily, the so-called "Paradise of the Pacific" also offers senior-friendly destinations and activities that promise a memorable retirement trip after years of hardwork and dedication.
Seniors will have a great time enjoying a day at the Papohaku Beach Park or spending the night drinking a Hawaiian specialty cocktail at the Mai Tai Bar Waikiki.
Whatever destination you choose in Hawaii, a fabulous retirement vacation awaits you that will make you never leave paradise. To help you plan your next Hawaiian getaway, we have compiled a list of eleven unique destinations:
1. Hawaii Volcanoes National Park
Among the numerous scenic attraction in the Paradise of the Pacific, the Hawaii Volcanoes National Park tops our list. Situated on Big Island, Hawaii, it is home to 300,000 acres of lava fields, volcanoes, and historical sites that piques everyone's curiosity.
Hawaii Volcanoes National Park welcomes over a million visitors yearly to glimpse the world's two most active volcanoes: Mauna Loa and Kilauea. Among the list of things to do here are day hiking, backcountry hiking, crater rim drive tour, and chain of the craters road tour. Seniors can opt for a short hike or take a driving tour for less exhaustion.
Aside from grabbing the opportunity to take a closer look at the famous volcanoes, you must visit the Volcano Art Center to learn more about the park's features and to stay alert for the park closings because of recent volcanic activity for your safety.
2. Kona Coffee Living History Farm
The second destination on our list is the Kona Coffee Living History Farm. Located at 82-6199 Mamalahoa Hwy, Captain Cook, HI 96704, it has been among the most notable historic farms since the early 1900s.
If you are a coffee enthusiast, taking a tour of Kona Coffee Living History Farm is a must.
The ideal climate in Hawaii makes it one of the leading coffee-growing regions in the country. At Kona Coffee Living History Farm, they grow and produce their coffee locally with over two acres converted into a museum that lets people explore the farmhouse and farmland.
The greatest thing about touring the Kona Coffee Living History Farm is you get to taste their coffee which is a plus that coffee lovers can never resist even seniors! You'll see approachable costumed interpreters on the grounds making the experience more personalized for tourists.
3. Hanauma Bay Nature Preserve
Of course, why else would tourists visit Hawaii if not for the phenomenal beaches, which explains why Hanauma Bay Nature Preserve is one of the top ones on our list.
It is the best beach in Hawaii for snorkeling, perfect for seniors, whether beginner or pro, since several snorkeling shops here offer lessons.
You can find Hanauma Bay Nature Preserve at 100 Hanauma Bay Rd, Honolulu, HI 96825. Once you arrive, visitors have to watch a short educational video about the correct way to treat marine life and the environment as an act to continue preserving the beauty of the area.
Take advantage of the opportunity to swim, explore the beach, and appreciate Hanauma Bay Nature Preserve's gorgeous corrals and sea animals.
You can also visit the Hanauma Bay Education Center and look for equipment rentals available at the kiosk area, such as life jackets and snorkeling gear.
4. Polynesian Cultural Center
Polynesian Cultural Center opened to the public in 1963 and is the perfect place to immerse and discover Hawaiian culture. Suppose you aren't into water activities for the time being. In that case, PCC welcomes you to look at the displays unique to the Polynesian Islands, attracting hundreds of thousands of visitors annually.
Upon entering the complex, eight tropical villages are waiting for you to explore, wherein each will give you an experience of their local culture through demonstrations and live performances. Get ready to see authentic dances and hear traditional cultural music and handicrafts.
You can visit Polynesian Cultural Center at 55-370 Kamehameha Hwy, Laie, HI 96762, which is at least an hour's drive from Honolulu.
The most fun part of visiting the PCC has the chance to participate in the fun, such as but not limited to cultural festivals, Lu'au celebrations, and the yearly World Fire Knife Dance Competition.
5. Kauai's Botanical Gardens
Doing one extreme activity after another can get challenging for elderlies compared to younger ones. As a result, Kauai's Botanical Gardens, situated at 3840 Ahonui Place Princeville HI, 96722, offers seniors a relaxing venue surrounded by beautiful flora and fauna unique in Hawaii.
Nicknamed the "Garden Isle," Kauai's Botanical Garden introduces a collection of botanical gardens in the area, including Limahuli Garden & Preserve, McBryde Garden, Princeville Botanical Gardens, Na 'Aina Kai Botanical Gardens & Sculpture Park, Allerton Garden.
Seniors will have a great time seeing countless medicinal plants, exotic flowers, bird species, and food-bearing plants.
Princeville Botanical Gardens is the most popular among the many botanical gardens you can stroll here. Aside from exotic plants, the tour also includes sampling raw and processed cacao and honey.
Visiting Kauai's Botanical Gardens allows seniors to breathe in the fresh air the plants and trees provide while relaxing in Hawaii.
6. Papohaku Beach Park
Due to the paradise-like beaches in Hawaii, you can expect that it can get crowded most of the time. Nevertheless, for seniors who want to get away from the crowd to have a serene day at the beach, Papohaku Beach Park is the ideal destination. It offers a three-mile swath of white sand that rarely gets populated.
Papohaku Beach Park's location is at West End Mile 14.9 Kaluakoi Rd, Maunaloa, HI 96770, covering 10.4 acres of the island's western end. Since there are no lifeguards, visitors need to be cautious and take precautions by paying attention to the current conditions and signage in the area.
Seniors can do off-shore swimming with extra facilities such as picnic areas, barbeque areas, and public restrooms and showers for their convenience. Papohaku Beach Park is the perfect beach for a short trip to the beach to enjoy your barbeque with loved ones.
7. Mai Tai Bar
Besides sightseeing tours, your Hawaii vacation will only be complete with a sip of the signature Mai Tai drink that you can indulge in here in Mai Tai Bar. Located inside the heart of the infamous Royal Hawaiian Hotel at 2259 Kalākaua Ave, Honolulu, HI 96815, Mai Tai Bar serves lunch and dinner.
Moreover, the bar is only a few steps away from Waikiki Beach, enticing seniors to take a dip before enjoying a casual lunch at the Mai Tai Bar. Ahi Poke, Pan Seared Mahi, Pink Palace Pancake, and Cobb Salad are top-tier must-eat food here.
They also serve desserts like Royal Hawaiian Signature Pink Snowball and Gelato.
Aside from the dishes served at Mai Tai Bar, it's also the best place to watch the beautiful sunset as it fades into the horizon. Ensure to take a sip of the Royal Hawaiian Mai Tai to elevate your experience as you listen to the live music played in the background.
8. Mauna Kea
Another volcano to visit in Hawaii is Mauna Kea which has been dormant for over a million years old. It is also the highest peak in Hawaii at 4,200 meters tall and is most likely the tallest in the world if you include its underwater base. You can find Mauna Kea in Kailau-Kona, Island of Hawaii, HI.
Mauna Kea's summit is also open for hiking but exclusive only for expert hikers since it is a six-mile trail rising to an altitude of 13,000 feet from the Visitor Information Station. Nevertheless, elderlies can still go to Mauna Kea via a 4WD vehicle for views above the clouds like no other.
Aside from breathtaking views best experienced during winter to see the snow-capped summit, remember to visit the Mauna Kea Observatory. Mauna Kea's Visitor Center also offers evening stargazing programs that are popular among tourists regardless of age.
9. Pearl Harbor and USS Arizona Memorial
When you think of Hawaii's history during the war, you can instantly think of Pearl Harbor. It is undeniable that commemorating such fatal attacks is a critical way to honor those whose lives were lost for the love of their country, mainly if you lived to tell the tale during such a painful and frightening period.
The Pearl Harbor and USS Arizona Memorial honor the thousands of American heroes lost. Seniors will find visiting Pearl Harbor and USS Arizona Memorial an essential and memorable to-do list when in Hawaii.
It has a Pacific theater that lets you watch an informative documentary recollecting Pearl Harbor's history and national impact.
Situated on top of the sunken USS Arizona is its memorial, where visitors can have a real-life view of the unfortunate tragedy. You can also see a wall of the names of the lost lives at Pearl Harbor.
It is a must-visit, especially for seniors who lived during the start of World War II and continue to live to tell the people of the bravery of those who died.
10. Waimea Arboretum and Botanical Garden
Hawaii has rich rainforests full of luscious greens and sweet fragrant flora. Situated at 59-864 Kamehameha Hwy, Haleiwa, HI 96712, the Waimea Arboretum and Botanical Garden is a garden sectioned into 35 various collections.
During the Hawaiian Monarchy's rule, the valley was originally a thriving farming community converted into a tourist attraction to preserve the cultural heritage on Oahu's northern shore. You can expect to see 5,000 plant species worldwide, including endangered ones.
Furthermore, since it was once a spiritual and religious site, expect to see historic architecture like the infamous Hawaiian Temple. Make sure to visit during the off-times to swim in the waterfall.
11. Uncle George's Lounge at the Volcano House
Another must-dine among the numerous tourist attractions in Hawaii is Uncle George's Lounge at the Volcano House. After an exhausting day going around Hawaii, seniors can spend time taking a break and eating a sumptuous lunch here.
Located at 1 Crater Rim Dr, Hawaii National Park, HI 96718, Uncle George's Lounge at the Volcano House allows you to watch the glow of magma in the crater below.
Also, it has a sunset view aside from the delicious food served like Asian Barbecue Prawns, Steak Salad, Kilauea Caesar Salad, Avocado Toast, and Thai Chicken Wings.
Uncle George's Lounge at the Volcano House has 14 inches of gourmet pizzas on its menu. Another great thing not to miss here is to try all the Volcano House Favorites composed of the following dishes: Hawaiian Fish 'N Chips, Volcano House Pasta, Taste of Hawaii, and Kalau Pork & Pineapple Pizza.
No wonder Hawaii earned the nickname "Paradise of the Pacific" because of its heavenly attractions, making people revisit the place. Some even spend most of their lives saving for a Hawaiian trip.
Thus, seniors will surely enjoy their Hawaii adventure since they will never run out of things to do in this paradise.
We hope you enjoyed the article and inspired you to take that one-of-a-kind Hawaiian trip you have longed for years.
You are welcome to comment on any tourist destinations in Hawaii you would like to include. Feel free to express what you think about our list, and you can share your experiences about Hawaii if you have one.
Lastly, don't forget to have fun and make the most of every trip!