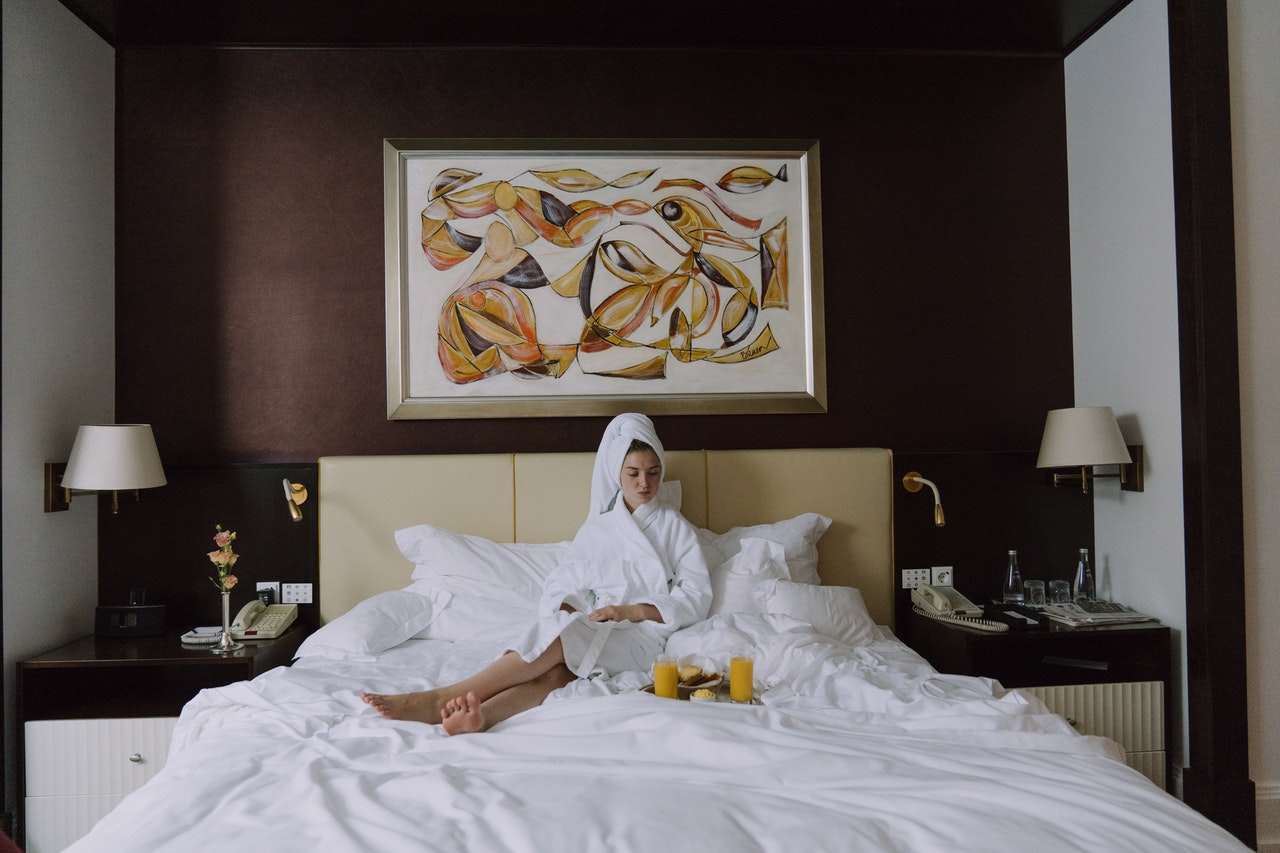 Just Eat is a well-recognized online food delivery company founded in Denmark. It delivers takeaway food straight to your home and even in your hotel rooms. Just Eat offers consumers quality food choices at a reasonable price.
Since hotel room service has become more unappealing, food delivery apps are gaining traction. Outsource room service is now a trend among hotel guests. Consumers prefer ordering food outside the hotel for better food choices and rates.
On-demand food delivery apps like Just Eat give consumers more choices in food. These apps allow people to order the food they like without paying too much price. Thus, more hotel guests would order takeaways instead of getting room service.
Do food delivery apps deliver to hotels?
Hotels observe that there is a growing demand for outsourced room service nowadays. They notice that guests would prefer takeaway food service to in-house room service. Thus, some hotels are now gradually adjusting to the current trend in food deliveries.
Hotels foster partnerships with restaurants and allow food delivery apps in the hotels. Chain hotels and some high-end hotels team up with on-demand food apps to meet guests' needs.
Here are some hotels having partnerships with food delivery services:
Premier Inn Hotel

The Premier Inn Hotel is a British established hotel chain and the largest hotel brand in the UK. They teamed up with Just Eat to provide guests with their favorite takeaway food. You can order online, and Premier Inn will send a passcode for you to collect the food in the lobby.

Carlton Hotel

Carlton Hotel is also a chain hotel with branches in some parts of the world. It found the perfect solution for guests who are looking for a specific food menu. They partnered with Just Eat so that guests could order online for their favorite takeaway food.

Resorts World Las Vegas

One of the biggest partnerships made by Just Eat Takeaway.com is with Resorts World LA. JustEat completed its acquisition of Grubhub in the US. Then, the company started partnering with hotels and resorts to expand the market.

Hilton Hotel in LA

Just Eat Takeaway.com through Grubhub also partners with Hilton Hotel in LA. People can order food online and claim the food at the lobby of the hotel.

InterContinental Hotels Group

The company reinvented the hotel foodservice by outsourcing guests' food through Grubhub. People are now free to get the food they want by ordering online. With this venture, over 1,000 hotels in the US can order takeaway food. Under the brand are the Holiday Inn Express, Staybridge Suites, and Candlewood Suites.
For guests, you should be responsible when ordering food outside the hotel's premises. You must ensure that you do not violate any hotel policies when getting food online.
Here are the basic things you should do if you prefer food delivery apps during your stay in a hotel:
Make sure that the hotel permits food deliveries

It is important to ask first the hotel before booking your food deliveries. Some hotels team up with on-demand food apps, and they will gladly help you with ordering. They even have displays on the front desk food delivery apps they have partnerships with.

Go online with your preferred food delivery app

Then, you can go online to search for local food providers in the area. You can apply filters to help you with your search, so you can see the restaurant you want.

There are tons of choices available. You have the option to select from a variety of cuisines – Mexican, Chinese, Thai, American, and more. You can compare prices and read reviews to make sure you are getting the best deal.

It is one of the biggest advantages of using food delivery apps while staying in a hotel. You can easily get the food you want because of the multiple choices provided. You need not settle for a restricted hotel menu while paying a high price.

Confirm the address of your hotel

You can ask the hotel staff about the right address or location of your hotel. In this way, the delivery rider will not get confused about where to deliver your food.

Make special instructions to your driver

Since you are using a different location, you should give instructions to the driver. It is vital to include all the necessary details about your location upon ordering.

It would help inform the driver that you are staying at a hotel and could deliver the food to the lobby. It will make the transaction easier and smooth. It would help if you also informed the front desk that there would be food under your name.

Track your order

Food delivery apps allow you to track your order in real-time. In this way, customers can see the current status of their order and the estimated delivery time. Ensure that you monitor the order status. In this way, you can immediately meet the driver in the lobby if you are paying cash.

Tip your delivery driver

If the transaction did not run smoothly, and the driver had trouble finding your location, you can give a tip. You can tip 10-15% of the total cost in cash.
Does Just Eat have an app?
Just Eat is an international food delivery service headquartered in the United Kingdom. It was initially founded in Denmark and teamed up with Takeaway of The Netherlands. The two food delivery giants created Just Eat Takeway.com in 2020.
Just Eat Takeaway.com is a frontrunner food delivery service in Europe. Consumers can order food using Just Eat mobile applications or even on the website.
The company has over 580,000 restaurant connections offering various food choices. It is a successful online food delivery marketplace that facilitates different services. Just Eat is responsible for the fulfillment of your orders.
It allows you to search for local takeaway restaurants, place your order and pay online. You have to select whether you want a pick-up or delivery option.
The company prides itself on a hybrid business model to expand its reach. Just Eat caters to restaurants with delivery services and those lacking such services. In such a manner, the consumers have better selections of the food available in the area.
The company receives commissions from the restaurants based on the food ordered. Just Eat also charge delivery fees from the customers. It also gives online payment services, sales of merchandise, and packaging.
As a successful online platform, Just Eat Takeaway.com now operates in 10 countries in Europe. It also has an operation in North America, South America, and Israel. The company also desires to expand its services in the United States.
How does the Just Eat app work?
Just Eat has a handy food delivery app where you can order conveniently online. You have to download the app either for iOS or Android before registering. Then, you need to enter your location, choose a restaurant and food, wait for the delivery, and pay.
Registration

Just Eat registration is available for both the mobile app and its website. When you open the app, there is a command prompt asking you to register.

The app will request your email address and password, which you can use on your orders. After, Just Eat will send an email to confirm successful registration. You need to verify your email address to activate your Just Eat account.

Ordering Food

After you successfully sign in, you can now access the app online. It is important to enter your delivery address and look for restaurants in your area for this step. You can navigate the app, use filters, and specific keywords to narrow down your search.

Once you select a restaurant, you can now scroll through the menu and place an order. The app will notify you once the restaurant accepts your order. During this time, the restaurant is beginning to prepare your order and pack it for delivery.

The app sends a confirmation email about the expected delivery time of your order. A Just Eat driver will pick your food from the restaurant and brings it to your entered location.

You can also place a scheduled order and have the restaurant prepare it even 24hours in advance.

Payment options

Just Eat accepts payment via Paypal, credit card, debit card, and cash on delivery. Depending on your preferred payment option, you need to sync your account with Just Eat.

Discount codes

Just Eat offers discount codes to its customers. You can either use a voucher or pay code to get discounts. Vouchers normally have expiration dates.

Pay code is a valuable credit that you can link to your profile. To use the pay code, you can go to the account credit section of your app. Then, type in the code and press insert. This kind of code does not expire, which you can use at any time.
What is the difference between Just Eat and Deliveroo?
Deliveroo and Just Eat are food delivery giants operating in Europe. They keep growing services, especially now that online delivery is the trend. Both have huge operations in the United Kingdom and Ireland.
Just Eat and Deliveroo both have online delivery apps where people order food. But, these two have significant differences. They differ in restaurant network, delivery time, tracking, and other online services.
Date of establishment

Just Eat came earlier than Deliveroo. The company has been operating since 2001, while Deliveroo only started in 2013. Just Eat merged with Takeaway.com and expanded its business in the United Kingdom. It became the most successful food delivery service in the country
after acquiring almost all its UK competitors.

Deliveroo started late, but the company turned out to be the biggest competitor of Just Eat. The company manages its drivers and provides better quality food than Just Eat. For this reason, Deliveroo expanded quickly in Europe.

Business Model

Deliveroo and Just Eat conduct their operation differently. Just Eat uses a hybrid business model. It caters to both restaurants with delivery and no delivery service. On the other side, Deliveroo manages its fleet of drivers. It also requests higher commissions from restaurants.

The company also offers grocery delivery, unlike Just Eat. It has partnerships with brands like Sainsbury's and Co-op. Waitrose, Aldi, Morrisons, McColl's, and WholeFoods are also some of its partners.

Restaurant Network

Just Eat has more restaurant connections than Deliveroo. It has over 50,000 restaurants connected to its platform, while Deliveroo has around 35,000. Nevertheless, some consumers prefer Deliveroo because it offers premium quality food choices.

Delivery Time

The main reason for Deliveroo's success in Europe is its delivery time. Compared to Just Eat that can deliver in 45 mins, Deliveroo offers a 25-minute delivery.

Real-time tracking

Real-time tracking is available in Deliveroo. On the other side, Just Eat does not offer its consumers real-time tracking. It only updates the status of the order, whether packed or out for delivery.

Order and Fees

Just Eat is cheaper than Deliveroo. Since they have restaurants that have their respective delivery service, fees are lesser. You can also find a restaurant in the Just Eat app that does not require minimum orders. However, they will still charge you a higher delivery fee.

For Deliveroo, you can get look for restaurants without delivery fees. But you have to pay for a required minimum amount of orders. Usually, you need to spend an amount of $14 to enjoy the free delivery offerings. In case you do not meet the amount, they will charge you a small order fee.

You can also choose to get a Deliveroo subscription to enjoy free delivery every month. The subscription will cost you around $16.

Payment method

Just Eat accepts payment via Paypal, credit and debit card, and cash on delivery. On one side, you can pay via Apple Pay, credit and debit, and cash with Deliveroo.

Today's consumers prefer convenience when ordering food. On-demand delivery apps like Just Eat allow people to meet their cravings instantly. Most of these delivery services provide a wide range of food selection and quality food.

Even hotels make major adjustments due to the popularity of online food deliveries. People would choose to outsource takeaway food than in-kitchen room service.

Thus, most hotel establishments find ways to team up with in-demand food services. It will keep their businesses operating while addressing the needs of their guests.