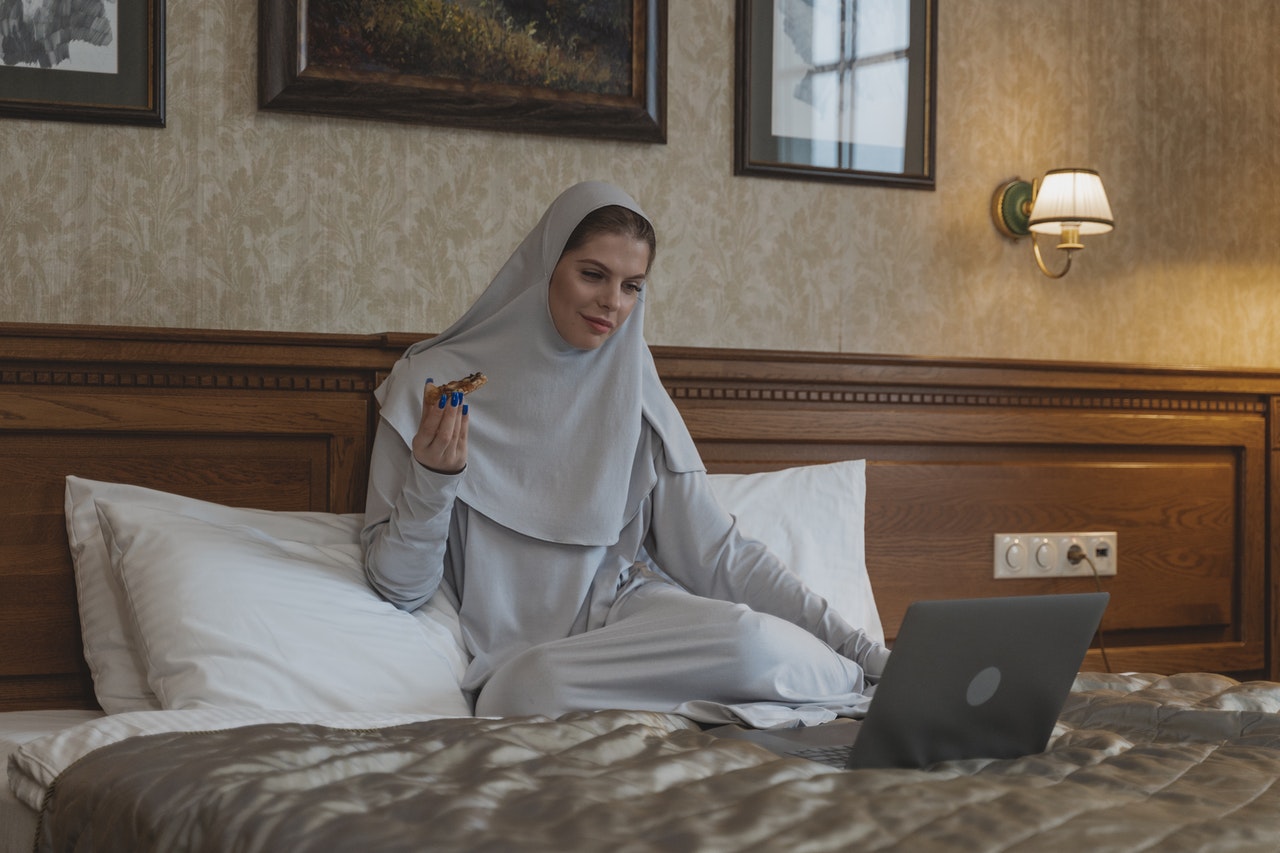 Pizza places do deliver to hotels. Most mid-range and low-range hotels allow pizza deliveries to their guests. Exclusive or high-class hotels with restaurants may have specific policies for food deliveries.
For guests, they will go out of their way to make the hotel stay convenient and practical. Thus, ordering takeaway food online is the best thing to do when staying in a hotel.
It is a good way to cut costs on room service and satisfy food and pizza cravings. You have the option to order online straight from the restaurant's website. Or you can use food delivery apps that provide a wide range of food choices.
If it is within the hotel's policy, you have the freedom to order pizza and enjoy it in the comfort of your hotel room.
Can we order food delivery in a hotel?
Guests can order food delivery in a hotel. It is the discretion of hotels to allow food deliveries in their establishment. Different hotels have varying policies about outsourcing food services.
Since on-demand food deliveries are now the norm, many hotels allow guests to order online. Hotels are adjusting to the changing consumer behavior of their guests. They are aware that many would prefer to outsource food than stick to the hotel's menu.
Thus, many hotels, even the exclusive ones with in-kitchen facilities, allow food deliveries. However, the policy varies about how guests get the food.
Some hotels ask their guest to get the food they ordered in the reception area. High-class hotels prohibit drivers from delivering the food straight to the guest's room.
Drivers need to wait in the lobby and wait for the guests to pick up the food they ordered. In this way, the hotel can ensure the safety and security of its guests.
Others let drivers deliver food straight to the hotel room. Low-range and mid-range hotels are more lenient with food deliveries. They allow drivers to meet with their guests in the hotel room.
Thus, it is important to know about the hotel policy before ordering food online. In this way, you will not violate the rules set by the hotel about outsourcing food services.
You also should be more aware of the right things to do when ordering food online. You can consider these tips to make food delivery a success:
Give the right information

When ordering food online, you must give the right information. It would help if you keyed in your correct name and room number when filling in the order form. There are instances that hotel staff is becoming suspicious with delivery drivers. If you give out the correct data, the staff would know that it is official food delivery.

Always remember to give a tip

If the hotel prohibits drivers from delivering to your room, tip the driver in the ordering process. Food apps provide space where you can fill out how much tip you give the driver. They will charge it to your card and forward it to the driver's account. You can also use cash if the driver delivers to your room.

Always be on time

Time is important among delivery drivers. Please do not make them wait in the lobby when getting your food. Remember, there are other customers drivers need to deliver a food service to. Always be on time. It is a rude way to do to make the driver wait even for just a few minutes.

Do not forget to thank the front desk

A hotel staff probably assisted you during the ordering process. They called you from your hotel room and notified you about the delivery. The staff also dealt with the delivery driver while in the reception area. It would be polite to send gratitude to the staff for the help they extend to you.
Which is the best app for food delivery?
On-demand food delivery apps conveniently deliver to hotels. The best apps today are UberEats, DoorDash, Grubhub, Deliveroo, Postmates, and Caviar. These apps make ordering food online fast and hassle-free.
UberEats

UberEats is popular foodservice in America. It is available in most major cities in America like Boston, Chicago, NYC, LA, SF, Seattle, among others.

It delivers to most hotels, including exclusive ones. The driver will deliver the food to the lobby and not straight to your room. In this way, the driver can cut back on delivery time and lessen the number of people in the hallways.

DoorDash

DoorDash is both available in the United States and Canada.

It has a list of restaurants in its portfolio, including famous food chains.

DoorDash has a huge market in San Francisco and California.

It is the largest food delivery service in the United States, with almost 56% of the market share. It already built 450,000 merchants and 1 million deliverers in 2020. DoorDash has grocery, food, and other essential deliveries.

GrubHub

The food delivery service is available throughout the US. It has a huge presence in all the US 50 states and almost 4,000 major cities. More than that, Grubhub has had a good partnership with Hyatt Hotels since 2016.

It is part of Just Eat Takeaway.com, a top and leading brand in online food delivery. Grubhub connects over 33 million using its innovative and reliable delivery software.

Deliveroo

Another widely used food delivery app today is Deliveroo. It is a British online food delivery that operates in various countries.

Using the app allows you to search for restaurants nearby or even order groceries.

It has a long list of popular food chains like KFC, Burger King, Subway, Pizza Express, and more.

Postmates

Like Grubhub, Postmates is almost operating in all major cities in the United States. Postmates delivers in more than 550 US cities. It delivers food, groceries, and alcohol.

The app offers flexibility and convenience because of a well-curated list of restaurants.

Postmates app is available for iOS and Android devices.

Caviar

If you are looking for an app that caters to high-end restaurants, Caviar is a top pick. It gives you the most sophisticated restaurant choices, especially those hard-to-reserve ones. It still has limited reach, with a presence in only 15 cities in the US.

You can use the app when in NYC, San Francisco, Dallas, Boston, Miami, and Washington. With Caviar, you can enjoy quality dining and make special food choices even when staying at a hotel.
Which pizza chain has the best pizza?
Pizza is everyone's favorite comfort food. With tons of pizza places, finding the best one cannot be very clear, especially when staying in a hotel. So, we came up with a list of the best pizza places you can reach out to anywhere you go.
Pizza chains that offer the best pizza are Papa John's, Domino's, Pizza Hut, Your Pie, among others. These are the most successful food chains delivering great pizza, even in hotels.
Most of them offer deliveries so you can order conveniently online. They have multiple branches, and even when you are in a hotel, you can have your fave pizza delivered easily.
Papa John's

Papa John's are famous for making a variety of specialty pizzas. Their toppings are mostly meat and filled with spices and flavors. They also have meatless specialty pizza for those who avoid meat. The chain also offers wings and breadsticks to their customers.

It has an app for online deliveries. You can conveniently pay online through credit card and Google Pay. They also accept cash.

Pizza Hut

Pizza Hut is a global pizza brand. It is famous for three crust pizza options, including pan, hand-tossed and thin. Pizza Hut sells cheap but flavorful pizza. It is also famous for limited-time pizza offerings, including the cheesy bites pizza.

The company has stores in every part of the United States. So, you can easily order online anywhere you go.

Domino's

Domino's is another pizza chain with a variety of offerings. Aside from pizza, you can also buy pasta, sandwiches, bread, and salads. It is famous for the pizza drone, where a delivery robot serves pizza at your doorstep.

The pizza parlor has over 5,000 branches in different US locations. It is easy to find pizza delivery even when you are ordering from a hotel.

California Pizza Chicken

If you are into an upscale pizza experience, California Pizza Chicken is your best option. It is famous for its barbecue pizza developed in 1985. Today, it has wider selections like veggie, mushroom, and Thai chicken pizza, etc.

Giordano's Restaurant and Pizzeria

The Giordano's Restaurant and Pizzeria is one of the smallest pizza chains in the US. The pizza place is famous for its decadence cheese-stuffed pizza and flavorful sauce. The restaurant chain will level up your pizza experience. They also have Italian dishes on the menu. It includes ravioli baked with Alfredo sauce, baked rigatoni, and spaghetti marinara, etc.

Mellow Mushroom

People love this pizza chain because of the pizza crusts. The crust has a distinct taste that most pizza lovers appreciate. And when you combine it with their well-curated pizza sauce, the taste will even get better. The place also offers sandwiches, calzones, craft beer, and more. You may order them online using their website.

Old Chicago Pizza and Taproom

The Old Chicago Pizza and Taproom has a large menu of specialty pizzas. You can craft your pizza and calzones to get a more customized flavor for your taste. You have the option to choose your crusts, pizza sauce, and even toppings.

It also offers gluten-sensitive pizza for those who are monitoring their diet. Even though the pizza place is available in a few locations, the menu is still worth trying.

Your Pie

You can make your pizza with the freshest ingredients and hand-tossed dough with Your Pie. It cooks its pizza from an 800-degree brick oven that creates a good aroma when delivered. Southern Heat, Great White, Bbq Chicken, and The Ischia are some of the best-sellers of Your Pie. You can also order online using its website.

Papa Murphy's

Papa Murphy's has a very limited menu with only pizza, salads, and some dessert. It makes its dough from scratch and uses 100% shredded mozzarella cheese from the blocks.

All the ingredients are hand-made as they chopped their veggies by hand. You have a lot of options for pizza dough. It offers a thin, original, fresh pan, stuffed, and gluten green. Despite this, the food is worth your try.

CiCi's Pizza

Cici's pizza is not only great for delivery but also for a dining experience. It offers an eat-all-you-can buffet where you can build your set plate. You can choose from salad, pasta, pizzas, and bread.

Ordering pizza to a hotel may be complex for some, especially when staying in an exclusive one. But, as long as you did not violate any hotel policy, you can do anything you want, such as ordering takeaway food. Hotels must consider the comfort and convenience of guests.