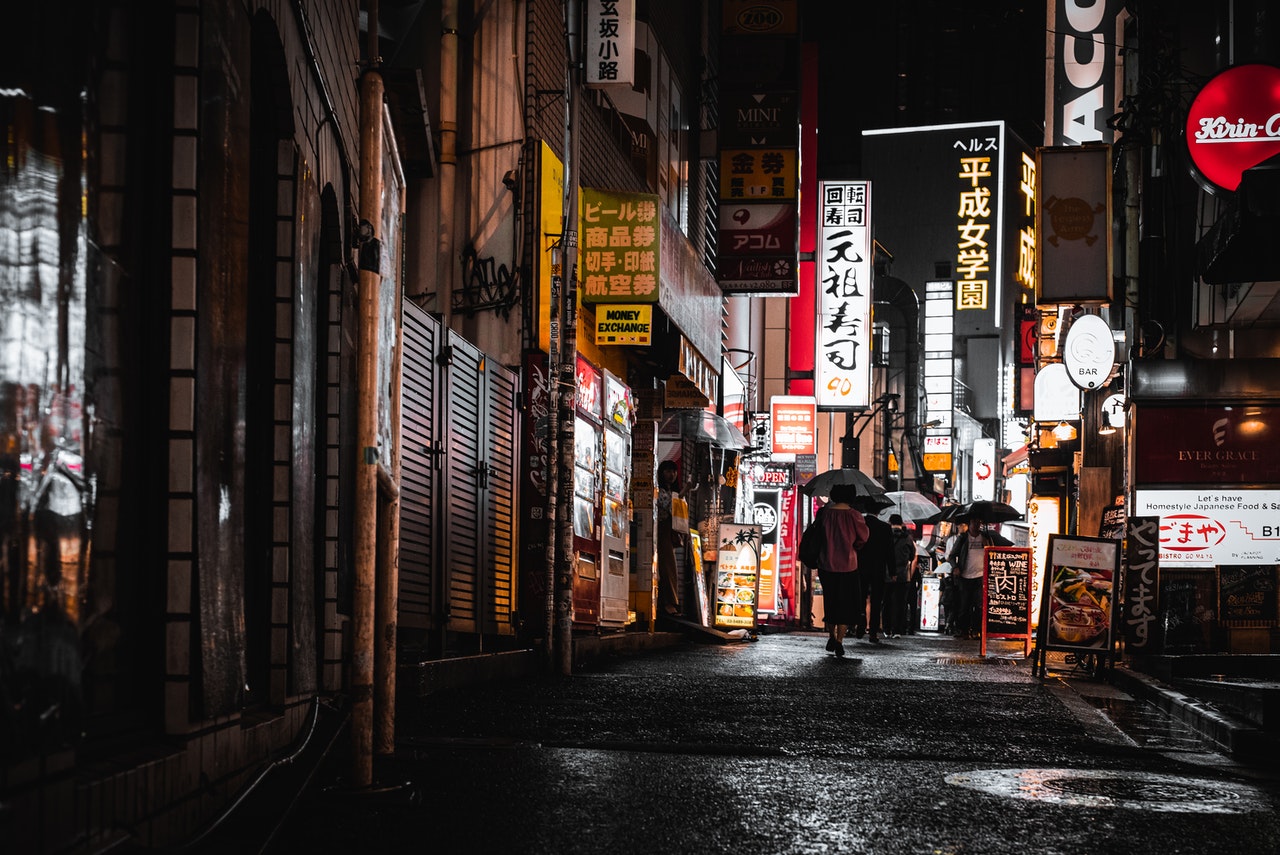 Tokyo, the legendary city that never sleeps, transforms into a city of lights one would not dare to miss. It is the most vibrant and colorful metropolitan that creates more noise as the sun settles down.
The animated city becomes increasingly attractive, especially when nighttime comes. The city turns into a kaleidoscope where lights burst from different directions. You may see it from the buildings, skyscrapers, towers, even in cars and trains. Tokyo indeed appears brighter all through the night.
As a technologically advanced metropolis, there is no dull moment in the city, even at night. The nightlife districts like Shibuya and Roppongi have the most amazing experiences. Many observatory decks remain open until 10 pm. You will have the bird's eye view of the city while marveling at Tokyo's colorful evening panorama.
However, as interesting as the city is, will it still be safe to stay late in Tokyo?
Is Tokyo safe at night?
Or is it just any other metropolitan where you need to be extra cautious when evening comes?
Well, worry no more, as we provide you the essential guide about Tokyo. The guide will give you a broader perspective about how safe Tokyo is at night. In addition, it will help you get to know Tokyo better and give you the top ideas on how to spend a night in Tokyo.
Is it safe to walk in Tokyo at night?
Of course, before planning your trip to Tokyo and plan evening activities, we need to set how safe the city is. For example, will it be safe to walk in the city at night?
Well, both locals and tourists can attest that it is safe to walk in Tokyo at night. It is one of the safest cities and a walkable metropolitan across the world. There are several justifications why it is safe to walk in Tokyo during the night.
Tokyo zoning laws

Of course, the number one factor that regulates and ensures the safety of a city is the zoning laws. Most commercial establishments are near the city's residential areas. It was planned so people in the neighborhood can keep an eye on a potential crime incident. The residents can immediately contact the authority in case crimes arise.

Police presence

Who would have the courage to commit a crime when there are police roaming around? The police 'koban' are strategically located in different zones of the city. The police presence is enough reason to intimidate criminals. It discourages them from engaging in a crime. In this way, there is a significant reduction of crimes and violations in Tokyo.

Drinking and driving is not allowed

There is a law prohibiting people from drinking and driving in Tokyo. The law is strictly enforced with grave consequences. One who gets caught drinking and driving needs to pay a fine of around $4,400. It is a whopping amount of money, plus the extra jail time. The penalty will potentially increase depending on the amount of alcohol intake. It can get as high as $8,800 and up to five years of jail time. But, on the other hand, it resulted in a vast reduction of road accidents in the city.

Difficult to buy a gun

One of the main culprits of death and crime is one's possession of a gun. In Tokyo, most locals have no control of firearms. It is increasingly safer to walk in the city at night at peace, But only entirely knowing no random person can point a gun on you. It is one of the best-implemented ordinances in the city.

Drugs and immigration rules

As one of the most economically developed countries, Japan imposes strict immigration rules. The country limits the number of visitors to ensure its peace and stability. Tourists must pass through a rigorous screening process before getting visas. In this way, Japan is safer for both tourists and locals.
Plus, Japan has an established drug conviction law. It is discouraging the entry of anyone with a prior drug conviction record. The drug is also strictly prohibited in the country. It all applies to all the cities in Japan.
Is Tokyo good for nightlife?
Of course, it is a resounding yes! Tokyo is good for nightlife. There are plenty of nightlife activities which you can do in Tokyo. You will never run out of exciting activities when you plan your trip to Tokyo.
To convince you, these are the main reasons why Tokyo is good for nightlife:
City night views

Well, who wouldn't want to marvel at the beautiful view of Tokyo at night? Tokyo morphs into a splendid city of lights one would love to see. Many observation decks are available to give you a great view of the city. You can visit the Tokyo Skytree, Tokyo Tower, and Sunshine 60 for the best city view.

Moreover, you can ride on a helicopter to fully enjoy the city's evening scenery. In this way, you can have a 15-minute ride where you can circle in this shining metropolis.

Food

Aside from the view, the most popular bars and restaurants open in Tokyo at night. They offer sumptuous meals and mouthwatering delicacies you cannot resist. There is an abundance of them to choose from. You can select from the traditional Japanese restaurant, or a Michelin starred one. It will be hard for you which one to pick, as food stalls and dining experiences are abundant.

If you want the food and the view, the city also offers rooftop dining experiences. Some significant skyscrapers in the city have top floors restaurants so that you can enjoy both the food and the view.

Parks and museums

Even parks and museums in the city offer you the best nightlife experience. Some museums even close doors at 8:00 pm. You can visit the Mori Museum, Sunshine Aquarium, or Maxell Aqua Park.

For more fun and enjoyable experience, Disneyland and DisneySea are available, as well. Tokyo, indeed, is meant to be explored at night.

Evening stroll

Even the most subtle experience, Tokyo has a place for you. Of course, you can always take an evening stroll on some of the best streets of Tokyo. In addition, there are temples in Tokyo, such as Sensoji and Asakusa, that become more charming at night.

Further, the waterfront side of Odaiba provides an excellent opportunity to walk at night. At this angle, you can have a better view of a stunning Rainbow Bridge.

Night baths or 'Onsen.'

For those looking for a more traditional Japanese experience, Onsen is a good choice for you. After a city day tour, you can end your day at the city's most renowned Onsens. In this way, you will have the chance to relax and chill in hot spring and night baths.
What part of Tokyo has the best nightlife?
Throughout the city, Tokyo is alive and vibrant at night. However, there are still areas and districts to get the best Tokyo nightlife. These parts of Tokyo offer unique nightlife experiences.
To get the most of the Tokyo experience, you should not miss visiting these districts:
Shibuya

For the young adults and young at heart, the Shibuya district is the place for you. It has plenty of nightclubs, dance lounges, pubs, and bars. You can party all night in this place. Most tourists crowd the area as it is the most accessible part of the city.

Kabukicho

Kabukicho is Japan's biggest red-light district. It caters to unlimited clubs, restaurants, nightclubs, and bars. Kabukicho has plenty of neon lights, indicating that nightlife is about to starts. Moreover, it has the Golden Gai, where you can see several small bars.

Ginza

If you want to experience a more upscale area, you can visit Ginza. In this district, you can enjoy fine dining, high-end chic bars, and nightclubs. However, it is more exclusive to the Japanese on the downside and requires you to spend more money. Therefore, if you want to spend a night in Ginza, you need to prepare a considerable amount of money to enjoy the place fully.

Roppongi

If you want a more inclusive district, you can choose to hang out at Roppongi. It is where tourists and foreigners concentrate. The district has a large number of nightclubs, restaurants, and bars, as well. There is plenty of Japanese food and drinks you can try in Roppongi, too!

Shinjuku

In this part of Tokyo, you will see a large concentration of buildings and skyscrapers. Yet, when the evening starts, shops, clubs, and restaurants begin to pop out. Shinjuku will never bore you, as well. The district has a lot of things to offer to tourists. Further, spending your evening in Shinjuku means staying late until midnight.
What should I avoid in Tokyo?
Even though Tokyo is a generally safe city, you should not let your guard down as a tourist. There are still zones or areas in Tokyo that should be avoided. Most of them recorded the highest crime rate in the city.
To keep you safe at all times, here are the places that you should avoid:
Taito

The area that recorded the highest crime rate is Taito. In this part of Tokyo, you should not visit Asakusa for your safety. It has the highest male ratio, and most international travelers concentrate. The mixture of people focus in the area might lead to potential crime.

Toshima

The second on the list is Toshima. You can see here the downtown spot of Ikebukuro. In this area, there is a large concentration of urban young people. Since there are many, however, on people, there is a higher chance of crime that can occur.

Edogawa

The district that places second is the Edogawa. There are reported incidents of vehicular breaks, burglaries, and other minor crimes. On a lighter note, the district authority is making progress in making the place safer.

Ueno

Another area to be avoided is Ueno. In this part, most homeless people concentrate. There might be some gangster element in the area which is to be avoided. Moreover, we do not recommend walking at night in this part of Tokyo.
Of course, Tokyo is one of the best travel destinations one should visit. Even if Japan is notoriously known for death by overwork or 'karoshi,' the capital city knows how to have fun.
You can see by the number of nightclubs and bars that Japanese people know work-life balance. As the city also caters to foreigners, more evening activities are being offered. Other than that, the city is committed to providing safety to its residents and visitors. The law and safety enforcement agencies work hand in hand to make Tokyo safe for everyone.
May this essential guide provides the information you need when traveling to Tokyo. It has all the vital tips you need from the districts to visit and areas to avoid.