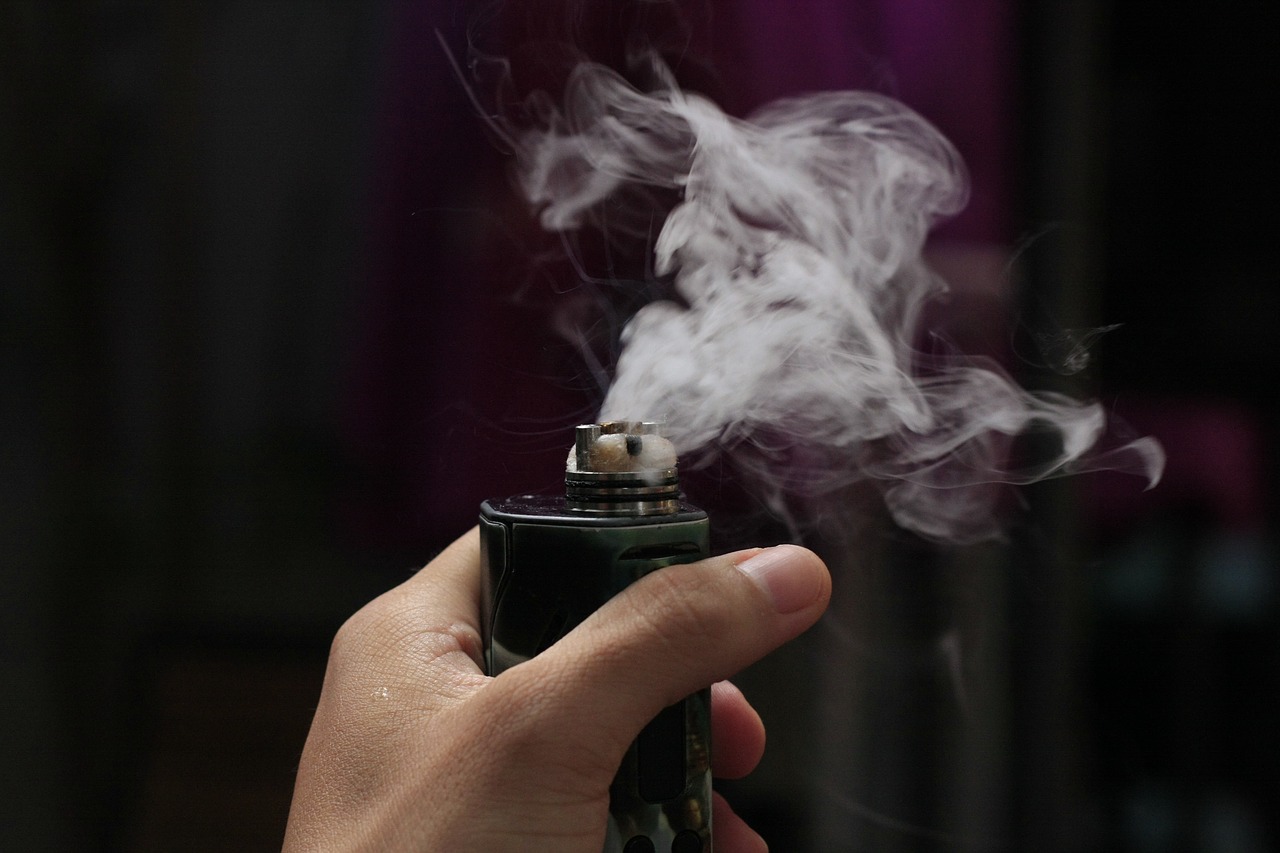 The use of e-cigarettes among youth is widespread. It is quite alarming that many e-cigarettes businesses are targeting the youth. There is the mass production of vaporizers, even e-liquids appealing to the child.
You can see delicious and exciting scents in vape shops most youth cannot resist. The aromas are irresistible and youthful that many minors today find interesting.
The introduction of e-cigarette targets not only smokers but non-smokers, as well. A considerable percentage of these non-smokers are youth. They learned to use vape, puff, and even hide it from their parents.
Vaporizers among youth are now becoming a norm. You can see images of minors with vaporizers or e-cigarettes in their hands. There are minors using vapes in the park or even at the airport terminal.
However, minors traveling with e-cigarettes raise issues and questions. Most would ask whether this demography can bring vaporizes at the airport.
Airport security's primary concern when inspecting is the presence of prohibited items inside. The shield would check if you packed banned items and confiscate them in the process. The security's concern and purpose are to ensure that no prohibited items inside your bag.
E-cigarettes should be in carry-on bags and not in the check-in luggage. Even when you are 21, you can still bring e-cigarettes in your carry-on bags. Airport security allows you to bring a vape on a plane even when you are under 21.
Will TSA take my vape if I'm under 18?
Airport security and TSA have a standard policy about vaporizers and e-cigarettes. It must not be part of the check-in luggage. They are after the safety of passengers, and batteries of vapes may cause danger in flight.
Regardless of your age, if the TSA caught your e-vaping device in the check-in, they might confiscate it. In some cases, they would ask you to put it in a hand-carry.
TSA does not have a policy on the use of e-cigarettes among youth. The said law is under the functional concern of the state government. The only priority of TSA is to ensure safety among the passengers.
If you are traveling and wanted to bring your vape even when you are under 18 years old, you can do so. TSA will not take your vape even when you are under 18 if it is in your carry-on luggage.
You need to ensure that you will not be using the device during the flight. Even charging the device is not permitted. The cabin crew might get your attention when you start charging e-cigs.
If you are planning to bring the vaping device on the flight, here are some helpful tips:
Avoid turning your vape on a plane. Charging and using it will endanger other passengers. It is important to disassemble the batteries and parts when boarding a flight.
Confirm with the airlines their corresponding rules on the use of e-cigarettes. They might have stricter regulations and verifying it is equally important.
Do not fly with nicotine-based devices or even a weed vape. The country you want to travel to might has a separate policy on these substances. Even if you are traveling within the US, other states do not allow such chemicals.
Can I test my child for vaping?
E-cigarettes are one of the most exciting products in the market today. They are electronic devices that can heat a liquid and produce an aerosol.
Most liquids come in different colors and aromas that are more appealing among youth. They are also in various sizes and shapes and have batteries that can self-activate.
You can see e-cigarettes in the form of cigars, pipes, or pens. Some vaporizers like Juul and Puff Bars resemble USB flash drives. They are portable and handy, and you can carry them anywhere you go. Compared to conventional cigarettes, these devices are more sophisticated in style and design.
Companies would claim that they are the ideal alternative for traditional cigarettes. Many advertisements and product promotions say that they are healthier, unlike regular cigarettes.
The claims and promotion for vaporizers appeal to the youth, as well. Yet, these devices' use is still unsafe for minors, teens, and even young adults.
Even though claims suggest that they are healthier versions of cigarettes, most e-liquids contain nicotine. The substance is very addictive and can harm your children in the process.
Nicotine can harm your minor's brain development that can have a negative effect in the long run. Aside from nicotine, the vaporizer has other harmful substances. It will also encourage youth to smoke traditional cigarettes in the future.
You can prevent this from happening when you test your child for vaping. There are available tests today which you can use when you suspect your child is vaping. Here are the following:
Urine test

When you feel that your child is using vape, you must immediately go for a urine test. The test is ideal when you suspect your child is vaping over the last few days. You can quickly get the result in just 10 minutes for $19.

Blood test

Another way to know whether your child vapes is thru a blood test. Simple blood from your child can detect if there is nicotine inside the body. A blood test will take longer than a urine test, and it is way more expensive at $70.

Hair Follicle Test

The hair follicle test is an ideal way to know if your child is vaping for a long time already. It will take almost three days to have the result, and it is the priciest test among the three. Your child's hair is subject to testing for nicotine.
Testing your child for nicotine or vaping is essential to save his health. There are long term effects of using e-cigarettes. You can test your child for vaping using urine test, blood test or hair follicle test.
Aside from encouraging the use of cigarettes, it is detrimental to ones' health. More than nicotine, there is aerosol that can also be harmful to the lungs. Defective e-cigarette batteries can also be explosive that can significantly harm your minors.
It is crucial to intervene as early as possible to save your child's health and future. E-cigarettes may be appealing as an alternative to smoking, but they are not safe for children. You can protect your minors if you choose to test them now.
Is it illegal for a child under 18 to vape?
Smoking is only for adults. The rule also applies to the use of e-cigarettes and nicotine. When you are under eighteen years of age, you cannot use e-cigarettes or even vape.
In the US, federal law prohibits minors under the age of 18 to use vaping devices. Children cannot buy and use vaping devices or other related products under the law. It is illegal for a child under eighteen years of age to vape with nicotine.
According to US federal law, vaping devices are the same as traditional tobacco products. If it contains nicotine, minors should not use such products. It says that any product designed for nicotine use will be under the tobacco category.
The regulations for tobacco products extend to e-cigarette devices as well. It means that before buying, you need to present a valid photo ID with age on it. However, state laws still differ about the use of e-cigarettes in the US.
Nevertheless, many states prohibit the selling of vaping devices and liquids to minors. They have an age limit of 18 before selling these products. You need to pay a fine when an authority caught you vaping and underage.
States like Alaska, Alabama, and Utah have at least a 19 age limit for vaping. Some states, including Maine, Oregon, California, have a 21 age limit. Before using vaping devices, it is essential to know the age allowed in states to avoid violation.
Can minors purchase e-cigarettes?
The law prohibits the selling of e-cigarettes among the youth. Minors will not be able to buy e-cigarettes, especially when they do not have a valid ID to present.
All vape shops should demand valid IDs from young buyers to confirm the age. In case there is no ID present, there is no selling of products.
However, there are plenty of ways for minors to get e-cigarettes. Even if there is no ID presenter, some can get a chance to buy vaping devices.
Here is some way how youth get their vaping device and liquids:
In-store purchases of e-cigarettes

Minors find a lot of ways to have vaporizers or e-cigarettes. The most common way is in-store purchases. Even when the store demands an ID, a minor can ask for someone of the right age to buy. Some would pay a person to do the buying of e-cigarettes.

In this case, there is a whopping 60% of students who get this kind of product in-store. They would say that it is easier to get vaping devices by in-store purchases. They usually get this from a convenience store. Some storekeepers would even sell such products without demanding an ID.

The minors would say that some shops can sell e-cigarettes than tobacco products. Meaning, there is a disregard of the law on the prohibition of e-cigarettes.

Online purchases

Another way a minor can have vaporizers is online. Minors can successfully get such products by buying them online. There are plenty of online shops that do not have proper age verification. In this way, it is easier for the youth to buy them online.

In the verification aspect, they can only check the age box and enter the site. E-cigarettes are also available on eBay and Craiglist. These online platforms are very accessible among the youth.

Moreover, even in the listing, Juuls and Puff Bars are under the category of electronics. When a minor tries to buy the product, it can easily add to the cart because of the shady type.

Social sources

The proliferation of many e-cigarette related products means a lot of ways to get one. If both in-store and online purchases do not work, there is another option, social sources. A minor can get e-cigarettes from friends and classmates who have access to online buying. Some of them would pool money together to be able to get the device.

Even if there is a law regulating the use of e-cigarettes, youth can find ways to find one. The state should strictly monitor the selling and buying of these products as much as they want to protect the child.
The state should have a strict and precise policy on the use of vaping devices among minors. It is under their function, as well. On airport security, the TSA always follow standard regulations on vapes.
Air safety travel is the primary concern of all airport security. It is not their responsibility to check whether a minor is bringing such a device. They are up to the safety of all passengers, and keeping these devices in hand-carry is crucial. Even when you are minor, if you pack the vaping devices well, TSA will not confiscate them.