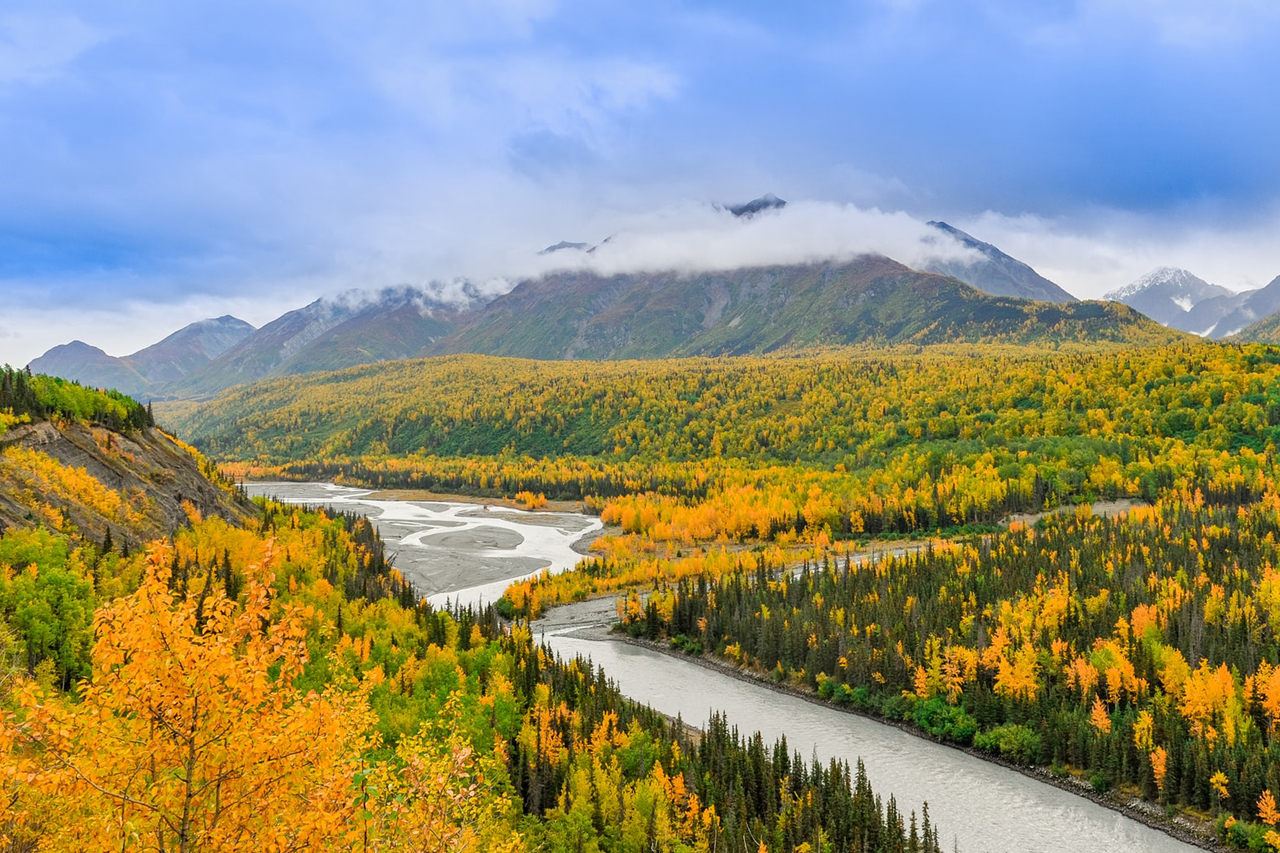 Anchorage, the state's central city, is the ideal location for a low-cost trip or even without a car, with many free activities that appeal to nature and culture enthusiasts.
The city contains animals, national parks, and hiking routes. Day outings involve hiking, biking, and other outdoor activities. Also, there are several museums and animal reserves perfect for the family.
Without a doubt, the city has enough to see and do. Some are designed for drivers, while others are for those who use public transit. Some are brief, while others are lengthy.
Here's my list of top things to do in Anchorage without a car!
1. Alaska Native Heritage Center
Alaska Native Heritage Center is a leading cultural center dedicated to preserving Alaska's rich cultural heritage.
The facility has a gift shop, a theater with scheduled films, a small assembly area with a stage, and an exhibit room with exhibits on traditional regions, costumes, art food, the gold rush, and migration.
Behind the assembly area, there is also an exhibit cabinet with some traditional native attire. Inside, there is a small refreshment room with tables and vending machines. You'll find the café next to the gift shop.
The magic occurs on the outside. There are imitation Native Territories communities out there. They're all interactive, and you can step inside to see relics from the period. They're all centered around a lovely lake and are self-guided.
Plus, there is a patio area with heaters and an outdoor café window where you can order while the cafe is open. Finally, I'd like to mention the wood theater seating, which hosts lectures, instructions, workshops, and other group activities.
Alaska Native Heritage Center is undoubtedly a must-see attraction in Anchorage. It's as engaging and fun as it is informative. It is a beautiful museum that I visited without a car.
2. Alaska Wildlife Conservation Center
The Alaska Wildlife Conservation Center (AWCC) is a refuge committed to conserving Alaska's wildlife via research, education, and high-quality animal care.
AWCC accepts wounded and orphaned animals all year and provides them with large cages and high-quality treatment. The facility houses animals that can't return to their native environments.
There aren't enough good things to say about this location other than wow. This trip is a must to view wildlife in the Anchorage area. It takes place in the beautiful mountains and valleys.
I went on a trip from Anchorage and was blown away from the moment we arrived. It was memorable and delightful to see these creatures in their natural surroundings.
Every exhibit explains how the animals enter the park, a nice touch that helps us comprehend people's impact on the environment.
They provide the choice of walking or driving through the park, which I guess is the preferable route during the winter months. Employees are stationed throughout the enclosures and are ready to answer questions.
Make sure to add this to your to-do list in Anchorage.
3. Chugach State Park
The most incredible thing about living in Anchorage is Chugach State Park. We go on daily walks in the Chugach last summer, and it's fantastic.
There's so much magnificent wildlife, glacial lakes, rivers and waterfalls, wild berries, and stunning panoramas of the Inlet within minutes from parking places in the sections closest to Seward Highway.
Much of the park is readily accessible from Seward Highway, so resist the urge to start hiking without the proper equipment.
There are bears and moose all over the park, so be careful.
Keep in mind that there isn't much mobile coverage in this region. Also, remember to bring plenty of water, food, and your camera.
Prepare to go back to nature!
Windy Corner is where my favorite route starts and travels north to Rainbow Falls. You can even hike right up to the cold glacier falls with suitable boots.
4. Earthquake Park
This park along the Tony Knowles Coastal Trail near the airport contains the ruins of a residential area that sunk into the sea during the massive 9.2 Richter earthquake in 1964. The ground fell and sunk, and paved pathways enable you to explore the strange and rapid decrease in height towards the lake.
Stop here when in Anchorage to see the mountains and a spectacular sunset!
If you take the time to travel out to Earthquake Park, it will not disappoint you. The scenery will take your breath away!
The bluffs tower over the Knik Arm and provide a bird's eye view of Denali and the surrounding mountains. It is a beautiful picture opportunity. I was fortunate enough to enjoy a beautiful mountain vista throughout the day.
5. Tony Knowles Coastal Trail
Tony Knowles Coastal Trail stretches from downtown Anchorage to Kincaid Park in the south, skirting practically the whole western coastline and readily accessible from many locations across the city.
It's my favorite path in Anchorage. Depending on where you start and stop, you'll get different vistas, but you'll always enjoy beautiful lake and "Sleeping Lady Mountain" views throughout the path.
The route also links to several nearby homes, parks, and playgrounds. Everyone uses the path, and this is perfect for bikers, joggers, walkers, skateboarders, and rollerbladers.
On this trail, I always feel comfortable.
You'll get up and personal views of the waves and their dramatic tides, the surrounding mountains, the city skyline, and even the international airport's runways and aircraft.
There's practically no reason not to go outdoors and explore here in Anchorage, with such well-designed public facilities and magnificent landscape.
6. Potter Marsh Bird Sanctuary
Do you like birdwatching? Visit the Potter Marsh Bird Sanctuary to witness over 220 different bird species.
Bring binoculars to the Anchorage Coastal Wildlife Refuge's 1,150-foot wooden boardwalk for bird viewing. Between the end of April and September, you can see Canada geese, northern pintails, canvasback ducks, and red-necked phalaropes.
Also, look for horned and red-necked grebes and northern harriers. You can use binoculars or a spotting scope to look for eagle nests in the cottonwood trees at the bottom of the bluff.
It is a fantastic location for a variety of reasons.
I observed various birds, but I also saw salmon, a mother moose with her calf, and a bear with her two cubs.
The background information on all of the creatures was fantastic.
There are places to use the bathroom, but dogs are not allowed. Everyone on the bird trip was kind and courteous! Have you forgotten your binoculars? They supply pairs!
7. Alaska Public Lands Information Center
Alaska Public Lands Information Center is a fantastic attraction in Anchorage.
There is a lot of helpful information here and outside the dining space and live music occasionally. In the winter, learn about the region around the hut. Also, you'll find beautiful ice sculptures! I've been here many times, and the most recent was a year ago.
Check the exhibit's hours since they fluctuate and it is not open all day. It's free, but you have to pass through security (x-ray and magnetometer). After screening, you head to the display area, and off you go.
The displays are fantastic and take you through the state's geography and animals. Whales, salmon, wolves, caribou, bison, seals, bears, and eagles are among the fauna on display. They talk about the Northern Lights, fish, the seasons, glaciers, and traveling throughout the state.
I can't believe it's free. Some of its exhibitions are interactive, while others feature accompanying videos. I adore the whale tail and the dynamic Northern Lights.
Here I learned a lot. It is a fantastic place to start in Anchorage to learn about the city. You must require yourself to visit this location!
I offer it as my most significant recommendation and hope you get the opportunity to see it.
8. Lake Hood Seaplane Base
The Lake Hood Seaplane Base is a must-see attraction in Anchorage!
This lake contains the world's biggest and busiest collection of floatplanes, and it's worth seeing while in Anchorage. You'll hear them take off all day long, so come over and see what the fuss is about!
The lake itself is lovely and reminds me of Vermont's lakes. The bright aircraft and their small shelters create a terrific picture opportunity when surrounded by beautiful trees in the fall.
I also enjoy that the aircraft isn't simply for show, but you can take a flightseeing trip from here. The planes take people and goods to remote parts of Alaska, and they may be the last link in a chain that makes it possible to live here.
It's entertaining to remain in the parking lot and watch them arrive and depart. The pilots are very talented and seamlessly shift from sea to sky!
9. Eagle River Nature Center
The Eagle River Nature Center is a structure located immediately at the trailhead. The facility is handled daily, with toilets, a drinking fountain, and exciting information about the region and Alaskan animals.
You can also buy refreshments and souvenirs.
A non-profit organization manages this section of the Chugach State Park. Without them, I feel this trail system and surroundings would not be as well maintained or popular with residents.
The workers are primarily volunteers who are exceedingly polite and informed about the region.
There are trails for everyone in this region, with the shortest being under a mile. Friends of the Eagle River Nature Center has numerous distinct cabins for rent and tent camping spaces. They have a variety of activities for both children and adults.
Albert Loop and Rodak Trail are two of our favorite kid-friendly hikes.
10. Anchorage Market and Festival
With the nice weather on a Sunday afternoon, I couldn't think of a better location to go than the Anchorage Market and Festival. This yearly weekend gathering is set in a parking lot across from the Anchorage Hilton Hotel, with a view of the Chugach Mountains in the distance and the Anchorage Railroad just down the road.
The venue was reasonably crowded, with most attendees around the food vendors and others near the southwest corner stage for local performers.
There are tents selling souvenir t-shirts, arts and crafts manufactured by local artisans, Russian dolls, NFL apparel for dogs, intricate animal wood sculptures for the front yard, and food. There were plenty of food sellers lined up along the third row from the main entrance.
The Pork Sandwich was fantastic with sautéed onions and melted cheese. Also, the potstickers were delicious, with light fried dumplings, savory pork pieces, and sliced scallions.
The festival also has local vendors serving salmon quesadillas, Russian Pelmeni dumplings, fish tacos, glazed doughnut bacon cheeseburgers, and fireweed honey ice cream.
Mei's Dumplings' Fried Potstickers and a BBQ Pulled Pork Sandwich from Smokehouse BBQ were my favorites.
11. Anchorage Museum
The Anchorage Museum, Alaska's biggest museum, promotes a deep knowledge of Alaska's rich history
and culture through art, history, and science.
This museum is incredible.
It's by far the most fantastic art museum I've ever seen. It's neat. In one, it's an art museum, a kids' museum, a history museum, an indigenous museum, and a café.
But the art begins outside the museum. Aside from the structure, the grounds include sculptures and paintings obtained under the 1% For Art initiative. Outdoor art shows and a park are located at the front. They are all lovely and set the tone for the museum.
The café on the first level has an ample lounge space and serves coffee, beverages, and light snacks.
In addition, the second level has a major Native Alaskan exhibit named Living our Cultures, Sharing Our Heritage: The First Peoples of Alaska.
There is a fantastic picture opportunity on the way to the permanent Alaska Exhibition.
Among the notable displays are Christina Seely's Dissonance and Disturbance, Stuart Hyatt's Stations, Borealis: Life in the Woods, and Counter Cartographies: Living the Land.
12. Thunderbird Falls Trail
Thunderbird Falls Trail is perfect for anybody wishing to go outdoors.
I'd even recommend it to someone using a stroller. A few "steep" areas may be troublesome for those with disabilities, but nothing too tricky.
A viewing platform is a one-mile walk away. There is a seat on the platform to relax and enjoy the view. The trees can cover the waterfall in the summer, but it is spectacular in the fall and winter.
You can descend a rather steep part to the foot of the waterfall if you have the time and stamina. I've tried it before and don't believe it's worth the additional work.
The river that forms from the waterfall prevents you from getting too near. It's a beautiful small spot for kids to explore and dogs to romp in, but be aware of the strenuous uphill climb back to the main route.
Overall, it's a pleasant little stroll in the woods. I wouldn't go out here just for this hike since it's short and sweet.
As you can see, there are several possibilities for making an extraordinary journey to Anchorage, Alaska, and everything it offers. Take your time to admire the beautiful land in all of its splendor!
Thank you for reading my list of the best things to do in Anchorage without a car. Please offer your views in the comments area if you want to contribute to this list.