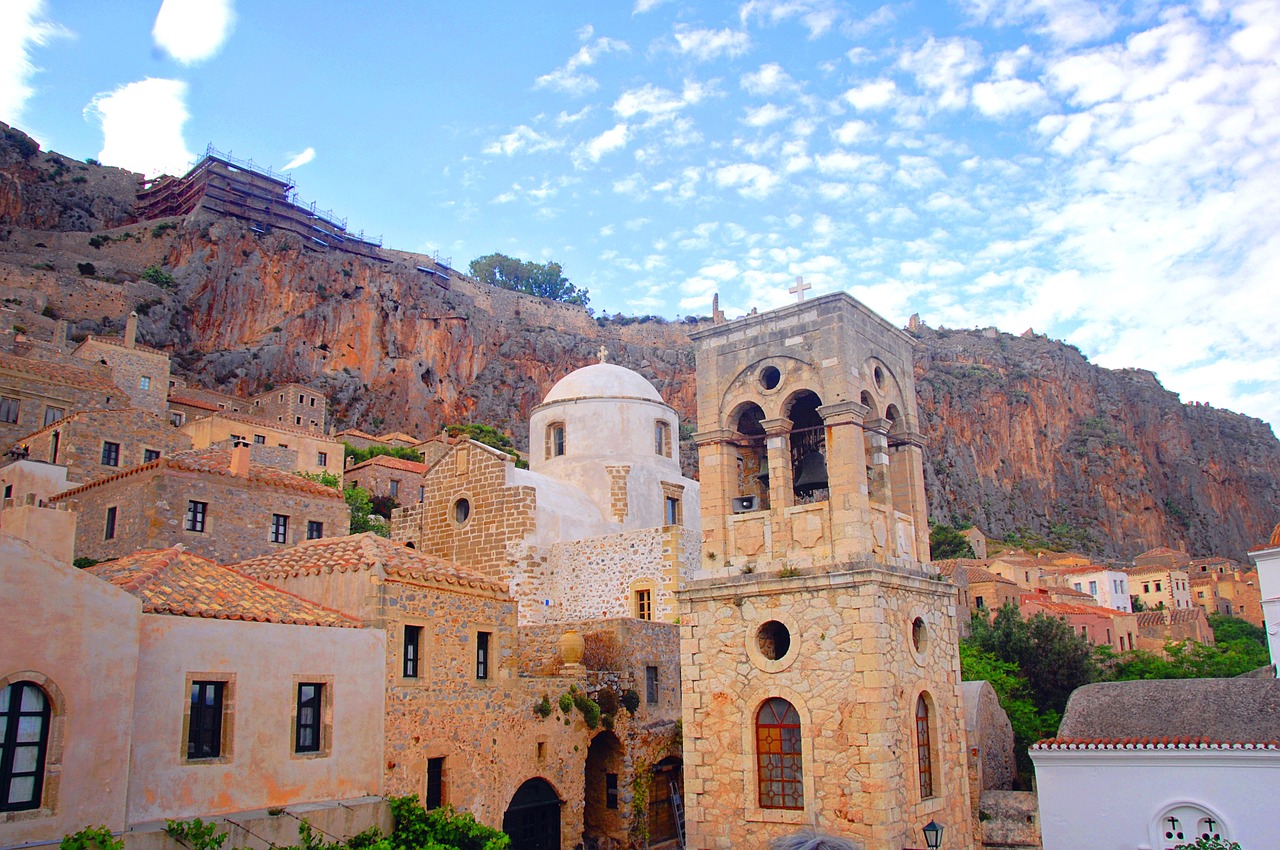 When visiting Monemvasia in Greece, three days is enough to visit its tourist sites. In 3 days, you would be able to visit sights like the Elkomenos Christos, the Church of Agia Sofia, and the Pori Beach. Plus, you would still have enough time to drop by a castle, too!
The island of Monemvasia sits right off the Eastern coast of the Peloponnese. A causeway, about 700 feet of it, connects Monemvasia to the mainland.
The first time one sees it, it appears that the island may not be much. But once explored, the island proves to be an authentic Greek experience. Visiting the island is highly recommended.
But how many days do you need to explore the island?
First of all, one should understand that the island has a laid-back and charming vibe. It has none of the malls. It does not have any of those tourist destinations you normally see in cities.
Visiting Monemvasia is like walking back into history.
Visiting the island brings to mind a picture of how Greece was many years ago.
To explore and appreciate, one should immerse himself/herself into the environment. There is no rushing traffic. And so, one should also not rush the visit.
In total, one can spend a total of three days to experience the beauty of the island.
There are Byzantine churches and coastal views.
The island exudes the flavors of Greece in all aspects.
What also makes the island unique is its fortress wall. The wall envelopes the whole town and seems to protect it from outside forces.
There is only one entrance to the town. It is through a gate which is a part of this wall.
Behind the fortress, there is so much to explore. And this is the ideal place to stroll and discover.
To give you hints of places to visit, read on.
Day 1
When visiting, one should know that the island is far from Athens.
It is 156 kilometers away from the capital city. Boarding a bus takes about 5 hours or so. There used to be a ferry in the past, but this is no longer available.
But fear not because I will be telling you how to get there.
The point now is that, since it is far, you need to start your Day 1 late in the day.
If you leave Athens in the morning, chances are you will be in Monemvasia by early noon.
At this time of the day, you can visit the Monemvasia Archaeological Collection.
You would also have enough time to go to the Elkomenos Christos.
And finally, you can finish the day with a visit to the Panagia Chrysafitissa.
Day 2
If you love the beach, there are a lot of choices in Monemvasia.
Spend about half a day on any of the island's beaches.
Ambelakia Beach is nice. And so is Pori Beach. Choose which of these two you would like to visit.
By late in the afternoon, you can go to Kanoni.
End your day with dinner in any of the island's few restaurants.
Day 3
On the third day, you can drop by the Church of Agia Sofia. And should you have more time, you can also pay a visit to the Castle of Monemvasia.
You can then leave the island in the afternoon.
Monemvasia
The best thing about this island is that it brings you an amazing authentic Greek experience.
Every single inch of this island is Greece in all its splendor. Its restaurants have nothing but
Amazing and authentic Greek dishes.
When on the island, you will also find that most locals do not speak English.
Also, you will see that most shops sell handmade jewelry. This is different from the usual souvenirs one finds in Athens.
When it comes to restaurants, the al fresco dining experience at the Emvasis Café is superb.
And while you're here, eat fish. Fish and seafood here are the freshest. Make sure to include them in your meals.
If you have more time and energy, you can visit the upper town of Monemvasia. It is about 15 minutes of steep paths going up.
But once up, one gets rewarded with a view unlike any other. One sees the rooftops and the sea in their amazing beauty.
How do you go to Monemvasia?
There is no airport in Monemvasia. To go there, one has to travel through Athens. There are flights from New York and other major cities in the US to Athens. From there, one can take a bus or rent a car to reach the island of Monemvasia.
If one looks closely at a map, one will find a road connecting the Peloponnese to the island of Monemvasia. And yes, this is the only way to the island.
But first of all, what you need to know is how to get to that road.
Know that the island does not have an airport. And so, the closest that you can get to the island is by flying to Athens. This should be the most convenient.
From the Athens International Airport, one can take the public bus or rent a car to reach Monemvasia.
But the drive takes about 4 hours or so. Riding the bus takes about five hours.
As such, you spending the night (or nights) on the island would be your best bet.
Upon reaching the fortress wall of the town, you will see an entrance.
By this time, most travelers would have doubts about the beauty of the island. The outside looks so simple and ordinary.
But once you go through the entrance and come up on the other side, you get transported into a beautiful world.
It is a town of beige buildings and medieval structures. It has beautiful squares and amazing old churches.
All these are what make visiting Monemvasia worth it.
But how do you get there?
Here's how.
Flying
As you already know, the island does not have an airport.
The nearest airport is about 4 to 5 hours away in Athens.
Major airlines like Delta travel to Athens from JFK in New York. Emirates also has a route that flies from Newark to Athens. There are also flights from LA to Greece.
Aside from these regular flights, there are seasonal ones. They travel from major American cities to Athens. Some of these are from Atlanta (Delta) and Chicago (American Airlines). Some fly from Newark (United Airlines).
Flying on Tuesdays and Wednesdays would be cheaper.
Also, remember that November to January is peak season. Plane tickets in these months would be more expensive.
I'll give you an idea of the costs later.
Meanwhile, upon arrival in Athens, how do you get to Monemvasia?
Car Rentals
Driving from Athens to Monemvasia takes about 4 hours or so.
For you to reach the island, you have to drive through the Greek National Road. This takes you driving from Corinth to Tripoli.
Once in Tripoli, all you need to do is follow the route to Sparti and Gythio. But before you arrive in Gythio, you will see signs that you have to follow. These signs would eventually lead you to Monemvasia.
When driving, you can use the GPS or even Google Maps. Note that Waze does not work in Greece.
And because you chose to drive, you need to rent your vehicle.
Car rental rates in Athens are about US$5 to US$8 per hour. But because you will need the car for many days, pay the daily rate. The rates would be anywhere from US$25 to US$40 per day.
If you are traveling as a family, you need to rent a van or a bigger car. These cost about US$50 to US$60 per day.
Your license should be at least a year old. You also need to be at least 21 years old to be able to rent a car in Greece. And you should have an international driver's license.
There is also a young driver surcharge for drivers aged 21 to 25. The rates vary depending on the car rental company.
Also, when renting a car, prepare your ID or your passport as you have to show them upon payment.
Fuel prices, on average, are about US$45.
Taking the Bus
Buses travel daily from Athens to Monemvasia.
The routes pass through Sparti or Molai.
Travel time takes about 5 hours or so.
When taking the bus, one goes to the Kifissos KTEL bus station from the airport. Choose to board Bus 051.
Tickets cost around US$34 one way. Buses depart as early as 8:15 AM. The last bus leaves at 5:15 PM.
There will be 13 stops before you reach Monemvasia.
Is Monemvasia worth a visit?
Monemvasia is the hidden gem of Greece. This medieval town has churches, beautiful beaches, and coastal views. It has the freshest seafood and a relaxed vibe. Monemvasia is undoubtedly worth a visit.
The island has many beautiful attractions. It has magnificent coastal views and picturesque locations. These all make this island worth visiting.
It has beaches, quaint streets, and medieval castles to boast of. Plus, it has churches and a unique flavor of Greece that make this an amazing travel experience.
Here are a few tourist attractions on the island you should see.
The Church of Agia Sofia
Right on the upper town of the island is the church of Agia Sofia.
This is one of the oldest Byzantine churches in the country.
The church was actually built around the 12th century. Agia Sofia stands beautifully in the highest area of the island. When visiting, one gets to see a view of the Aegean Sea.
Pori Beach
This beach is peaceful. Because in here, there are not many tourists that visit.
The beach is one of the most beautiful on the island. But this does not mean it is bad-looking. Aside from that, this is also one of the cleanest beaches Peloponnese has to offer.
The Castle of Monemvasia
When on the island, one can go and explore the upper and lower towns.
The upper town of Monemvasia boasts of the Agia Sofia church. On the other hand, the lower town has a sea wall, a Turkish mosque, and a castle.
The Christ Elkomenos
Also, in the lower town, a central street would lead one to the main square.
The square has a unique but perfect meeting point, which is a ship's cannon. In this square, one will find the Monemvasia cathedral named Christ Elkomenos. In English, this translates to "The Crucified Christ."
The cathedral was a masterpiece built around the 13th century.
The Turkish mosque I mentioned earlier is just across from the cathedral. This was actually built around the 16th century. The mosque is now converted to the island's archaeological museum.
How much should you spend in Monemvasia?
A solo traveler can spend about US$40 to as much as US$300 per day in Monemvasia. This should cover your activities, hotel rooms, and food while on the island. The amount you spend should vary. This depends on your choice of activities, hotel rooms, and dining places.
On average, hotels on the island can be anywhere from US$29 to around US$170 per night. Most hotels are actually priced at around US$50 per night.
Most travelers spend around US$112 per day. This includes accommodation, food, and activities. For food, traveling, and sightseeing, one can pay anywhere from US$26 to US$62 per day.
But what if you travel cheap?
The island has 1-star hotel rooms as well.
If you are a budget traveler, know that room rates are from US$25 to US$30.
For food and sightseeing, this should be anywhere from US$14 to US$30 per day.
With these costs in mind, budget travelers can spend about $60 per day on everything. The cheapest budget traveler can spend about US$40 for the whole day.
Depending on your choices, Monemvasia can be cheap, or it can also be extremely expensive.
For travelers bedecked in luxury, rooms can be anywhere from US$120 to US$170 per night. Food and activities can be anywhere from US$50 to US$130 per day.
And so, if you travel in luxury, you could spend as much as $300 per day.
Additional Information – Flights
Plane tickets can vary depending on a lot of things.
The airline is one factor. Some airlines can be more expensive than others. Additionally, where you fly from is also another factor.
For example, a flight from New York to Athens can cost around US$700 to US$900. Flights from LA, on the other hand, can cost around US$550.
The month you are flying to Greece also matters.
October is the cheapest month to go to the country. November to January are more expensive.
Finally, book your tickets at least three weeks in advance. That should save you a lot in ticket prices.