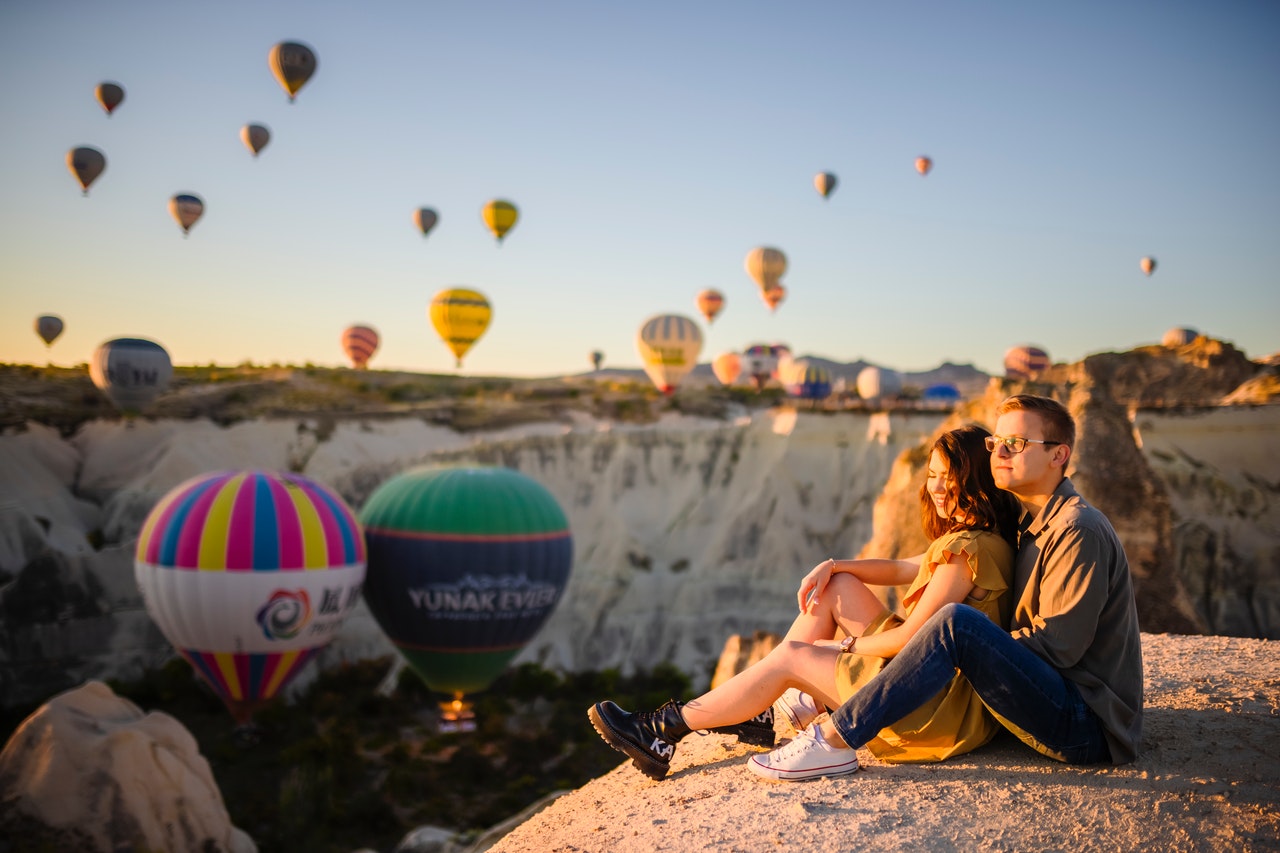 The US has a lot of more affordable vacation spots for couples. Cannon Beach and Savannah are just a couple of examples. Olympic National Park and Sedona are two others. Even the US territory, Puerto Rico, is cheap and romantic for couples.
It is always easy to decide to go on a holiday with your partner.
But the hard part is deciding on where to go. The destination should spark romance but remain affordable as well.
But fear not, because I compiled a list of tourist spots in the US that are both – affordable and romantic.
Here they are.
Cannon Beach – Portland's Scenic Beauty

Lying about 80 miles north of Portland in Oregon is this beauty with all the scenery.

Couples can relax and spark intimacy and romance in Cannon Beach. It has amazing scenery. The place has galleries and shops. Plus, there will always be the outdoors for your hiking or strolling needs.

Savannah – Spanish Moss and Romance

Think of Spanish moss-filled trees lining the streets. Imagine an old City Market and a beach somewhere nearby.

All these are for free. And don't forget to take that interesting ghost tour.

Grand Canyon –Venture into the Great Outdoors

It doesn't get cheaper than this. You set up camp and get views of the North Rim of the Grand Canyon. This is something you can't put a price tag on.

Hike through the trails and discover the Cave of the Domes.

There are also shops in the Grand Canyon Village. There is an entrance fee. But it covers everything you can see and do at the park.

Sonoma – Napa's Cheaper Sibling

If you don't want to spend so much at Napa, Sonoma is your next best bet.

This is Napa's more affordable sibling. It's a quaint country with all the inns and B&B accommodations. There are vineyards and resorts.

Glacier National Park – Almost Canada

The park is popular among hikers.

But it also provides you with a fantastic view of the area that separates Canada from the north of Montana.

A small entrance fee allows you to hike, swim, and climb. Plus, the park offers free ranger-led attractions. Don't miss out on hiking and stargazing!

Sanibel Island – Florida's Affordable Option

Beach lovers, focus.

Sanibel Island is much cheaper than the rest of Florida.

It has more rental properties than registered resorts. This makes accommodations more affordable.

What makes Sanibel Island cheaper is because you can cook your food here.

And while on the island, don't forget to catch that sunset. It's beautiful!

Olympic National Park- Off to the Mountains and Glaciers

Nothing can be more romantic than holding hands while gazing at those glacier-capped mountains.

You can fish, you can explore tide pools, you can even hike with your partner here.

July and August tend to be warmer. Choose to visit during these months.

Sedona – Quality Time Outdoors

If you are an outdoorsy couple, you can choose to hike the Red Rock State Park.

But if you want a quiet evening of relaxation, go get a massage. Spend some quality time with your partner at a hot tub.

And for dinner, restaurants offer alfresco dining and jaw-dropping views.

Visit during the fall or winter. The place is less crowded.

St. Augustine – Travel Back in the Country's Oldest

Another Florida entry is St, Augustine.

Travel back to history as you visit the country's oldest city. It has historical landmarks and a beach, too!

Don't forget to swing by Castillo de San Marcos. You can also stroll and become cozy by St. George Street.

Puerto Rico – A Carribean Romance

This US territory in the Caribbean has miles and miles of pristine beaches.

Beaches aside, Puerto Rico has impressive natural wonders.

Drop by El Yunque National Forest. Explore the old and colorful town of San Juan.

If you are looking for a destination outside the mainland without the pricey plane tickets, Puerto Rico is your best bet.

Sequoia National Park – Going Wild

Wildlife is the name of the game here.

The Sequoia National Park has everything the wildlife has to offer. There are bobcats, bears, and a lot of bird species.

The park got its name from the massive sequoia groves that you can find here.

There is a small entrance fee that you must pay. But it covers guided tours and everything you do inside the park.

Portland, ME – Seafood and Cobblestoned Streets

What is it about cobblestone streets that make everything so charming and romantic?

Portland in Maine has that. You can stroll through these streets in Old Port. Or, if this is not your thing, you can always laze your afternoons away at one of Maine's beautiful beaches.

Dining is affordable. And the seafood is at its freshest here.

Accommodations are at their cheapest during winter. It may be cold outside. But it's the best time to sit and cuddle in front of the fireplace, isn't it?

Gatlinburg – Fall in Love During Fall

It is located in Tennessee, sitting just beside the Great Smoky Mountains National Park.

Looks great in fall as leaves paint everything orange. You can fish, bike, birdwatch, or hike. It has all the activities with less of the cost.

Santa Fe (NM) – The Town of Lilac

Imagine earth-colored architecture. You'd think you're in the Middle East. But you're not. You're in New Mexico.

The town is rife with lilacs and forsythias during spring. Smell the burning pieces of pinon wood during winter. And explore the outdoors during summer.

It's an all-year-round getaway. You and your partner will never have a dull moment.

Scottsdale (AZ) – The Arts and Everything Else

Scottsdale's got an interesting art scene, sumptuous food culture, and classy activities like golf.

And when you think you got enough, there's a pool and other outdoor things to do as well.

Visit in spring or fall. It's not too hot.

And everything's cheap!

Nags Head – Hello, Turtles!

Here, there are beaches, dunes, and lighthouses. There are amazing fishing spots, and you can even say hi to the horde of sea turtles that show up at the Pea Island National Wildlife Refuge.

Visit this North Carolina paradise during summer or spring.

It's amazing!

Yellowstone National Park – Log Cabins and Interesting Things

Think about 2.2 million acres of wilderness. The vast majority of this area gives you all the wildlife and wonders only Mother Nature can give.

You can finally do activities like geyser watching or go on a boating expedition.

And spark up that romance with a stay at the Old Faithfull Inn. It's the biggest log cabin on the globe!

Finger Lakes (NY) – Dine and Wine in Cheaper New York

You might think of New York as expensive. But not Finger Lakes.

Outdoor activities include fishing, hiking, and seeing that beautiful waterfall.

Finger Lakes also houses a lot of the popular wineries. Stay at an Airbnb to save up and enjoy your weekend!

Williamsburg – A Lesson in American History

Affordable and educational, a visit to Williamsburg is a dip to more than four decades of rich American history.

Colonial Williamsburg is a good place to start. Shopping sprees happen at the Williamsburg Premium Outlets.

The best time to explore it is in spring.

If you visit during summer, they have free outdoor concerts. Take advantage of these events.

Molokai (HI) – Experience Authentic Hawaii

The island is slow.

This island is famous as the "Friendly Isle." It is here that you can experience Hawaii in all its authenticity.

There's a lot of cultures. There will be hordes of adventures.

You can hike. You can visit waterfalls. And you can meet descendants of the first inhabitants of the island.

Hotel Molokai is affordable and beautiful. Stay there!

San Antonio (TX) – Ghost Tours Galore

Dreaming of checking out the Alamo? How about the River Walk?

This is your best chance to see them.

There are many affordable activities like a visit to Brackenridge Park. You can also try out the San Antonio Missions National Historical Park.

San Antonio also has theme parks like Legoland. And there's a zoo as well.

Did I mention they also have ghost tours? Yes, try that out.

Athens (GA) – Historical Homes for You

Another city in Georgia is on this list.

There are free attractions that include visiting historic homes. You can also picnic at a park. Or you can visit the University of Georgia.

Athens is also just 70 miles away from Atlanta. You and your partner can make a day trip if you choose.
What are the cheapest beach vacations?
Naturally, Florida means beach to almost everyone. But the cheapest that you can visit here is Florida Panhandle. Cannon Beach in Oregon and South Padre Island in Texas are great bets, too.
We all crave a vacation by the beach. But are they cheap?
Of course!
Most would think beach holidays are expensive.
But somewhere along the US coastlines, there will always be a more affordable beach destination.
Let me help you and your partner with that.
Read on.
Florida Panhandle (Florida)
Whenever we think of the beach, Florida always comes to mind.
The state is popular. But I find that most known beaches are expensive.
If you know where to look, you'll more likely find cheaper beach destinations in this state.
Florida Panhandle is one of them. The temperatures here are sunny but not too hot. Visit anywhere from around April to October as the weather's perfect.
And while here, do visit Destin, Grayton Beach, and St. Andrews as well.
Cannon Beach (Oregon)
Cannon Beach is just about an hour or so away from Portland.
But despite its short driving distance, it feels like you are in a different world altogether.
About two hundred feet away from the surface lies Haystack Rock. It protrudes from the ocean. But this is the most famous landmark that tells you that you are in Cannon Beach.
It's cheaper than most beach destinations in the state.
Plus, Ecola Park is just around the corner. Here, you can hike, bike, or even fly a kite!
South Padre Island (Texas)
Now, to those who were not able to go to Texas, the thought of finding beaches here may be impossible.
But in the southern part of the state is a beautiful beach.
You can access South Padre Island by road. It is friendly to the budget. And it is also popular among the young during spring break.
Spring Break aside, the beach remains calm.
There are water parks here to keep yourselves and the kids entertained. You can go sailing or kiteboarding as well.
Galveston is also near if you want another option. It has beaches, parks, and gardens, to name a few.
Myrtle Beach (South Carolina)
This destination appears to be a heavy favorite when it comes to Atlantic Coast destinations.
And it is beautiful, mind you.
The beach is great for families. There are golf courses as well as different choices to liven up your nightlife.
Myrtle Beach is also more accessible than many cities.
What is amazing is that there are different hotels here as well. You can stay in any of these hotels or go for vacation rentals.
Whatever your choice is, I'm pretty sure it won't break the bank.
Virginia Beach (Virginia)
Virginia Beach is another US beach destination that I know to be more affordable.
Open to set up camp? You can do it at the First Landing State Park. From the State Park, you can walk for a few minutes to the beach. This should save you on costs. The option is also a great way to avoid all that crowd.
The place is also fun. It has boardwalks where you can take a walk with your partner.
If you are not open to setting up camp, hotels are also affordable here. Just make sure to stay away from the more touristy areas. You'll be sure to find a cheap alternative here.
How can I get a cheap beach vacation?
There are a lot of ways to save up on beach vacations. Aside from remaining flexible on schedules, you should also be open to going to vacation rentals instead of resorts. And share your costs with family and friends. Doing so makes everything cheaper.
If you and your partner are looking into going on a beach vacation, there is no perfect time than to go now.
But how do you save up on costs?
Listen to what I have to say.
Flexibility
Timing is everything.
No matter where you both go, there will always be a time when rates are low and high.
Try checking out prices during the off-season. I know the weeks before school ends always provide cheaper options.
If you can't both go on a vacation on these days, at least consider going on a non-holiday.
Holiday weekends always tend to increase prices.
And I think you are already aware of that.
Vacation Rentals
In previous decades, staying at hotels or resorts would be the more popular option.
But with Airbnb and other platforms getting more popular, some travelers are now open to vacation rentals instead.
With vacation rentals, you get to have the property all to yourself. You can cook your food and do your laundry.
These are factors that can add to your costs when you stay at hotels.
With Airbnb and other vacation rentals, you can slash these costs off your budget, thereby saving you on costs.
For Further Deductions
Before finalizing your booking, check out how else you can reduce your costs.
Do they provide discounts if you are a returning guest? Are there vouchers available? Can you slash off a few amenities that you don't need?
These are minor things that you can take a look at. But these minor costs can accumulate. It is best to check them out before finalizing the reservations.
Share
Are you traveling with another couple? Or are you traveling with your or your partner's family as well?
If you do, you can always share the costs.
Property rentals are cheaper when you share them.
Try looking for properties with multiple rooms. And when you can find one, share the costs.
Of course, choose the property that is big enough to accommodate all of you.
The Travel Points
Do you have a credit card?
If you do, your points can slash a portion of your costs for you. You can use these points for airfare, dining, or even for hotel reservations.
The more you use your card, the more points you earn as well.
Is all-inclusive really worth it?
When it comes to saving up on vacation costs, going all-inclusive is always worth it. Aside from the accommodations, you can also save up on food and drinks. Aside from that, you can also slash a portion of your costs for activities.
The question I get mostly asked is whether an all-inclusive is worth it.
For some, it may not. But when talking about costs, it sure is.
Here are the reasons why.
The Budget
Let's assume that you and your travel buddy have a fixed budget for a holiday.
When you have that, it is always useful to know the costs right there and then. And an all-inclusive holiday gives you that detail.
With this option in hand, you will not stress yourself out in budgeting your costs.
Of course, souvenirs cost extra. But aside from the souvenir and the occasional drinks here and there, you will have a fixed budget with an all-inclusive.
Family Extras
When you are traveling with your wife and kids, we know this setup can add extra costs.
The kids can ask for ice cream. They can ask to swim at the pool.
Most all-inclusive packages already have the cost of swimming at the pool included. Some all-inclusive packages also include extras like free ice cream or free drinks.
Food and Drinks
All-inclusive packages have food and drink included. In some instances, snacks are also included.
Some packages include free alcoholic drinks.
While these drinks may not be the expensive ones, this could, at least, quench that thirst for alcohol during your holidays.
Now, if you want more, that's a different story.
Worth It
You may ask if all-inclusive packages are worth it.
I say, yes, it is worth it.
With an all-inclusive package, you can relax and not worry at all about where to buy your next meal. You also don't have to worry about whether your next meal fits your budget or not.
You can maximize your vacation with all-inclusive packages.
So, sit back. Relax.
Sip that cocktail.
Today is going to be beautiful.