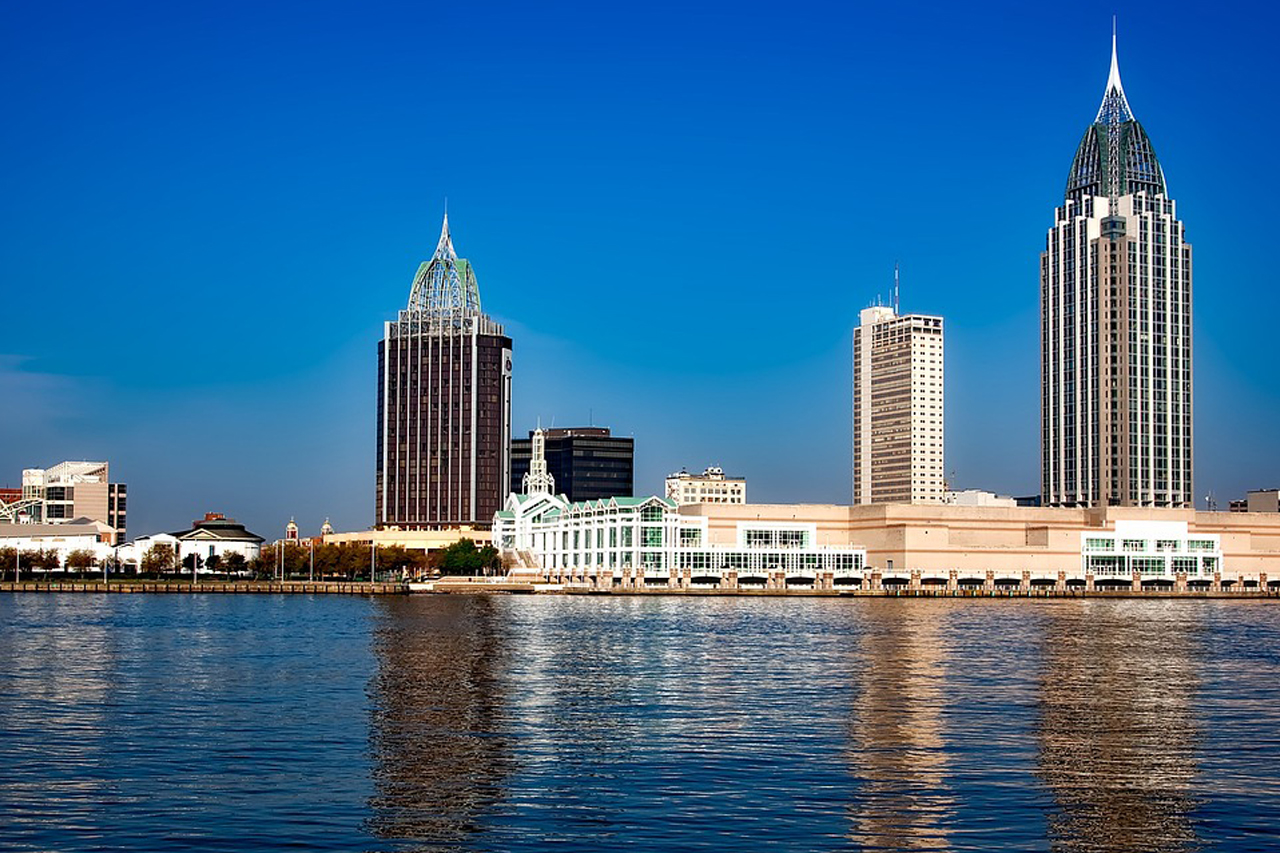 Mobile, Alabama, is popularly known as the 'Paris of the South and a cultural center of the Gulf Coast. It is a saltwater port city with more than 300 years old history. The city has been a colony of European powers from Great Britain, France, and Spain.
Mobile, Alabama, is proudly known as the first city in America to celebrate Mardis Gras. Its architecture, food, and festivities extensively demonstrated the colonial influences. Mobile is interesting because it offers a unique blend of European and Southern American influences.
But besides the city's wealth of history, Mobile presents itself as a city worth living in. It offers a laid-back lifestyle with festivities, Spanish-draped neighborhoods, and a conservative Southern vibe. You will find the city a great place to relocate because of its higher cultural diversity, decent school system, and affordable cost of living.
But before you decide to move to Mobile, you must know the significant advantages and disadvantages of living in this city. So, I present you with the pros and cons of what it is like to live in Mobile, Alabama.
Is Mobile an excellent place to live in? A City of Festivals!
The Good side
Carnivals and Mardi Gras
Did you know Mobile was the first to celebrate Mardi Gras in America? Yes, that's right.
The city has a carnival season that starts from late autumn to winter. For the duration of the Carnival season, it is full of balls and festivities attended by plenty of people from the community and nearby towns.
The season will culminate at midnight, signaling the start of Mardi Gras. It is a highly celebrated occasion relative to Lent and Easter day. It is a colorful activity filled with floats, parades, and happy people.
Mobile first celebrated the event in New World, and it became a yearly activity for the community. Mardi Gras is one of the fascinating events in Alabama and the entire United States.
Lots and lots of things to do!
Mobile has a special place for everyone, whether you have an interest in science, nature, arts, and history.
There is plenty of incredible stuff to do in the city, such as visiting the USS Alabama Battleship. It is a retired battleship anchored in the USS Alabama Battleship Memorial Park.
Another thing you can explore is the Fort of Colonial Mobile. It is a protected site with more than ten decades of Mobile's heritage and history. The French built a fort to defend their troops against the Spanish and British attacks.
Mobile has plenty of stories to tell about the European invasion. The French, England, and Spain invaded and colonized the place, evident in most of its structures, particularly churches.
When you visit the Cathedral of the Immaculate Conception, you will see the grandeur of European architecture. It was built in 1781 during the Spanish period in the city.
Green spaces are also abundant here. There is the infamous 66-acre Bellingrath Gardens that opened in 1932. It is also Alabama's oldest public garden, so it is also giving you a glimpse of the state's history.
If you are into sports, Mobile will not disappoint. There are plenty of sports venues you can visit here, such as 25 golf courses. You can also try the deep sea fishing rodeo since the city is near Los Angeles.
Good options for higher education
If you are moving with your family or want to pursue higher education, Mobile has good options for you. There are several learning institutions you can check out, such as the University of South Alabama, Spring Hill College, the University of Mobile, and Bishop State.
The Mobile County School District serves both the city and its nearby suburbs. The city accommodates more than 15,000 college students yearly. Lower levels are also available here.
Schools with high-performance ratings are the WH Council Traditional School, Old Shell Creative Performing Arts, Clark Shaw Magnet School, and the Phillips Preparatory Middle School.
Cultural Diversity
Mobile is a very welcoming city and is considered a cultural melting pot. Looking at its demography, you will observe a delicate balance of white and black communities. It is some of the few southern cities with a higher degree of diversity.
There is a strong community of Hispanic, Latin, and Asians, too. Whatever your nationality, the city will welcome you with open arms.
Regional Center for Medicine
When it comes to healthcare, Mobile is an excellent metro to consider. It is the regional center for medicine with more than 800 physicians and 170 dentists. It is also home to four primary medical centers, including the Mobile Infirmary Medical Center, Providence Hospital, Daughters of Charity, and Mobile City Hospital.
These health institutions ensure that the people of Mobile receive quality healthcare and dental services. Living with your family here means you do not need to worry about going to another city for medical attention. The hospitals here have an excellent portfolio of providing quality healthcare services.
The Bad Side
Severe turn of weather conditions in Alabama
The weather here is very unpredictable. You might enjoy sunny weather in the morning; the next few hours could be rainy and thunders. Always be prepared for the severe weather turn in Mobile while living here.
You should know all the emergency numbers, so you know where to coordinate in a disaster. You must be aware of the city's evacuation plans, too. In this way, you will know what to do and where to go when disaster strikes in the town.
What is the cost of living in Mobile? A Developing Metro with Affordable Living Expenses
Mobile, Alabama, is a vibrant and developing metro in the United States. It offers an affordable cost of living with low housing prices. Even if you get a property in a restored and renovated neighborhood, you will still pay a reasonable rate.
The Good side
Easier to own a home
You will be surprised that the median cost of a home in Mobile is relatively low. The median home cost is only $110,300. The rate is way lower than the national average of $284,600. If we compare it to the other cities, you are paying 57% less than the US median rate.
Rent here is also relatively inexpensive. Around 8% of the home properties are available for rent. You can choose from different homes and apartments, offering perfect house alternatives. You can find a place to stay for a thousand dollars a month.
With this price, you can now enjoy 935 square feet of property. It is enough size if you are a family of four. The cost can still vary depending on the location and quality of the property. The cheapest neighborhood in Mobile is Washington Square, with house rentals of $600.
The expensive properties are in the Carver. And it can cost $1,331. If you compare it to other cities in the United States, the rate here in Mobile is very cheap, even for the fanciest neighborhoods.
Low utility cost
Suppose you are going to consider the utility cost here. For a 900-square feet property, you have to allot $150 for utilities. It will not be a significant financial burden for you.
The rate includes electricity, heating, cooling, water, and garbage. The figure is very affordable, and the numbers can still decrease if you know how to conserve energy.
The endless tax perks!
Living here in Mobile, Alabama, means enjoying a tax-friendly city. You would only pay a meager income, property, and sales tax. Many newcomers find it surprising when paying taxes in this city.
Now, let's talk about the different taxes imposed by Mobile on its residents:
The Sales Tax
Those living in the United States know that sales tax is always part of the deal in every purchase made. Alabama's base rate for sales tax is 4%. Local units can set additional percent; in Mobile, you must pay 1.5% more on sales tax. All in all, the sales tax can go as high as 5.50%.
The Income Tax
Next is the income tax; this city's income tax structure is similar to the federal income tax. The income bracket rate can range from 2% up to 5%. The rate will increase depending on which income bracket you belong to in the city.
The Property Tax
Mobile, Alabama, has the lowest property tax rate in America. For a property value of $121,000, only a rate of 0.54% is imposed. If you are a homeowner, you are expected to pay around $600 for property taxes.
The Bad side
Childcare costs can be costly.
If you are moving with your kids, you need to prepare for childcare expenses. Sending your children to daycare centers can cost you $212.25 per week. And this will already cost you $849 a month.
A private daycare can be more expensive, and you must allot a considerable income in this area. The rate will double or triple if you have more than one child.
Why work in Mobile? A City with Great Economic Potential
The Good side
Diverse Economy
The city has aerospace, shipbuilding, steel, retail, construction, medicine, and manufacturing industries. There are plenty of businesses and companies you can choose from if you desire to be part of the labor force of Mobile.
Mobile has something in store for you, depending on your expertise and skills, including the following:
Shipyards
Shipbuilding has always been a part of Mobile's economy. There are big names in the shipyard industry with businesses and stations in the city. Atlantic Marine has a significant shipyard in Alabama Drydock and provides jobs to 600 workers in Mobile. The Austal USA employs around 3,000 to 4,500 workers in town.
Mobile Aeroplex
The city also has a vast industrial complex and airport called Mobile Aeroplex. It is the region's most extensive transportation and industrial center, housing over 70 companies. These businesses come from the aerospace sector and occupy around 1,650 acres.
Companies like Airbus, ST Aerospace Mobile, Continental Motors, and Bombardier Aerospace have stations in Mobile. They generate millions of income for the city and provide massive employment to its populace.
ThyssenKrupp
Stainless and carbon steel industries are also present in the city. The famous German tech conglomerate ThyssenKrupp created thousands of jobs in the area. Around 2,700 are employed here. The company invested around $4.65 billion in its facility in Mobile.
The Bad Side
Despite strong industrial stations in the city, its economy remains weak. Mobile is still facing an unemployment rate higher than the nationwide average. Income packages are less competitive here.
It has an unemployment rate of 5.4%, and the median household income is only $43,521. With these figures, Mobile stands out as one of the most low-income cities in the entire country.
Moving to a cheaper city, Mobile, Alabama, is a great option. It has reasonable city amenities, remarkable economic growth, and low housing prices. If you get a decent job in this city, you can live comfortably with your family.
So, if you are ready to move here, please share your thoughts below. I would be elated to hear from you!