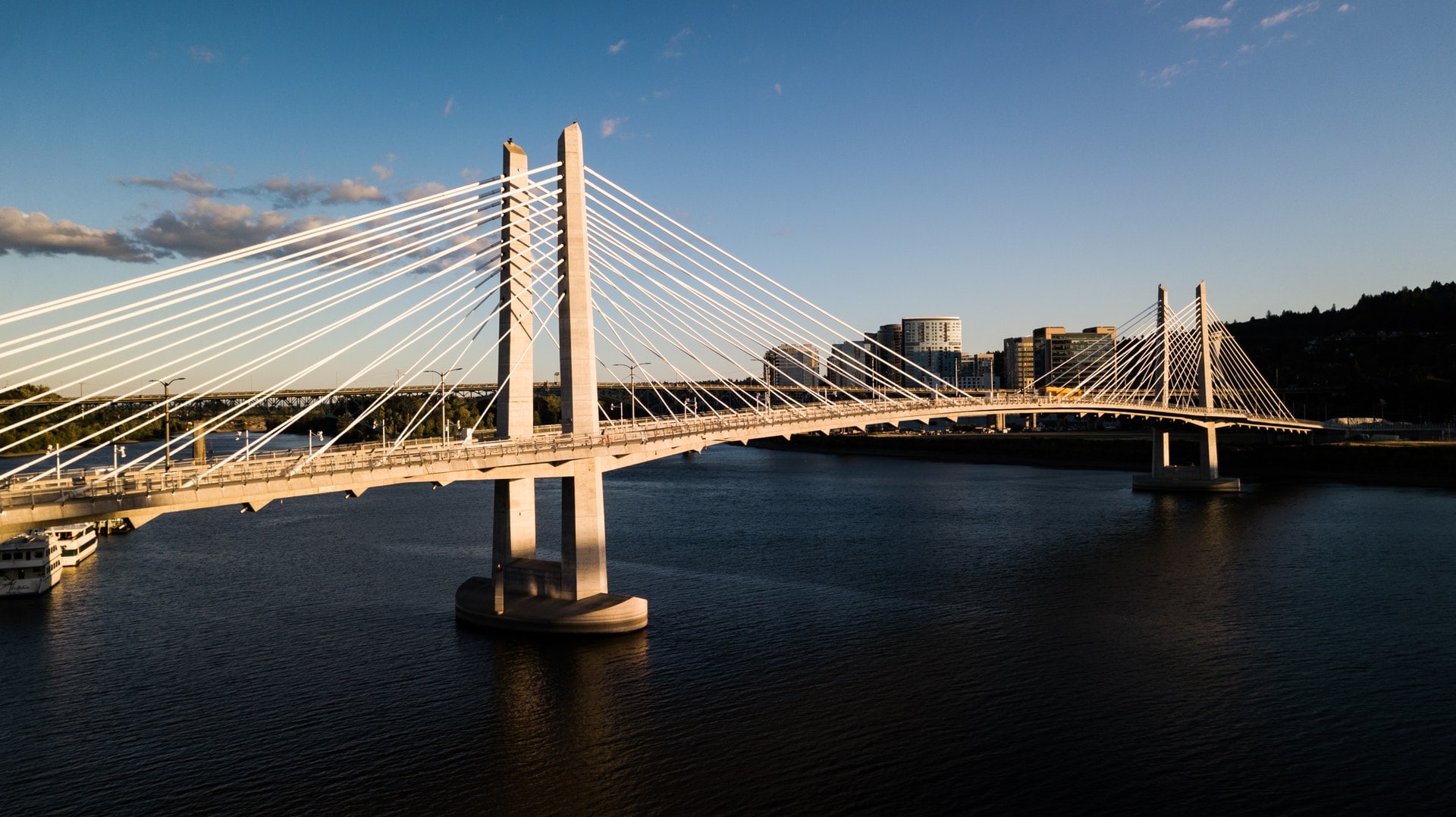 If you ask me about this, the first thing that comes to mind is this: which Portland?
I don't know if you know it, but there are two Portlands in the US. One is in Maine, and the other one is in Oregon.
Let me tell you about Portland in Oregon.
The city is medium when it comes to its size. It is also one of the cleanest cities I have ever seen in my entire life.
Plus, there are loads of people that are hip and cool. When in Portland, you can expect locals to stop and start a conversation with you. And mind you, this happens anywhere in the city.
And speaking of its people, Portland has some of the most liberal Americans around. They're open and always welcoming to ideas.
They're so liberated that they even have Naked Bike Ride events in the city. That's how spunky the city's vibe is.
Aside from its people, Portland is also famous for its food and beer. The city sits at the heart of the Pacific Northwest culinary world. It also houses some of the most beautiful restaurants in the country.
Aside from the people and the food, the city is also home to the Micro Brewery scene. Because of this, the city is one of the best places to drink and dine.
So, there are the people; then there's the food. Aside from these two, Portland in Oregon is also famous for its amazing location.
It has lush forests on one side. Then there's the agriculture side in the other corner. Plus, on another side, you see the great expanse of nature.
The city is popular for its vibe and its food. Aside from that, there's a speck of nature, agriculture, and forestry on each side. All these make Portland, Oregon worthy of your visit.
What is Portland known for?
Portland is famous for a lot of things. But then some of these things are the same as what other places are famous for, too!
Like when you say food. New York is famous for its food the same way Portland is famous for theirs. This is also the same when it comes to museums. And a lot of other attractions.
But if there is something Portland, Oregon is famous for; it's their three Bs.
What are they? Well, read on.
Beer
First of all, there's beer.
In Portland alone, there are close to a hundred existing breweries that supply beer to the state.
Oregon has many breweries. Portland has the most number of these breweries all over the state.
The state of Oregon had been drinking close to a million barrels of beer last year. With a demand that strong, who would ever say no to a brewery business? Not Portland.
This is the reason why the city has all these breweries. When you are in Oregon, you will find a lot of breweries all over the city. Most of these breweries, you can find in Portland.
Aside from its consumption, these breweries have also been giving the city folks jobs. The beer industry adds at least a thousand jobs for the people of the city every year. This accounts for the high employment rate the city has.
Bars
The city of Portland may be famous for a lot of things. But there is another thing Portland can only be famous for. The other cities are always left in the dust when it comes to this industry.
Are you ready? Here it goes.
The city is also famous for its strip clubs. And when I say strip clubs, I don't mean those clubs that have women wearing skimpy bikinis. No, sir!
These clubs go all out for your full entertainment. There is no holding back.
As of this writing, there are more than 54 nude clubs in the city. And if you look closely at the statistics, the city has a population of 647,000. This means that the town is greater per capita than other states in the US when it comes to strip clubs.
And here is something that makes it more interesting. It is in the state's constitution.
Under the First Amendment, there is a stipulation that protects obscenity. This part of the constitution allows for full nudity and hard liquor to coexist under one roof.
So, the next time you are in the city, you know what to do.
Books
If I may say, Powell has a bookstore in the city the size of a block. At least it looks like that to me.
Plus, aside from Powell books, there are also other stores you can find in other areas of the city. As of this writing, there are more than 30 bookstores in Portland, Oregon.
Powell is the largest so far.
The city sees rain for about five months each year. This allows for more time indoors, especially for the Portland residents.
Because people tend to stay indoors, reading has become a habit. As of this time, there are more readers in Portland than in any other city in Oregon.
What is the best time to visit Portland?
When you are not the indoor type of person, the best time to visit would be around June to August.
It is during these months that the city sees warmer weather. As such, you would also have enough opportunities to be outdoors.
During these months, you would also be seeing a lot of roses bloom in the city. The city has an International Rose Garden that is one for the books. You should never miss it. It's in full bloom during these months.
Because of such reasons, these months are also the city's peak months.
When you plan to go on vacation in Portland in Oregon during these months, it would be wise to book ahead.
To ensure you have the best rooms and the best rates, book about two months ahead.
If you do not mind the weather, you can go during winter.
The hotels are way cheaper during this time. The weather is chilly. And when you are into winter sports, the city sits near Mount Hood. This gives you a lot of opportunities for such activities.
No matter what time of the year you want to visit, there is always something for you. It is a matter of personal preference. If you are the outdoorsy type of person, go with summer.
If you prefer winter sports or hate the crowds, visit during winter.
Is Portland safe for tourists?
Aside from being the largest city in Oregon, Portland is also famous for its roses. In fact, the city is popular as the City of Roses. Aside from that, the city is also the second-largest in the Pacific Northwest.
Portland has a lot of charm for tourists. One is its laid-back vibe. It feels like being in a small town instead of being in a city. In fact, for a city, the slower pace makes it, the more attractive to tourists and locals alike.
Aside from these, the city is also famous for being safe. In general, Portland in Oregon is one of the safest major cities in the United States.
This means that you can relax when in the city. Of course, one should still practice a certain level of caution when in the city. But then again, you can relax more here than when in another area like New York, for example.
Its transportation, in general, is also safe. You can ride a cab without fear of the driver bringing you somewhere. You can walk most areas without fear of mugging incidents.
If there is one thing you have to worry about, it is petty crimes. Beware of pickpockets in the city, especially when you are in touristy areas. The crowd can be too much. Practice common sense when in public.
Also, while mugging, kidnapping, and the likes are rare, it doesn't mean you can always go anywhere.
These crimes may not be on your worry-list, but it would help to practice caution. Avoid dark alleys and empty streets.
If in case you are in such a situation, do not resist. Make sure to hand over whatever it is they want. And go to the cops.
But then again, these are rare instances.
The city is low-risk as well when it comes to terrorism. The same goes for scammers.
In a nutshell, Portland in Oregon is one of the safest you can be in.
I have always felt safe when in the city. You should be, too!
Where should I stay in Portland without a car?
Some cities are impossible without a car. Portland in Oregon is a place you can explore even without a car. So, don't worry much about bringing it.
The city has an amazing transportation system. Aside from that, it is bike-friendly. If you prefer green, you can explore the city on your bike. The city has a lot of bike lanes to make sure cyclists are safe.
You will never have any challenges with navigating the city on your own.
But aside from its transportation system, there is another reason. That reason that makes it easier to explore is also the location of your hotel. Some hotels sit right smack in the middle of everything.
As such, it is easier to explore the city when staying in these hotels.
The Orenco Station area
One such area to check out is the Orenco Station. This area is full of shops and restaurants.
If you are staying in a hotel in the area, it would be an advantage. You can walk from one shop to another. Also, since restaurants are nearby, you are sure never to go hungry.
And before I forget, there is also a weekend market in the area. Don't miss that.
The Downtown Area
Another area to consider is the downtown area.
Like the Orenco area, being in downtown gives you easy access to many restaurants and shops.
Plus, some of the city's cultural attractions are at walking distances from the downtown area. This makes everything more accessible to you.
There are also bike rental shops in the area. So, if you don't have a car, you can rent a bike to take you around. With a bike, you can now explore the city like a local – with two wheels.
The Tom McCall Waterfront Park Area
This would be ideal, especially during major events.
One of the worst things to do during major events is looking for parking space. The chances of getting one in the vicinity are rare.
There are hotels in this area that make events accessible for you.
You see, most of the events in Portland are at the Tom McCall Waterfront Park. A few steps from the park, you will find a lot of hotels to choose from.
And because these hotels are near the park, you will never have a hard time attending events. You can walk.
Is Portland or Seattle better to visit?
Both cities share a lot of similarities.
Both of them have great food. There are also a lot of attractions in both of these cities to keep you busy.
And for me, both are great to visit.
But whichever is better between the two depends on your preferences.
Seattle has a city vibe that is never found in Portland. If you are the kind of traveler that prefers the city vibe, Seattle is a better city to visit.
But if you are the kind that prefers the laid-back lifestyle, then you would find Portland better to visit.
Of course, there will always be other differences. Seattle is more expensive than Portland. Seattle is busier than Portland.
Despite the differences, both cities, I assure you, are worthy of your time.
If you prefer one over the other, I can't blame you. Again, it is more of a personal choice. But if you want to visit both, well then, that's better.
So, see you in Portland?
Beer's on me!