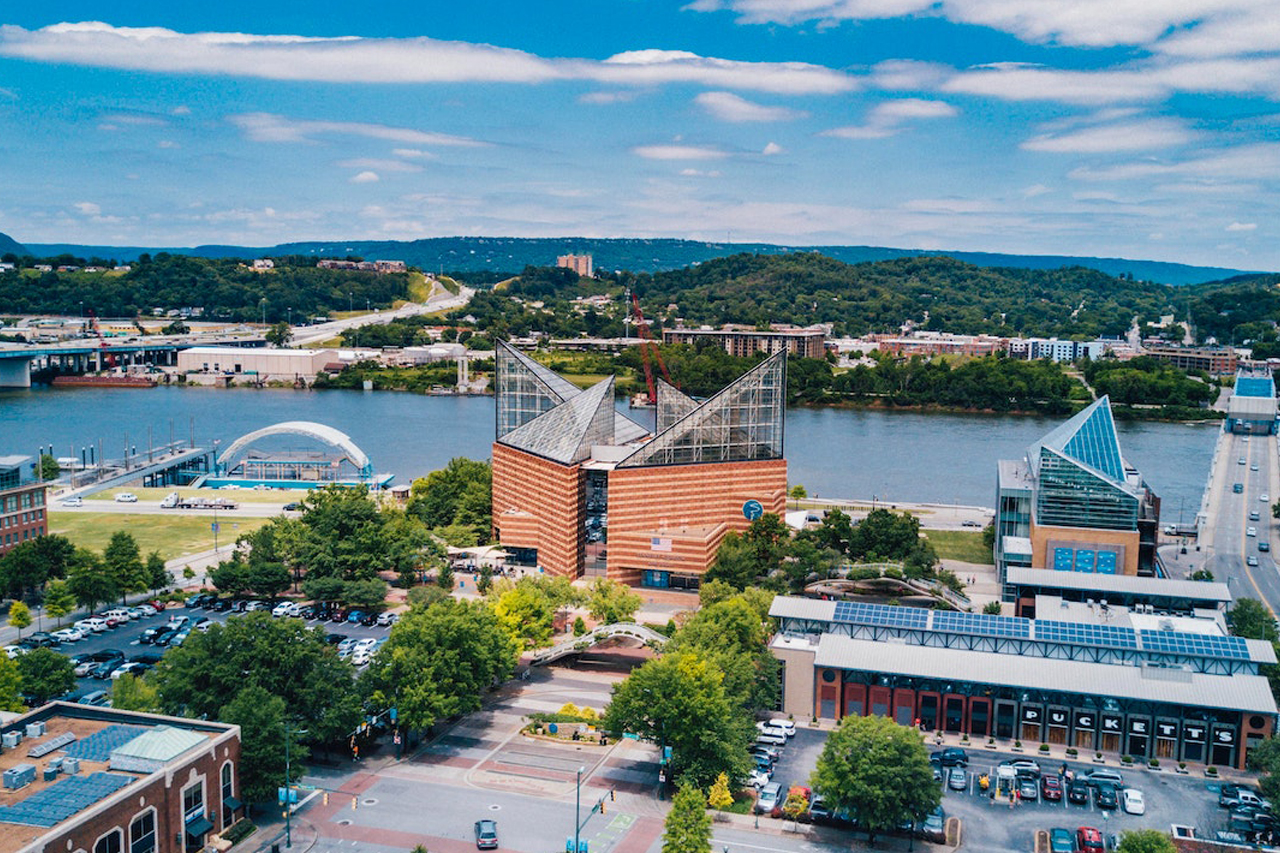 In Tennessee, the fourth-largest city is Chattanooga.
It is located on the border's southeast side. The state of Georgia is also only a short drive away.
Despite not being the state's largest city, it has a lot to offer its citizens and visitors.
So, if you are considering moving to Chattanooga, knowing what you are getting into is essential.
You must get to know the city before you pack those bags and leave your house.
You don't want to realize you dislike the place when you are already there.
However, let me tell you that Chattanooga is a great place for you. There may be a few concerns, but these are those you can quickly get by.
The city has several activities for you and your family. The cost of living is also decent compared to other cities.
Here, I will discuss the pros and cons of living in Chattanooga, TN.
Is Chattanooga a Good Place to Live in? A Beautiful City All Year Round
For more than twenty years, Chattanooga has been a city that is transforming.
It is one of the fastest-growing centers for tourism, outdoor activities, and technology.
If you consider moving to Chattanooga, you are on the right track. Whether you are planning on moving or are still weighing things out, I can share a few things with you before you decide.
But overall, I should say that Chattanooga is a great place.
Thousands of people have already decided over the years. And they remained happy while living here.
I am sure you will be, too.
The Good Side
People move to Chattanooga for good reasons.
Here, I will enumerate them so you can move here, too.
A Stunning Fall Season
People call Chattanooga The Scenic City. And the city is not famous as being scenic for nothing.
You don't have to look much further than the River Gorge.
Here, especially during fall, the experience can be stunning.
Chattanooga is a pretty city. It is beautiful in summer and spring.
However, it is during fall that the city becomes the most beautiful.
Chattanooga is different. It still has the beauty of nature everywhere for you to enjoy. Other places in the country have shops all around.
Here, you can enjoy the colors.
You will love the changing colors of the trees.
Experience and appreciate the beauty of fall while you ride your bike, take a train ride, or sit on a riverboat.
The mountains and state parks are beautiful for you to enjoy all year round.
A Festival City
Look no further than Chattanooga if you're searching for a city with a wide variety of things to do.
The city seems always to have something going on.
There is the 4 Bridges Art Festival you can explore.
Also, you might want to be here when the Chattanooga Beer Fest happens.
And don't forget, Chattanooga also holds its Street Food Festival yearly.
There is also the Tennessee Whiskey Festival to look forward to every year.
The city is smaller than its neighbors. But the communities here ensure that there is always something fun for its residents.
It has an art scene that is consistently growing.
It would help if you did not miss that out, too.
Nature Out There
I mentioned earlier that Chattanooga (and the whole of Tennessee) has some of the most beautiful natural sights you can ever see.
It is not only during the fall season. The beauty of the city comes all year round.
Here, you can drop by Booker T. Washington State Park. You can also see Auburn Island or the Prentice Cooper State Forest.
Aside from these locations, you can do many fun things in the city.
The Chattanooga Ghost Tour is popular among tourists and residents alike.
Also, you can drop by Lake Winnie for a lazy Sunday afternoon.
And while we are in the discussion of outdoor activities, you can also try hiking here.
A river stroll track that is around 13 miles long exists. The perfect trail for biking, walking, running, and hiking.
Racoon Mountain also has a famous cave. And don't forget to see the Bluff View Sculpture Garden. It is a sight to remember.
Higher Education Options
In Chattanooga, about 29% of the students finish a four-year degree program. Despite this, the city offers some exceptional options in terms of tertiary education.
One of the University of Tennessee campuses is in Chattanooga. The campus they have here is the second largest campus of the university.
Aside from the University of Tennessee, students can also opt to go to Richmond Graduate University.
Then, there is the Tennessee College of Medicine, the Chattanooga State Community College, and the Southern Adventist University.
These many options for students are great. It is excellent because students can choose different tertiary education options.
Lots of Sunshine
Chattanooga gets more rain than the average every year.
Despite this, the city still sees hundreds of days of sunshine yearly.
As per the latest count, the city gets about 207 sunny days per year. And this is only the average count. Some years, it can even be more.
As you already know, sunshine can positively impact your mental and physical health. A city that gets lots of sun yearly is a beautiful city to live and consider.
An Abundance of Indoor Entertainment Options
When it comes to outdoor activities, the city offers a variety of choices. You have another choice if you don't enjoy being outside or get bored easily.
There are numerous indoor entertainment alternatives in the city.
Chattanooga provides its residents with hundreds of options for activity and entertainment.
For example, you can find the Hunter Museum of Art in Chattanooga.
The museum has impressive exhibits and art displays. You can also swing by the IMAX theater, the Children's Discovery Museum, and the Tennessee Aquarium in your free time.
I am sure the kids would enjoy these places.
The Bad Side
Of course, there are a few things you have to know before you decide to move here.
No city is perfect. And so is Chattanooga.
Here are three of the significant concerns you need to know.
Crime Rates
Unfortunately, the city has one of the highest crime rates in the US. As per the latest numbers, Chattanooga has a crime index of 53.05%. And this is quite a number compared to the rest of the state.
There have been many homicide and violent cases since the start of the decade.
There was a decrease in property crimes. And this is good news.
However, the city needs to work on lowering its crime rates before we can finally say that the city is safe for you and your kids.
Of course, it matters where you live when in Chattanooga.
Collegedale is a neighborhood in the city that gets all the praises for having crime rates lower than the national average. Lookout Mountain is also a good place for you to raise your family.
On the other hand, Eastdale, Avondale, and Washington Hills are neighborhoods to avoid when in the city.
The Allergy Season
There is also another disadvantage when you live in Chattanooga. This disadvantage, however, does not affect all.
You might want to think twice before relocating here if you have allergies.
The city is full of beautiful foliage. There are tons of flowers, trees, and all kinds of plants.
However stunning as they may be, these plants and trees produce pollen that can cause seasonal allergies.
If you have allergies and push through with moving to Chattanooga, ensure the medicines are ready.
Natural Disasters
If you live in Chattanooga, you already know the risk of natural disasters.
Tennessee is a state that sees several tornadoes every year. There are a few deaths once in a while.
Also, there is the risk of floods.
The city is close to the Tennessee River Gorge. During heavy rains, the city may experience floods in some areas.
What is the cost of living in Chattanooga, TN? A Metro with Reasonable Living Expenses
The overall cost of living in Chattanooga is lower than the national average. Overall, it is 16.2% cheaper than the average American city.
The Good Side
If there is something significant in terms of budgets in Chattanooga, it is the cost of housing.
Housing costs here are cheaper than the national average by 35.1%.
The housing costs in Chattanooga are even lower than the state average. In Chattanooga, the median home cost is US$218,700. The average home cost in Tennessee is US$231,600.
The state average and the Chattanooga median home costs are lower than the national average of US$291,700.
The same holds true for the price of groceries, utilities, and transportation.
Transportation costs in Chattanooga are 19.1% cheaper than the national average. It is an advantage, especially if you need to commute on your way to work every day.
Even the cost of utilities here is cheaper. Utility costs here are 5% more affordable than the national average.
Finally, the cost of food and groceries is also lower.
In Chattanooga, it is 3% lower than the national average.
One reminder, however, is in the cost of utilities and food.
These two rely on your consumption. If you consume a lot of food or are careless with your electrical usage, these costs may overshoot.
Be smart.
The Bad Side
If there is one commodity that goes beyond the national average, it is the cost of healthcare.
This commodity, being higher than the national average, is a turn-off for those who want to move to Chattanooga.
Healthcare is getting a lot of priorities these days. Chattanooga is 1.4% more expensive than the national average.
If you want to move to Chattanooga, stay healthy.
Why work in Chattanooga, TN? Enjoy a No Income Tax City!
The absence of income taxes is one of the main benefits of working in Chattanooga. This justification is sufficient for you to relocate here.
However, there are a few more that I need to discuss.
Stay put.
The Good Side
You heard it right.
There are no income taxes in Chattanooga. What else is there?
Here are a few more reasons why working in Chattanooga is the best.
Income Taxes
As already mentioned, Chattanooga does not collect income taxes.
The state of Tennessee does not collect income taxes from its residents.
The rule covers wages earned through your employment, interest, dividends, and investments.
Only nine states in the country do not collect income taxes. Tennessee is one of them.
The other states are Texas, Washington, South Dakota, and a few more.
This advantage is excellent.
If you work in Chattanooga, you have all the money you earned. These can equate to more savings, too.
The Cost of Living
As you already know, the overall cost of living in Chattanooga is lower than the national average.
The other expenses like transportation, food and groceries, and utilities are also lower than the national average.
The only commodity that went beyond the national average was the cost of healthcare. However, despite the price being more than the average, the variance is only 1.4%.
Of course, the best part about the cost of living here is the price of housing.
You already know why.
A Stable Economy
The economy of Chattanooga is solid and stable.
It has been productive for many years now.
The job market is also growing and paints a good picture for the next ten years.
Jobs are in abundance here. Chattanooga is a decent place to start if you are looking for jobs.
The city is also great for business owners and start-up companies.
The city is one of the first in the US to offer internet services at home and in offices. Because of this, it has also become a center for technology firms. Several young businesses put up their offices here.
The Bad Side
When you work here, it is fair to know a few downfalls.
These might bother you when you start to live and work in Chattanooga. However, there will always be ways to alleviate these concerns.
The Disparities in Income
The median household income in the city is a few thousand under US$40,000. And this is below the national average.
This number only points out that about 1 in every five residents live in poverty.
These numbers show a terrible image of the income disparities in Chattanooga.
The Commute Lines
Are you driving or commuting on your way to work every day?
If yes, this can be a concern you need to know.
Because of the growth in the city population, the city center is getting a lot of traffic and congestion.
Such would lead to longer commute times. If you travel from one place to another or to work, it is best to leave early.
—-
As you can see, living and working in Chattanooga has several advantages and disadvantages.
The details are there.
You can read through that again. But the decision rests in your hands.
Well, there is the scenic natural beauty of the city. The cost of living here is lower than the national average. And these reasons can be enough for some.
However, tornado and flood threats can also bother others.
But if you ask me, Chattanooga is an excellent place.
Are you moving to Chattanooga?
Let me know.