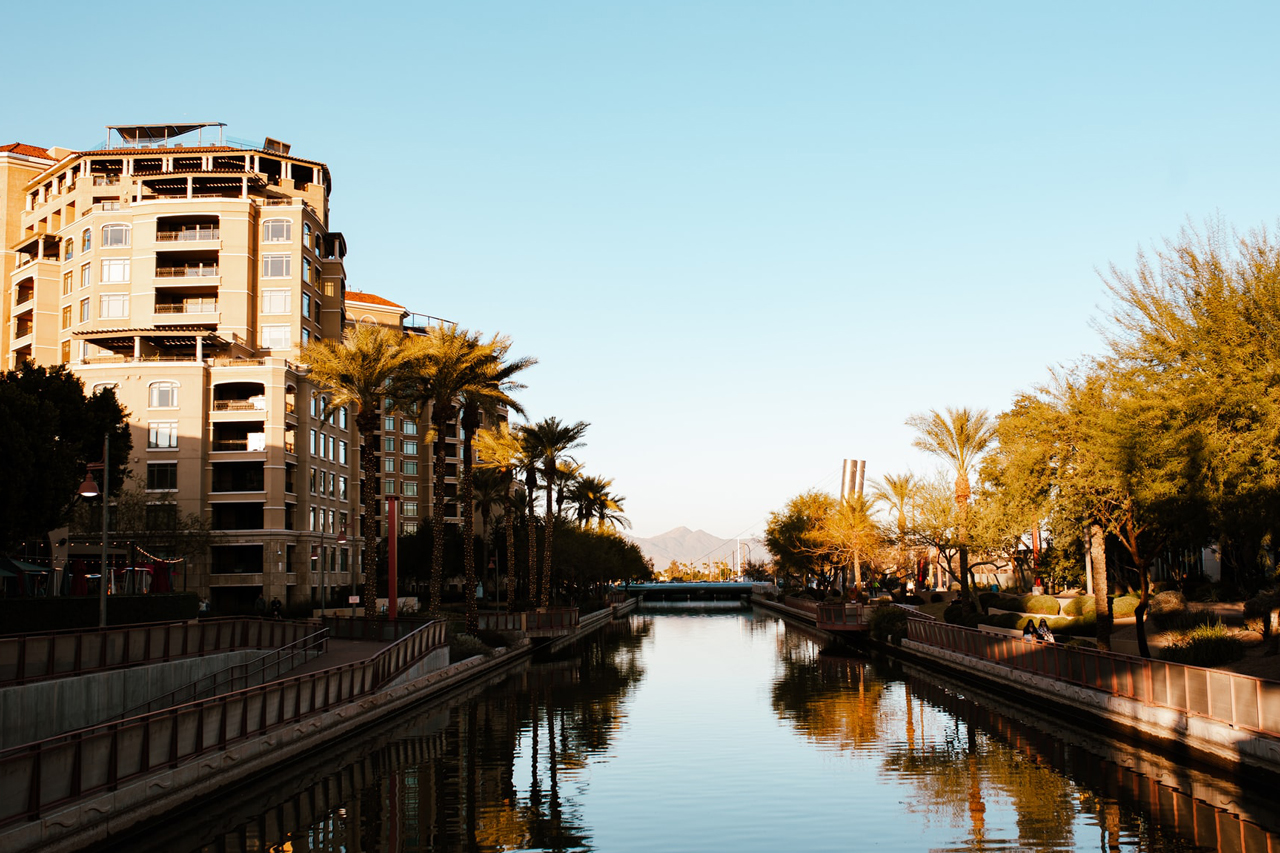 Scottsdale was previously characterized as "a desert counterpart of Miami's South Beach" by The New York Times. However, they neglected to note that Scottsdale is renowned as "The West's Most Western Town."
When you consider that Scottsdale's length and breadth are just 31 miles long and 11 miles broad, you must wonder how it has crammed so many beautiful attractions into such a tiny area.
Scottsdale may be the best place to play golf, but its abundance of tourist attractions shows that it has much more to offer than just that. It provides fantastic sites for everyone!
This city has a lot to offer visitors of all interests, from history and automobiles to nature and animals. Whatever you're looking for, you'll find it in this city!
Thus, we've compiled a list of the most incredible and most entertaining things to do in Scottsdale, Arizona, ideal for under-21s.
1. Wonderspaces Arizona
One of Arizona's most distinctive and experimental art exhibitions is the Wonderspaces.
In Scottsdale, Arizona, you can find it in Scottsdale Fashion Square, one of the mall's several locations around the country.
Visitors come from all over the world because of its unconventionality. It is also an attraction suitable for people under 21.
Wonderspaces is primarily an art display that allows you to engage with the artwork. It works with artists from all around the world to create interactive art displays and immersive installations. On Instagram, it became one of the city's most popular destinations.
Sewing Machine Orchestra features the arranged beat created by 12 computer-synced sewing machines.
Waving your arms about in front of a large screen in Body Paint lets you add splashes of color to the background.
Lastly, don't miss Human Study #1, 3RNP. It is a robot that sketches you.
Each exhibit at Wonderspaces has an interactive component, so there's enough to keep you entertained. The museum also makes room for new artworks from time to time. So, keep up to date and add this to your Scottsdale itinerary.
2. Old Town Scottsdale
Old Town Scottsdale, commonly known as the Fifth Avenue Shops, is a great place to get a sense of the city's rich history and culture.
On this site, which is smack in the midst of everything, you'll discover many exciting things to do and see.
It's one of the city's top 10 attractions for visitors, especially for under-21s, with a vibrant atmosphere and a rich cultural heritage.
For a full day in Old Town, you'll have to visit everything from the boutiques and souvenir stores and spas to restaurants and museums.
Old-fashioned sights like the Rusty Spur Saloon and the Little Red Schoolhouse are all within walking distance in this historic Old Town.
To maximize the experience, ensure not to forget the farmer's market and contemporary art shows that change throughout the year.
No matter what time of year it is, a visit here is one of the best things to do in Scottsdale, Arizona.
3. Taliesin West
An Arizona National Historic Landmark, Taliesin West is surrounded by the Sonoran Desert of Scottsdale on all sides and is located in the McDowell Mountain foothills.
At almost 600 acres, it was formerly owned by one of the world's most famous architects, Frank Lloyd Wright.
It operates as a school of architecture named after Frank Lloyd Wright.
It is possible to explore the vast property in different ways.
You'll have an in-depth view of Taliesin West's inner workings by taking a Behind-the-Scenes tour. You can see Wright's home and the handcrafted furnishings he used in his residence on an Insights Tour.
In a Collections Tour, you'll go into the archives. You can also explore the adjacent desert on a Garden Tour.
The most incredible part of this trip is seeing Wright's living room, bedroom, garden room, drawing studio, and music pavilion. You can have afternoon tea with hosts who were close friends of Wright in the Garden Room.
Taliesin West has a lot to offer regarding things to see and do. It's enough to contemplate the brilliance of each building and structure to have you thinking about Wright's.
4. MacDonald's Ranch
For people under 21, one of the fabulous things to do in Scottsdale today is to spend the day at MacDonald's Ranch.
MacDonald's Ranch, Scottsdale's top horseback riding stable, provides enjoyable, family-friendly horseback riding experiences for riders of all skills levels.
With the Sonoran Desert around it, it's everything you'd expect from a cowboy-style ranch.
A leisurely ride from the ranch will reveal many of the Sonoran Desert's creatures and plants.
The horses at MacDonald's Ranch are recognized for being docile, making the lessons conducted with them both safe and educational.
If you visit this site, apart from the hayrides and horseback rides, don't skip the museum, cowboy cookouts, a pumpkin patch, and the stagecoach excursions to maximize your fun fully.
5. Butterfly Wonderland
Butterfly Wonderland is one of Scottsdale's most popular pastimes, and you can't go wrong with it if you belong to under-21s.
This unofficial site has found a home in the heart of the Salt River Pima-Maricopa Indian Community in Scottsdale, Arizona.
Butterfly Wonderland's pride and joy is a magnificent, stunning glass atrium that acts as a tropical rainforest home for hundreds of different butterflies worldwide!
They're free to fly about and even settle on your arm or head.
Explore a variety of insect-themed exhibitions, marvel at the transformation of butterflies in the Butterfly Emergence Gallery, and take photos of the beautiful flying butterflies.
It also has instructive 3D movie "Flight of the Butterflies," community seminars, environmental activities, and a café with delicious snacks.
Finally, don't forget to visit the gift store on your way out or go on inside the remainder of the building that Butterfly Wonderland shares with the OdySea attractions.
6. Pinnacle Peak
Pinnacle Peak is a famous hiking and sightseeing park in Scottsdale. If you love strenuous activities, this destination is a place to go.
Hikers and mountain bikers flock to the park's 1,75-mile trail that twists its way up to Pinnacle Peak, a 1,300-foot peak strewn with stones of all sizes and shapes.
Is it too soon for you to go on such a challenging trek?
If you merely want to see the city of Scottsdale, Arizona, don't worry about making it to the top; it's not necessary.
You can still enjoy our site if you don't wish to participate in those activities.
The visitor center near the trailhead has a plethora of information, bathrooms, picnic tables, ramadas, and a few exhibits to study and explore. Also, you'll learn about the park's history, facts, and backdrop here.
If you are fascinated with the living creatures, the Sonoran Desert is home to various animals and plants, and don't miss to learn more about them at the park's plaques.
7. OdySea Aquarium
The OdySea Aquarium, located in downtown Scottsdale and known as the OdySea of the Desert Aquarium, is Arizona's giant aquarium and was just named Best Indoor Entertainment. It is an attraction suitable for people of all ages.
There are roughly 200,000 square feet of displays and educational resources on the 35-acre property debuted in 2016.
OdySea has 13 different attractions, each with its theme and activities, with over 65 exhibits, 370 species, and the world's first rotating aquarium experience.
A ten-minute "movie" devoted to whale sharks and humpback whales is routinely shown at the beginning of every visit to the aquarium.
Afterward, you can continue your exploration of the world's oceans, rivers, and other waterways.
The aquarium's ceiling-hanging globe-like cages are one of the aquarium's main attractions.
The Tidal Touch Pool lets you get close to some tide pools species, including sea stars, snails, cucumbers, and hermit crabs.
Finally, don't forget to go through an actual lighthouse into the gift store to see what souvenirs you'd want to purchase.
8. Western Spirit: Scottsdale's Museum of the West
Most people are well-versed in western culture, having seen it depicted in movies and other media.
Visit the Western Spirit: Scottsdale's Museum of the West to discover more about Arizona's role in the region's rich and dynamic history.
The goal of the Western Spirit: Scottsdale's Museum of the West was to examine contemporary concerns through the prism of Western history to draw lessons from the past.
Western Spirit contains information about all 19 Western states, including Alaska and Hawaii.
It covers 35,000 square feet and features 77 artists' works and experienced personnel who are happy to answer your questions.
This attraction also has a multi-sensory theater that displays the work of artists from Arizona and the West and interactive exhibitions, events, and experiences.
At Western Spirit, you can choose from a broader range of attractions thanks to temporary and permanent exhibitions.
To fully enjoy the site, don't skip to relax in the Sculpture Courtyard and take in the warm, open desert scenery while seeing some of the rotating artworks on show.
9. Octane Raceway
Octane Raceway is the ultimate in extreme coolness, perfect for under-21s.
It is a year-round racing facility with indoor and outdoor racing options for all ages and skill levels.
No other place like it exists in North America as a tourist draw and source of thrills and chills.
Octane Raceway has a third-mile track and European electric racing karts that emit no pollution, reach 45 miles per hour and are generously lapped.
All races are scored using the Fastest Lap system, and the site is also able to host private events.
You can view an instructional safety film before getting behind the wheel if you're a novice driver.
Some of the other amusements you should not miss are arcades, virtual reality games, laser tag games, a mini-bowling alley, and a billiards room.
10. Scottsdale Fashion Square
In 1961, Scottsdale Fashion Square first opened its doors. Due to its early success, it ranked among the top 25 most frequented malls in the United States. It is a world-class shopping mall with every world-famous brand you can imagine.
With a floor space of two million square feet, this store is extravagant and magnificent in every word.
You don't have to go much farther if you've been intending to go shopping at Arizona's best shopping destination. There are approximately 200 shops and restaurants in Scottsdale Fashion Square in downtown Scottsdale.
Shops like Louis Vuitton, Gucci, Neiman Marcus, and Nordstrom call this mall home.
To fully enjoy the experience, visit the Macy's store to find some of the best deals and prices.
11. McCormick-Stillman Railroad Park
If you're looking for a free activity in Scottsdale, Arizona, the McCormick-Stillman Railroad Park is one of the best places to visit.
Train and rail enthusiasts go to see the many models and exhibitions placed across the area, making it an excellent place to spend some time.
At the McCormick-Stillman Railroad Park's Model Railroad Building, you'll find a 15-inch-gauge railroad, a Magma Arizona Railroad locomotive, and four model railroading organizations.
It also has an interactive train museum, which houses intriguing artifacts from the railroad industry's past.
You'll be able to see The renowned Merci Train and the Roald Amundsen Pullman Car here!
If you belong to under-21s, make sure to ride the Paradise and Pacific Railroad or relax in the large park, which has picnic spots and live music from time to time.
You will have much to see and do with your family and friends no matter when you visit Scottsdale. Please let us know about it in the comments section below if you've discovered anything noteworthy while exploring this gorgeous city. We appreciate your feedback and hope that you have found this post helpful.