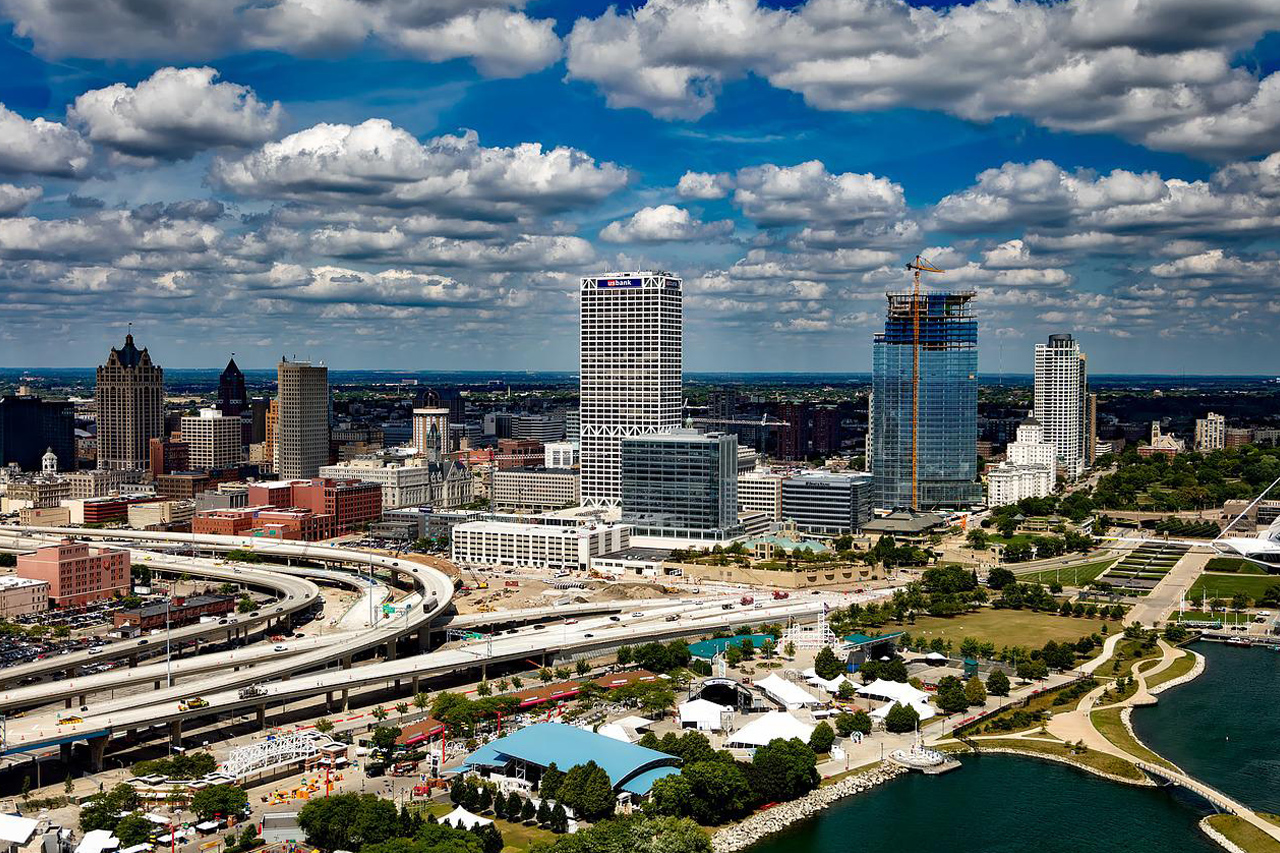 Are you thinking about settling in the World's Beer Capital?
The good news is that Milwaukee, Wisconsin is yet another livable city in America's Midwestern region.
The city's brewing culture has made its mark on the international scene, but you may be surprised to learn that many other factors make it an ideal home for you and your family.
It is worth noting that this interstate 94 metroplex is one easily accessible city. It shares good amenities with its neighbors, including an excellent river promenade, a stunning lakefront entrance, and historic establishments.
However, no matter how fantastic a location is, you must weigh its upsides and downsides to prepare for what lies ahead.
Fortunately, we will do the legwork for you and illustrate the best finds and drawbacks to help you see how Milwaukee can fit your lifestyle.
Is Milwaukee, WI A Good Place to Live In? – It Is a Beautiful Little Town
The Good Side
Unity In Diversity
Milwaukee ranked 35th as among the most diverse metropolitan in the United States, and its welcoming nature makes it more livable for its residents. Every ethnic and cultural cluster is well-known here, and the city's and culinary scene's diversity influences characteristics.
Furthermore, the celebration of diversity is boundless, with events such as Mexican Fiesta, Hunting Moon Pow Wow, and IndiaFest honoring the ethnicity of its people through cultural heritage.
The metroplex celebrates the African American culture in the city's northside Bronzeville and Garfield Park communities. At the same time, the United Community Center and Layton Boulevard West are hubs for Hispanic, Asian, and African American communities.
The Potawatomi Hotel and Casino is also a committed supporter of local Native American culture and a source of employment in the community. Milwaukee has something for everyone, no matter who you are or what you commemorate.
It Is Easy to Get Around the City
A great city also has a better transportation system, and Milwaukee is one of those that excel in this area. The metropolis has air, water, and land transportation, two airports, an intra-rail and bus system, and a good port.
The Milwaukee County Transit System is its bus provider. It uses this facility to create a transit link connecting to Amtrak's Hiawatha Service, Empire Builder, Greyhound, and other local and regional bus services.
The Milwaukee Airport Railroad Station connects rail passengers to General Mitchell International Airport flights. At the same time, its water transport link uses the Port of Milwaukee in Lake Michigan for a more convenient commute and trading services, while Lake Express Ferry carries you to Michigan and Muskegon.
The Metropolis Has a Handful of Attractions
Milwaukee is not only for beer lovers but also for anyone looking to balance work and play.
The downtown area is undeniably rich in excellent places to spend your weekends. It has a full-fledged entertainment scene, dining areas, cultural sites, a shopping district, and other town corners.
You can visit the Harvey-Davidson Museum, which has an interactive motorcycle exhibit or take the kids to Discovery World. Grohmann Museum, another East Town treasure along 1000 Broadway, is also worth visiting.
The Historic Third Ward is the place to go if you want a better shopping district. At the same time, Blue's Egg is a local favorite breakfast spot that will make your morning meal worthwhile. Plus, the Odd Duck is another go-to restaurant in the Brew City.
Find Excellent Schools in Town
In most cases, a significant draw for a family may want in a new home is the proximity and excellence of the available schools in their area, which the Brew City can provide. There are private and public schools, ranging from preschool to collegiate level, depending on your neighborhood.
Riverside University High School is available for public secondary education, but if you prefer to attend a private school, Brookfield Academy is the best option.
There are institutions to consider when it comes to the collegiate level. Marquette University ranks 83rd among National Universities that provide a high-quality education.
Milwaukee School of Engineering ranks eighth among regional universities in the Midwest, while Wisconsin Lutheran College is the nineteenth.
The Food Scene Is Fully Diversified
As previously stated, Milwaukee's diverse ethnicity creates a cultural trail that provides variety in its culinary scene.
The food here is a fusion of distinct cultures, including American, Hispanic, European, and Asian influences, and will satisfy your taste buds. Because the selection is endless, it is not difficult to supplement your preferences and dietary options here.
Bartolotta's Lake Park Bistro is a classic French-inspired cafe tucked away in the East Side's Lake Park, whereas Five O'Clock Steakhouse is one of Milwaukee's best steakhouses, grilling each meat served to perfection.
Braise is a high-end destination for farm-to-table cuisine, while Mader's Restaurant serves traditional German fare. If you want to devour authentic Mexican staples, go to La Dama or Jalapeno Loco Mexican Restaurant.
The Bad Side
You Can Freeze Here in The Winter
Milwaukee is a beautiful city, but when Winter arrives, expect a bitterly cold temperature. If you have a cold and will be shoveling snow, you might want to reconsider transferring here.
During this time of year, the average annual temperature ranges between -10 and -15 degrees Celsius. However, in the Winter, Lake Michigan has a moderate temperature, making it slightly warmer than inland areas. The average annual snowfall here is 46.9 inches.
Also, if you live here, you will be concerned about how long you will have to endure these cold days because freezing temperatures typically begin in late October and last until April. Fortunately, you can enjoy this season by skiing at Wilmot Mountain, eating a delicious winter dinner at Zocalo Food Park, or warming up at Colectivo.
The local government also ensures that main highways are free of snow to avoid significant problems along the way, so expect to see large snow removal equipment at the side of major roads.
It Is Good to Stay Vigilant for Your Safety
Like most of the city's flaws, Milwaukee has a high crime rate higher than Wisconsin and national urban metropolitan. It has a total criminal rate of 51%, which is higher than the national median.
Milwaukee's violent crime rate is 251 percent higher than the national average. This statistic is distressing, particularly for those who want to relocate to the area.
Fortunately, there are still safer neighborhoods in the area, such as those in Bay View, Northpoint, and Juneau Town. It would help if you could stay attentive at all costs so you will not fall victim to any unfortunate event.
What Is the Cost of Living in Milwaukee, WI? – It Is Relatively Cheaper Here
The Good Side
You'll Live in An Inexpensive Metropolitan
Milwaukee is one inexpensive city in the country that is a perfect new home. The metropolis has a cost-of-living index of 84.9 percent, which is lower than the national average.
Also, accommodation prices are reasonable, with a single flat costing around $160,000 and monthly rental fees ranging from $600 to $1000.
Food and groceries, medical services, and other extra costs in the metroplex are also lower than the national average. Brew City's per capita income is around $21,627, which is lower than the national average.
However, the salary is favorable given that the cost of residing here is lower than in other Wisconsin towns and even across the country.
Its Housing Market Is Dependable
One of the best finds when dwelling in Milwaukee is the ability to purchase houses at reasonable prices. This benefit is pretty advantageous, particularly for those earning in the mid-range spectrum.
Brew City's average percentage of housing is 53.2 percent, which is technically lower than the national median. A typical house costs $162,600, while a studio apartment rents for $626 monthly.
These prices are more likely evident in neighborhoods near the city center, but you can also find some valuable houses in communities outside of the city center.
In the Bay View community, you can find good houses for only $151,000 and monthly leases for $4,846. There is also a good zone for your new home at Historic Third Ward, where the average property value is only $129,20, and the monthly leasing fee is $776.
Brew City will provide affordable real estate that will not drain your bank account no matter where you choose to live.
Food Costing Is Much More Within Your Reach
Food is technically necessary, and Milwaukee residents are fortunate because it is less expensive here than in other Wisconsin cities. It has a lower average of 92.9 percent than the national standard.
The recommended monthly minimum amount for food per person is $334.86, including the cost of bread, meat, milk, fruits, and vegetables. These low-cost, basic groceries are available at the South Shore Farmers Market and the Walker Square Farmers Market.
Also, eating out at a restaurant is significantly less expensive than in other towns. The average day's spending for a single person in this city is $41, but you can spend $17 per person.
Food trucks sell burgers for around $8, but Ian's Pizza Milwaukee is the spot to go if you want a good deal on pizza. Conejito's place also serves excellent Mexican meals at a lower cost, and Apollo Cafe serves the best Falafel sandwich for only $5.85, while the famous Baklava dessert costs $3.25.
The Bad Side
You Might Think Twice Before Buying a Property
Because of the high property taxes in Milwaukee, purchasing a home there may not be the best investment for you. The state of Wisconsin and the city government require you to collect 2 to 3% taxes on the properties you purchase.
This high tax percentage is one of the reasons why residents here prefer to rent rather than buy. Many of the city's business establishments are also subject to leasing.
Renting is convenient for them, but with the low property prices in this area, especially for homes, you can still buy one, but you must factor in the extra fees.
Why Work in Milwaukee, WI? – Expect A Wide Array of Job
The Good Side
There Is More to Its Brewery Industry
Milwaukee is more than its thriving brewery industry, as evidenced by its handful of pubs, bars, and dozens of brewery plants. Job opportunities are available to help this metroplex workforce become more skilled. Precision manufacturing is a significant industry in addition to the brewing sector.
As per Bureau of Labor Statistics data, Milwaukee-area employment increased 14.22 percent between April 2020 and July 2021, while the local labor force grew by only 1.79%. Service and business jobs are the fastest-growing industries of the Milwaukee economy, with health care alone accounting for 27% of all jobs in the city.
The Milwaukee urban region ranks fifth in the whole of America regarding the total number of Fortune 500 company headquarters per capita. It is home to Harley-Davidson, Rockwell Automation, WEC Energy Group, Northwestern Mutual, and ManpowerGroup.
Evident Job Market Increase
Brew City's job market is gradually improving, with a 0.3 percent increase in the last year. This situation is also due to the metropolis's bustling economy, which continues to thrive.
However, future job growth is 28.3 percent over the next ten years, which is lower than the US average of 33.5 percent. Nonetheless, working here will provide you with opportunities to advance, especially since major corporations such as Kohl's, ManpowerGroup, SC Johnson, and others have offices in the city.
The Bad Side
Salary Is Lower Than the Nation's Standard
One major disadvantage of living in Milwaukee is that the average annual salary is lower than the national median. Milwaukee residents earn an average of $19,636 annually, while the national average is $28,555.
The median household income in this city, on the other hand, is $35,489 per year. However, salary ranges differ depending on your position or the job cluster to which you belong.
If you work for a large corporation and hold a prominent position, you can earn up to $150,000 per year, but if you are a regular fast-food employee, you can start at $13.28 per hour and earn $24,497.60 per year.
Milwaukee City in Wisconsin is a fantastic metroplex, and now that you know the potential benefits and drawbacks of living here, I hope you can make the right decision.
We hope you enjoyed reading our article, and we will be happy to assist you whenever you need a reference on what to expect when you decide to relocate to Brew City.