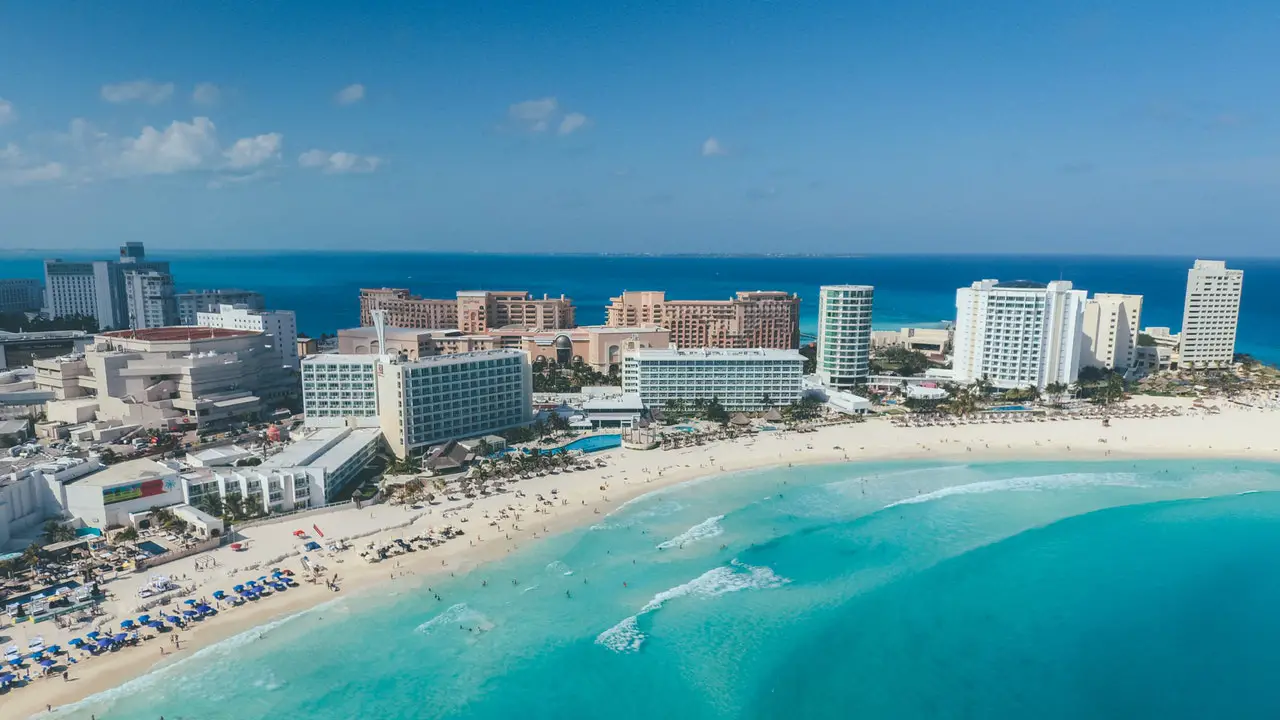 Cancun's beauty appeals to a huge part of its market from all over the world. In a span of a few decades, it has turned from one amazing-looking beach to what it is now. Currently, tourists from all over the globe flock to the city. And together with the influx of tourists comes the loss of Cancun's authentic side. Over the years, Cancun has become too touristy. The beaches got too overcrowded and the prices so high.
Cancun is a young city.
In fact, it is one of Mexico's youngest cities.
Despite this, the city is actually one of the most popular amongst vacationers in the region. For most of us, the city is a dream destination.
With its sandy white beaches and great weather all year round, it is no wonder the city is famous.
Recently, however, Cancun has been getting a bad rap for a lot of reasons.
Over the years, the city has become too touristy. It has become more Westernized than Mexican. The prices are high. The Mexican culture is not as strong in these parts. And most of all, the beaches are getting too overcrowded in certain parts of the year.
Cancun has become too touristy that you have to pay for every single thing all the time.
If you need a decent parking space, you have to pay. If you need some water, you pay. If somebody volunteers to carry your bags, you might pay for it.
The city may be on the touristy side, but this doesn't mean there's nothing to love here.
This would have to depend on which kind of traveler you are.
If you don't mind a few (or a lot of) overpriced items, this is your destination. But if you are after the culture and nature, you may have to look for someplace else.
What is there to love in Cancun?
If you don't mind the touristy side of Cancun, there is actually a lot to love here. For starters, there's the food. There are hotels left and right. There is an underwater museum. Plus, no matter how crowded the beach can be, it is still one of the best there is.
Cancun may be too touristy but it has its beauties, too.
No matter how you view it, there is always something to look forward to in Cancun.
Here are a few of them.
The Food
The Mexican culture in Cancun may be waning, but not when it comes to food.
We know food is part of the culture. But this part of culture is not going down the drain. In fact, it is trying to collaborate with the West. And in this collaboration, it creates something else delicious and divine.
Downtown Cancun is actually filled with Mexican food that comes with an urban twist.
There are many restaurants all over the city. And all of them bring different kinds of offerings.
You can have your share of local cuisines. You can have fresh fish and meat. And even hotels that offer all-inclusive benefits have food that is amazingly delicious.
It doesn't matter whether you are exploring or just lounging in your hotel room. There is always food to enjoy in Cancun.
Food bloggers, remember.
This place is heaven for you.
The Beach
The most ideal beach vacation is to choose a great location.
Most accommodations already have their own parts of the beach. You can have the beach all to yourself (and other guests), complete with waiters and lifeguards.
It is always a matter of choosing a great hotel that offers a nice beachfront.
Some hotels may be on crowded beaches. There are other accommodations that may share the beach with others.
If you value your solitude, these hotels may not be for you.
Instead, you can look up hotels that have their own parts reserved for their guests.
As you can see, the beaches in Cancun are some of the best in the world.
You may be paying an extra price, but your part of the beach is not as crowded.
The Underwater Museum
A perfect destination for snorkelers and scuba divers is this underwater museum.
Down there, there are a lot of statues and finds you can check out. Not only will you be able to visit this underwater wonder. You would also be able to say hello to different species of fish.
You can dive solo. This should be for when you consider yourself to be an expert diver.
But if you need a guide, you can always get one. The guide would be able to give you an extensive tour of the underwater museum.
The tours are not as expensive as other activities in Cancun.
There's no reason for you not to get this.
Cancun is Accessible
Aside from the beaches, another reason why Cancun is so popular is its accessibility.
This is a city so easy to get to. It doesn't matter where you are in the US. You can almost always get a flight to Cancun.
And aside from the city being accessible, flights can be cheap, too.
Most flights would cost you less than $1,000 round trip.
This should be cheaper compared to flights to other destinations.
The flights are affordable. The city is accessible.
The Activities
There are vacationers that just lounge in their hotel rooms.
And there are those that want their days packed with activities.
Cancun has all these offerings and more. In fact, a quick check with your hotel offerings could bring you a lot of options when it comes to activities.
You can stay at the pool. Or you try out the many restaurants that dot the beachfront and the city. In Cancun, you will never run out of activities.
You can also go swimming. You can go snorkeling or scuba diving. Or you can even choose to swim with the dolphins!
Aside from the beach, there's also the city to explore.
What's there to ask in Cancun?
What should I avoid doing when visiting Cancun?
Like any other destination, there are a few things to note before or during the visit in Cancun. This includes simple reminders like not exchanging money at the airport. Or it could also be not drinking water at the faucet. Do you plan on visiting this spring break? Avoid that. Another reminder is to pack other garments aside from beach wear. Because as you can see, there's more to Cancun than just the beach.
The white sand beaches and crystal clear waters of Cancun invite people from all over the world. You see, this alone attracts visitors to this beautiful Mexican beach town.
But before visiting the city, there are a few things you must know.
This is to avoid travel mishaps. This is also to ensure that you are able to enjoy your Cancun vacation to the fullest.
Don't waste your vacation with very simple mistakes.
Remember that a little bit of research can save you lots of cash and time. This includes tips on exchanging money and booking tours. This also includes tips on food and even other necessities.
When traveling to Cancun, travel smart.
And this is where we come in; to help you with that.
Read to find out.
The Money Exchange
Like anywhere else, it is of utmost importance to bring cash during vacations.
Cancun is too touristy, alright. But even so, there are still some shops and restaurants that only accept cash. This means that your credit and debit cards won't be of much help in Cancun.
Like in any other country, the airport in Cancun has a lot of money changers. They all would be willing to exchange your dollars to Mexican pesos.
Upon arrival in Cancun, no matter how tempting, do not exchange money at the airport. This should save you a lot of money.
The reason is obvious.
This is because the money changers at the airport do not provide you with favorable rates.
Hold on to your cash.
Once you are in the city, you can always find kiosks that would be able to exchange your money to the local currency.
They have better rates than the ones at the airport.
Hotel Choices
The city has a lot of hotels.
Not only are the hotels in the city center. They also dot the beaches of Cancun.
Now, if you are familiar with Cancun, you would know that most of the hotels are about an hour away from the city. And most of these hotels are also a bit off the action in Cancun.
One of the options that you can take is to consult your maps online.
This should be able to help you out in ensuring you have the best location.
Also, if you have a booking app, they would mostly have a map feature.
This way, you would be able to filter out the hotels that are actually located far from the city or from the beach.
Not only that, but using these apps would ensure you don't book a hotel with a price too high.
Hailing the Cab
Once you have gone from immigration and through the airport doors, you will be faced with a throng of people.
Most of these would be taxi drivers.
In fact, almost all of those that wait outside the airport are taxi drivers. Each would be willing to take you to the city center or to whichever part of Cancun you want to go to.
Before you hop on to one of those cabs, think again.
The fact is, these taxi drivers can be pretty expensive. And you don't want to begin your holiday with a taxi fare that's out of this world.
What you can do is to actually book a shuttle through your hotel.
You can get in touch with them ahead of time. The hotel or resort would be able to help you out with a ride to the accommodations.
Haggle!
Because the city is too touristy, you would find different gift shops everywhere.
When shopping for gifts to bring back home, you'd find that these items come with prices.
It can be some authentic trinket. Or it can be some spice you want to bring home.
But if there is something you need to remember, it is to always haggle.
Don't be shy. The locals and vendors are actually used to customers and tourists haggling.
Before buying the item, make sure to check the price first. If you think it is too much, that's when you start to haggle.
Start by giving a price that is about 30% to 40% lower than the original price. The vendor may not agree to your proposed price.
But if there is anything, it is that the vendor will try to meet your request. The seller would give you a lower price. It would be somewhere in the middle of your proposed price and the original price.
Pay in cash.
Water from the Faucet
When you run out of bottled water, don't drink from the faucet.
The water from the faucet is actually unfiltered. You don't want to spend the holidays with an upset stomach, do you?
Supermarkets and convenience stores are just everywhere in Cancun.
Stock up with bottled water. Or you can even ask for water from your hotel.
Whatever happens, do not drink water from the faucet.
Spring Break!
When it comes to the best time to visit the city, it is always in May, June, and November.
By this time, hotel prices would be lower than usual. Plus, the crowds won't be much.
The city is pristine by this time of the year. You can enjoy it a lot. And most important of all, these months would be friendly to your pocket.
During this time, most of the activities and offerings come at half the usual price.
Plus, food gets cheaper by this time.
The months you have to avoid would be those that lead towards Christmas and New Year's. Also, avoid the Spring Break.
This is the time when the beaches can be too crowded.
And before we forget, the hurricane season in Mexico is from July to October.
You may want to consider that as well before visiting.
There's More to Cancun
One of the most common mistakes of travelers is packing just beach wear.
Instead of limiting your garments to beach wear, bring with you as well a light sweater. You can also include other garments suited for dinners on a night out in town.
It doesn't have to be fancy.
Just something decent.
Because you have to remember, there is more to Cancun than just the beach.
It won't help if you only have bikinis or trunks in your luggage.
Consider other options.