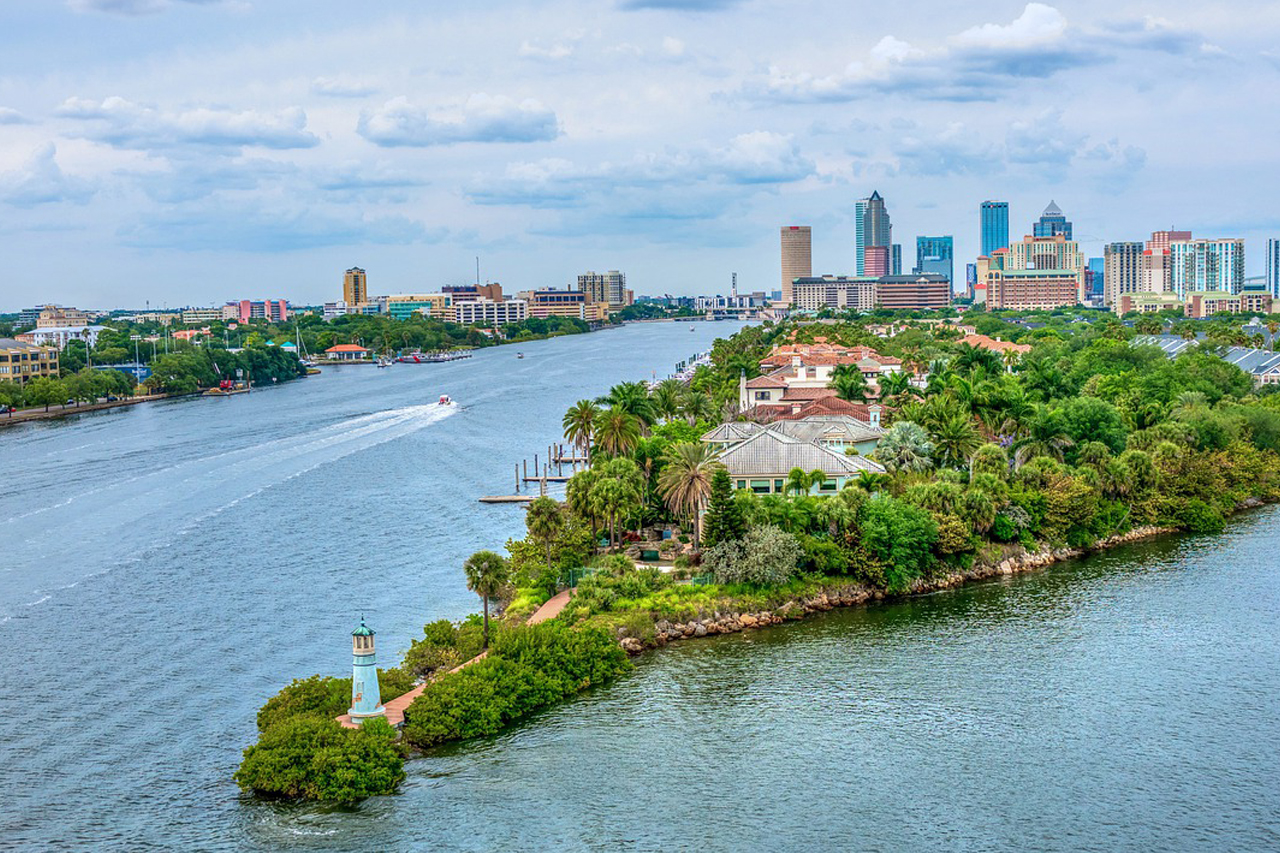 An inlet located on the west coast of Florida lies the city of Tampa. It is the state's western economic center and is considered one of Florida's most populous cities. Coined as "The Big Guava" after Gavino Gutierrez's unsuccessful search for wild guava trees and New York's "Big Apple."
Nearing Florida's gulf coast, Tampa is a beautiful city to explore, suitable for all ages. Even for those under 21, it is a welcoming multicultural environment with ideal tourist places full of fun, relaxation, and thrill. The metropolis has a cultural mix of Cuban and Spanish influences reflected in its history and community.
Whether it's a food trip, educational tours, indoor chill, or thrilling activities, there's always plenty to do in Tampa for locals and visitors alike. In this article, we've curated a list of the best things to do in Tampa exclusively for individuals under 21.
1. Oxford Exchange
Tampa's timeless classic, Oxford Exchange, has a proven long history of many transformations. Situated at 420 W Kennedy Blvd, Tampa, FL 33606, Oxford Exchange's history began way back in the 19th century. Through time, the building once housed arcade shops, a photo studio, a dentist's office, and an insurance company before becoming a European-inspired space.
Oxford Exchange is the perfect space to chill after a long day of traversing the city. The main highlight of Oxford Exchange is its classic royal design that transcends time. The building's intricate premier design gives off a European ambiance even though you are in America. You can find a bookstore, restaurant, shop, and coffeehouse as you enter the building.
Afternoon tea is a must as you visit Oxford Exchange. You don't want to leave the building without immersing all of your senses. Don't miss the opportunity to taste Europe in Tampa, serving you a light meal of cakes or sandwiches and tea. Oxford Exchange is the perfect area to relax before setting off on a nightly adventure in the city of Tampa.
2. Museum of Science & Industry
The Museum of Science & Industry, or MOSI, is a non-profit museum located at 4801 E Fowler Ave, Tampa, FL 33617. It all began in 1962 as a small local organization and was named the Museum of Science and Natural History. However, it only grew in popularity in 1986 and changed its name to the Museum of Science & Industry.
Geared towards adults and children, the museum aims to encourage individuals to take an interest in science with innovative exhibits that urges guests to expand their minds. There are over a hundred hands-on activities in the Museum of Science & Industry. Brain puzzles, robot building, optical illusions, and Saunders Planetarium are some of the activities to explore during your stay.
Among its piles of activities, their Sky Trail Ropes Course is the one you should not miss. Conquer your fear by trying this course built with challenging, high-energy feats. The 36 feet high multilevel structure features 35 diverse elements open for all ages. For your safety, the museum provides a harness to ensure your well-being.
3. Adventure Island
Across the street from Busch Gardens is the city's famous Adventure Island. This 30 acres waterpark first opened on June 7, 1980, and belongs to SeaWorld Parks & Entertainment. Adventure Island has been operating for 41 years and continues to be one of Tampa's popular tourist destinations.
For most of the year, Florida experiences a hot bearable climate. Many tourists flock to Adventure Island to enjoy and take a splash under the Florida sun. The waterpark has ten amazing waterslides, rides, pools, and eateries. Attractions and rides include the Solar Vortex, Paradise Lagoon, Rambling Bayou, Caribbean Corkscrew, Riptide, Aruba Tuba, etc.
Adventure Island has two upcoming waterslides: the Rapids Racer and Wahoo Remix. Rapids Racer will give you the thrill of swirling through the first-ever dueling saucers in the world. On the other hand, the Wahoo Remix Riders is a raft ride featuring sound elements and synchronized lights. Be among the first few to try their new main waterslide activities.
4. Straz Center for the Performing Arts
The Straz Center has made arts education a community priority for more than 35 years. Incorporated in 1980 and built on an abandoned grave property, Straz Center is now Southeast's largest performing arts center. It opened its doors in 1987 and was known as Tampa Bay Performing Arts Center during the 1990s.
The riverside facility consists of five theatres with about 2,600 to 100 seats. Each year, the Straz Center serves over 500,000 people. Cabaret, grand opera, comedy, music, and broadway tours are among the programs available in the center. Furthermore, they are mission-driven, which inspires and educates the community and visitors worldwide through the power of performing arts.
Besides a roster of artists performing in the Straz Center, they also have a resident grand opera company. Opera Tampa provides the city's highest-caliber grand opera. They feature international performers and full-scale productions. Don't miss the chance to hear and see them perform right before your eyes.
5. Bay Area Renaissance Festival
The authentically recreated 16th-century European village, Bay Area Renaissance Festival, made its first appearance in Florida in 1979. In 1980, the Faire started to add more attractions such as food booths, a marketplace, and a human chess tournament. After quite some time, the management soon moved to the Mid America Festivals group.
Bay Area Renaissance Festival features 15 stages of exhilarating entertainment. Countless costumed characters are present to entertain the guests with many performances daily to add a more authentic feel to the place. It currently has 80 shops, human-powered rides, food options, and skill games. Additionally, the area showcases entertainment plays like Haywire Circus, Acrobellum, Tampa Taiko, etc.
Attending their seven theme Weekends is a great deal. The concept of this event is to feature a new theme to their audiences every week. Some of the pieces featured in the past are Highland Fling, High Seas Adventure, and Shamrocks & Shenanigans. Overall, the Bay Area Renaissance Festival is a unique and memorable tourist destination that feels like you traveled back in time.
6. Busch Gardens
Busch Gardens is a popular Tampa theme park spanning 297 acres of land. It is a privately owned area that opened in 1959 in Tampa, Florida, and once started as a hospitality center that featured tropical gardens and exotic animals. The park is also notably older than the nearby Disneyland.
The Busch Gardens boasts world-class rides and other games that guarantee a great adventure for people of all ages under the Tampa sun. There are also over 12,000 animals featuring 10 African zones. Each zone has its rides, animal encounters, roller coasters, live shows, and entertainment. Montu Roller Coaster, the tallest and longest inverted coaster globally, is in the Busch Gardens.
Tampa's premier Halloween event that gives off an unspeakable horror to anyone who dares is in Busch Gardens. Its Howl-O-Scream is a must-try attraction in addition to the coasters and up-close interactions with the animals. Feel your heartbeat fast from your chest as you conquer your fear and find your way out of the dark.
7. Dinosaur World
In 1998, Dinosaur World's Florida location opened its doors to the public. It is one of the three outdoor dinosaur theme parks of the Dinosaur World and boasts 12 acres. Each park location features more than 200 life-size dinosaur sculptures. Christer Svensson, the owner of the Dinosaur World, was the one who created the dinosaur sculptures.
Dinosaur World Florida fascinates visitors with its display of thousands of specimens, artifacts, and items. The place is notorious for its dino-themed recreational activities like games, playgrounds, and exhibits. Inside the area, they also have their Prehistoric Museum and Florida Fossil Museum, which features real prehistoric fossils like the Allosaurus foot. Some of the activities offered are Fossil Dig, Geode Cracker, Exploration Cave Show, Fossil Dig, and the Triviasaurus Rex Game Show.
Don't forget to try their Dino Gem Excavation if you want to have extra fun. You can use either a bag or bucket as a container to find essential minerals and gems at the site before starting to dig. After digging, it will be through their mining slice, and everything you discover is yours to keep!
8. Armature Works
Armature Works is a fully renovated event space that gives the historic Tampa Heights area a new lease of life. The structure was once a TECO streetcar warehouse until the Tampa Armature Works purchased it in 1960. The site is currently a go-to commercial building located in The Heights' epicenter.
Restaurants, shared workspace, event spaces, and the Heights Public Market comprise the 73,000 sqft mixed-use commercial space. You will also be able to see the view of the Hillsborough River from the building. In addition, pets are allowed on the building's outdoor perimeter but not within.
Armature Works' Heights Public Market is the main attraction of the commercial building. It is a 22,000 square foot market with a communal seating plan surrounded by eateries from the Bay Area's best chefs. The Heights Public Market is a food lover's paradise in Tampa, appealing to locals and visitors alike.
9. Raymond James Stadium
A 65,000-seat stadium located in Tampa, Florida, Raymond James Stadium, was built in 1996. Its seating capacity can also expand to 75,000 maximum. The multi-purpose stadium is home to the University of South Florida Bulls college football and NFL's Tampa Bay Buccaneers.
Besides being home to its primary sports teams, Raymond James Stadium is also home to Monster Jam, Outback Bowl, Sunset Musical Festival, and Gasparilla Bowl. Other prominent events and activities held at the multi-purpose stadium include the notorious Super Bowl, Wrestlemania, the International Indian Film Academy Awards, and celebrity performers such as Beyonce, Ed Sheeran, U2, Taylor Swift, and others.
The Raymond James Stadium also offers a premium lounge to some visitors. Their new Champions Lounge is a luxurious all-inclusive area that gives you a better view, outstanding service, and exciting amenities. Please take full advantage of your stadium visit in Tampa by checking their Champions Lounge.
10. Tampa Electric Manatee Viewing Center
Tampa Electric Manatee Viewing Center is a destination in Tampa where people can view the gathering of manatees. Since manatees love warm water, Tampa Electric's Big Bend discharge canal became their sanctuary which led to the establishment of the viewing center. Fret not; the water in the Big Bend is clean Tampa Bay water and isn't a threat to the manatees' health.
The viewing center is the perfect tourist destination where you will appreciate the privilege of watching the manatees swim through the Tampa Electric water plant. It has become a sanctuary for manatees looking for a warm area as the bay gets colder. Besides manatees, the center also has a gift shop, mangrove exhibit, and butterfly garden. Guests are also encouraged to climb the stairs of the 50-foot tower to get a bird's-eye view of the site.
After watching the manatees, a Rays Touch Tank is also a good alternative. In this tank, you will be able to interact with the cownose rays. Be prepared to get fascinated as they swim just inches away, delicately caressing your fingertips as they pass by.
11. Captain Memo's Pirate Cruise
Established in 1977 is Captain Memo's Pirate Cruise. The family-oriented pirate theme has been operating for more than four decades. It all began when the founder, Bill Wozencraft, was invited to Clearwater Beach, Florida, by a Canadian travel company to build a pirate ship.
Presently, Captain Memo's Pirate Cruise offers a Daytime cruise and Sunset cruise. It has also received various awards and recognition from the Greater Tampa Bay Chamber of Commerce, Brighthouse Regional Business Awards, and Visit St. Pete Clearwater Bestie Award. The pirate-themed cruise caters to both children and adults.
Aside from cruising the seas, Captain Memo's Pirate Cruise also has a pirate-themed souvenir shop. Don't forget to buy souvenirs from their shop ranging from pirate gear, bandanas, hats, flags, and T-shirts. The souvenirs are undeniably a reminder of a fantastic time spent on a pirate ship patrolling the Florida waterways.
In Tampa, Florida, several attractions await for persons of different ages. There is more to Tampa than its proximity to the stunning gulf coast or its bustling nightlife. Even individuals under 21 have a lot of new things to explore and discover in The Big Guava.
We hope that this guide piqued your interest in flying to Tampa City for your next trip. Which Tampa tourist spot intrigues you the most? Is there anything you want to add to the list? Share your thoughts and ideas below.