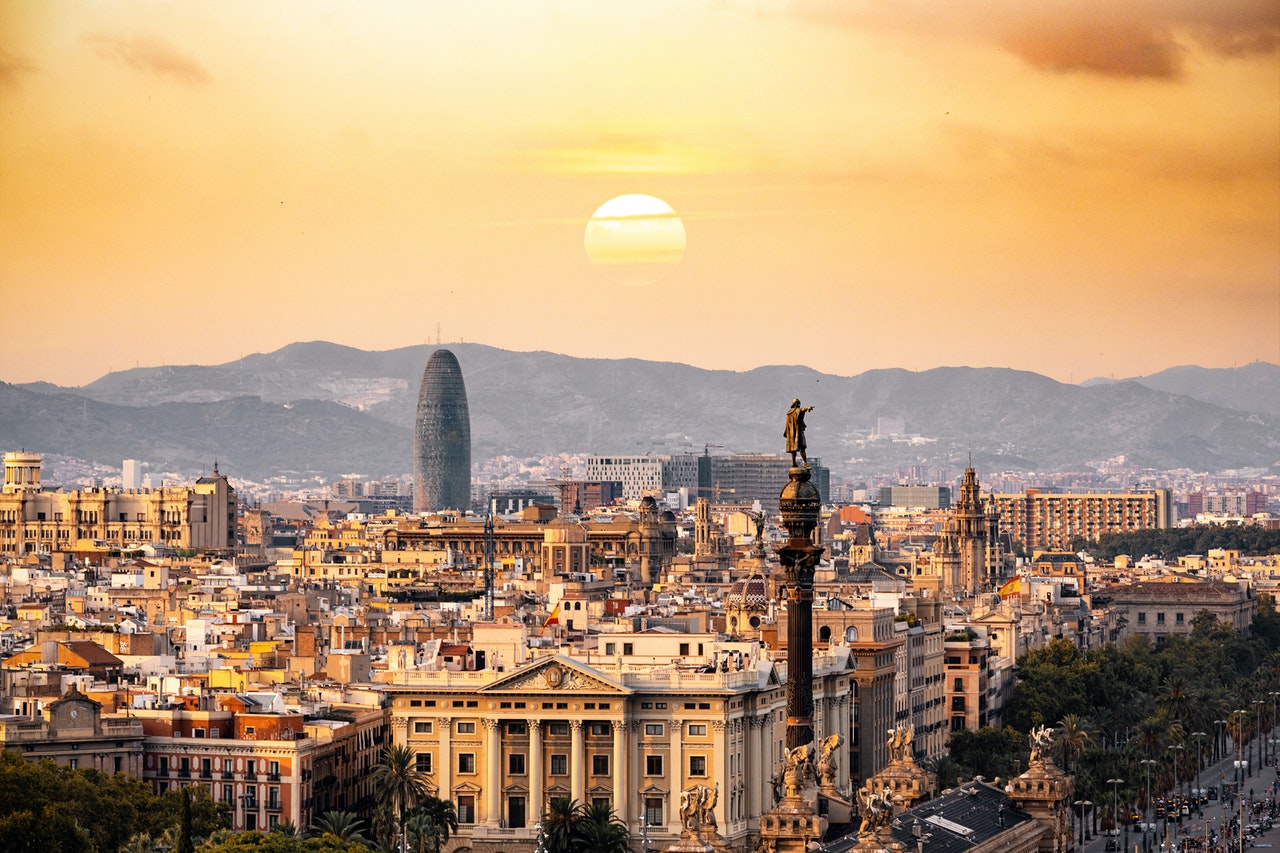 The region of Catalonia is one of the most favorite tourist spots in Spain. It is best known for its sought-after capital city – Barcelona. The city has become a summer and holiday destination among travelers all over the world.
It is a great place to have a sunny city break, learn about Spain's cultural heritage, and marvel at Gaudi's works. You can do a lot of things in Barcelona. It offers you an array of activities to enjoy and get to know Catalonia more.
However, with all these fantastic experiences, how can you take them all in? It requires you more than a day or two to get around Barcelona and tire you out in the process. More than money, you need the energy to visit all the famous landmarks Barcelona is offering.
Good thing, the city offers the hop-on-hop-off ride as the fastest way to get around it. It is an intelligent way to go around Barcelona without missing out on its major landmarks. In this way, you are right on schedule and on track with your itinerary.
The hop-on-hop-off is the official travel bus of the city of Barcelona. It is worth using the hop-onhop-off bus if you have limited time and want to see the best of Barcelona. With a single ticket, you can see all of Barcelona's beautiful attractions with hop-on-hop-off bus.
What are the benefits of the hop-on-hop-off bus?
The hop-on hop off in Barcelona offers tourists an array of benefits. Some of the benefits of using a hop-on-hop-off bus is flexibility, getting the best views, convenience, and many more.
To know more about them, here are some of its notable advantages:
Flexibility

The Barcelona hop on hop off is designed to cater to the needs of most travelers. The routes are meticulously planned to give visitors the best things about the city. Thus, it offers much flexibility, unlike riding on a taxi or going for public transport. Since it is the most flexible way to go around the city, you can pick your bus and change routes between locations.

Beautiful views

Hop-on hop-off uses double-decker buses with big windows to give you the best view when touring. Even when you are inside the bus, you see the great sceneries and views around the city. It is the best way to relax and marvel at the spectacular views.

Public transportation no more

All you need is one ticket to go and see the most amazing spots in Barcelona. You do not need to go through all the hassles of buying separate tickets for transport. You need to purchase one ticket, and it can go all the way through your trip. It is convenient and more reasonable spending.

Audio Guides

Barcelona Hop On Hop Off is specifically designed to give tourists convenience. It aims to cater to all the travel needs of the visitors. Once you get on board, you are offered audio guides for the entire trip. The audio guides come in 18 major languages, most especially English. In this way, you can learn more interesting information about the sites you are visiting.

Free maps and more

Another perk of this way of traveling is getting free maps and voucher books. In this way, you can plan your city tour activity by following the sites you want to go to. It is convenient and time-saving, as well. As long as you know the bus schedule and what bus route to choose, your Barcelona trip is easy peasy.

Wifi

As a bonus, the double-decker has internet access to get you connected online. It is free and at optimum wifi speed. So you can take a pic of your most appreciated site and post it online.
Where does the hop-on-hop-off bus go in Barcelona?
If you want a comfortable way to go around the city and see its notable landmarks, you can opt to use hop-on-hop-off. It is considered one of the easiest and safest ways to embark on a Barcelona city tour.
Several tour companies are offering this unique way of getting around the city. They will keep you right on schedule while ensuring your safety and convenience.
The Barcelona hop-on-hop-off has several routes for you to choose from. The hop-on-hop-off bus goes where the famous landmarks and attractions are in Barcelona.
Depending on where in Barcelona you want to go and your top places to visit, you can select any of these routes:
Blue Route

If you are tight on schedule and can only see some of the city's best spots, you can choose the Blue Route. The route has a total of twelve stops giving you time to explore the city's cultural sites. It will take you from Sagrada Familia up to the Futbol Club Barcelona.

To pass through these sites, you need to spend a total of two hours. Among the landmarks you can see with the Blue Route are the following:
Plaça Catalunya
Casa Batlló
Passeig de Gracia
Sagrada Familia
Park Guëll
Tranvía Blau
Camp Nou Stadium
Red Route
If you have the luxury of time and want to see as many sites as the city offers, we recommend the Red Route. The Red Route can take you to a total of twenty-one stops. It is extremely extensive as it offers tourists as many sites as it can be.
However, even though it has more stops, only two hours are allotted to see all the spots. Thus, we recommend planning your trip well and prioritize which ones to visit. Here are our top recommendations:
Barrio Gótico
Port Olimpíc
Port Vell
Montjuic
Poble Espanyol
Green route
If you want to see Barcelona's famous beaches, you should take the Green Route. The route is only available from April to November and will take you to the city's excellent beaches. More than that, you can also explore several shopping centers, bars, and restaurants.
The Green Route requires you the shortest time that can only last for up to forty minutes. If you desire the best out of it, you should not miss the following destinations.
Port Olymíc
Parc Diagonal Mar
Platja del Bogatell
Forum
Of course, there are some points to know and consider when choosing your route. First, each route enables you to hop on and off to as many sites as you want. Second, you can go in and out of the bus the get back on to the next available bus.
Second, there are bus routes that overlap, allowing you to change routes in the process. In this way, you have more flexibility and would not miss the places you want to see. All in all, the Barcelona hop-on-hop-off gives you a total of 44 stops. Then, of course, you need to get a ticket before embarking on the city tour.
How much is hop on hop off bus in Barcelona?
There are two main packages to choose from if you want to use hop-on-hop-off during your Barcelona trip. . The price for a hop-on hop-off bus can cost as much as $35 for one day and $48 for two days.
It will not cost you just as much, unlike taking on a private tour or car. Plus, you can get a discount of 10% if you chose to purchase your ticket online.
Once you have the ticket, you are now entitled to choose the routes you want. If you have plenty of time, you can even take the three routes on the same day. Remember, routes Blue and Red only take two hours, while Green Route is only forty minutes.
Yet, if you only have a few hours left, and want to see the city in the fastest way possible, getting the Blue Route is the best. It will give you the significant attractions Barcelona has, without taking much of your time.
What is Barcelona hop on hop off city tour providers?
The city of Barcelona has two primary hop-on-hop-off city tour providers. They are the City Tour Barcelona and Barcelona Bus Turístic.
The City Tour Barcelona is a privately owned business. Moventis and Julia Travel are managing it.
These two are the most popular travel providers in the city.
On the other side, Barcelona Bus Turístic is endorsed by the Barcelona city government. As a result, the Barcelona Turisme has been managing the entire tourism industry in the city.
Here are their significant differences:
Tickets and passes

Both companies are offering two significant passes – a 1-day pass and a two-day pass. They also offer the same price, so you will not have to worry about which one to choose in terms of affordability. The validity of tickets starts depends, too. Once you redeemed your pass from redemption centers in the city, you should start using the pass.

Schedule

Both hop on hop off starting from nine in the morning. However, they vary on the time they end. The City Tour Barcelona makes its last round by eight o'clock in the evening. On the other side, the Barcelona Turístic stays until seven o'clock at night. Of course, their schedule varies depending on the season.

Routes

The City Tour Barcelona offers a total of 30 routes.
Its counterpart, Barcelona Turístic, has more routes to offer. It has a total of 44 routes. Depending on your schedule, you can choose which city tour provider is right for you.
What should I not miss in Barcelona?
Barcelona offers many tourist attractions and cultural sights. However, with the hop-on-hop-off bus, you are confronted with various choices, making it hard for you to decide.
There are places not to miss on your Barcelona trip, especially when you are using a hop-on-hop-off bus. For you to experience the best of Barcelona, here are the top places you should not miss:
Sagrada Familia

It is the Church of the Holy Family and a well-renowned site in Barcelona. It is a large basilica in the city with stunning designs and architecture.

Park Güell

If you want a modernist take on architecture, you should not miss the Park Güell. The infamous Gaudí designs it. It is a British-style residential park intended for the city's elite classes.

Casa Batlló

Another masterpiece of Gaudí is the Casa Batlló. It is a fancy structure that was remodeled from Passeig de Gràcia. It has a grand design that proudly stands in the heart of Barcelona.

Church of Sta. Maria del Mar

It is one of the most treasured gems of Barcelona. It is a 14th-century structure with Gothic designs and a remarkable interior. If you want to see the best architectural form, the church is number one on the list.

Ciutat Vella

Of course, your trip will not be fulfilling without strolling around the city's old town. It would help if you did not miss walking down the ancient streets of Raval, Barri, Gòtic, and Born.

Since tourism is a primary industry globally, there are plenty of ways to make traveling easy. Different modes of transportation to go around a city are being offered nowadays. The hop on hop off city tour in Barcelona is one of the many ways to make traveling more convenient. It provides a safe and convenient trip while giving tourists the best city tour experience.