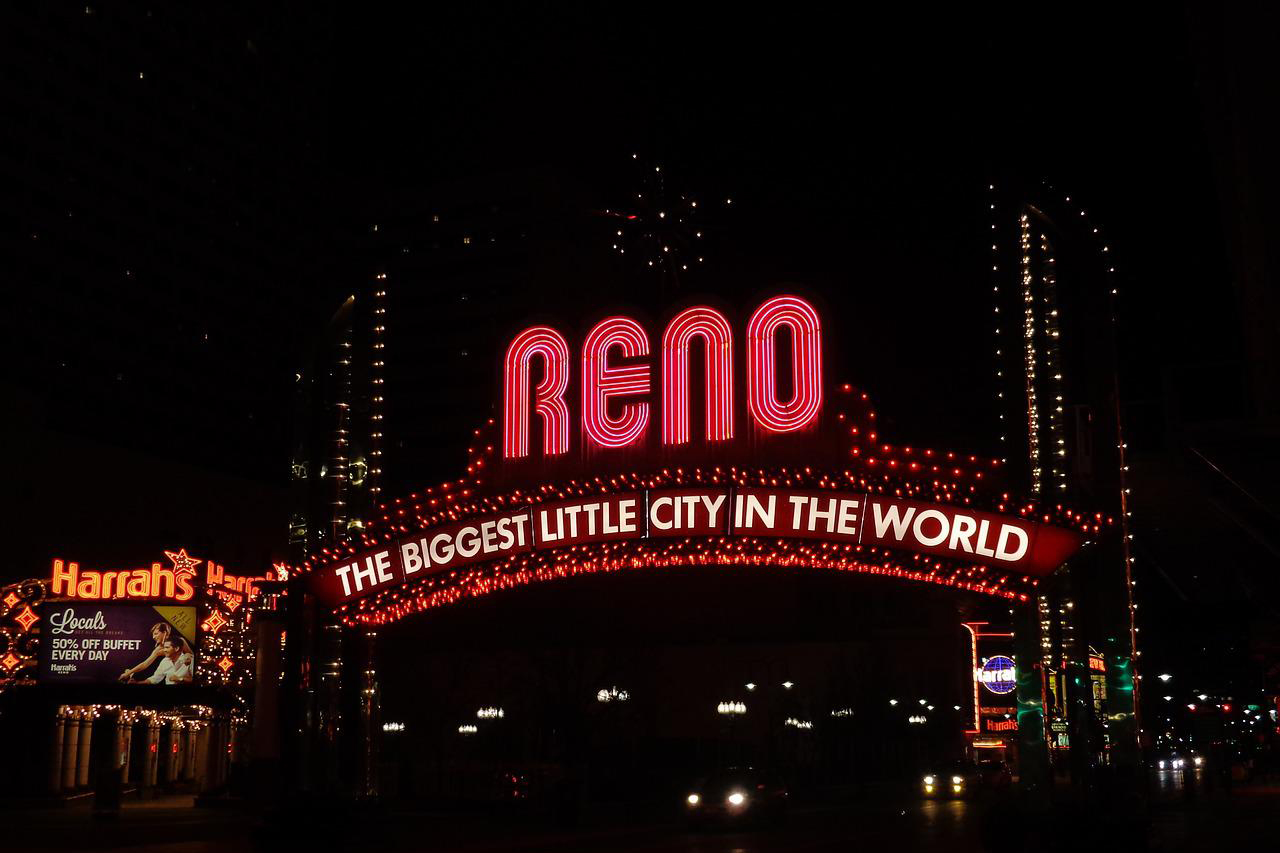 Reno, Nevada's global standing spins around its casino and tourism industries. The biggest city in Washoe County, Reno, is in the High Eastern Sierra mountains, in the Truckee River basin, on the eastern side of the Sierra Nevada.
Reno's nightlife has been astoundingly vibrant, with many lofty hotels and skyscrapers in its downtown district.
"The Biggest Little City in The World" sets a new standard in providing a splendid spot for people under 21, who cannot fully enjoy bars, clubs, and even sports betting. There are still more fun things and hubs to check off your bucket list for a spirited weekend away without drinking.
To assist you in locating the best rosters, we have compiled a list of the top 11 best things to do in town. The list includes the local favorites such as museums, dining establishments, arcade venues, and various recreational events.
1. Game Lab
Game Lab is a great amusement center on Reno's famous Virginia Street inside the Peppermill Reno. This fun amenity is on the third floor, next to the Parking Plaza, and has a different entrance should you not go through the casino.
The hotspot offers the best arcade games to date and is particularly open for everyone. Peppermill's arcade is one of the hotel's go-to amenities.
Game Lab has the most recent video plays and finest retro games, plus there are also updated tickets and prize features. It then has an option for a free membership in their club. There are birthday packages and other event deals for you.
You will love to explore the classic arcade machines here featuring the all-time favorites Pinball Machine, Donkey Kong, Frogger, and Pac-Man. There is an air hockey with an attractive feature, several driving games, Virtual Worlds, and a new photo booth in the zone.
2. Terry Lee Wells Nevada Discovery Museum
On September 10, 2011, the Discovery, also recognized as the Terry Lee Wells Nevada Discovery Museum, decided to open its doors to the public. The hub in downtown Reno has 67,000 square feet of hands-on learning and enjoyable activities for people of all ages. Guests can participate in engaging problem-solving obstacles intended for both groups and individuals.
There's consistently something unique to uncover in this educational hub, which features permanent exhibits such as Mindbender Mansion, Inside Out: An Anatomy Experience, Under the Stars, and Little Discoveries. Ascend the clouds, glide the Truckee, harness green energy, discover Da Vinci's preferences, and convey your artistic minds in the Art Alcove for a one-of-a-kind experience.
Everyone is looking forward to the annual Chemistry of the Cocktail, which includes hands-on experience with the science of mixology and tasty meals from local culinary hot zones. This science-centered exhibition is one of Reno's best educational options.
3. Break Through Reno
Break Through Reno is a large entertainment facility inside the Grand Sierra Resort and Casino that features daunting coursework and escape games. Every edge, every façade, and compartment include clues and signs that will assist you in breaking free, and you only possess 60 minutes to figure this out.
Everybody will enjoy the different themed rooms with numerous stories that will pique your interest. Each chamber can hold 6 to 7 people and be played solo, in groups, with mates, or with families. There are several beautiful reveals within every room, each unique and ultimately mind-boggling.
Break Through Reno offers four escape rooms: the Skull and Scepter, the Centurion Heist, the Sorcerer and the Fountain of Hope, and the U-Boat: Sinking. Emerge in a fun leisure time and exercise your mind by figuring out a way to flee in this incredible place.
4. Greater Nevada Field
Greater Nevada Field in Reno is a big stadium that opened in April 2009 and is home to the Reno Aces of the Minor League Baseball. The main arena has a phase 2 recognized as the Freight House District, or the "Upstairs at Greater Nevada Field," which includes an open-air bar and stage space for music events, a concessionary, and a 250-sitting room.
Greater Nevada Field attracts approximately 500,000 visitors per year. This vast area has an official function of 9,100 people, with 6,500 fixed independent arena seats. In addition, there are two "party zones" with picnic bench chairs, 22 deluxe skyboxes, a 150-person club suite, and two 15-person premium dugout rooms.
While watching a good baseball game of the Reno Aces or any significant event on the ground, you can grab a good meal from its multiple food vendors, including Stadium Eats, Good Hops, and Bugsy's Sports Bar.
5. Carson City Ghost Walk
Carson City Ghost Walk, located on Virginia Street in Reno, Nevada, is an outdoor guided tour of Carson City's historic and cursed Westside. The trip can last up to 120 minutes and is a short distance journey through many of the most improbable spooky businesses and homes.
Everyone will enjoy this one-of-a-kind activity, which the Assisted Tours depart from the edge of Third and Curry Streets. Costumes are welcome on the stroll, which is the part ghostly background and part showmanship. Along the way, learn about lingering spirits from the previous centuries and cursed and hauntings tales.
If you are under 21, you will undoubtedly enjoy this one-of-a-kind activity. You can take a day tour to lessen the creepiness compared to what you encounter at night. There are photoshoots, tables, psychics, and Ghost Walk products for sale in the area.
6. Family Fun Center
Boomtown Casino and Hotel's Family Fun Center amusement hub is one of its great attributes. The Fun Center is an arcade with over 30,000 square feet of exciting matches for kids of all ages and a redeemable facility with many fun rewards. Plus, a snack bar is just around the corner where you can purchase lite snacks inside the place.
Inside Boomtown, the Family Fun Center provides people with a new, thrilling, enjoyable experience. It has a unique 4D theater and various arcade machines with updated games and some classics like Pac-Man and the iconic Merry-go-round ride. The venue hosts events and birthday celebrations on occasion.
You must encounter their intense four-dimensional auditorium and choose from themes such as Neon Ninja, Robot Riot, Los Banditos, Carnival, and Zombies. Also, there is a Rodeo Rider, an Antique Carousel, a Covered Wagon Ferris Wheel, and a Flight Simulator in the ample space.
7. Nevada Museum of Art
One of the best museums in Reno is the Nevada Museum of Art, which is nearly 90 years, founded in 1931, and is the state's only American Alliance of Museums accredited art museum. The exhibition, located at 160 West Liberty Street in Reno, places a particular emphasis on its compilations and art shows on human contact with the property and nature conservation.
Through the art show, guests are well knowledgeable about environmental conservation. The gallery's permanent collection, which includes over 2,000 pieces of art from the 19th to the 21st centuries, is split into four focus areas linked by focusing on natural, constructed, and immersive networks.
The Nevada Museum of Art has fantastic amenities and facilities, including an enclosed shop and café where you can relax for a while and purchase merchandise related to the building's extensive collections. Immerse yourself in this fantastic educational establishment and learn from the Research Library's over 7,500 publications.
8. Reno Events Center
Reno Events Center in the downtown district is among the highlights in Reno, Nevada. The vast area has 118,000 square feet of the floor for activities ranging from top-tier entertainment to a slew of conferences and conventions. Because it is in the city center, the building is an easy walk to numerous tourist destinations and town amenities.
Because the Reno Events Center is a 7,000-seat multi-purpose arena, everyone will have plenty of seating options. You will also not consider other venues because the arena hosts football and basketball games.
In addition, the hub is home to several popular events, including the USA Boxing Olympic Team Trials and the Reno Wrestling Tournament of Champions.
The venue has a good size for upcoming events and multiple stands that sell snacks and drinks to anyone watching a show here. You'll also appreciate the large screens to accommodate patrons who have seats further away from the VIP section.
9. Brainy Actz Escape Rooms Reno
Brainy Actz Escape Rooms Reno is another escape room to visit in Reno. This ample space features a real-life puzzle room journey that places you in a room for 60 minutes with up to ten other people. The plan is to try to solve various hints and puzzles so that you and your squad can exit the room before the timer ends.
Aside from the thrilling escape game, the location also has other fun things that everybody will love. Ax throwing, archery arrow tag, splatter paint room, target shooting, and Bowl Ball are all available at the all-in-one entertainment center. There is also a slime lab which you should experience.
One of the draws here is the Nerf Wars, in which groups compete for the title of best nerf idol in the area. In addition, Brainy Actz Escape Rooms Reno now provides a Tie Dye Workshop, a one-hour class in which they teach you how to tie-dye products that you can take home to keep.
10. Fun Quest
Fun Quest, located near Grand Sierra Resort, is a massive arcade with 40,000 square feet of attractions and games, including laser tag, different kinds of fairground and arcade games, and a fun-filled playroom for little ones. This place is one of the best amenities in the hotel that allows people of all ages.
The center also has new Fun Quest midway gameplay for everyone to enjoy. Further surprises are games like Stinky Feet, Balloon Pop, Water Gun Fun, Hoopla, Down the Clown, Milk Jug Toss, and Bean Bag Toss.
With over 125 video, arcade, and ride games, you'll need to set aside time to try them all. In addition, they have the iconic bumper car in a dark and neon atmosphere and an excellent virtual reality edge for your digital expedition. Plus, if you opt to do Laser Tag, you need to do it in a group so it will never get boring.
11. Puzzle Room Reno
Reno's mind-boggling activities for everyone keep growing, and one new addition to the must-see list is the Puzzle Room Reno. The owners intended these rooms for 3-6 people, with brainteasers to get you out of the compartment in less than 60 minutes.
Children ages 14 and up can play in any room independently, but an adult must accompany those under 13. There are numerous halls to choose from, and the great news is that most of them seem to be family-friendly and not scary. Aside from that, the place caters event space for your important happenings like birthdays, meetings, and other matters.
When you play at the Puzzle Room Reno, you must select one of the themed chambers, including the Valley of the Kings, Below Ground, The Asylum, Lost Cabin, and Blackbeard's Treasure. Prepare your brain and use analytical thinking to escape the cabins in less than an hour.
Reno is a lot more fun for people under 21 because of its exciting hotspots and activities. The world's largest little city maintains its global reputation as one of the best places to spend your weekend and vacation quick escape without splurging on casinos and nightclubs.
Thank you for spending some moment to read our Reno travel guide. We'd love to hear about your own experiences, too!
Please leave them in the comments section if you know of any other locations or recreational things that we should have included. And if you haven't already done so, it's time to pack your bags and explore the wonders of Reno, Nevada.