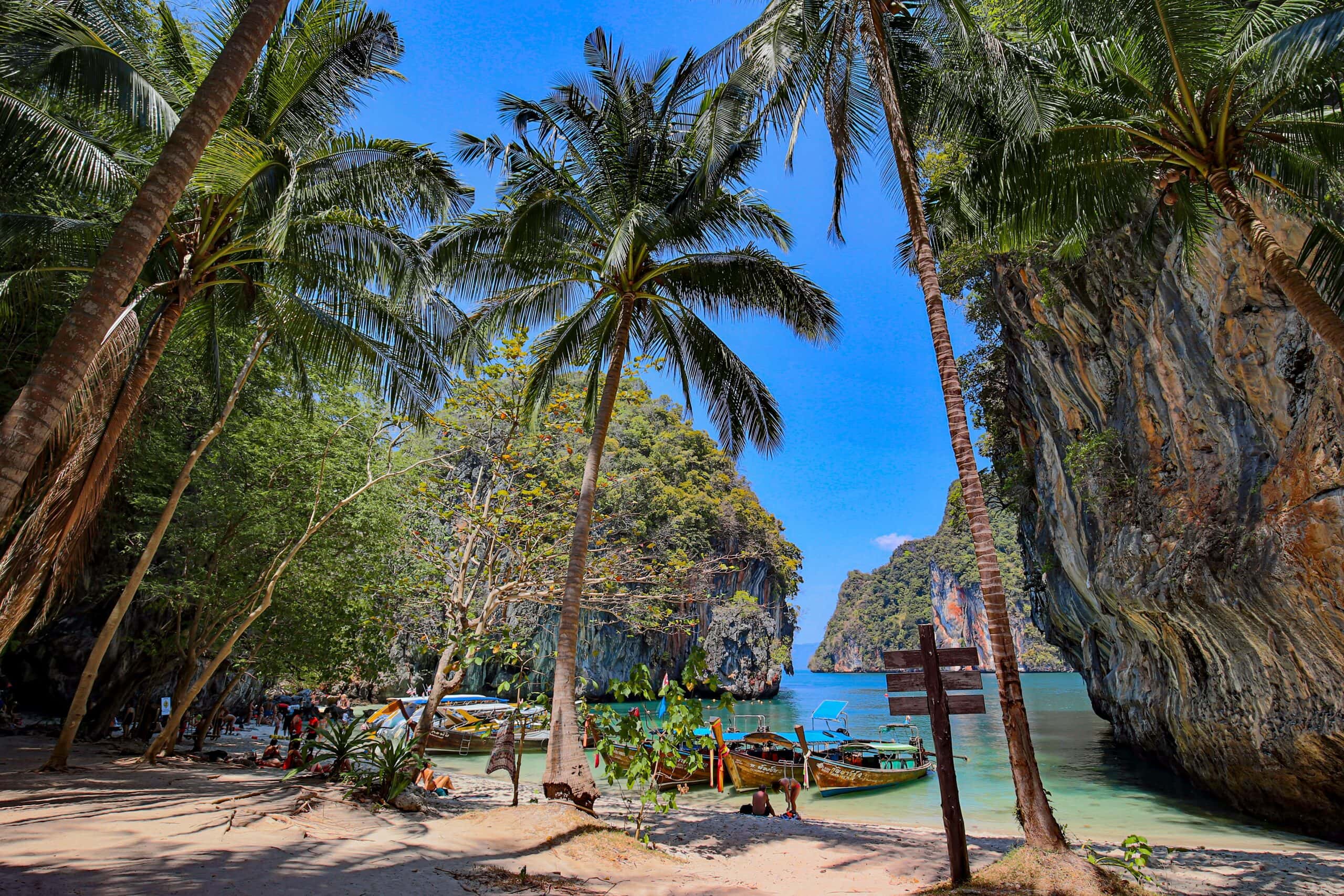 Thailand has a reputation for being one of the perfect getaway spots in Southeast Asia. Its gorgeous beaches lure travelers from all over the world. They want to experience this tropical country that has so much to offer.
Yet, with all these beaches and beautiful scenery, Phuket stands out. Phuket is the largest island of the country found in the Andaman Sea. Many travelers visit the island all year round because of its clear waters and shoreline.
It is one of the busiest islands in Thailand as high-end resorts, spas, and restaurants swarm around. There's a lot to see and experience that you will never get tired of it.
As one of the world's finest beach destinations, you can see white sands and palm trees. The views of seawater reflecting the clear blue skies from above is fascinating. You can take trips from one island to another and experience everything there is.
So, let us see how much more Phuket Thailand offer. A place worth visiting.
Why is Phuket so popular?
So, why make it so popular?
The rise of tourism in Phuket started in the latter part of the 20th century. During that time, there is a growth in international tourism where Phuket embraced. It is the first province that offered tourists the perfect vacation spot.
The construction of the Sarasin Bridge allowed locals and tourists to reach Phuket easily. It is the starting point of the massive tourism growth in the area.
Since then, hotels, resorts, and other tourism activities are popping around in Phuket. You can see travelers and backpackers around the area having the time of their lives.
By the 1980s, it became one of the world's premier resort destinations.
So, let's breakdown why Phuket became so popular among tourists.
This southern island of Thailand has almost forty beaches which you can choose from. Enjoy the most popular beaches like Patong Beach, Kata, Karon, and Kamala while waiting for the sunset. The white powder sand, the emerald blue waters, and the line of palm trees made them so adorable.
The landscapes of Phang Nga Bay, Krabi, and Similan Islands are worth-seeing. You can add the gold and red Thai temples showing Thai culture and history.
The friendly and amazing smile of Thai people attracts you more for no reason. It gives you a feeling of warmth and hospitality in an instant.
The delicious Thai food from streets to sophisticated Michelin starred restaurants are worthy. You would want to have some more.
Or have the best time of your life and party all night as Phuket is alive and vibrant at night.
Is Phuket expensive for tourists?
There is no other place in the world that can offer you these experiences at a reasonable price. It has good value for money for the things that you can gain and experience.
A trip to Phuket for a week will only cost you $500-$600 solo.
Hotel and Accommodation
There is a range of hotels and accommodations that are budget-friendly and can help you save a lot of money. The average price for a room or hotel is around $50. If you want to share it with someone, it will cost $100. It is way cheaper compared to other places in Asia.
Food
Food on the island is very cheap. You can have the best meal of your life for only $15 to $20 per day. Breakfast is more affordable than lunch and dinner.
There are lines of street food that way cheaper. A delicious Phad Thai noodles are $3, and lunch is $5 while dinner $9. Of course, the price varies depending on what kind of restaurant you chose.
Transportation
A taxi ride is way more expensive than any other mode of transportation around the area. Allot $10/person a day in this aspect.
Activities and Entertainment
Of course, Phuket has loads of fun. $40 to $50 is enough to experience the nightlife in Phuket or visit temples and museums. Imagine, such a cheap way to get entertained.
And don't forget to give tips and handouts that can only cost you less than a dollar. It is usually 5% to 15% of the actual price.
Is Phuket better than Bali?
Bali is another beautiful island in Southeast Asia. It is one of the top destinations in the region that has unique attractions to offer.
It offers a lot of activities to travelers and has tons of attractions to see and explore.
Yet, Phuket and Bali are different from each other. They have unique charms and beauty that you cannot compare.
While Bali is a surfer's paradise with luxurious hotels and resorts, Phuket is quieter. There are many unexplored territories on the island.
Bali may be a hot spot for surfers full of water sports and activities, Phuket is more subdued. There are island adventures which you can try outside the beach. You can enjoy ziplining, bungee jumping, water zorbing, and a lot more.
Bali has lots of natural and spiritual attractions to offer. It is best known for wellness and spiritual activities where you can have a retreat and do some yoga. Phuket offers you wildlife experience and elephant sanctuaries.
Both offer religious attractions, while Phuket is on Buddhism, Bali is on Hinduism. The visual and temples will give you a glimpse of their colorful religious past.
Which side of Phuket has the best beaches?
With almost forty beaches in Phuket, you would want to explore the best among the rest.
So, here are my recommendations for the best beaches you can visit on the island:
Patong Beach
Of course, the infamous Patong Beach that gives you that city vibe. If you don't want to get away from urban but still like a taste of sun, sand, and sea, the Patong Beach is the place to be. It is full of colorful bars, markets, hotels, and shops to entertain you while on the beach. You can have this view but still, feel a more city kind of energy.
Freedom Beach
The powdery white sand and clear blue waters will attract you to see the Freedom Beach. You can bathe in its incredible waters and have fun running around its powdery shoreline. You will have the best time of your life while witnessing the beautiful sunset at the end of the day.
Kata Beach
If you want a less crowded type of Patong Beach, try your luck at Kata Beach. This area is quieter and family-friendly. You can still have your peace, while at the same time, be with people. You have enough selections of the dining experience as well, and a decent nightlife in this beach.
Karon Beach
You will love the long stretch of white sand and emerald blue waters in Karon Beach. It is the second-largest beach where you book hotel deals. It will not feel crowded as people are roaming in the area. Find a nice spot, and get a good tan while you sunbathe.
Nai Harn Beach
It is an authentic Phuket experience where you can see hills and island-hop. Just behind the trees is a line of Thai street food stalls where you can taste local Thai food. Go sailing or fishing, something different from Patong's experience.
Laem Singh
Laem Singh has a Caribbean kind of vibe, giving you the ultimate tropical adventure. It has palm trees and green trees where you can escape from the busy life on other beaches.
Mai Khao Beach
It is the longest beach in Phuket that stretches an almost 11km long. There are hotels, resorts, and restaurants to guarantee a stress-free stay in the area. The place is less crowded, a perfect way to enjoy nature.
How many days do you need to visit Phuket?
The kind of experience Phuket, Thailand offers is limitless. You can spend a large amount of time to explore the area, and you'll still not see everything there is.
Yet, you can have the ultimate Phuket experience in four days. This period can cover the island hopping, temple, and cultural visits. You can add in the itinerary wildlife seeing, shopping, and food trip.
Here are the top activities that you should include in your Phuket trip:
Sand, Sea, and Sun
Of course, you visited Phuket for a reason to go swimming. Four days on the island will overwhelm you with a lot of beaches to see. So, I pick our recommended beaches that are the best to explore.
Patong Beach
Freedom Beach
Kara Beach
Laem Singh
Big Buddha and Wat Chalong
If you want a diversion from all the incredible beaches, you can visit the Big Buddha and Wat Chalong.
There is the 45-meter giant white marble of Buddha just waiting for you. Since Thailand is a Buddhist country, you can see their way of life by not missing this landmark.
On another side, Wat Chalong is one of the biggest and famous temples in Phuket. This place of worship is quiet and serene, a perfect way to sit and relax.
Wat Khao Rang
Try the off the beaten part in Phuket in Wat Khao Rang. It is less touristy, but a nice place to explore. Upon your entrance, a giant statue guards and a golden Buddha will greet you. The famous attraction here is the giant sitting golden Buddha that tourists love to see.
Karon View Point
It has a panoramic view of the Phuket. Its beautiful sea is waiting for you. You can climb high above this place and have a stunning view of the Andaman coast. You can have a bird's eye view of the three amazing beaches like Karon, Kata and Kata Noi. This place is a perfect way to breathe in the breeze of the tropical Phuket Island.
Phuket Fantasea & Siam Niramit
Don't miss some cultural shows in Phuket at night, especially these two. It will peculiarly narrate your colorful Thai stories. There are performers in their vibrant costumes to keep you entertained. It is both cultural and educational while you see elephants and tigers performing.
Banglo Road
If you want a more modern approach in your Phuket visit, visit the Banglo Road and find party streets. It transforms into a party hub at night, where neon-lighted bars make it more alive. The noise and party music will greet you as you walk around this busy street.
Phuket Night Market
Thailand is famous for its night market, and you can find some here in Phuket. By just strolling around in the market, you can cheap souvenirs that you can bring back home. The markets offer almost everything from clothes, home decor, shoes, and street food.
Is Phuket dangerous to visit?
In many parts of the world, you'll never know when you meet danger. It is the same with Phuket.
Southeast Asia has a reputation for having unsafe cities. Yet, if you take the safety travel tips by heart, you'll be well and good.
Phuket will never be one of the most visited islands in Southeast Asia if it is not safe for tourists.
There is a Tourist Police on the island that you can approach if any unwanted incident happens. They can give you help in case you need it.
Still, here are some of the things you should avoid when traveling in Phuket:
Dodgy Tuk Tuk Drivers
Jet Ski and Motorbike Scams
Phuket Airport Drivers
Accommodation Scam
These are minor. If you keep your distance, you'll never have to experience these scams. Most of them want to earn more money, and they will give you overpriced deals. Remember, there is a Tourist Police to help you out when things are getting out of hand.