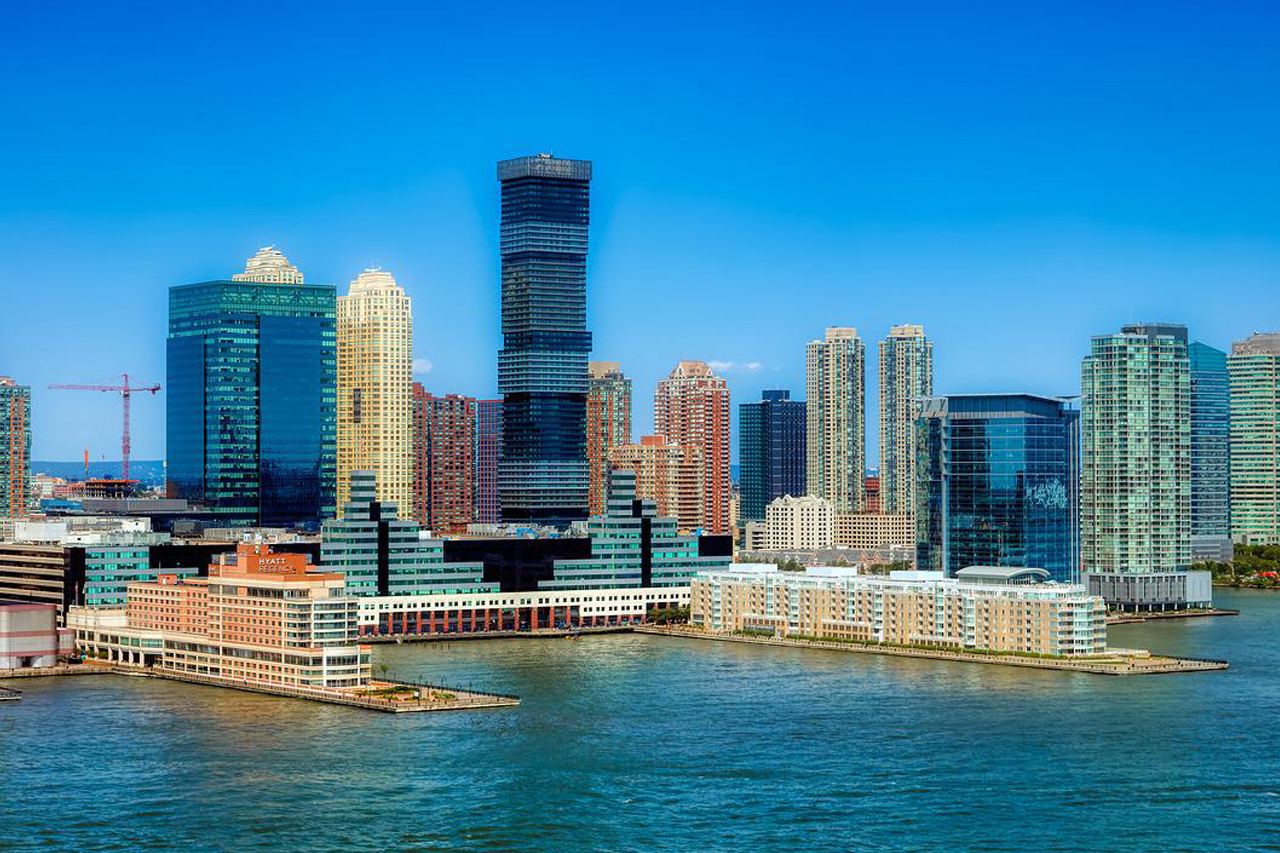 "Is Jersey City a good place to live in?" This question is common for people who want to live in the city. To begin with, Jersey City is a fantastic city with various lifestyle choices, many attractions, and enjoyable activities for all ages.
Positioned on the west bank of the Hudson River and opposite Lower Manhattan, the city gazes onto New York City's skyscrapers but maintains a distinct personality and vibrant urban life.
It serves as the heart of New Jersey's liveliest area and is already establishing a reputation as one of America's hidden gems. As the state's second-largest city, 264,152 people live here.
Despite these positive attributes, the community has numerous disadvantages. If you're considering moving to this city and aren't sure it is right for you, this summary has all the essential information you need to make the right choice.
Let's hop right in!
Is Jersey City a Good Place To Live In? – Big Town With a Strong Urban Vibe
The Good Side
The City's Population Is Diverse
Jersey City's population is quite diversified!
Now, we're not simply talking about different cultures or nationalities here. It's a diversity that goes beyond all of the various aspects.
It is a city that embraces everyone. Thus you will find working professionals, young families, and senior citizens when you live here. It is unique compared to all other large cities, each of which either possesses one or the other.
Therefore, get ready to experience a wide variety of new cultures and interact with fascinating individuals when you live in this area.
The Place Offers a Variety of Cuisine
In this city, the cuisine reflects the city's diversified population, as you can find specialties from various countries and continents here.
Jersey City's history as a "melting pot" has brought in an abundance of great and different restaurants. This city offers everything from Indian, French, Mediterranean, and African food.
Living in this area, you are only minutes away from traditional Portuguese cuisine in Newark's Ironbound District, mouthwatering Chinese cuisine in Fort Lee, and delectable Korean cuisine in Palisades Park.
You can also enjoy out-of-this-world Indian cuisine at Journal Square's Little India and Italian cuisine in every direction, among many more options.
Also, the city contains numerous bars for everyone.
Check out The Golden Cicada for a unique drinking experience. Other nightclubs focus on craft beer, such as The Iron Monkey and Barcade, but The Golden Cicada offers a unique drinking atmosphere.
The most incredible pizza in New York City is also available in Jersey City. If you want to try it, you must arrive early since the wait time for the specialty brick-oven dish can reach three hours.
It Offers Numerous Lifestyle Options
Even though this is a small place, it is impossible to generalize about the way of life in this area. The city is divisible into several different zones, each of which offers something that the others do not.
Jersey City offers something distinctive to all social classes. For example, retirees desiring a wealthy lifestyle can purchase a mansion in one of the state's coastal communities and enjoy the seaside lifestyle for the rest of their lives.
Alternatively, if you wish to live a regular life with minimal intervention from state officials, you might establish a permanent residence in rural or small-town areas.
You can also isolate yourself in one of the mountainous locations and spend the rest of your life appreciating the natural climate.
In a nutshell, the city provides residents with a wide variety of lifestyle options, which makes it simple for you to meet individuals who share similar interests and to continue with life.
Jersey City's Public Transit System Is Reliable
In this city, the public transportation system is very effective.
If you live here, a car is not necessary to navigate the area. There are many options for public transportation, so owning a car is unnecessary if you must commute daily.
Nearly 50% of its residents go to work on public transportation, one of the country's highest rates.
The Port Authority Trans-Hudson Transit System is major public transportation in Jersey City. This 14-mile rapid transit system gives people access to northeastern New Jersey cities like Newark, Harrison, Jersey City, and Hoboken. Additionally, it transports people to Lower Manhattan and Midtown.
The Hudson-Bergen Light Rail, which connects the town to other cities, is another fantastic transportation choice.
Living here, you can travel around locally using the NJ Transit Buses and Citi Bikes, as well as other forms of public transit, and you can also board the New York Waterway Ferry to get to New York City.
The Bad Side
The Place Traffic Is Among the Worst in the Nation
If you think that living in Jersey City over NYC would prevent you from traffic, think again. Another drawback of living in this city, particularly for commuters, is the traffic.
The city has some of the worst traffic in the country despite being on the other side of the river from New York City. The average commute time is 36.8 minutes, much longer than the national average of 26.4 minutes.
Living here, you should prepare for this awful traffic if you're not using public transit. Geographical factors, like the city's location on a small peninsula between two bodies of water and the Holland Tunnel, which dumps thousands of vehicles onto 14th Street, are partially to blame.
Sometimes you'll become stuck, even in less crowded places. So when that situation arises, be ready and patient.
Rodents Plague Jersey City
As strange as it can seem, Jersey City has a big problem with this. Rats are also a concern in this metropolis, similar to how they are in New York City.
It's possible that relocating to this place won't be quite the magical experience you anticipate it becoming. You'll have to cope with the rat population, which always seems to increase due to a lack of natural predators.
Rats could also be present in your apartment throughout the winter as they try to escape the cold.
Owning a cat or any other animal will be necessary if you live in this city to combat the rat problem.
The City Is Noisy
Several drawbacks are associated with Jersey City's status as a center for the financial and entertainment industries.
The city's nightlife is active and a popular destination for tourists, contributing to its reputation for being noisy and busy. If you live here, you can have difficulty finding a location with some peace.
It's also not uncommon to stumble onto a film set here and there. You will almost certainly be delayed by one or more sets on your work route.
If you choose to make this neighborhood your home, it is something that you will need to make adjustments to feel comfortable here.
What Is the Cost of Living in Jersey City? – A Cheap Alternative to New York City
The Good Side
It Has Low Gasoline Costs
Although living in Jersey City is not the cheapest option, some expenses—notably gas—are affordable here.
It is a mystery why gas prices are so much lower here, but as a result, you will be able to cut back on the money you spend on gas-related costs.
Living here, you will undoubtedly find its gas costs far more reasonable than in other parts of the country, whether it be due to local law or just their choice.
The Place Enjoys Lower Sales Tax
One of the few states with a uniform sales tax across the board in New Jersey, where the city lies. Compared to New York City, Jersey City has substantially lower sales taxes. Specifically, its sales tax is only 6.6% to NYC's staggering 8.5%.
This lower sales tax implies that if you choose to make this place your home, you will save even more on your purchases of items.
Plus, it does not impose a sales tax on clothes and accessories items, which means you can save money if you need to purchase a new wardrobe.
Jersey City Has Affordable Real Estate
In addition to having a lower sales tax and cheaper gas, Jersey City offers more reasonable and accessible real estate for buying and renting.
According to estimates, New York City rent is roughly 65% more expensive than its rent. The number of citizens here rent their homes, making up only 38.5% of the city's population.
In this metropolis, a monthly rent of roughly $2,250 is the norm. It includes property taxes, a mortgage payment of around $1,300, and other expenses.
The Waterfront, Hackensack Riverfront, and Greenville are some of the least expensive areas to reside in this city.
Renting here, you should always look at all the areas, not just the metropolitan ones. Because you can pay significantly less rent than someone who lives closer, even if you live 45 minutes from New York City.
The Bad Side
It's Still One of the State's Most Expensive Cities
It is an actual scenario in every urban area and significant city. Everything comes with a cost when it's so near to you. However, as we have already stated, it all depends on where in Jersey City you reside.
The area is one of the most expensive places to reside in New Jersey. The cost of living here is 46.8% more expensive than the national average, which puts it well above even the state average.
Still, the truth is, living in New Jersey's second-largest city is not cheap. Everything comes at a higher price here. Therefore, you should be making more money to pay the bills. Nevertheless, it is known as a less expensive alternative to living in New York City.
Jersey City's Tax Burden Is Substantial
As a result of the city's high income and property tax, all New Jersey cities have significant tax burdens. Given this country's already high cost of living, spending a considerable portion of one's earnings on taxes makes life more expensive for the typical worker.
There is no denying that this city's property taxes are expensive. Jersey City lies in Hudson County, where the property tax rate is 2.31%, higher than the national average of 1.08% but lower than the state average of 2.44%.
The place also boasts an abundance of toll highways. As you drive throughout the area with your automobile, this is another form of tax.
Why Work in Jersey City? – A City With a Plethora of Opportunities
The Good Side
It Offers Greater Pay Rates
The city's state, New Jersey, is one of the wealthiest in the United States of America. Therefore, finding work in the city will result in a more significant increase in your salary.
The average annual income here is $32,791, which is greater than the national average of $28,555. At the same time, the median household income is $58,907 per year, which is greater than the average income in the United States, which is $53,482 per year.
Therefore, you can consider living here if you want a better opportunity to increase your income.
Jersey City Is Home To Prestigious Industry
Several big industries drive the economy of Jersey City. Living here, you will have the opportunity to learn more about these industries and the different options they provide.
Pharmaceuticals and Life Sciences, Financial Services, Advanced Manufacturing, Technology, and Transportation & Logistics are among the top industries in the city. Arch Insurance Group Inc., Citco Fund Services Inc., Fidelity Investments, and Forest Laboratories Inc. are the biggest employers in the area.
If you have chosen to reside in Jersey City and are seeking employment, the city's website provides a list of current openings and instructions on applying.
Before reaching out to potential employers, you should ensure that your resume is up to date and that your interviewing skills are in top shape.
The Bad Side
It Continues To Have a Higher Unemployment Rate
Jersey City's unemployment rate is greater than the national average, despite being home to some of the country's leading industries.
The city's unemployment rate of 8.3% is slightly higher than the national unemployment rate of 6.0%.
While the job market has fallen by 0.5% over the past year, analysts predict it will increase by 24.5% over the next decade, somewhat lower than the US prediction of 33.5%.
We hope that this summary of the pros and cons of living in this city has provided you with some insight into the question, "Is Jersey City a good city to live in?"
Above all else, we hope you the best of luck with your choice, regardless of the location where you ultimately choose to live.