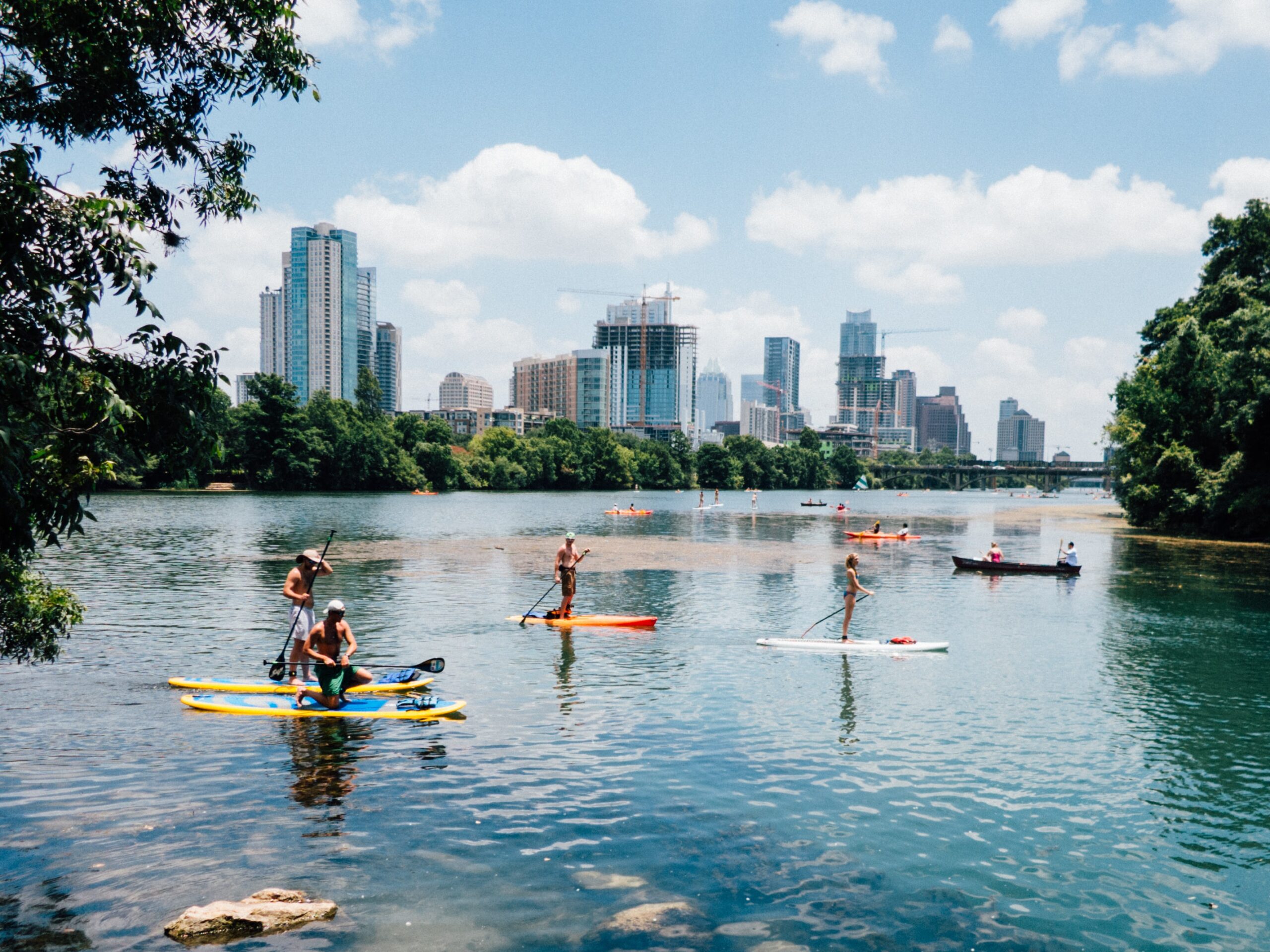 Compared to Albuquerque, Austin is better. For instance, the summers in Austin are warmer than the super-hot summers in Albuquerque. Albuquerque may be cheaper, but it also gets a bad rap at increasing crime rates. And this is for a good reason.
The crime rates in Austin are lower compared to Albuquerque. It also has a decent-enough food scene and a bustling nightlife.
Finally, Austin has a healthy job market. It can offer you stable job opportunities better than Albuquerque can.
If you want to move and choose between Austin and Albuquerque, Austin is the safer choice between the two.
What are the pros and cons of Albuquerque vs. Austin?
If you love barbecue and a vibrant music scene, you will love it in Austin. On the other hand, Albuquerque is one of the cheapest cities in the US. It also has a more manageable traffic situation compared to Austin.
But this does not mean we only talk about all the fun.
Each city has its downsides.
You and I better talk about them now.
Albuquerque Living
The city is one of those elevated areas in the region. It is also famous for the many outdoor activities its residents offer. And finally, Albuquerque is renowned for being a mixing pot of different cultures.
Pros
Let us start with the many best things about Albuquerque.
Housing and Rental

One of the significant advantages of moving to Albuquerque is its low housing costs. It is so low that it sits below the national average of the US.

Do you want homes for as low as US$180,000? You can find them here.

And not only that, but rental costs are also lower compared to the rest of the country.

For instance, the rental cost of a 900-square foot apartment only runs at around US$800 per month.

The city ranks 33rd when it comes to affordability in the US.

And this fact is something you should never ignore.

Food Galore

If there is one thing about Albuquerque, it's different samplings of cuisines.

The city is heaven for people who love food.

You can take your pick from many options when it comes to food. It is mainly because the city is home to a broad mix of many cultures and ethnicities.

Each of these cultures brings a part of their country through food.

It is easy to spot restaurants with Spanish influences when you are in Albuquerque. The Mexican influence is also strong here, owing to its geographical location. Of course, you can find Chinese and American cuisines here, too.

Traffic

Compared to other major cities, Albuquerque has manageable traffic.

It is so decent that you would love the drivers if you are from New York or LA.

Nobody gets stuck in traffic here. Because in Albuquerque, the traffic always moves. It can be slow, but it is not as congested as other cities.
Cons
Life in Albuquerque is not always about sunshine and rainbows. There are downsides, too. Here they are.
The Job Opportunities

When you want to move to Albuquerque, you have to make sure that you have a job waiting for you there.

With an unemployment rate of about 6% per year, Albuquerque is not a promising city for jobs.

Let me reiterate.

Before you move to Albuquerque, make sure to have a job waiting.

The Weather

Before moving to another city, you should also consider the weather.

And in Albuquerque, the weather takes some getting used to.

The majority of the year, the temperatures in Albuquerque can reach the 80s. And this type of extreme weather happens from June until September.

And by the start of October, the temperature drops. This drop in temperature goes on until its coldest state, around December or January.

In Albuquerque, you cannot refer to the weather as "just right."

Either you get it boiling hot, or you get a freezing temperature.

An Increase in Crime Rates

Albuquerque is not promising when it comes to job opportunities.

As such, poverty levels are at an all-time high. For people with jobs, the wages can be a little lower than in other cities.

Naturally, there will be an increase in the city's crime rates.

Property crimes are common. And so are petty crimes.
Austin Living
Austin is a great place for barbecue, alternative music, and many activities.
It is dynamic, vibrant, and an ideal city to live in.
Let us talk a little more about Austin its pros and cons.
See if you would prefer this city over the other.
Pros
Here are the great things you need to know about Austin.
Housing and Rent

Austin has a healthy property market.

As you can see, Austin is a city with a growing population.

And with its growing population, there is a growth in investments and demand for properties. It also means that investing in properties is an excellent step in Austin.

Rental properties are also showing a higher occupancy rate compared to other cities.

The influx of people is causing a healthy number in occupancy.

And this is good, especially if you are looking into investing in properties in the area.

Weather

The summers here are beautiful.

And during Austin summers, you can expect to spend long days lounging by the pool.

In Austin, summers mean you get to have a beautiful tan. Summers mean you will be spending more time with nature.

And when it comes to the cold, Austin has mild winters.

They are relatively short, too.

The weather in Austin is perfect. And this attracts people to come and live here.

The Job Market

If you have a tech degree from college, you should head to Austin.

During the past decade, Austin grew in the tech industry. Austin has a healthy job market that even a person fresh out of college would most likely find a job here.

Even if your specialization is outside the tech industry, you are still bound to find jobs here.

The salaries are also more competitive.
Cons
Austin also has its downsides. And we will talk about them now.
Worsening Traffic

One of the things you have to know is that Austin is dependent on cars.

And over the years, the city saw an influx of people who came to live here. With the increase in the city's population, traffic is also worsening.

The city is working on its infrastructure. But it cannot keep up with the town's growing population.

Avoid the rush hours.

Traditional

Compared to the rest of Texas, Austin is more liberal.

The city has been encouraging diversity and creativity over the past few years. Compared to the rest of the state, the city is progressive.

But Austin is still a Texan city. And as a Texan city, it has a certain level of conservativism.

If you have liberal ideas that you value, Texas may be a bit of a struggle.

Once in a while, you will find people who have strong views against same-sex marriage and the like.
Albuquerque vs. Austin – Which is cheaper?
When it comes to costs, Albuquerque is cheaper than Austin. Albuquerque is one of the most affordable cities in the United States. Austin's cost of living is higher compared to the national average.
| | | |
| --- | --- | --- |
| Living Expenses | Albuquerque | Austin |
| Housing | 88 | 159.6 |
| Food & Groceries | 96 | 96.7 |
| Health | 81.1 | 94.4 |
| Utilities | 97.2 | 99.1 |
| Transportation | 89.4 | 109.9 |
Data is based on 100 = US National Average
>100 means more than the national average
<100 means cheaper than the national average
Housing/Rent
One of the most important factors to consider before moving into another city is the housing cost.
How much will you spend on rent per month?
This part of the budget should always come first.
Rental costs are way cheaper in Albuquerque compared to Austin.
Say, for example, a fully-furnished apartment with an area of 900 square feet costs around US$1,538 in Albuquerque. Go to Austin, and an apartment of the same size would cost you US$2,400. That is a lot of difference if you ask me.
Now, how about a smaller-sized property?
A studio-type apartment costs US$920 in Albuquerque. Head over to Austin, and the same studio-type apartment would cost you US$1,012.
Utility Costs
Overall, utility costs are more expensive in Austin. But there is a particular part of Albuquerque that is more expensive than Austin when it comes to utility costs. And that is their internet costs.
Let us talk more about that here.
The combined monthly bills for the electricity, heating system and garbage disposal can cost around US$197 when you are in Albuquerque.
However, if you are in Austin, the same bills can amount to as much as US$237.
It should, of course, depend on your usage. If you use electrical appliances that much, you would most likely be paying more.
On the other hand, connecting to the internet can be more expensive in Albuquerque.
A subscription for 8mbps of internet connection would cost you around US$67 in Albuquerque. The exact internet subscription costs around US$48 in Austin.
Food and Groceries
If you compare the two cities, the difference would not be much regarding food and groceries.
There is a variance, yes. But the disparity is insignificant.
For instance, when you have lunch at a business district restaurant in Albuquerque, you would most likely spend around US$15 per person. In Austin, you would perhaps pay a dollar more. There is not a lot of a difference here.
A combo meal at popular fast food joints costs anywhere around US$8 for both cities.
The big difference is in the cost of grocery items between the two cities.
Here is an example.
Five hundred grams of boneless chicken breast costs US$3.69 in Albuquerque. But in Austin, the same amount of chicken breast is at US$5.62.
Eggs are also more affordable in Albuquerque. A dozen fresh eggs would cost you around US$2.36 in Albuquerque. In Austin, it costs US$3.38 per dozen.
Potatoes in Austin cost US$1.74 per kilo. However, in Albuquerque, it can be a little bit more expensive. A kilo of potatoes costs US$1.94 here.
But for everything else, Albuquerque is cheaper, hands down.
And this is a given. As mentioned earlier, wages in Albuquerque are lower compared to Austin. It should follow that the cost of living would be lower, too.
Transportation Costs
Public transportation in Albuquerque is more affordable compared to Austin.
A monthly pass in the public transport in Albuquerque costs only US$30. In Austin, it is more expensive at US$50 for the same monthly transportation.
And yes, this is a significant consideration when you move to another city. How else will you go to work if not to spend on transportation?
Gas in Albuquerque costs US$0.67 per liter, while in Austin, it costs US$0.74 per liter. It is a slight difference. But when accumulated, it can break your bank.
But when it comes to the basic tariff for taxis, the amount is about the same. For both cities, the first eight kilometers can cost you around US$17.
Healthcare
We have the same story when it comes to healthcare costs. Albuquerque is still cheaper than Austin.
For example, 15-minute consultation with a doctor in Austin costs around US$89. In Albuquerque, it is two dollars cheaper at US$87 for 15 minutes.
However, Albuquerque can be a bit more expensive in matters of medicine. The difference is not much. But when you again accumulate it, it could amount to a few dollars.
Medicines for colds that are good for six days can cost around US$6 in Albuquerque. In Austin, it would only cost you around US$5.80.
The difference between the cost of healthcare in these two cities is not that significant. But look closely at the numbers. Albuquerque is still cheaper than Austin in this aspect.
The variance may not amount to much. It can create a dent in your bank account if you are not careful. But think about your costs in the long run.
Is Albuquerque bigger than Austin?
Austin is way bigger compared to Albuquerque. The latter is only about 187.22 square miles in land area. Austin has a land area of 305.1 square miles.
As mentioned earlier, Austin is seeing an influx in its population. Thus, it is natural to say that Austin is more populated than Albuquerque. It is also denser.
Austin has a population of nearing a million. On the other hand, Albuquerque has a growing population of 562,000.
When it comes to population density, Austin is also denser. The latest numbers show that the population density in Austin sits at 3,358 per square mile. In Albuquerque, it is only at 3,002 individuals per square mile.
Is Albuquerque safer than Austin?
Albuquerque has an increasing crime rate. It is a significant issue in the city. Austin may have a growing population, but it maintained a lower crime rate. Austin is safer than Albuquerque.
If you could look at and compare the numbers of both cities, you could easily say that Austin is safer than Albuquerque.
For example, the crime index in Austin is only at 37.06. In Albuquerque, it is at an all-time high of 70.66. And that is about 33% higher, which is a very significant number.
What does this mean?
It means that the residents of Austin feel safer than the residents of Albuquerque.
Even when you look at the increase in crimes, the rise in Austin is smaller compared to Albuquerque.
Austin's increase in crime rate over the past three years sits at 62.67. In Albuquerque, it is at a whopping 83.78.
The majority of the crimes recorded in Austin are very petty and low. Its drug offenses are only at 44.16, while in Albuquerque, it stands at 85.04.
Also, you should note that violent crimes are way higher in Albuquerque than in Austin. In Austin, offenses related to vandalism and theft are at 46.25. In Albuquerque, the number is 85.88.
Violent crimes in Austin are only at 34.33, while in Albuquerque, it is at 73.66.
Even bribery and corruption are rarer in Austin than in Albuquerque. Austin maintains its numbers at 32.69 while Albuquerque is at 65.12.
Looking at the numbers, you can easily say that the crime rates are way higher in Albuquerque.
And as mentioned earlier, it is a growing concern among its citizens.
Is Albuquerque warmer than Austin?
Albuquerque has scorching weather. Its winters are also colder. Austin has beautiful and warm summers and mild winters. Talking about warm, Albuquerque is not. It is harshly hot.
In Albuquerque, the weather is something you have to get used to.
You either get a sweltering summer or a freezing winter.
There is nothing in between here.
Compare it with Austin.
Austin's summers are warm and beautiful. The winters here are beautiful and mild.
You would have enough opportunities to go about your daily routine without sweating or freezing.
Is Austin better than Albuquerque?
Austin is way better than Albuquerque in many respects. First of all, the job market in Austin is healthier. It may be more expensive than Albuquerque, but the salaries in Austin are competitive. Plus, think about the crime rates. Austin is safer. And that is important.
If you look closely at everything else that matters, the only downfall of Austin is its cost of living.
But if you think about it, the wages here are higher. This salary range should make it possible for you to remain comfortable.
And most important of all, Austin is safer than Albuquerque.
Albuquerque has crime rates that are in shambles.
You would not feel safe there.
And this is an essential aspect when moving to a new location.
Are you moving to Austin or Albuquerque?
Let me know.