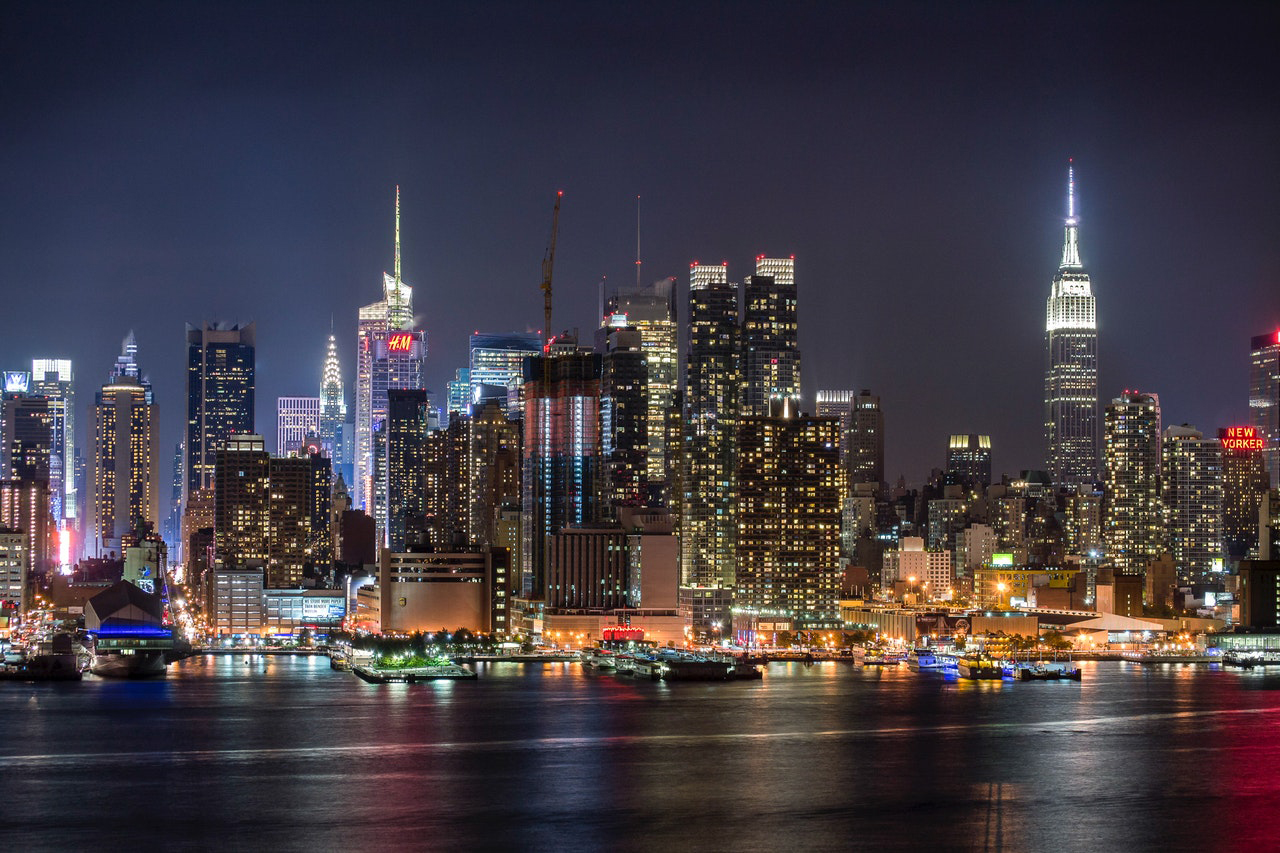 Have you ever considered moving to "The Big Apple" in your dreams? You're not alone!
Located in the southeastern portion of New York State, geographically speaking, New York City is not a large city but has the highest population density in the United States.
Recognized as a cultural hub that prioritizes diversity, New York City attracts people from all over the country and the world. It is home to 8.85 million people and has over 800 distinct languages within the city alone.
They say you can be anything you want in New York City, but what is the reality? Let's take a closer look at what it's like to live in New York and the pros and cons.
Is New York a Good Place To Live In? – A City of Diversity
The Good Side
New York City Is America's Melting Pot
New York City is sometimes called America's melting pot, and its diversity is one of its most exemplary characteristics. About 36% of New York's residents are foreign-born, and each person, whether a native, immigrant, or transplant, has their own New York Story.
It should be no surprise that you can hear up to 800 languages living here.
You can also see different customs, food, and attire that reflect the metropolis's vibrant diversity, making it the most varied city in the world.
Consequently, you will always "fit in" regardless of your actions. The phrase "there's something for everyone" rings truest in this city.
In New York City, no one is ever alone in their hobbies. Whatever your interest or obsession could be, there is a community for it. It is not always the case in other cities and towns, which can make for a lonely experience.
In many respects, living in New York City feels like there is no judgment. So, moving to New York City is an excellent choice if you need a new beginning in life. I swear, living in this city makes you independent.
New York City Has a Secured Environment
As opposed to what most people believe, living in New York City is not dangerous. Given that New York City is the most populous city in the United States, it is difficult to blame anyone for believing that life in the city could be dangerous.
However, New York City is one of the five safest major American cities relative to its size.
New York City, unlike other cities, is a city that never sleeps and is generally always busy. Some businesses are open 24 hours a day, and people are on the significant streets practically continually.
The train does not halt, automobiles do not either, and the lights are constantly on. Therefore, you can move safely even late at night, and the NYC emergency services are quick to respond.
New York City's Food Scene Is Iconic
Without discussing the food, we cannot discuss the pros of living in New York City. New York City's food is extraordinary!
The best part of this is that to taste and experience the food in the city, you don't need to eat at these fine restaurants to have a memorable meal, as the city's culinary abilities span a broad spectrum, and there are excellent inexpensive options.
Remember that New York City is a melting pot of cultures, so you have access to the finest examples of every sort of food.
Living in New York City, one of the best culinary destinations in the country, will surely do wonders for your taste buds!
New York City's Public Transportation Is Top-Tier
No car? No problem!
If you intend to live in New York City, it is time to give up your car in favor of public transportation. I understand that most people despise their city's public transit system, but it is pretty efficient here in New York City.
Only roughly 45% of households in the city own a car. In light of this, it should be no surprise that most locals walk or take public transportation such as the subway.
The subway is the easiest and cheapest method to go around without worrying about gas expenses, regular vehicle maintenance, or car insurance savings, even though it might be stressful initially.
I think New York City's public transit is affordable and efficient. People do not dread its use, which says a great deal. But don't take my word for it; almost 10 million people use the subway daily. So prepare for enormous crowds, especially during rush hour.
The Bad Side
Homelessness Is a Problem in New York City
You don't need to be a local to recognize that homelessness is a severe problem; some may even refer to it as an epidemic. In New York City, homelessness has reached its most significant level since the Great Depression.
If you live in this city, you will experience homelessness daily. It is a sad fact that homelessness is highly prevalent in the "city of dreams" Sadly, not everyone finds it so desirable.
Given the expensive cost of living in New York, it is reasonable that some people end up sleeping on the streets.
Sadly, there are a significant number of expenses in New York City, and if you aren't working nonstop to pay them off, it can be tough to keep up with them.
New York City Is Overpopulated
New York City has an excessive number of tourists, workers, and residents. It has an estimated population of 8.85 million people as of 2022, making it the country's most populous city and the world's 11th most populous city.
This city has advantages and disadvantages due to the vast number of residents and businesses. Day and night, you may anticipate a great deal of noise like horns honking, neighbors speaking, and other occurrences due to the city's enormous population.
Moreover, large populations produce traffic and litter.
Traffic in the city is part of daily life, making it the second-worst city in the country for traffic jams. At the same time, street litter poses a significant problem because the street's waste remains and rots unless the Department of Sanitation collects it.
New York City Has Long Waiting Lines
Do you enjoy waiting in lines? Great! You will love living in New York City.
In all seriousness, New York City is a bustling city. Therefore, one can only anticipate a lifetime spent in endless lines.
Almost everything in New York City requires a line-up. Not only are there lines for the subway, but also the majority of restaurants. So you must be prepared to wait at least half an hour in line before being served!
What Is the Cost of Living in New York? – A Skyhigh Cost of Living
The Good Side
New York City Has Affordable Transportation
I have previously stated that New York City has one of the nation's most exemplary public transit networks, which is why people who live here spend more on public transportation and less on private vehicles than the national average.
The daily usage of the New York City subway system reaches nearly 6 million. Why? It is reasonably inexpensive, pervasive, and the most practical way to travel between locations beyond walking distance.
Due to the city's public transit system's quality, possessing a car in this city is unnecessary, which reduces the added costs of vehicle ownership. Two of these costs include parking and gas.
Because of this, transportation is less expensive as you will get access to world-class restaurants, theaters, nightclubs, pubs, museums, and more with your MetroCard.
Pro-tip: Depending on where you stay in New York, you may take the subway 3 to 4 times daily. In that situation, a 7-day unlimited card may be better than topping up your card with cash.
The Bad Side
New York Is an Expensive City
If you are researching the pros and cons of living in New York City, I can guess you have questions concerning the cost of living.
Did you know that New York City is the most expensive city in the United States?
The expense of living in New York City is 154% more than the national average. Even though the city's minimum wage is higher than the national average, it can still be tough to meet ends.
In New York City, the expense of purchasing real estate is unaffordable for most individuals, while rent is expensive, with one-bedroom apartments renting for several thousand dollars a month.
Living in this city, you will ultimately spend a great deal of money to reside in a small room with little facilities. That is why whether you like it or not, you might need a roommate to split costs.
Honestly, it's not just the rent that's pricey in New York City; practically everything costs a little bit more, and often even a LOT more.
Do you need the assistance of appliance repair professionals to fix your home's appliances? You will be required to pay more. From health to education to enjoyment, NYC's high cost of living affects many aspects of life.
New York City is expensive, so expect that the lifestyle and spending habits in other cities will change once you live here.
Why Work in New York? – A Land of Opportunity
The Good Side
New York City's Job Market Is Thriving
New York City is one of the excellent cities in the United States for persons seeking employment and is home to various work possibilities in several industries.
What's better?
You can access opportunities regardless of your educational background!
The city's private sector has gained 197,800 jobs since late last year. Numerous businesses, including Leisure & Hospitality, Professional & Business Services, Trade, Transportation & Utilities, and Manufacturing, added jobs in the city, resulting in a decreased unemployment rate.
Moreover, the New York City Mayor's Office of Media and Entertainment also offers training programs for production assistants, post-production positions, and even animation if anyone wishes to break into the Film and Television industry.
New York City Offers High Salaries
Previously, I highlighted the availability of employment opportunities. In the broader scheme of things, the availability of jobs is one factor, while the compensation offered is another.
In New York City, it is possible to earn enormous pay than in other cities for the same position. You may even make more than those in identical positions in other parts of the country.
There are cities where employees are not appropriately recognized and compensated for their work, but New York is not among them.
New York City Has a Strong Economy
Since New York City has the biggest economy in the United States, it shouldn't be surprising that it also has the most billionaires. If the city were a country, its economy would be the tenth-largest in the world, with a GDP of $1.7 trillion.
Living here, you can find work in technology, finance, insurance, health care, real estate, fashion, journalism, mass media, publishing, and large companies that do well.
Some of the biggest companies in the world, like HBO, American Express, Shutterstock, and Tiffany's, have their headquarters here.
The New York Stock Exchange and the United Nations are also nearby, and the Northeast Manhattan, also known as "Silicon Alley," for its high-tech enterprises and new media startups.
Moreover, the city is also home to several high-tech giants such as Apple, Google, Facebook, Robinhood, IBM, and Razorfish.
The Bad Side
New York City Has a Stiff Job Competition
There are more job opportunities in New York than in most other places, but plenty of competitors exist.
While there are several employment options in New York City, the city's human resource supply is substantial, making it one of the cons of living in New York.
In New York City, competition is intense, and you must be superior to others to obtain employment. With so many people applying for the same position, it's easy to see why it's so difficult to get a job here.
Numerous young, enthusiastic, highly-skilled, employable individuals reside in New York City. Even though millions of organizations are actively hiring, they have too many options.
Therefore, firms are free to design various selection procedures to locate the best candidate for a position. You will need expertise, a verified portfolio, and more credentials in your chosen field to go ahead of the competition.
If you want a more significant job or want to try something new, living in New York City is a good idea, but there are pros and cons to living in this city, and both need to be considered.
That's about it for this list of pros and cons of living in New York City! Do you know some pros and cons of living in this city? If yes, feel free to comment below!