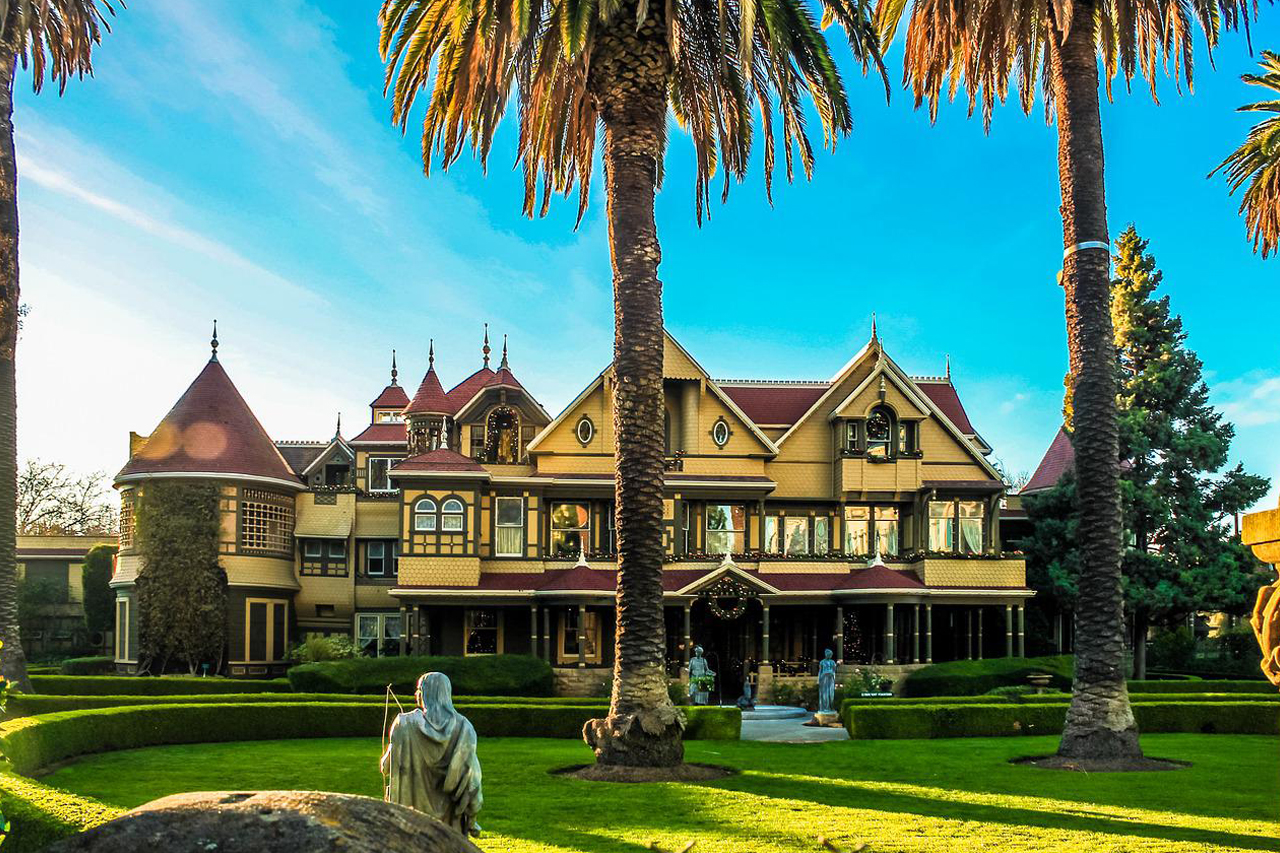 San Jose, California, one of the nation's most influential technical and cultural centers, is a hotspot of urban prowess, entertainment, and, of course, a gorgeous Mediterranean-like environment and terrain that provides year-round warm, dry, and sunny weather.
One of the best things about San Jose is its location, which puts a variety of attractive day-trip destinations within easy reach, even if you don't have a car.
You can choose from its several parks, museums, markets, and other unique landmarks on foot in a single day.
Check out my list of the most excellent day trip locations from San Jose, even without a car!
1. Municipal Rose Garden
San Jose's Municipal Rose Garden, located near Naglee and Dana Avenues, smells like roses. Thousands of unique rose plants and dozens of rose kinds make up this lovely and fragrant landscape.
The Morcom Rose Garden is a free public rose garden ideal for strolling and photographing. Roses of all colors, from red to pink to yellow to purple, are plentiful. The flowers are in full bloom and will remain so until September.
There are rose beds in the front of the garden as soon as you walk in. There are water fountains and restrooms on the left by the main entrance. You can come upon a pond with ducks and birds as you go farther into the park.
Right next to the pond is a ten-tiered artificial waterfall. If you hike up, there are additional blooms at the upper level of the waterfall.
This spot is ideal for a picnic because most people stay at the lower level. The garden also features several benches.
Also, the garden is well-kept and a popular wedding and photo-shoot site.
I recommend this site if you want to explore and enjoy the city on foot.
2. Los Gatos Creek Trail
The Los Gatos Creek Trail runs through the South Bay of San Jose. With varying lengths of routes and a variety of flat and steep terrain, it's a track for all fitness levels.
Several various pathways or difficulty levels are available, depending on your needs. Dirt routes, paved portions, and places with elevations can tailor your hike to your preferences and distance.
During the day, the route is secure, but gnats and feral cats begin to stray when the sun sets. On my most recent visit, a CHP officer on a motorbike was traveling the path. When questioned whether I needed to start running as I was only strolling, he said, "No, just patrolling."
The park is rather attractive, particularly the lake. Even though it was a scorching day, we had a sufficient quantity of shade due to the abundance of trees.
They even let individuals use the restrooms, which was a pleasant surprise given that most venues restrict bathroom access. Also, there were two additional porta-potties next to the toilet.
I am sure that we will return to this location in the future.
3. Happy Hollow Park & Zoo
Happy Hollow Park & Zoo offers a day of fun for youngsters, including animal cages, rides, a puppet theater, and a fully equipped animal hospital.
The attraction dates from 1961; however, it had a recent renovation barely over a decade ago.
Because there isn't much room in the zoo, only smaller animals like meerkats, fossas, capybaras, guinea pigs, lemurs, macaws, owls, and turtles can live there.
The zoo's habitats have undergone extensive study to make them as compassionate and exciting as possible, including spaces where animals can go "off display" if they want.
I had a great time visiting this zoo and seeing the various animals. There's an animal portion, a section with an amusement park for the kids, and even a miniature roller coaster ride we got to experience.
Regarding food, the Picnic Basket offers nutritious selections produced with locally sourced and sustainable products and eco-friendly cutlery.
Lastly, its position in Kelley Park, which is home to many other attractions, is unbeatable!
4. Santana Row
You can spend an entire day visiting Santana Row on foot. In addition to specialized stores and various culinary choices, this retail complex also has a movie theater, spa, and hotel.
Such a fun populated location!
In my experience, it is a Californian outdoor mall with an excellent assortment of stores and eateries. After shopping therapy, there are HM, Sephora, Tesla, Amazon's bookshop, Barry's, lulu, and many excellent pubs, restaurants, and wine bars.
If you're hungry or want to continue shopping, you can eat just across the street from Westfield Valley Fair.
I was astounded by how luxurious and tranquil it seemed due to the beautiful landscape and vegetation. I can only imagine how delightful lunch with friends would be on a terrace; I wished I could have stayed all day.
When spaces become available, we will undoubtedly return.
5. Joseph D. Grant County Park
The east end of Santa Clara Valley is home to Joseph D. Grant County Park. Mountain biking, hiking, camping, and birdwatching are available.
It is also ideal for picnicking, learning about local history, or escaping South Bay's bustle. The local guide at the farm home is exceptionally kind and friendly.
Because it was partially on a slope and some of it wasn't flat, Sites #3 and 4 didn't have many possibilities for tenting. However, on-site 3/4, we were able to set up three tents. The restroom was a short but pleasant climb up the hill. They were clean and well-kept, and there was plenty of toilet paper.
I observed wild turkeys, deer, wild pigs, woodpeckers, owls, and a friendly cat that the rangers looked after throughout our visit.
There were plenty of open sites, and it was peaceful and quiet.
6. New Almaden Mercury Mining Museum
At the New Almaden Mercury Mining Museum, the history of local quicksilver mining is exhibited. Almaden Quicksilver County Park has mine dioramas, relics from former mining facilities, and mining community lifestyle displays.
This museum is a true gem of Almaden!
I enjoyed myself more than I thought! The volunteer docent was eager to give me a free tour, and she was kind and knowledgeable about the subject matter! I had no clue how vital these mines were; they provided a significant bit of Quicksilver.
The best approach to obtain a comprehensive understanding of the Old Almaden neighborhood is with this museum, Casa Grande, and ask for the free tour, which will tell you more than you could learn on your own.
Afterward, request the "Step Into the Past" walking tour map, which details a 1.6-mile self-guided stroll around the neighboring neighborhood with information on numerous sites.
Also, as you visit Bullmore Park, keep an eye out for the Pat Tillman memorial, which is unrelated to the region's mining history but is nevertheless a significant tribute to a local hero.
7. Alum Rock Park
The oldest public park in California was set up in 1872 and is in the Alum Rock Canyon at the foothills of the Diablo Range. Alum Rock Park is 720 acres, and the valley's steep sides have a beautiful mix of plants.
Sagebrush grows on the south-facing slopes that get the most sun. California bay laurel and coast live oak grows on the north-facing slopes, which are more relaxed. White alder, western sycamore, and big-leaf maple grow on the wetter valley floor.
You can walk, ride a bike, or ride a horse through the area with beautiful views of North Silicon Valley.
There are 27 sulfur and magnesium-rich mineral springs all over the valley. From the late 1800s to the 1930s, health tourists came to the valley to take advantage of these springs.
Today, people come to the park for the rough terrain, seasonal creek, long views, birding, picnic areas, and barbecue pits.
The trail we traveled was quite beautiful and well-paved. My favorite part was when we could see the city in the distance through a gap between the two mountains. We also observed a lot of deer.
We wished we could have hiked a few more trails while here. Incredibly, this is happening in the Bay Area!
8. Cathedral Basilica of St. Joseph
The Cathedral Basilica of St. Joseph is a stunning gothic cathedral that offers a flavor of Europe in America. You can attend a service or sit silently and observe this sacred location.
The pope visited this lovely cathedral, now designated as a minor cathedral. The cathedral's construction started in the early 1700s.
It has the distinction of being Florida's oldest church. It is a state historic preservation board-registered protected landmark.
It is in the heart of St. Augustine's historic district. It, I think, is the most exciting building along St. George Street.
The internal ceiling is just stunning. You can also find glass windows here. The hue stands out in this red roof interior painting with ornaments on the roof truss. The outside isn't as striking as the inside. It seems to be an orthodox church from the outside.
I appreciate how the altar appears to be golden and well-presented!
9. Winchester Mystery House
The Winchester Mystery House is an architectural masterpiece in San Jose, California. This opulent estate contains 160 rooms and is open daily to the public for guided tours. The site takes several hours to explore properly.
There was entertainment, house tours, ax throwing, and escape rooms. I didn't have enough courage to go into the scary Winchester Mystery House alone.
The narrative behind this exquisite property leaves you wondering as you would after the death of a loved one.
It is a must-see if you're in San Jose. You will not be disappointed with the tale or the house's design.
I did not take photographs inside since I was intrigued by Sarah's narrative.
I appreciated the Jack O' Lantern Trail after the show. Also, I enjoyed exploring the exterior and would like to return for an interior tour.
10. San Jose Flea Market
The San Jose Flea Market has grown from 20 vendors in 1959 to more than 6,000 weekly. Annually, four million people come to the market for food, crafts, and bargains.
If you're looking for fun budget shopping, visit San Jose Flea Market in Berryessa. Many stalls sell clothes, shoes, car parts, furniture, food, and accessories for yourself or your home.
You can also look at inflatable castles to plan your following bouncy house parties.
People are shopping to their hearts' content everywhere.
It is a great spot to go if you want to buy some handcrafted items. I highly recommend it.
11.Movimiento de Arte y Cultura Latino Americana
Movimiento de Arte y Cultura Latino Americana offers a wide range of performing and visual arts programs and services.
I came here on the First Friday and was blown away by the art!
The gallery is a large room filled with paintings, sketches, and pictures by local Latino artists, many representing culture while depicting lovely sceneries. As soon as I stepped in, there was a stunning enormous mixed media piece that I hoped wasn't thousands of dollars.
In the exhibit, youngsters can sketch using gel markers and paper. There was also a bone marrow donor registry in a separate area.
I've seen some incredible wall art here, and the most remarkable works are usually on show near the front door. If the occasion arises, I should consider revisiting this museum in the city.
12. San Jose Improv
San Jose Improv is an inclusive comedy club in the vicinity. They provide a full-service bar and a comprehensive menu for meals as customers enjoy a variety of local and national standup and improv comedy stars.
What a fantastic time!
We felt comfortable ordering and getting our lunch since the process was conducted via phone. The line was not too lengthy, and the personnel was polite and accommodating. We had excellent floor seating and were able to purchase appetizers.
They have renovated the area, and it now looks fantastic. We appreciated the performance and want to return soon.
San Jose, California, offers so much to see, do, eat, and explore, even if you don't own a vehicle! It will help if you look at these fantastic spots to plan your trip to San Jose.
It was a pleasure to share a list of the best things to do in San Jose without a car. Please leave your thoughts in the comments section below if you want something to add to this list or share your experiences with me.