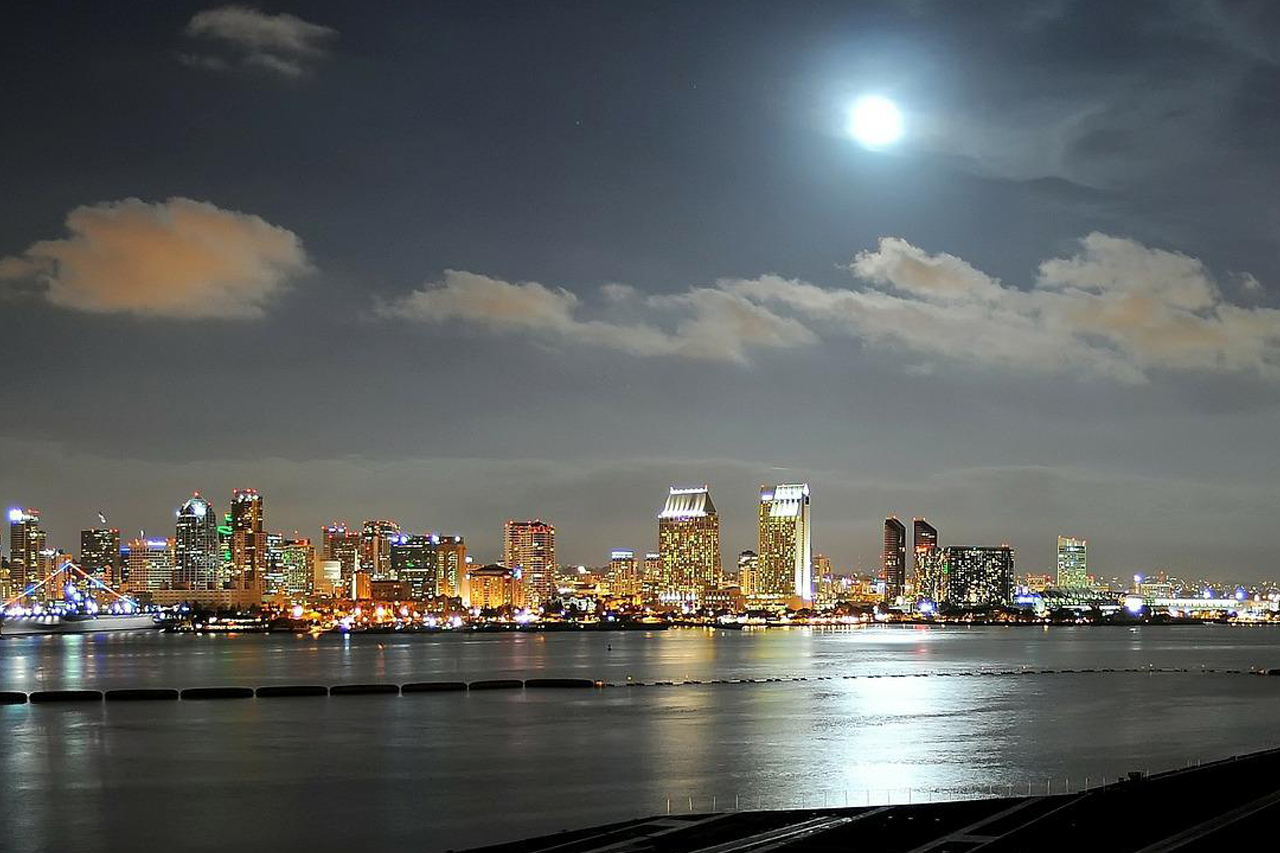 San Diego, California, is a unique city with infinite potential, where everyone is entitled to equal opportunity, happiness, and a bright future.
Despite Southern California's image as a destination for drivers, San Diego has all the amenities of a contemporary metropolitan area. Exploring San Diego without a car with an expanding public transit system, bike paths, boardwalks, ferries, etc., is more straightforward.
If you plan to visit this city or are currently here, you will enjoy its parks, historical sites, natural attractions, and unique landmarks, even if you don't travel in your car.
Here's my list of 12 fantastic things to do in San Diego without a car!
1. Fort Rosecrans Cemetery
Fort Rosecrans National Cemetery is a tiny military cemetery in San Diego, California. It's on the base, but it's easy to get to if you're going to Cabrillo National Monument.
With slightly under 78 acres, it is a modest cemetery with views of the Pacific and San Diego. It is the ultimate resting place of several Medal of Honor recipients, including Master at Arms Michael A. Monsoor, who is honored in San Diego with a ship bearing his name.
The Ommaney Bay CVE-79 and the USS Bennington monuments are the monuments and memorials in the Fort Rosecrans Cemetery. The place dates back to the California territory's early days.
The splendor of these hollowed-out grounds is beyond my ability to describe. It is a must-see if you're in the city.
2. Gaslamp Quarter
The Gaslamp Quarter's 16 blocks with Victorian-style buildings contain many stores, art galleries, theaters, fashionable restaurants, and pubs and clubs. The region includes Sixth, Fifth, and Fourth avenues, First Avenue at G Street, and extends from L Street to Broadway.
The Horton Plaza outdoor retail mall, located at First and G Streets, is the perfect site to start your tour of the Gaslamp Quarter. You can then explore the building's side streets, ultimately bringing you to the major thoroughfares. It has become my happy spot since I had a fantastic experience here.
Fifth Avenue is the primary highway in downtown San Diego. It is where you'll find the grandest activity, particularly at night. You can also begin your trip at the Gaslamp Quarter Gate, located at L Street and Fifth Avenue.
If you're not a night owl, take advantage of the Gaslamp Quarter's dynamic environment by dining on the patios of some of the neighborhood's restaurants or visiting one of the neighborhood's numerous rooftop clubs.
The Gaslamp Quarter also holds several city events throughout the year. The Mardi Gras Parade, Rock & Roll Marathon, and Comic-Con are all hosted in San Diego.
I'd want to go to the Gaslamp Quarter again as soon as possible.
It is a place I would strongly recommend to anybody visiting San Diego.
3. Coronado Bridge
The Coronado Bridge, which opened in 1969, was the first construction to connect the island of Coronado with the city of San Diego. With its reversible lanes and guardrails, the 2.12 bridge is made to keep cars safe and keep traffic moving quickly.
We could see San Diego from the water and the air with a Sunset cruise and a private plane ride. Walking about the island, though, is an entirely different experience.
The gorgeous park and hotels made the island's garden paradise possible. Many visitors come to take in the island's natural beauty, while others come to ride their bicycles.
We visited here to take in the scenery and dine. The restaurants in this city are fantastic.
The Coronado Coffee Company serves coffee and tea just across the ferry terminal. They also offer soy or oak milk. This coffee place is fantastic!
The Peohe's Coronado was our supper location; the dinner was fantastic and reasonably priced. They delivered exceptional and delectable California food. I ordered a Japanese Teriyaki chicken bento.
I recommend this spot if you want to take a relaxing trip first.
4. Sunset Cliffs Natural Park
Sunset Cliffs Natural Park is one of the gorgeous spots in California, stretching 1.5 miles around the peninsula of Point Loma. The seaside views, sheer walls, and numerous caverns appeal to visitors and hikers.
As our day in San Diego concluded, we dashed to Sunset Cliffs Natural Park to glimpse the sun sinking over the water. Many others are as enthusiastic as we are about watching the sunset from this spectacular vantage point.
If you time the tide perfectly, you can get some fantastic images of the waves slamming on the rocks you're standing on while you're there. As the waves hit the cliffs, some impressive water jets shoot up.
Also, remember that as evening approaches and the sun goes into twilight, it gets a little cooler. Because there is a breeze and it is a little cool, bringing some long sleeves with you wouldn't hurt to stay a little more comfortable.
5. Mission Beach
Mission Beach is known as the west coast's Atlantic City because of its distinct SoCal vibe. There are hot dog stands, surfing, clean sand, street performances, and a busy nightlife.
It is one of my favorite beaches since you can easily enjoy biking, running, skating, etc.
Furthermore, they have a fantastic bike store if you like to rent bicycles. You can also play volleyball if you so want.
The sunsets on this beach are stunning, and the water's temperature is perfect. I also loved the sand feels.
If you don't have a car, I suggest going to this beach. It's probably one of San Diego's most popular beaches. It is a great spot to relax!
6. Cowles Mountain
Part of Mission Trails Regional Park, Cowles Mountain is a popular hiking spot. It has a somewhat demanding three-mile out-and-back hiking trail.
People have gone on this hike at all hours of the day and night. The view is breathtaking as you reach the top of the mountain! Before sunset is my favorite and best time to go because it's colder, and you can see the sun going down on your way down.
I also appreciate how many people are always there, so you never feel lonely. The hike isn't challenging. Due to the amount of gravel and rocks on the trail, I recommend wearing hiking shoes.
Don't forget to pack some water and some food! Returning down the stairs should be approached with caution. People have tried to run down the rocks and have fallen!
So only do so if you're confident in your abilities.
But, in general, I love this site and intend to return.
7. Old Town San Diego Historic Park
The Old Town San Diego Historical Park is a mix of preserved historic buildings and various tiny museums dedicated to San Diego's history.
This location appealed to me greatly. It didn't feel like a park; instead, it felt like a giant old museum with plenty of areas to roam and shop.
Maybe I like it because I've only seen Old West-style buildings, but this is better. I wanted that shops were selling Western and Mexican products, such as apparel, cigars, teas, knickknacks, and food.
Among the shops/buildings, you can typically find restaurants specializing in Mexican food. The first restaurant/shop's entrance area has a strong tequila odor. If you enjoy margaritas, this is the spot to visit.
Some structures have little museums, including the original Wells Fargo, the Continental Hotel, the stagecoach museum, the Sheriff Museum, and the Whaley House.
I enjoyed the little Root Beer and Jerky business, which offers single bottles of root beer from all over the country, strange sodas, and distinctive meat jerky.
If you're in San Diego, it's worth it!
8.Cabrillo National Monument
The Cabrillo National Monument, named after the first European to set foot on the west coast of what is now the United States, tells the story of discovery in the 16th century. Visitors feel like they are part of history as they stare at where today's America began to take shape.
It is a must if you are in the neighborhood or going through. There are hiking trails, tide pools (during certain times of the year), and spectacular views on both sides of the peninsula.
The museum section was quite instructive about the region's history and development.
The park has a pristine condition. Also, you can enjoy its lovely gift store.
People have brought chairs and sat on or near the cliffs, and I've seen some pretty beautiful photos and videos of the waves crashing against the cliffs.
Don't forget to bring your phone or camera when visiting this location. There are plenty of picturesque spots to snap photographs.
9. Mormon Battalion Historic Site
The Mormon Battalion Historic Site has historical significance for the United States and the Mormon faith. Learn why a group of men and women enlisted in the army and marched from Iowa to San Diego!
A free 40-minute guided tour led by missionaries will take you from room to room while you witness the tale of how a group of Latter-day Saints trekked across the country and arrived in San Diego on a giant screen.
Also, there are picture frames on the walls of the rooms that show the same characters from the movie.
This well-executed tour is enjoyable for both adults and children. The narrative is interactive despite being displayed on a large screen.
The wall art and furniture move like the Haunted Mansion ride at Disneyland during a storm and fight.
The interactive presentation piqued my curiosity, and I was left wanting more at the end of the 40 minutes.
If you are entirely opposed to religion, I suggest ignoring this one since it is provided by and about the Ladder Day Saints church.
10. Point Loma
Point Loma is a peninsula in the San Diego Bay surrounded by the Pacific Ocean. There is a lot to see and learn about our country's history, as it was the first landing spot for European explorers.
Its entrance is reminiscent of a seaside New England hamlet. Except for the characteristics that make southern California uniquely California. It has a pleasant wind, gloomy mornings, bright afternoons, and breathtaking Pacific sunsets.
It is a pleasant, tranquil town with a considerable military presence due to the US Navy, which occupies a significant amount of the land. Depending on which side of the hills they're on, some homes have stunning views of the San Diego metropolis, harbor, and ocean.
Also, Point Loma offers several restaurants. Seafood, hamburgers, Mexican cuisine, and pizza are all available.
Point Loma is an exciting place to visit in San Diego; you'll need around two hours to explore the entire site.
11. Old Point Loma Lighthouse
For many years, the Old Point Loma Lighthouse guarded the San Diego shoreline after being lit for the first time in 1855. Visitors can now take tours of the lighthouse, including ranger talks and costumes from the 1880s.
It's a little out of the way, but it's well worth the trip. Those without cars can take the bus.
The lighthouse was dull. The lighthouse keeper's rooms are period-furnished but feature Plexiglas entrances.
You can ascend the spiral staircases and reach the light a few feet up the ladder, but a grate blocks the aperture. You can obtain excellent photos by sticking your arms/camera up there.
This museum has information about this lighthouse, its use, history, keeper, period lighthouses, and lights. It's exciting, but you can finish watching it in 20 minutes.
I am glad that I visited this site. So, I recommend you to have it tried as well.
12. Torrey Pines State Reserve
Torrey Pines State Reserve is one of the most critical pieces of land, but it is still inside San Diego.
It is one of my favorite hike destinations in San Diego. It features gorgeous coastline vistas, some heart-pumping inclines, rich flora, and a selection of attractive pathways from which to pick.
I liked every moment of my 6-mile hike from Torrey Pines State Beach to The Broken Hill Trail and Torrey Pines Park Road.
The Broken Hill Trail has a variety of mild ascents. Also, you will pass by several native plants and bright wildflowers.
There is a breathtaking view on the Broken Hill Trail that you should not miss! There are some fascinating rock formations and vistas of the shore.
You can access Torrey Pines Park Road, an easy, flat, paved trail that seems to be quite popular with cyclists, runners, and casual walkers.
This trail also links to other side trails and offers beautiful city and highway vistas.
The Beach Trail is where you regain your coastline views. This loop has abundant unusual desert plants, including baby and cholla cactus. I observed numerous baby lizards and birds along the trip, indicating that the fauna is relatively active.
Whether you're looking for a stroll along the beach, a paved road, or a heart-pumping hike into the hills, you'll love this reserve!
When I arrived in this city, I didn't anticipate it to be so unforgettable. Because of its proximity, accessibility, and walkability, San Diego is a breeze to travel about on foot.
I hope you enjoyed my list. In the comment box, you can tell me your experiences in San Diego and which of the following sites are on your bucket list. Have a safe trip!