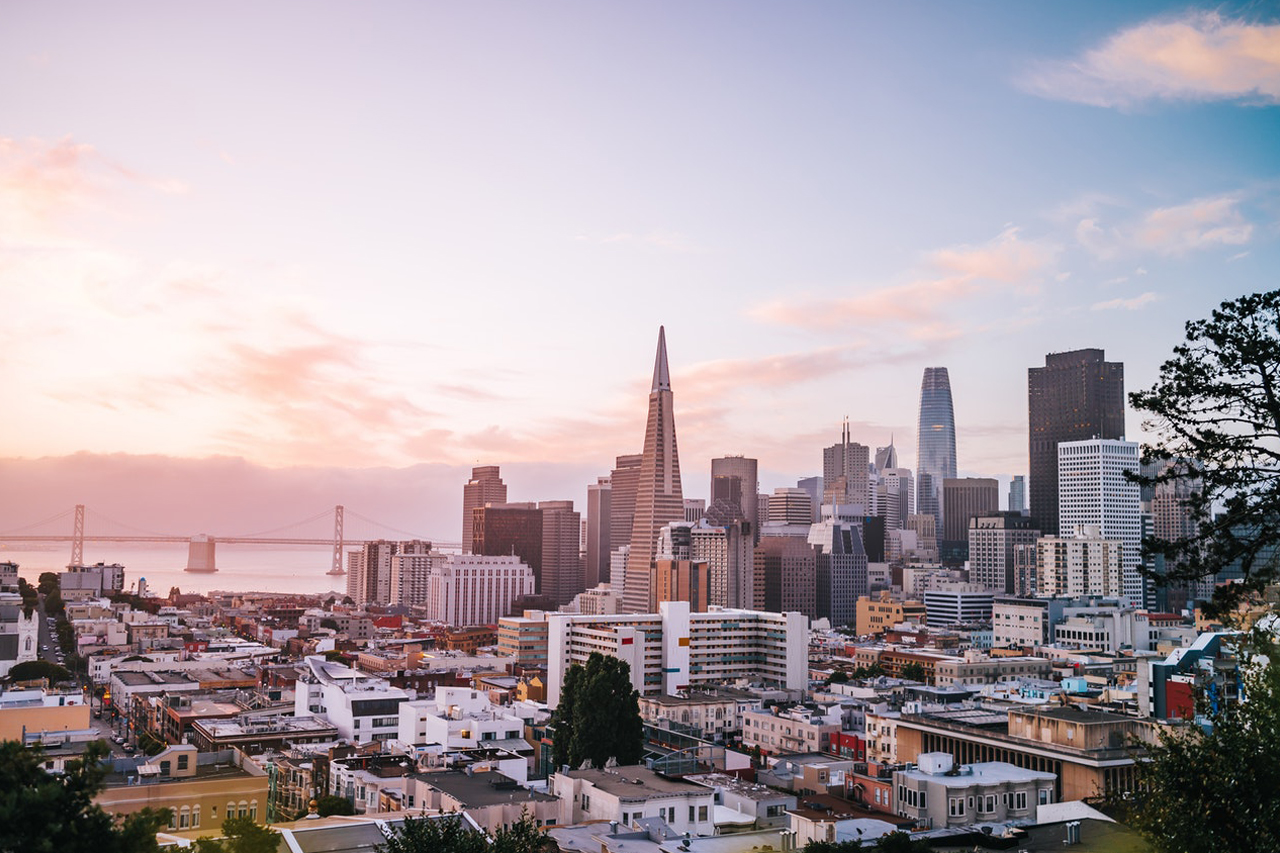 San Francisco, officially the City and County of San Francisco, is a cultural, commercial, and financial hub in California, United States. The city is famous for the Golden Gate Bridge, steep streets, Alcatraz, and Full House.
The thirteenth most prominent city in the United States is famous for its vibrant bridges, world-renowned parks, and unique attractions. Even without a car, San Francisco offers an abundance of activities.
Buckle up! Here is a list of things to do in San Francisco if you like walking.
1. Lands Ends
Lands End is a network of jogging and walking paths that connects the Legion of Honor to the Golden Gate Bridge. This location offers spectacular views of the skyline of San Francisco.
It is a scenic trail along the coast of California that is accessible even without a car. Lands End provides breathtaking views of the Golden Gate Bridge, the Sutro Baths, and the coast.
The path is wide and relatively flat until you reach an area with multiple flights of stairs. In addition to the main trail, several smaller trails branch off of it.
When I visited this location, there was a chilly breeze, but I recommend wearing layers because we quickly had to remove our jackets near the stairs.
If you are looking for a beautiful place to wander around and admire the city's views, Land Ends is the best spot!
2. Alcatraz Island
Alcatraz Island is a little island 1.5 miles off the coast of San Francisco that was built as a military fortress, a military prison, and a federal detention center.
The prison island looks beautiful on the exterior but has a complicated past. You will hear about the experiences that the inmates had in their everyday lives in the prison.
Once you start walking around the island and via the self-guided tours in the central jail, you can take a free audio time of each area, including the showers, dining hall, library, and yard. You'll hear narration from convicts, correctional staff, and various situations in each room.
You can watch birds and snap many photos of the city's skyline.
It was a fantastic opportunity to learn about and analyze the infamous Alcatraz Island.
I appreciate the self-guided tours because they give you a flavor of what life was like on Alcatraz back then.
3. Golden Gate National Recreation Area
You can also visit the Golden Gate National Recreation Area, a park and green space close to the bridge if you are already in the vicinity.
In addition to Alcatraz, Fort Point National Historic Site, and Muir Woods National Monument, the Golden Gate National Recreation Area contains dozens of other natural and historic sites.
There are numerous exhibits at Fort Point that provide a great deal of information on the construction of the Golden Gate Bridge and anecdotes about this engineering marvel of the world. At Fort Point, there are incredible coast views in every direction.
The highlight of my Golden Gate experience was walking from Fort Point across the Golden Gate Bridge and heading north (and returning) via the walkway!
As I made my way to the center span and beyond, I was mesmerized by this once-in-a-lifetime bridge walk, which was, in my opinion, the most extraordinary and most memorable part of my Golden Gate Bridge experience.
If you're ever in San Francisco, you must visit the place. Excellent views and numerous places to relax.
4. Golden Gate Park
Golden Gate Park is a lovely park near the Golden Gate Bridge in San Francisco that is accessible even without a car.
Golden Gate Park is a peaceful, green place popular among hikers and dog walkers in San Francisco adjacent to the Golden Gate Bridge. During the summer months, it is also a popular picnic area.
This park is such a vast park with so many activities. In addition to statues, gardens, lakes, a Ferris wheel, and museums, they also have a variety of other attractions. Very pleasant for walking, jogging, and cycling, there are also numerous spots to relax and sit.
As I strolled through the park during my visit, I observed that it was enormous. Cycling would be the most efficient method if you wanted to explore a large portion of the park.
Whether you're a tourist looking for sightseeing, a Bay Area resident looking for weekend fun, or a local seeking fresh air, this park has everything!
5. Union Square
San Francisco's Union Square is the city's most frequented area. There are many high-end shops, elegant hotels, cafés, art galleries, and a vibrant nightlife that you can find here.
There are several live events to attend in the neighborhood, and there is always something going on to keep you occupied. It is a must-stop on every city tour if you want to experience partying with the locals.
It had been on my must-do list for some time, and I believed it would be a fantastic opportunity to get up with a buddy passing through town.
I was blown away by the size of the restaurant when I first walked in. The ceiling is high, and there are several tables in this lovely dining area.
We ordered a glass of Bordeaux from their broad wine selection. We began with the Parker Rolls, which sell out rapidly because they are perfect! The bread is hot when it arrives at the table and melts in your mouth.
We completed our dinner with crostata and espresso martinis, which were both fantastic!
They never hurried us to pay or go, which is appreciated when you're having a good time!
It was a fantastic experience all around!
6. Lincoln Park
Due to its panoramic views of San Francisco, Lincoln Park is a popular destination for outdoor enthusiasts. In addition to a golf course and hiking trails, this park has a rich history.
Traditional wrought iron fences, towering shade trees, a swimming pool, and a baseball diamond with adjacent athletic fields distinguish this well-kept park.
There is a free grandstand for spectators who wish to watch baseball games.
Additionally, Lincoln Park has a basketball court, a bocce ball court, and play structures for children.
Even if you're not here to play, this park is a great place to kick back and relax. There is a small botanical garden and plenty of space to spread out for a picnic, or you can visit the barbecue area and host your next party there.
7. Pier 7
Throughout my visit to this city, I must add that Pier 7 is a perfect area to explore even without a car.
Pier 7 serves anglers and tourists, and its Victorian-era architecture evokes memories of a previous era. It is a wooden plank pier built on the site of the original Pier 7. The Loma Prieta earthquake destroyed the port in October 1989.
The original pier, constructed in 1901, was the oldest structure along the San Francisco waterfront and served as a passenger ship and boat terminal. It later became storage, and a 1973 fire turned it into a parking lot.
The new Pier 7 is arguably the city's most beautiful pier. The architects designed it to serve anglers and tourists, and they did a fantastic job!
When facing the city, one can see the Transamerica Pyramid from the pier and the rest of the San Francisco skyline.
Just a little bit to the right and you will see the Coit Tower! You have a gorgeous view of the Bay Bridge and Treasure Island with your back to the city.
If you are into photography or want to chill and take a deep breath, you must visit this location!
8. San Francisco Maritime National Park
At San Francisco Maritime National Park, you can learn about the history of boats and more. This park offers visitors a boatbuilding workshop with breathtaking views of Alcatraz and the Golden Gate Bridge.
They are on the main street just off the Wharf, near the streetcar stops. The show is in an old brick cannery warehouse from 1908. Although there is no fee to enter, donations are gratefully accepted.
The National Park Service is in charge of the museum. It is not surprising that the emphasis is on the maritime history of San Francisco.
The center's exhibits guide visitors through six interactive historic waterfront neighborhoods. The earthquake of 1906, which destroyed a large portion of the city and killed three thousand people, is the most devastating.
After visiting this location, I found the tales of exploration, discovery, and cultural diversity compelling. The exhibits on the city's origins will be incredibly enlightening for visitors of all ages.
This location is a must-see if you wish to learn while strolling. I recommend checking the place out and allocating time for the interactive exhibits in the visitor center and the ships you can board.
9. Exploratorium
Enter the Exploratorium and learn about life in a new light! Consider what life would be like if you lived on a colorless planet or participated in a computer game with societal consequences!
The Exploratorium is one of the most dynamic locations to take your kids; the setting is so entertaining that you won't even notice you're learning.
There are six galleries, each concentrating on a different aspect of the game and rewarding you based on your focus.
This location is both educational and entertaining. We stayed for 5 hours and didn't want to go. We were alone in the illusion portion for approximately an hour.
There was a lot to discover and enjoy!
There's also a part with still images that's very interesting. I believe they would have been fantastic if I had known about some of the exhibits when I was younger.
It was a lot of fun and well worth the trip!
10. Aquatic Park Cove
You can find Aquatic Park just beyond Fisherman's Wharf, a lovely location for swimming and sightseeing. On one side of the park, visitors can see the Golden Gate Bridge and Alcatraz.
The water temperature here is slightly colder than usual. A sauna and cold/hot showers are also available.
The Aquatic Park is a beautiful place to stroll, take in the beautiful scenery, or observe the locals. Intriguingly, a beach exists in the middle of the city. People are swimming, and the scene is undoubtedly lovely.
If you are a walker, I recommend walking to the end of the Municipal Pier to enjoy a breathtaking view of the city from across the water.
11. Mission Dolores Park
Mission Dolores Park is another park that captivated me during my stay in San Francisco.
It is one of the most well-known due to its proximity to numerous excellent restaurants. It is perfect for a daylong picnic, sunbathing, or a stroll. The park is well-kept and provides stunning views of the city.
The park is in a part of San Francisco called the Castro. People go there with their dogs, friends, or by themselves to relax.
You can bring a blanket, a tent, or a towel and relax on the grass while enjoying the views or mingling with other guests. This park provides at least a 180-degree view of downtown, the Bay, and other well-known parts of the city.
While the city is generally on the cooler side, this park always seems much warmer due to the tremendous amount of direct sunlight it receives compared to other areas.
Families around the city and visitors from outside the area visit the park. They soak up the sun and enjoy the atmosphere.
It features both public restrooms and drinking fountains. There are frequently vendors here selling a variety of food and non-food items.
The park is approximately three blocks away from Castro Street, making it accessible even without a car.
Overall, the park is worth visiting for the views alone.
12. North Beach
One of the remarkable places I had a lot of fun is North Beach.
North Beach is a bustling community home to numerous shops, restaurants, and bars. It's close to Chinatown and Fisherman's Wharf, two of San Francisco's most well-known neighborhoods. It is beautiful to walk and take in the city's sights.
It is commonly referred to as "Little Italy" by locals. As some have mentioned, this location was once a beach before the 1800s development of San Francisco.
This area is a beautiful part of San Francisco, with numerous excellent restaurants, cafes, and stores. They also possess many Italian cultures, such as churches and community centers.
These restaurants serve more than just Italian cuisine. Each of these restaurants specializes in its regional cuisine, be it Roman, Tuscan, Neapolitan, or Sicilian.
Another reason San Francisco is considered a melting pot is the blending of diverse regional cultures within the same country.
If you're exhausted from visiting tourist attractions, visit North Beach and unwind by eating regional Italian cuisine and sipping espresso.
If you don't have a car, San Francisco is lovely to stroll about on foot. Tourists and residents can enjoy the area's many parks, beaches, vibrant bridges, restaurants, and recreation facilities.
Thanks for reading my list of San Francisco activities to do without a car. Please comment if you want to contribute to this list or share a tale.