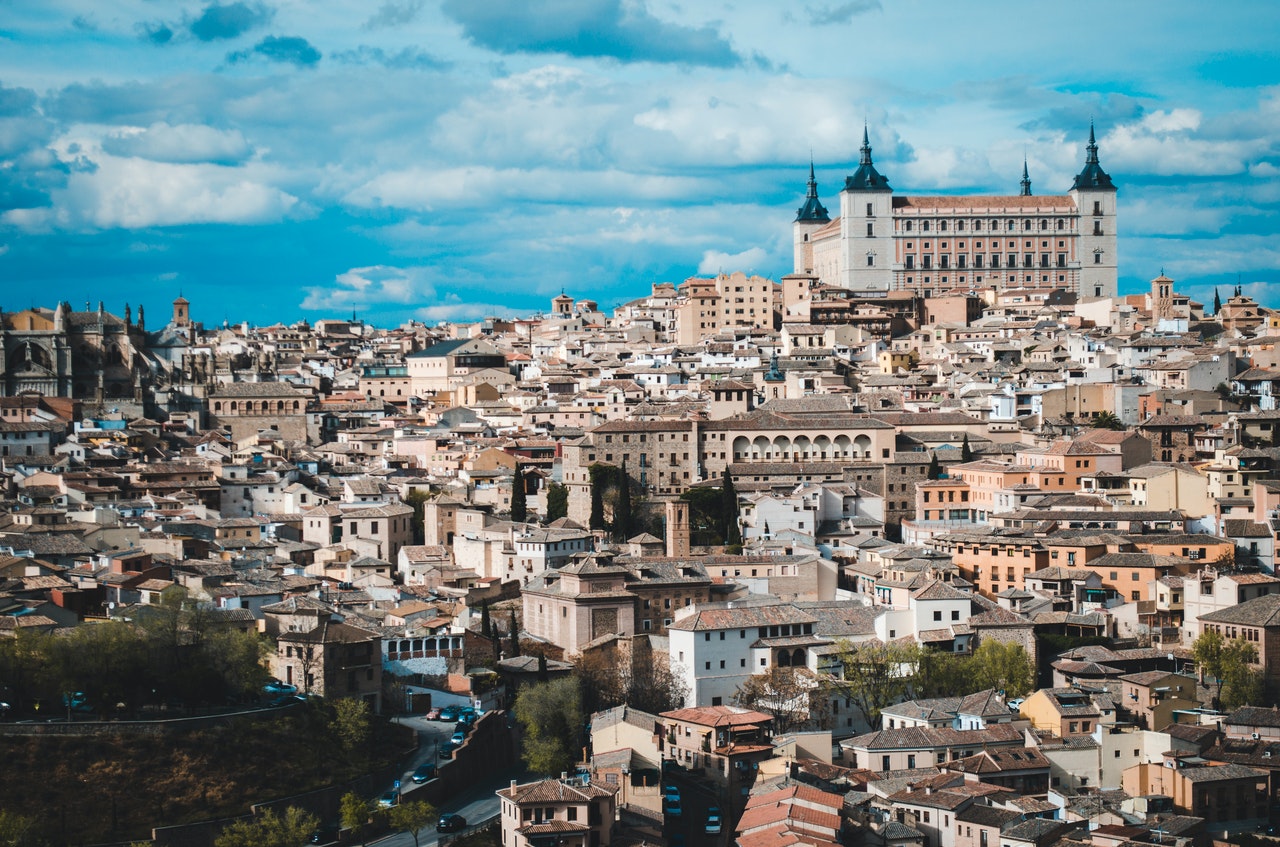 Spanish houses are so captivating that they truly stand out among other house designs. The style is a perfect blend of classic arches, off-white walls, and terracotta roofs. You cannot help but be in awe of its striking beauty and appeal.
It has a distinct style and uniqueness that makes you appreciate it even more. One of the most distinguishable features of Spanish houses is their elegant roofing. It displays a well-organized stack of tiles forming a flat shingle roofing.
A flat roof and roof terraces are a common feature even among modern-day Spanish houses. It inherited the old-Spanish style houses which had been using mosaic tiles in the past. The Spanish roof creates a perfect mixture of texture, color, and style. It became a prominent decorative feature of most Spanish houses today.
What are the Spanish roofs called?
Spain is known for using mosaic tiles even in the past to build palaces and cathedrals. It has been a unique feature that you would notice when you see Spanish architecture. Spanish style roof is often called roof tiles which have been in use even today.
The Spanish roof gained popularity in contemporary architectural designs. Housebuilders, especially in Florida and California, often use roof tiles in their designs.
These roof tiles are styled intricately to create a well-structured flat roof style. The roof is made by overlaying each roof tile with one another and create a strong structure.
Roof tiles are usually made from terracotta materials or slate. They were readily and locally available materials even in the past. Today, you can now see roof tiles made of concrete, metal, or plastics to withstand rain and moisture.
Using roof tiles in houses is precisely engineered to keep the rain out of the structure. It follows a very intricate and precise process, as well. The tiles are being attached to the framework of a roof using nails.
They are usually organized in parallel rows, with each row overlapping the other. The process is being repeated until roof tiles have already covered the framework.
Here are the common types of roof styles which you can see among different houses:
Flat tiles

Flats tiles are considered the simplest type of roof tiles available today. They are usually made of clay, stone, wood, plastic, or even concrete.

Clay tiles

Clay tiles are the standard type of roof tiles used in ancient times. They are double-lap tiles sourced from terracotta materials. The tiles, when constructed, create an aesthetically pleasing form of structure. These kinds are more common in old-Spanish houses. They have a captivating and distinct color formed when the clay dried up and become more compact. The color was produced by manipulating the kiln atmosphere that creates red, brown, or blue. It is the traditional way of having roof clay tiles in the olden times.

Peg tiles

Peg tiles or Kentish peg tiles are other kinds of roof tiles. Unlike the traditional clay tiles, peg tiles do not have nibs that can be used for hanging. Instead, they have two holes where the wooden peg is being pressed. This type of roof tiles is common in some areas of England. You will also observe various sizes of tiles in Leicester, Kent, and East Sussex.

Imbrex and tegula

Other old-style tiles are the imbrex and tegula. They were used in ancient Rome intended to create water channels. This type of tile is a blend of curved and flat designs.

Pantiles

The pantiles are easy to distinguish among any other type of tiles. These tiles have an S-shaped profile for them to interlock against each other. The tiles create a pattern that looks like a ploughed field. It is also called a 'double Roman.'

Monk and nun tiles

Another type is the monk and nun tiles. They are also known as the mission or barrel tiles. The design is semi-cylindrical that is organized in alternating columns. The tiles are similar to imbrex and tegula. There are two arched imbrex tiles needed to create the barrel tiles. There are two tiles linked; the top is the monk tiles, while the bottom is the nun tiles.

Interlocking roof tiles

It is almost the same as thew pantiles. The side and top are interlocking. It improves the structure in protecting the house from rain and strong wind. The interlocking pattern also helps balance the overall framework of the roof.

These types of tiles are present even today. They are not only seen in Spain but in other parts of Europe, as well. Rome and England have their versions of roof tiles, which you can see in some old-style houses.

At present, the roof tiles evolved significantly. To produce them massively, the material can range from concrete, ceramic to metal. Concrete is the most popular kind where you can die the tile to come up with different colors.
Why are Spanish roofs red?
One distinct feature of Spanish flat roofs is the color. You would often observe that the roof is made from stone and red clay lying on top of a Spanish house. The Spanish roofs are red because red tiles enhance the overall aesthetics of the home. Using the red color will make the house stand out even more.
Red clay roof tiles are already used even in ancient times. It has been around during the glorious days of the Greeks and Romans. The tiles, during that time, are often called terra cotta or baked earth. The tiles are made by subjecting them to fire for around 1,000 °C (1,830 °F). The baker has the option to make the tiles glazed or unglazed.
In the past, roof tiles were locally sourced only. But now, there are different variations like Italian, Spanish, and French. There were abundant in the Mediterranean territories, including Croatia, too.
Even the color of red tiles varies depending on the kind of clay used and the iron oxide content inside. You will often notice that the tiles can range from striking red, pale buff-yellow to choco brown. Based on what shade of red you desire, you must source materials that can produce such shade.
Another reason for shaded variations is the temperature the clay is subjected to. If the clay is cooked very close to the fire, the shade will be darker. On the other side, if it away from the heat, the shade will come out lighter. Sometimes, the temperature will turn the tile into an orange tint, too.
At present, the terra cotta roof tiles are often in bright orange colors. They are now mass-produced to accommodate the need for more clay tile roofs today. Most modern Spanish-style houses display a more subtle shade of orange in the roofing.
How are Spanish roof tiles made?
Spanish tile is a term used to describe the blend of Spanish and Mediterranean tile designs. It has built a reputation for being brilliant and striking most designers prefer to use. The roof tiles are even popular even in the United States. You can observe in villas in California and Florida with Spanish roof tiles designs. It is a popular construction that plenty of people consider using in their houses.
The 12th-century hand-painted tiles greatly influence the patterns. Europe made it famous, but it has already been in existence in Persia and even in Egypt.
Since Spain made it so famous, it comes with different variations of styles. There are three distinct styles in Spain such as Valencia, Mallorca, and Andalucia.
The modern Spanish roof tiles are made using various kinds of materials. You can either use clay and ceramics to make the Spanish roof tiles. There are two techniques employed when making Spanish roof tiles. They are the Cuerda Seca technique and the Majolica tile making technique.
To understand this technique better, here are their brief descriptions:
Cuerda Seca tile-making technique

The Cuerda Seca is known as the dry cord. It is a tile-making technique that initially came from Persia. The method has been using since the 1920s for pottery making. In Cuerda Seca, there is a wax outline drawn to the tile. The maker will use a syringe to put the glaze before baking. Once it is subject to heat and fire, the wax outline will imprint the design on the clay.

Majolica tile-making technique

Another technique that is greatly used is the Majolica tile-making technique. It is a combination of thin and tin glaze the produces an almost opaque white outline. The product can be painted on according to the style you want. In the Majolica technique, you will need a piece of earthenware to put into heat. Then, a tin enamel is applied so that an opaque white surface will come out. After the application, the product will then be subject to fire again.
How long do Spanish tile roofs last?
Spanish roof tiles are durable and always stand the test of time. It is one of the most robust structures of the house that can last for years. Unlike other roofing materials, Spanish roof tiles can last over 50 years. The tiles can either be made in concrete or clay to make them last longer.
To get the best out of the material, it should also be maintained regularly. You should permanently remove leaves and debris from the roof. Also, it would help if you frequently cleaned the gutters and cut down trees overlapping the roof lines. If you notice cracks and damages, you should also seal the crack in mortar or cement.
Any damaged tiles can be repaired using sealant or tile adhesive. In case there is no use repairing the tile, replace it right away. Damage tiles may cause water to break into your house.
How much does a Spanish-style roof cost?
Spanish-style roofs are generally more expensive compared to other roofing materials. It will cost around $700 to $800 when you install tile roofs in your house.
The cost varies depending on the roofing material used.
Concrete

A concrete roof will only cost you $4 to $9 per square foot. It is made of sand, good cement, and water molded to get the desired shape. It is the cheapest version of roof tiles available today.

Clay

Clay roof tiles are more expensive, costing you around $5 to $10 per square foot. This type can be in different colors and styles too. It is better than clay tiles because it is more susceptible to fading.

Terra cotta

Terra cotta materials are the most expensive. It costs from $9 to $15 per square foot. It uses premium clay to produce reddish to orange color perfect in Spanish style houses.

Spanish-style house design is a popular design construction. The design evolves significantly over the years—the same with Spanish roof tiles, which come in different variations, too.

The red roof of Spanish houses creates a more distinct character to the overall house design. You will agree that once you see a Spanish home with a terra cotta reddish roof, you will be captivated, as well.