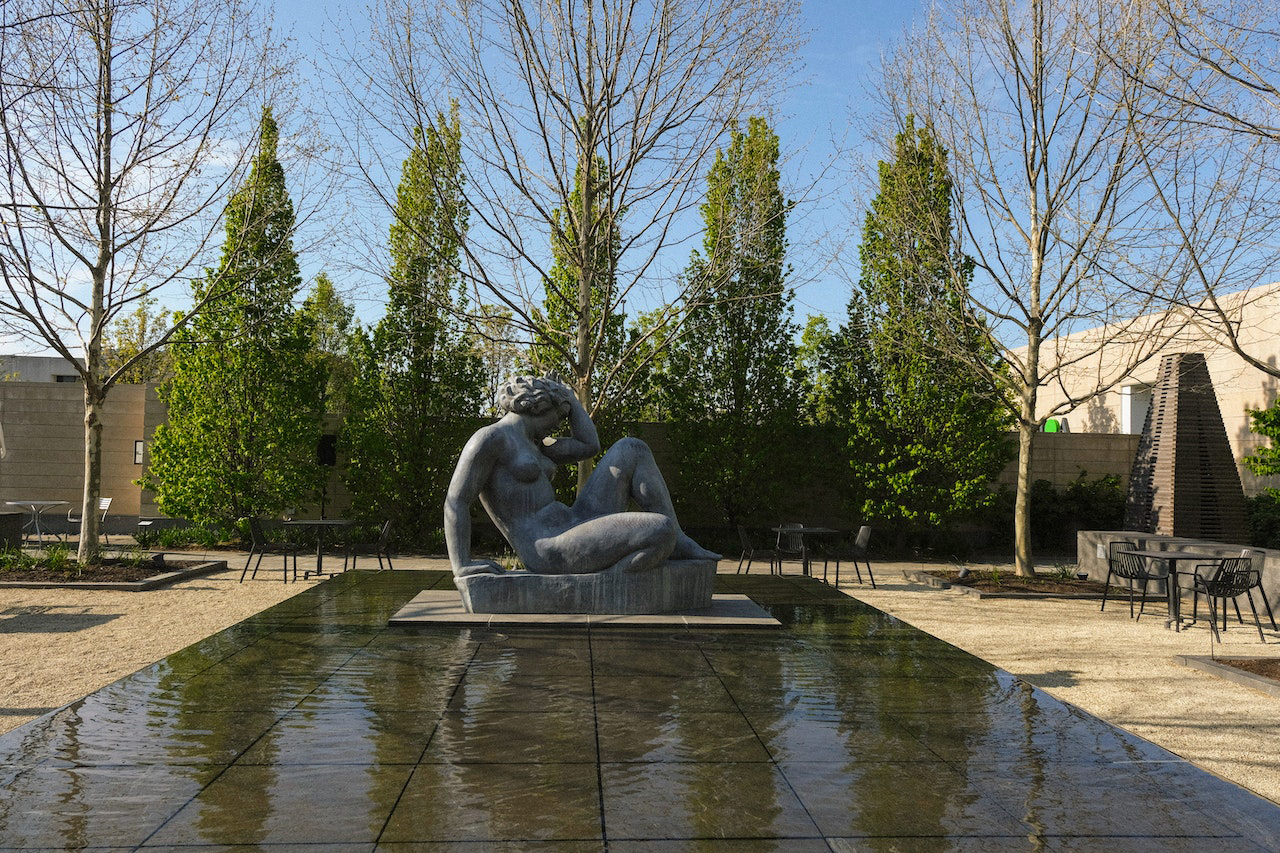 Columbus is a charming and attractive city in the State of Ohio. Part of its unique character is its affordability, where there are diverse activities for everyone, even those without a car. The city has a long stretch of more than 200 square miles, and the possibility of exploring new things here is endless.
This city has many great things to do, from nature parks, historical landmarks, art centers, etc. I genuinely find Columbus a fascinating city, so I have compiled this list of +12 Things to Do in Columbus without a car for you:
1. Scioto Mile
You do not need a car to explore the many great things Columbus offers. When I visited the city, I spent much of my time discovering nature parks, strolling around its green spaces, and hanging out on its riverfront.
When we talk about Columbus' most treasured green gem, the Scioto Mile is on my list. The Scioto Mile is an urban oasis with over 175 lush and beautiful parkland acres. It stretches from the dynamic Arena District up to the stunning attraction of the Whittier Peninsula.
Visiting Scioto Mile is truly a memorable experience. You can enjoy an integrated system of parks, night walking through its vibrant boulevards, and tour its nearby areas with a bike or electric scooter. You can also see the place at night and marvel at the stunning skyline views at Milestone 229 in the area.
2. Visual arts at Wexner Center
When you pass by The Wexner Center near Ohio's State Campus, you will be amazed by the impressive display of craft and talent through visual arts. The Wexner Center is home to modern art, showcasing Warhol's and Wegman's exhibits. The Columbus Museum of Art is nearby, with a collection of works of famous artists like Picasso and Monet.
You can visit nearby public spaces, including Ohio's State Main Library. You will love spending time here because it holds the most extensive collection of comics and cartoon-related prints and materials. The Billy Ireland Cartoon Museum and Library is a must-see in the main library.
Once inside the building, remember to take the elevator to the top floor. Here you will see the stunning panoramic view of the old-fashioned campus in Midwestern Ohio.
3. Franklin Park Conservatory and Botanical Gardens
Another great thing about Columbus is its numerous nature parks where you can stroll and hang out. The Franklin Park Conservatory and Botanical Gardens is home to thousands of beautiful flowers and plants. It is an outdoor oasis with plenty of areas to relax and enjoy the calmness of lush green scenery.
It would help if you did not miss the Dale Chihuly glasswork in the botanical gardens. It creates an impressive pathway toward the wonders of blooming flowers. Here you can explore more than 400 species of plants inside the Conservatory's biomes. James Turrell's Light Raiment II will also impress you with the intricate work of great landscapists.
Pay the Scotts Miracle-Gro Company Community Garden Campus when you pass, drawing inspiration from its intricately designed living classroom. Here you can discover various culinary herbs and fragrant flowers and make you appreciate true nature's blessings. There is also a rose pavilion and berry roses to see and experience.
4. Easton Town Center
If you are looking for an entertainment and activity venue in Columbus, I suggest stopping by the Easton Town Center. It is the city's premier dining, shopping, and entertainment center with loads of fun. The center offers open-air town squares, fountains, and parks ideal for family activities.
The Easton Town Center is collectively known as the 'Rodeo Drive of the Midwest.' Its design and architecture straightforwardly replicate the early 20th-century American setting. The place is a shopping Mecca in the city where you can get anything.
Easton Town Center is an excellent place to go if you want to spend some of your downtime. It is home to over 300 shops, bars, nightclubs, and restaurants. It has massive multi-floor department stores, cinemas, and common indoor areas.
5. German Village
If you want to avoid bringing your car but want to explore downtown, you should check the German Village. German Village is an immigrant settlement in Columbus with more than 200 years of fruitful history. You can enjoy the scenery and view by walking through neighborhoods and marveling at the charming and historic streets of the Village.
German immigrants settled in this area during the early and mid-19th centuries. It held a cultural and historical heritage and became a part of the National Register of Historic Places in 1974. The White House even made it a Preserve America Community in 2007.
Strolling around the Village is like stepping into a postcard setting with beautiful landmarks, quaint coffee shops, and European-inspired restaurants. I recommend visiting the area at night, with dancing lights and more available food houses to explore. There are several Wunderbar places where you can grab a bite and have a good drink.
6. Ohio Theater
Another great place I love visiting when in Columbus is the Ohio Theater. It has a 2,790 seating capacity and a world-class performing arts facility. Ohio Theater is a must-see attraction to watch symphony orchestras, musicals, and plays.
When you reach the building, you will be impressed with its stunning architecture and interior design. It takes inspiration from Spanish-Baroque architecture and the style manifested in its walls, ceilings, and columns. The place hosts colorful dance troupes and traditional family shows and introduces the freshest and hippest artists in the locality.
There are regular performances in the Ohio Theater, including the BalletMet, Broadway Across America, plus the Columbus Symphony Orchestra. You will also be surprised by the number of internationally acclaimed artists visiting the theater, such as Liza Minnelli, Kodo Drummers of Japan, Carole King, etc.
7. Zoombezi Bay Waterpark
I recommend you visit the Zoombezi Bay Waterpark for those who love water adventures. It is a 22-acre waterpark located north of Columbus, Ohio. The Columbus Zoo and Aquarium owns the waterpark and opened publicly in 2008. Since its establishment, it is now the most popular waterpark, with more than 400,000 visitors yearly.
You will be fascinated by visiting the waterpark during the summers because of its many great attractions. There are Wild Tides Wave Pool, Slippery Seals, Soundsurfer, and Roaring Rapids to elevate your water adventure. My top recommendations are the Dolphin Dash, Python Plunge, and Sand Dollar Shores.
Visit the Zoombezi Bay Waterpark with your friends, and spend the whole day playing with the waters and having fun with its unlimited rides. Check its Big Boa Falls, a two-person reverse freefall from a 30 feet slide for the ride of your lifetime. Discover the endless possibilities this waterpark offers.
8. Ohio Caverns
You can explore the insides of Ohio Caverns even without a car and see its 90% stalactite and stalagmite formation. Ohio Caverns is a popular attraction in the city with its naturally preserved rock formations. It is one of the most thrilling and unique destinations in Columbus.
Ohio Caverns is a show cave near West Liberty. It is a unique cavern with an aquifer, an underground river of melted glacier water, and stunning crystal formations. Nature lovers and adventure seekers would make this cavern a top priority.
There are about 400-crystal-filled caves and caverns to marvel at in the vicinity. If you want to maximize your trip, you can hire guided tours to see the secrets of the cavern. The educational tours also provide a learning experience and broaden your knowledge about this famous landmark.
9. Hayden Falls Park
Columbus is full of natural wonders and attractions. Visiting the city will give you a glimpse of how the city is naturally full of open spaces. Hayden Falls Park, for instance, is an ideal place to get in touch with nature. It is along the Scioto River, offering diverse recreational activities.
Hayden Falls Park is the State's infamous waterfall. It is a 30-foot waterfall offering a spectacular view, especially during the spring season. Picnic tables are available while you sit and enjoy the beautiful view of the falls.
The most excellent way to unwind and refresh is by walking through its artificial boardwalk. Here, you will better view the falls and listen to the incredible sound its waters create. There are also spaces where you can bike, job, and trail to maximize your visit to Hayden Falls Park.
10. Polaris Fashion Place
If you seek a more contemporary destination, you can head straight to Polaris Fashion Place. It is a two-level shopping area surrounded by retail stores in Columbus. The mall is between the boundary of Delaware and Franklin County.
Because of its unlimited retail stores, you can enjoy the fashion palace without a car.
You will find big retail brands like Macy's and JCPenney.
It also has an outdoor promenade featuring Forever21, Barnes & Noble, and Dave & Buster.
I suggest you visit the area every Thursday night in the summer. It is full of activities like live bands and musical performances to entertain mall-goers. Here you can enjoy live entertainment for free.
11. Columbus Festivals
The city of Columbus is culturally vibrant. The people love entertainment, celebrations, and festivals to keep their city alive. People celebrate Asian Festivals, Pride Festivals, and Jazz and Ribs Fest here in Columbus.
The Asian Festival must be at the top of your bucket list when you visit Columbus in Spring. There are overflowing food, endless activities, and loads of entertainment. You can also watch a traditional Chinese dragon boat race during the Asian Festival.
The Pride Festival is also a worthy event. People celebrate the LGBTQ+ community and cultural diversity in Columbus. It reflects how the city values openness among the different ethnicities and cultures.
12. Orton National Museum
Since the city has beautiful surroundings, there is a dedicated geological museum in Columbus – Orton National Museum. The place is on the South Side of The Ohio State University. The museum is a major educational component on the campus, with research facilities and teaching spots.
The Orton Geological Museum has an initial collection of specimens from various parts of the country.
It has a crystal collection from Hot Springs, Arkansas.
These are part of the geologic specimen of Edward Orton since 1874.
The specimens are cataloged to give viewers organized and well-curated geological samples.
The museum is the ideal destination to learn about rocks, minerals, and fossils found in various locations in the United States. Here you can learn the rich geological history of the city and enjoy its helpful educational tours and sessions.
Columbus is a beautiful city where you can explore even without a car. Its nature parks, museums, malls, and activity centers are open to tourists and locals. I hope to have enough justifications of how great and beautiful Columbus is – thus worthy of a visit.
May you fall in love with Columbus, just like I did.