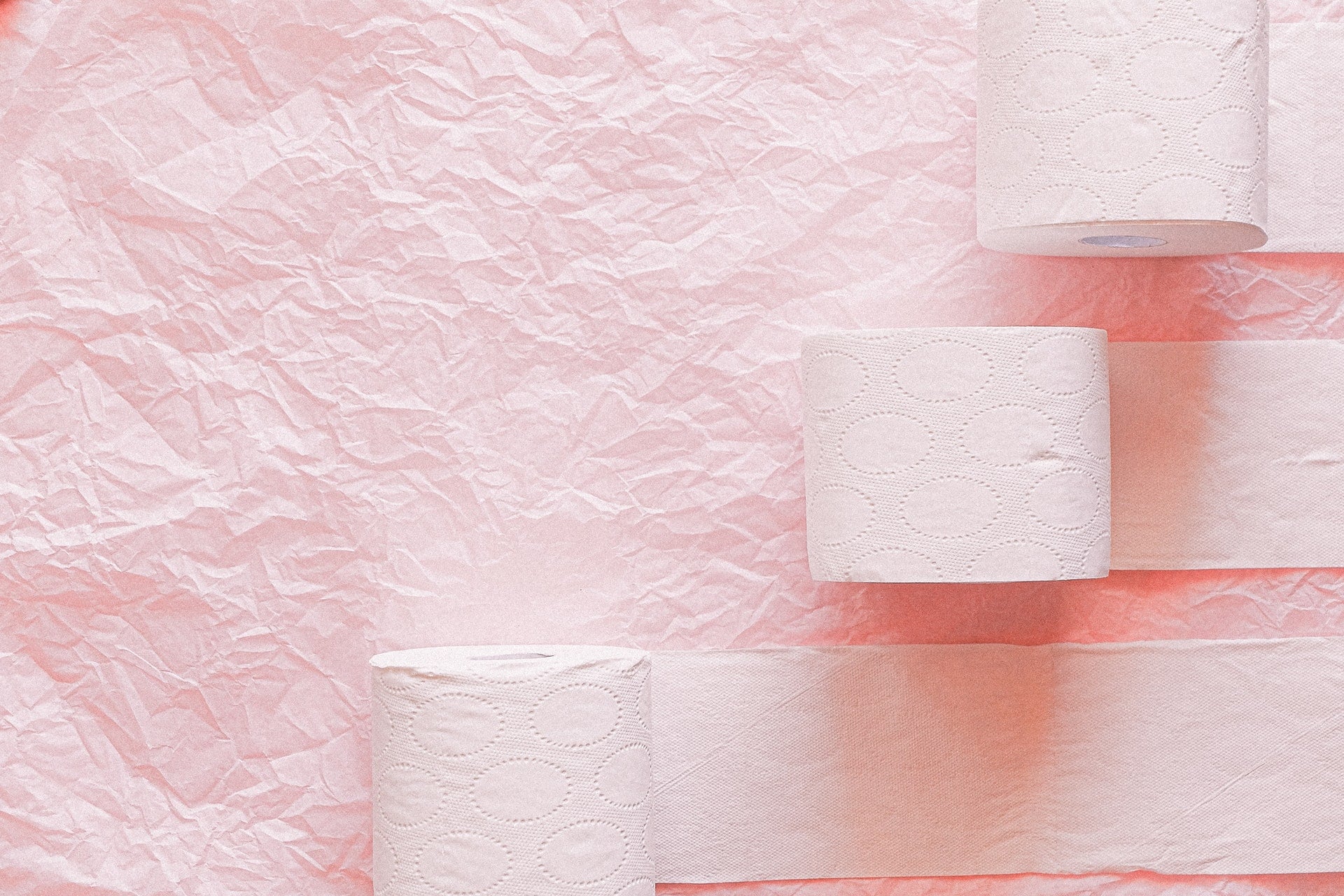 Most toilet paper rolls in France are anything but white. It may look like a nice shade of pink to some. But in real life, it is not. Toilet paper is known as PQ. That's pecu. Pecu is short for papier cul. In English, that would translate to bum paper. And that's pretty straightforward.
The question as to why toilet paper in France is pink always pops into everyone's minds. Or didn't you know it yet? If you do know that it's pink, would you know why? Yes, there are a few white rolls, but most of the toilet paper in France is pink.
The debate also continues that it is not a certain shade of pink. And if it is not, then what color is it? Because toilet paper in France is certainly not white.
And the reason?
Toilet paper in France is popular by the name of PQ. That's actually short for pécu. And if you should ask, pécu is another shortcut of the words papier cul. When translated to the English language, it means "bum paper."
Its history went way back to China in the 6th century. But no matter how far back it goes, PQ only became popular in about the 1960s. Yes, it was in France at the dawn of the century. But it was never a commodity.
Toilet paper was reserved for the luxurious. Newspapers were used for a bit. After some time, there was this something else that people used, but that did not last at all.
At the advent of the century, toilet paper was made from wood pulp. This was being used at the start until protests by the WWF changed things. After serious protests, toilet roll tubes are made by using recycled paper.
When the recycled paper was used, it appeared to be a bit grey. It either needs a lot more bleaching. Or it could also mean it needs more dyeing. At the end of the day, grey toilet paper looks less appealing.
The toilet paper in France being pink is sort of like a regional preference. However much we want to know who started it, we cannot. Some surmise that the color stemmed from goals of matching the paper with the décor. But who would color the toilet pink?
In the end, it must be regional preferences. Because if one should think about it, the Germans want their toilet paper with motifs. On the other side of the earth, the Americans like theirs white.
The French like going against the flow. Even in toilet paper, the French like theirs a bit different.
When the world preferred white toilet paper, the French maintained theirs to be a shade of pink. We know too much bleach is bad for the environment. But no matter how much you convince a French, they don't want to have anything to do with white toilet paper.
The pink-ish toilet paper in France is a bit more expensive than white. But since white is rarely available, what choice does one have?
But as one can already see, toilet paper is always evolving. Recently, there have been additions to the rack. Scented papers, 4-ply papers, and even quilted papers are now in the market. Is there a glow in the dark paper? Interestingly, yes.
Toilet paper evolves fast elsewhere. But no matter how much it changes, you can always expect nothing of the sort in France. The French still like their toilet papers pink. And no toilet paper evolution can stop that.
How do you say toilet paper in France?
Knowing what to say is essential in any non-English speaking country you are in. In France, toilet paper is known as papier toilette. But just like any language, grammatical rules would make everything complicated. But papier toilette, or PQ, can get you places for sure.
When in the US, one can only say the words toilet and paper, and everything's fine. In France, it would be a lot more complicated.
Toilet paper, when used as nouns, have different translations. For example, when do you say le papier hygiénique when referring to a wad of toilet paper? Or when do you use papier-toilette?
The letter S seems always to go to places as well. Consider the words papier toilettes and papers toilette. Both these terms refer to toilet paper in France.
French is much more complicated than English. But no matter how complicated it is, there is one solution when asking for toilet paper in France. The word is PQ.
That would be easy enough for the French to give you what they want.
PQ.
Aside from toilet paper, what else can you use in France?
Aside from toilet paper, one can use a bidet in France. The use of bidet is popular in most parts of Europe. Most toilets in Europe also include a spout. The spout streams water just like a water fountain does. That would be enough to clean you off.
There are always parts of our routine that influence who we are as a nation. Things like cooking, habits, and music all complete our culture. A nation's quirks, likes, and dislikes affect how people from other nations look at us. In fact, even toilet paper usage affects our culture.
While it may be hard for Americans to understand, there is toilet paper aside from white. Also, some countries do not even use toilet paper when cleaning themselves. For most in the Western world, this might be a shocking revelation.
How do they clean themselves then? Doesn't pink toilet paper feel awkward? Or is it beautiful?
But as you already know, toilet paper in France is in a certain shade of pink. But is it always toilet paper? Or is one presented with options?
The Other Options – Paper, Water, or Hand
Now that we know other countries do not use toilet paper, what do they use then? For many nations, what is used in the toilet is influenced by whatever is on hand. It makes everything easier.
One toilet essential in many nations is a pail of water. Instead of wiping, these cultures go for rinsing.
This leads to other cultures using the right hand more often. From cooking to greeting, it is always the right hand. This is because, in some cultures, the left hand is for toilet use. Greeting somebody using your left hand can be seen as impolite in other cultures.
Now, before you gawk at all these new cultures, this is not the case in France.
France uses toilet paper. In fact, France is popular for using toilet paper in a shade of pink. But aside from toilet paper, French people also use bidets.
The Other Non-Toilet Paper Countries
When in other parts of the globe, it is an expectation to learn the country's customs before your arrival. This is for you not unconsciously to offend or embarrass locals.
Knowing about a country's culture would be able to help you immerse yourself in what is expected. This is the same for these countries.
France remains to be one of those countries that have toilet paper and bidet as well. But are there countries that do not use toilet paper? Yes, there are.
If you are traveling to any of these countries, you might want to bring a roll or two toilet paper. Otherwise, you would have to contend with water and your left hand.
India – tourists are always shocked to find out that toilet paper is not available in this part of the world. Yes, there is toilet paper in hotels and tourist spots. But most of the homes in India do not have them. They use water to clean themselves.
In most Asian countries like China and Thailand, toilet paper is not that popular. Of course, hotels have them. Toilet paper is also found in guesthouses and tourist spots.
But as not everyone uses them, expect to find places that do not have toilet paper. It's quite interesting. Toilet paper was born in China. Yet, despite that, China's population is not 100% using it.
When in these countries, expect to use a toilet bowl on the floor. Some surmise that when you do your thing, you have to squat. It should be the healthier way.
But these countries have become Westernized in the past few years. The advent of toilet paper is just starting.
Aside from France, countries like Portugal, Italy, and Japan use bidet as well. Other countries that use bidet are Argentina, Spain, and Venezuela.
When in these countries, bidets are in hotels as much as they are in homes. Some bidets are separate from the toilet. Some homes have the bidet and toilet in one place. In these countries, most people would also use soap with a bidet. This makes sure they are clean.
The US and Toilet Paper
The US is number one when it comes to toilet paper use. Almost all of the American population would be able to use at least a few feet of toilet paper every day.
Most homes, as well as public toilets (we hope), have toilet paper handy. However, this is not the same story in other countries.
However, toilet paper is only popular in the US and some countries. Most countries in other parts of the world make use of other options. When traveling, one should also understand these habits to avoid inconveniences.
If you are used to using toilet paper, it is perhaps because you grew up in an environment that uses it. This is the same in the US. Anywhere in the country, toilet paper is used.
Toilet paper is used for hygienic purposes. We use it to clean the bathrooms. We also use it to clean our noses and a lot more.
Toilet paper is cheap, which makes it a popular option. However, some contend that toilet paper is not as effective as we want them to be. Some claim that it is not the best option when it comes to cleaning oneself.
Some say that toilet paper cannot completely clean one after doing his thing. Others claim that toilet paper can cause hemorrhoids. Aside from hemorrhoids, it can also bring other infections when not properly used.
But Americans are so used to using toilet paper. And we think nothing's going to change anytime soon.
Why do the French use squat toilets?
France and Italy are two countries that still employ squat toilets and it is mainly because of hygiene. It's not really in all of France. But some buildings, especially the old ones, still use these. Squat toilets used to be popular at the start of the 20th century.
Squat toilets are those that require squatting instead of sitting. There are many types of squat toilets. But if these have common denominators, it is that all squat toilets are made up of a toilet pan at the floor level.
This is also sometimes called the squatting pan.
Squat toilets sometimes use water seals and have the capacity to flush. Sometimes it does not have a water seal.
As we are all aware, the French can be quirky. But when it comes to their public toilets, one wonders. Why the squat toilets?
Well, there's some logic to this.
And it does not involve anything about the French being dirty or backward. It is because they are not.
Squat toilets were popular in Europe in the centuries past. Even until the early 20th century, squat toilets were a thing.
Squat toilets ensure the users maintain hygiene. There's no need to do some constant cleaning. Plus, there would be little possibility of germs spreading.
Another interesting fact about squat toilets is that it also strengthens the thighs. And so the next time you see squat toilets in France, think about sexy thighs.
Besides, squat toilets are also common in Ireland, London, and even Madrid. What is always used are pits for toilets. Even parts of Asia have squat toilets. Perhaps it's the influence brought about by the European settlers of the past.
But for whatever reason, when it comes to squat toilets, people always think of France. And that's not fair.