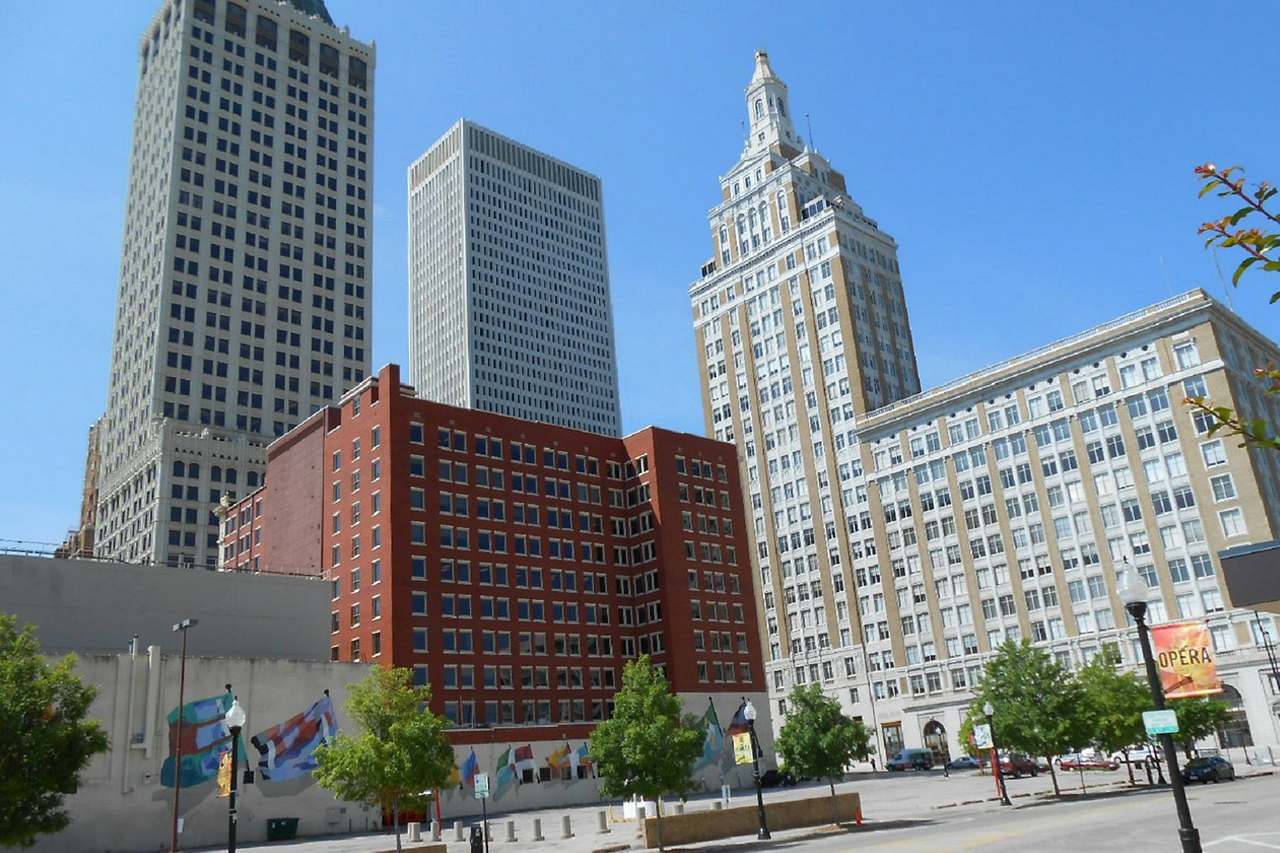 Tulsa is a glimmering metropolis in the Midwest. It is filled with world-class attractions, including shopping centers, upscale restaurants, and bustling urban districts. The city will fascinate every traveler who loves to embark on surprising adventures.
It has a wide range of city amenities that everyone aged 21 and below would love. It is full of cosmopolitan delights, especially art deco architecture, cultural heritage, performing arts venues, etc. We narrow down the Top 11 Best Things to do in Tulsa with overwhelming options if under 21 below.
So read on, and start your adventure here in T-Town:
1. Andy B's – Bowling Social
Games are standard for everyone under the age of 21. If you love to embark on a game adventure, you can invite your friends and visit Andy B's. It is a go-to destination in the city of Tulsa when it comes to top dining and entertainment activities. The place delivers quality service and a limitless source of entertainment for people of all ages.
Andy B's showcases a classic bowling experience outdoors. It can accommodate small and group players as long as you make the reservation. The bowling center offers space for professional and casual bowlers. It is open for amateur gamers looking for a weekly night out with buddies or for severe bowlers who have an interest in joining bowling clubs.
Spend a day at Andy B's and join the tournament and snatch rewards. Elevate the experience by trying out its in-house menu featuring all American delicious snacks and dishes. Make your day more memorable and reserve a ticket for Endless Bowling or Andy B's Season Pass.
2. Lefty's On Greenwood
For good food and a unique Tulsa experience, you should head straight to Lefty's On Greenwood. It is a restaurant and bar located in the historic Greenwood District across from the Oneok Field. Lefty's On Greenwood is a city hotspot where you can enjoy food, live music, and excellent beverages.
The restaurant and bar offer you an exceptional food experience. From its great interior featuring 11 televisions, an outdoor patio, and artistic decors to its exciting food offerings. You can enjoy an award-winning food selection curated by Brian Coon and staff.
Enjoy brunch or dinner at Lefty's On Greenwood and not miss its most significant offerings.
Order the Lefty's Famous Chicken Wings or its locally ground beef burger, Impossible Burger, to start your meal.
Taste its taco specialties, including Fried Avocado Street Tacos or the ever-popular Steak Street Tacos.
3. Utica Square Shopping Center
Utica Square Shopping Center is the finest shopping center in Tulsa. It is an all-in-one shopping and entertainment center offering tons of activities for those under 21s. The shopping center houses a good mix of quality retail stores and restaurants ideal for solo travelers, groups, or families.
The center offers an elegant outdoor setting shopping experience with beautiful venues filled with incredible decorations. While outdoor shopping, you will see gardens, fountains, and classic statues, elevating the experience. The square offers families with children a safe venue to bond and spend quality time.
Indulge in retail therapy and check its vast selections of retail stores from local and international brands. Visit the store hungry and thirsty, and try one of the square's exceptional restaurants. Attend special events such as its regular Summer's Fifth Night or listen to music performances ranging from jazz, rock, or country.
4. Lovetts Gallery
Lovetts Gallery is the oldest fine art gallery in the state of Oklahoma.
It has a vast collection of art pieces ranging from local, national, and global.
The gallery has well-curated art pieces from different genres and mediums. You will find great work and masterpieces of talented and driven artists today.
The art gallery has pieces from jewelry, two-dimensional and three-dimensional pieces, prints, and books. You can have them on sale and customize frames according to your liking. It holds several exhibitions every year showcasing the contemporary works of some of its resident artists.
Attend its regular exhibitions and check out the newest works in Lovetts Gallery. Appreciate the careers of its featured artists from different parts of the world. Make sure that you find your unique pieces and score huge art deals.
5. Tulsa Air and Space Museum (TASM)
For those fascinated by the tech and space industry, you can visit the Tulsa Air and Space Museum. It is a 19,000-square feet property showcasing historical displays, hands-on activities, and old-fashioned or vintage aircraft. TASM also has a full-dome planetarium added in 2016.
Inside the museum, you will see a gallery displaying the chronological history of aviation in Tulsa. It has several exhibits, including the Early Bird Exhibit, Deco Airport Terminal Exhibit, Pearl Harbor Exhibit, and World War II. These are a good representation of the contributions of Tulsa to the critical periods of American history.
When you visit the museum, spend some time learning from the exhibits. Have an educational tour and see historical documents and photographs from Pearl Harbor Exhibit and World War II. Do not miss to stop by the Planetarium with a 360-degree HD full dome technology. Here you will experience digital shows and star shows and can participate in special community events.
6. Prhyme
Prhyme offers an excellent fine dining experience in Tulsa. It is an upscale and contemporary steakhouse presented by Chef Justin Thompson. Prhyme delivers the highest level of service and a carefully curated menu suitable for every kind of diner.
If you want a top-notch steak experience, Prhyme has it for you. It features the most exceptional cuts of USDA beef, such as rib-eye, NY strip, filet mignon, and 30-day dry-aged prime rib-eye. It also offers seasonal favorites such as the New Zealand lamb chops, classic caviar service, and in-house desserts.
Create a wonderful memory at Prhyme with its well-curated food list. Try its charcuterie & cheese board with 25 chef's selections of cured meat and various cheeses. Fall in love with its Seared Sea Scallops & Pork Belly filled with carrot puree and garnished with brussels sprout leaves. Try its Ahi Poke Tacos and Baked Oysters, too!
7. Gathering Place – Tulsa River Banks
Gathering Place is regarded as America's Best New Attraction in 2019 by USA Today.
People come together at the Tulsa River Parks to explore its Four Seasons Garden or kayak at the Oneok Boathouse.
Great public spaces are available like the Chapman Adventure Playground, SemGroup Sports Courts, and Midland Valley and River Park Trails.
It is a must-see public area in the city where you can do loads of things, from strolling up to exciting water activities. It is the perfect place to relax and spend time on its outdoor patio or indoor cafes or listen to music performances at the QuickTrip Great Lawn.
Start your day right and engage in a morning stroll at the Midland Valley and River Park trails. Bring or rent a bicycle to explore the vicinity while enjoying the morning sunlight and fresh air. See Oklahoma wilderness through the Turkey Mountain Urban Wilderness Area. Here you will see 300-acre dirt trails where people hike, bike, and ride horseback.
8. Blue Dome Entertainment District
It would help if you visited the Blue Dome Entertainment District for an all-inclusive entertainment area. It is surrounded by eateries, boutiques, pubs, and retail stores where you can shop till you drop and eat limitlessly. Blue Dome also showcases music and live entertainment weeklong.
Blue Dome is the most popular activity-filled center in Tulsa. It is down to earth and has become a local's favorite because of its wide selections of restaurants, fine dining, art studio, commercial properties, and other city amenities. There are bowling alleys and comedy clubs where you can eat, laugh, or play.
The district is something you should not miss in Tulsa. Attend some of the Blue Dome Arts Festival, take a food trip during the Eat Street Tulsa festival, and celebrate St. Patrick's Day here. It is an immersive experience where you can feel the city's local energy.
9. Chuy's
Tex-Mex is an all-time favorite among Americans. If you want the best tasting experience of Tex-Mex cuisine, you must head straight to Chuy's. It is a vast food house offering authentic Tex-Mex food made of an excellent blend of flavors and ingredients from New Mexico and South Texas.
The restaurant opened in 1982 and initially offered Texas barbeque. Founders Mike Young and John Zapp visualized a more fun and funky foodservice and established Chuy's. It developed into a Tex-Mex restaurant and has earned staggering success.
You can taste the different flavors of the Midwest, including the ever-famous New Mexican green chiles. Check out its fajitas marinade, showcasing a unique taste of an old South Texas family recipe. Order its quesadillas, tortilla soup, and Baja shrimp tacos when you visit Chuy's.
10. Gilcrease Museum
The Gilcrease Museum or the Thomas Gilcrease Institute of American History and Art houses a massive collection of American West Art. It also has a great group of art and artifacts from South and Central America. The museum is an ideal place to visit if you want to learn more about the Native Americans and the American West.
Aside from artifacts, it also has an impressive archival collection of more than 100,000 manuscripts, papers, books, maps, and documents that tell about the history of the American West. Outside the museum is a beautiful themed garden showcasing the gardening styles from the Colonial, Victorian, Pre-Columbian, and American West eras.
Embark on a meaningful journey inside the Gilcrease Museum. Check out its popular exhibits, including the dictated and signed letter of Diego Columbus in 1512. Do not miss seeing the works of Thomas Moran, Albert Bierstadt, and Joseph Henry Sharp, too.
11. Tulsa Zoo
If you love to see different animals, you can visit the Tulsa Zoo. It is home to African Lions, South American Jaguars, Australian Kangaroos, and Malayan Tigers. The list will not be complete if we do not include a wildlife experience in Tulsa.
Tulsa Zoo offers a safari tour where you will ride on a Safari Train to have a closer view of the wild animals. There are several world-class exhibits and visual displays about these animals' natural life and habitat. You also have the opportunity to experience a walk-through cave, visit interactive petting areas, and relax in its sensory gardens.
Visiting Tulsa Zoo is a memorable experience you can have with your friends and family. Plan your day and explore the 84-acre property of Tulsa Zoo. Have a closer look at the African painted dog, Arctic Fox, Arizona black rattlesnake, and Asian elephants. Participate in one of its events like the Zoorassic World, Summer Camp, or even Yoga at the Zoo.
Tulsa has a lot to boast about, from its wonderful restaurants to its bustling entertainment district. The city has everything every 21-year-old and below is looking for. May you find this list comprehensive, and I encourage you to book your next trip to Tulsa City. Please feel free to comment here if you want to add some more; we will be delighted to hear from you.