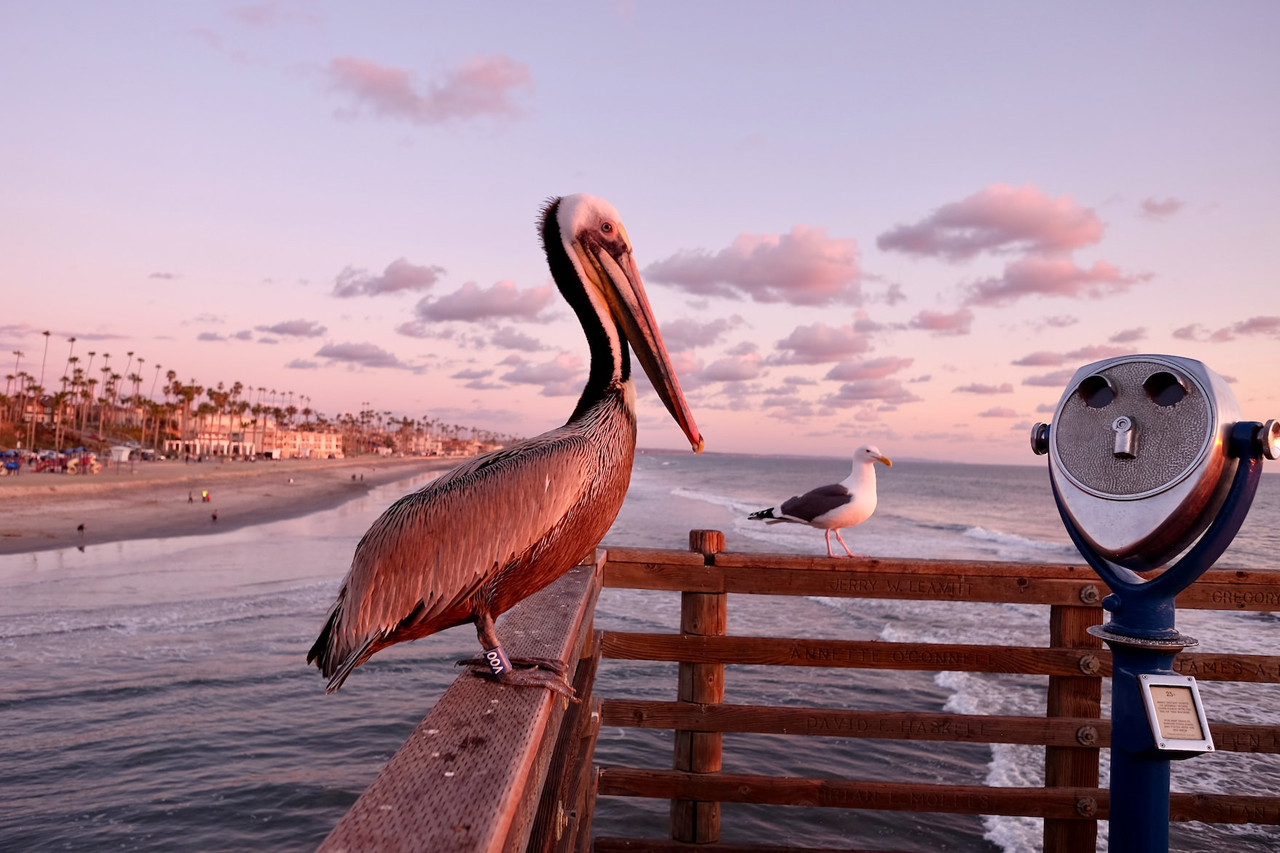 Situated around 38 miles northwest of San Diego, you'll find Oceanside, California, which is known for its seaside town vibe with a laid-back style. The SoCal metropolis has a rich history dating back to European settlement in 1769 until it finally became a property of the USA in 1848.
Moreover, notable and famous people like Mark Dice, Phil Edwards, and Trevor Cahill call Oceanside their home. Fans of Top Gun will be delighted to know that they shot an infamous romantic scene here.
Nevertheless, before getting carried away with the beauty of living here, it is understandable that you should be practical and check all the cons the city faces. Read more to discover everything you need about the third-largest metropolis in San Diego County, Oceanside.
Is Oceanside, California, A Good Place to Live In? – Fun, fun, fun, under the sun and sea!
The Good Side
Hello, sunshine!
One of the best things people love in California is its weather. However, not all places share the same climate; luckily, Oceanside boasts incredible weather throughout the year, wherein summers are usually warm, and the winters aren't too cold.
If you love year-round sunny and warm weather, Oceanside has it! Especially for people who love to have fun under the sun all year, you'll never want to leave Oceanside. Expect to experience temperatures varying from 45°F to 76°F.
The warmest months in Oceanside span from mid-August to mid-September and are slightly rainy from January to February. At the same time, the best months for weather activities are from early June to October.
Dynamic neighborhoods
Oceanside has a total area of 41.58 mi² comprised of various dynamic neighborhoods: Mira Costa, East Side Capistrano, Dixie Village, Fire Mountain, Pelican Cove, Canyon Vista, etc.
The metropolis has three best neighborhoods you may want to consider moving to help narrow down your search:
Fire Mountain: Best for those who dream of a home with ocean views and open spaces in a semi-rural environment.
Henie Hills: A popular choice for people who want to live in a historic community with excellent views.
South Oceanside: Ideal for settlers who love living on a beachfront with a peaceful ambiance. Restaurants, surf shops, and cafes surround the neighborhood.
Each community in Oceanside is unique and caters to various people depending on their needs and wants.
Diverse and welcoming locals
The city has an estimated population of 176,818 with a diverse population of various races:
White American: 59.2%
Hispanic or Latino: 32.1%
Asian: 3.7%
Black or African American: 3.3%
You won't have too much trouble fitting into the community in Oceanside because the locals here are also very welcoming and friendly. More than 68% of the household in the metropolis composes of families.
Numerous school selections
Oceanside never comes short of schools to choose from, which is a good advantage for parents who wants to find the best schools for their kids. There are six various school districts to discover in the city, ranging from private to public.
It has four public schools you can check depending on their proximity to your home: Carlsbad Unified School District, Oceanside Unified School District, Bonsall Unified School District, and Vista Unified School District.
You can find the best high schools in the city in the Oceanside Unified School District. There are 24 schools in this district, including the two top-rated ones: El Camino High School and Oceanside High School.
For instance, El Camino High School consistently receives the top rankings, making it a highly sought-after school for most of the population.
Aside from secondary education, you'll be glad to know that Oceanside has colleges. Check out a two-year community college in the city offering a wide range of programs and classes for students, MiraCosta College.
If you are looking for four-year academic programs, you can enroll at California State University San Marcos and use its latest facilities.
Endless fun
Living in Oceanside promises endless fun, whether under the sun at the beach or indoors. Like any California city, you will never get enough of the activities offered by this metropolis ranging from surfing, swimming, strolling, biking, jogging, boating, dolphin watching, sunbathing, etc.
You can start by exploring the Sunset Market, an all-time favorite among locals that features delicious foods, live entertainment, and items from local vendors weekly. Also, head to the city's downtown area to discover plenty of retail stores, top restaurants, cafes, and antique shops.
Don't miss to explore the town's top tourist destinations once you move here:
Oceanside Pier: It is the USA's western coast longest wooden pier, perfect for strolling and hanging out to watch the beautiful sunset.
California Surf Museum: It is a museum dedicated to storing, collecting, preserving, and showcasing all historic surfing documents, artifacts, and memorabilia.
Mount Ecclesia's Historic District: is the perfect place for a meditative walking experience surrounded by beautiful gardens.
Race Across America: Don't miss participating in one of the city's most popular racing events, Race Across America, a 3,000-mile bike race held every June.
Oceanside Harbor Village: You can find multiple and diverse dining options here, offering fresh seafood. Musical festivals and special events also happen here yearly, with numerous stores selling souvenirs and apparel.
Audubon Society Nature Center: It introduces the native plants in the city and provides activities to help visitors know more about the natural history.
Oceanside Museum of Art: has 6,000 square feet of exhibit space that enables guests to discover the talented and fabulous artists in South California, highlighting each one's artworks and stories.
Aside from the top tourist spots in the city, it also has 3.5-mile-long beaches boasting numerous water fun activities perfect for tourists and locals alike.
Proximity to other bigger cities
Another great advantage of living in Oceanside is its proximity to other big cities. Its location allows its residents to go to and from cities like San Diego and Los Angeles without the need to drive far or ride a plane.
For instance, arriving in Los Angeles takes two or fewer hours; San Diego is only around 47 minutes away. As a result, you don't have to deal with the hustle and bustle of these cities every day and enjoy the benefits of finding your dream job while living in Oceanside.
You'll also have access to other cities' beaches, parks, and other prominent festivals within just a short drive.
Family and kid-friendly town
The city doesn't only attract young adults but families as well because it has a roster of playgrounds, parks, and daycare centers. Kids can play and interact with other children at these parks or enjoy a picnic with their parents and siblings: Dominics, Buena Vista Park, and Martin Luther King Park.
Working parents will also be happy to know that the city has a lot of daycare centers they can entrust their kids to, including but not limited to Singer Westlake, Debbies Day Care, and Coastal Academy (TK-8) .
Library for all ages!
Oceanside takes tremendous importance on education; thus, the city's Oceanside Public Library has three facilities everyone can visit: READS Literacy Center, Mission Branch Library, and Civic Center Library.
The city also has two Bookmobiles that do three weekly stops in various locations around the metropolis.
The Bad Side
The usual California traffic issues
Even though Oceanside is not a prominent and famous city, unlike its neighbors, it is not an exception to the typical traffic issues well-known in California. Compared to the USA's average commuting time of 26.4 minutes, Oceanside is higher by two minutes for 28.2 minutes.
Especially during peak hours, you'll have to deal with the agony of getting stuck in the middle of the road surrounded by noise from other cars. Moreover, if you commute to and from big cities, you'll likely face more traffic issues since traffic there is worse.
Car-dependent because of poor walkability, transit, and bike scores
Sadly, Oceanside earned poor walkability, transit, and bike scores; see the following digits enumerated below:
Walkability score: 23
Transit score: 30
Bike score: 19
As you notice, the scores are so poor that not even one reached a score of 50. It means that most errands require the use of cars to get around. Moreover, you'll be able to arrive home early and finish chores quickly if you have a car.
Urban sprawl
Because of the city's rapid development, it becomes challenging to navigate the city. There is more pollution, greenhouse gas emissions, road congestion, and low-density residential housing compared to the past years.
What Is the Cost of Living in Oceanside, California? – Affordable than its neighbors
The Good Side
Cheaper than Los Angeles and San Diego
It is a given that California cities are notorious for having over the national average cost of living, which means that Oceanside is no exception. Nevertheless, if the Californian lifestyle has always been your dream, you'll be glad to know that living in Oceanside is not as bad as you think.
Compared to its neighboring prominent and well-known cities, such as Los Angeles and San Diego, the cost of living in Oceanside is more affordable.
For example, Oceanside's living cost is 5% lower, and housing costs are 14.3% lower than San Diego's. On the other hand, the metropolis also enjoys 17.3% lower housing costs and 6.3% lesser cost of living than Los Angeles'.
High real estate sales
Maybe it's time to invest in Oceanside's real estate market because of its high sales as the year progress. When house sales are high in a city, it indicates people are interested in settling.
For instance, Oceanside sees 65% high real estate sales compared to last year and about 209 homes listed for sale in a month. Therefore, it is an excellent time for people to invest in real estate and sell it at a higher price because of the increasing demand.
High median household income
Despite the city's high prices, the residents enjoy a high median household income that helps compensate for the skyrocketing expenses. The metropolis's median household income is $66,939, higher than the US average.
Hence, you won't have much trouble finding extra income to cover your bills.
The Bad Side
Typical California skyrocketing prices
Unfortunately, you can expect that majority of the cities in California have skyrocketing prices. Oceanside has an overall cost of living 40% higher than the national average. Enumerated below are the city's expenses shown in percentages compared to the US average:
Housing: 89% higher
Utility: 21% higher
Grocery: 12% higher
Healthcare: 8% higher
For instance, the city has a median rent of $2,300 per month and a median home price of $752,837. It will also cost you $128.09 for a doctor's visit and $1.76 for a carton of eggs.
Why Work in Oceanside, California? – Tourism industry is the highlight!
The Good Side
3.20% unemployment rate
Residents in Oceanside have been enjoying a relatively low employment rate in the past few months. Compared to the city's previous long-term unemployment rate average of 6.14%, you can immediately tell that its job market has been consistently positive based on its 3.20% unemployment rate
Huge companies like Genica Corporation and Bergensons Property Services have their headquarters located in the metropolis. Moreover, the city also boasts numerous top employers that help strengthen the job market:
Tri-City Medical Center
Genentech
MiraCosta College
Monterey Financial Services, Inc.
Sony Electronics
Select Staffing
Aside from big corporations, that city also has striving small businesses like retail shops, transit entities, and restaurants offering more job opportunities to residents.
Booming tourism economy
If you are looking for jobs in the tourism industry, you will be happy to know that Oceanside provides job opportunities in this field. Among its top employers are Ocean's Eleven Casino and MainStreet Oceanside's Sunset Market.
Each year, Oceanside's Visit Oceanside Conference & Visitors Bureau supports almost 700 tourism-related jobs for its residents.
The Bad Side
High-income tax and low future job growth
Sadly, the metropolis imposes a 9.3% income tax higher than the national average of only 4.6%. In addition, Oceanside's predicted future job growth in the next decade is only 32.6%, slightly lower than the predicted national average of 33.5%.
Oceanside is another California paradise that entices people from different walks of time with its mile-long beaches, incredible climate, and strategic location.
Living here can be expensive for some, but its living cost and job market aren't too high compared to other main cities, making it a good deal for most. Indeed, we are excited to know your thoughts about this captivating city.