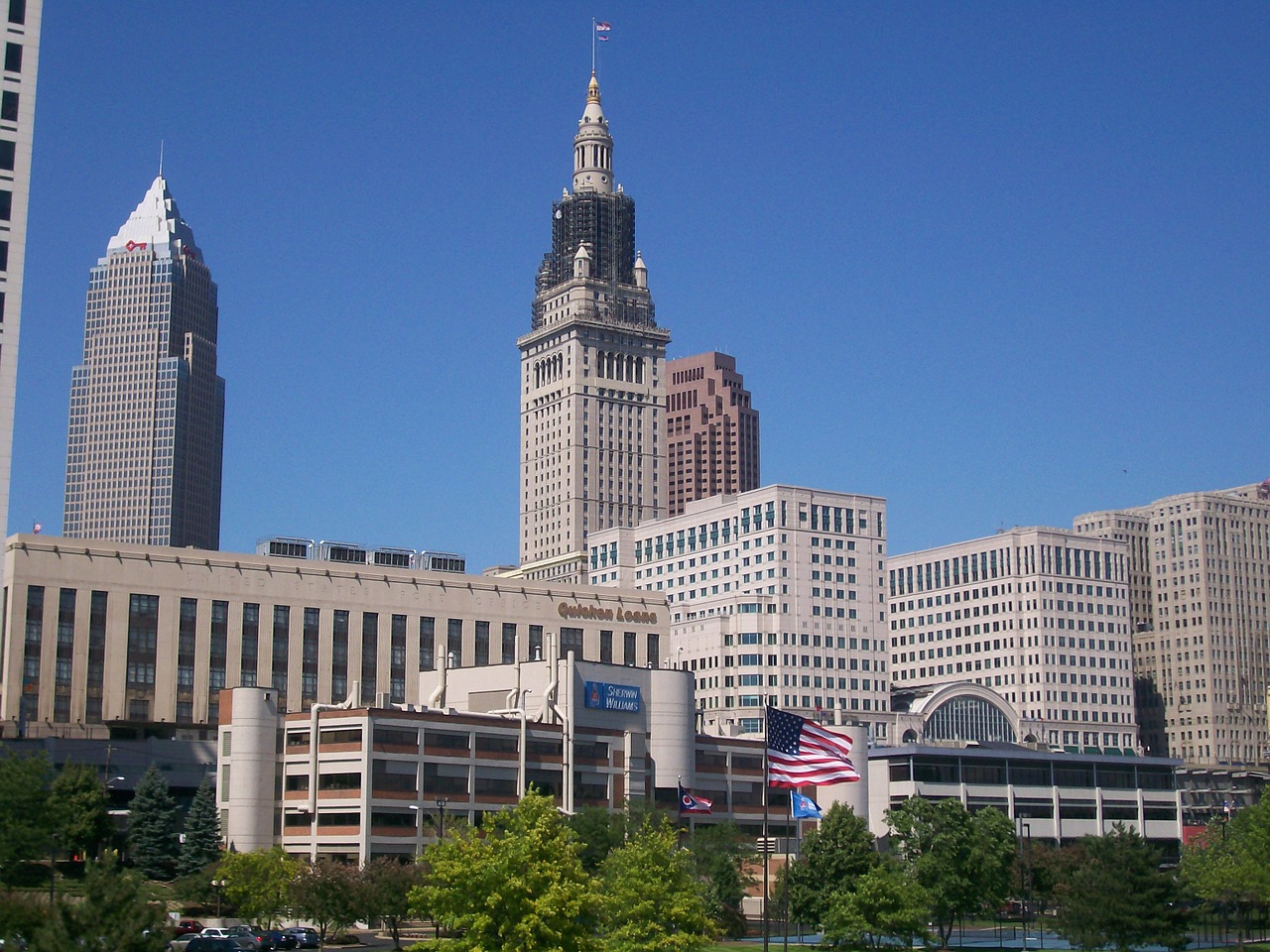 Cleveland has low living expenses that make it the best place to live. In comparison, Albuquerque ranked the 120th spot in the country's annual list of best places to live because of its rich culture, proximity to art galleries, distinct cuisine, and brewing scene.
Albuquerque has a distinctive evening skyline where the exteriors of many buildings are lighted in brilliant hues like green and blue. The Compass Bank building glows blue, while the DoubleTree Hotel changes colors every night. The skyline in the Rio Grande Valley is lower than one would anticipate in a city of equivalent size elsewhere due to the nature of the soil.
Meanwhile, the architecture of Cleveland's downtown varies. Many of the city's political and civic buildings, such as the City Hall, the Cleveland Public Library, and the Public Auditorium, are grouped around the open Cleveland Mall and have a neoclassical design in common. They are one of the most comprehensive examples of American City Beautiful architecture.
If the cities' architectural aspect hasn't already wowed you, you're going to be blown away by what they can offer you. Comparing these two architecturally rich places might help you decide which one is ideal for you.
What Are the Pros and Cons of Albuquerque vs. Cleveland?
Albuquerque is ideal if you plan to relocate to a city with friendly neighborhoods, rich culture, and excellent public transportation. However, its unemployment and crime rates may hesitate you to move. Meanwhile, Cleveland has a low cost of living and quality education to offer, but its employment market and constant road construction are frustrating.
Living in Albuquerque
Pros
Friendly neighborhoods

Whether you are a sports fanatic, a cuisine adventurer, a nature lover, or a history buff, you can find a suitable place for your personality in and around Albuquerque. While it is a major city, it is also one of the friendliest in New Mexico, making it an exceptional choice for anyone looking to relocate.

The vast majority of individuals in this community are genuinely concerned about your well-being. If someone has a problem with you, you will not suffer from the harsh words you encounter elsewhere.

Best place to live

Albuquerque is ranked 120th in the country's annual list of Best Places to Live by US News and World Report. It's also the only city on the list from New Mexico. Albuquerque's rich culture, proximity to art galleries, distinct cuisine, and brewing scene were highlighted in the publication. It also claims that New Mexico's cost of living is somewhat lower than the national average.

Rich culture and exciting activities

In addition to being the best place to live, Albuquerque has a rich cultural heritage, several events, and delicious cuisine, making it an ideal spot for outdoor enthusiasts.

As part of the city's Freedom 4th celebration during the summer, Balloon Fiesta Park presents stunning celebrations to honor the country's independence. A nightly fireworks show and a range of entertainment events are part of the popular celebration. You can enjoy rock walls, face painting, and jump houses at this event.

You can also have fun with the more than eight exhibits at the New Mexico Museum of Natural History and Science, where it transports you back in time to the Ice Age. Discover how an ancient volcano has been affected by time and enormous dinosaurs that once roamed the earth.

Several modes of public transportation are available

One of the most popular modes of public transportation in the city is the ABQ Ride bus route. You can get discounted monthly passes if you work for an authorized enterprise.

If you look for a way to go from Albuquerque to Santa Fe or Belen, the Rio Metro Transportation system includes 15 stops. Commuter trains are one of the quickest ways to travel between cities in the area.
Cons
High unemployment rate

Albuquerque has a high unemployment rate in comparison to other cities. According to the Federal Reserve, Albuquerque's unemployment rate in October 2021 was 5.10 %.

Based on the Bureau of Labor Statistics reports, Albuquerque's unemployment rate decreased by 0.1 % to 5.5% in November 2021. The city's unemployment rate is now 6.7% higher than the national average. You must first secure your employment if you plan to relocate here.

The location is far from other cities

Albuquerque is in a distant part of the state. It's a considerable distance from the major cities of other states. It will take seven hours to drive from Albuquerque to Denver and more than 10 hours to get to the main cities of Texas.

Albuquerque and Santa Fe are significant cities, but it is challenging to travel to other major cities like New York or Washington, DC.

Higher crime rate

Based on a recent report, Albuquerque is one of the top ten most dangerous cities in the United States. The city's reputation for violence results from the high number of killings.

Albuquerque's annual homicide count has been roughly 45 during the previous 35 years. However, that average has increased during the last few years, hitting a new high this year, according to FBI statistics. Homicides in Albuquerque currently account for over half of the state's annual homicide total.
Living in Cleveland
Pros
Low living expenses

In general, the cost of living in Cleveland is lower than the national average. The fact that housing expenses in the area are 23.1 % lower than the national average will encourage you to relocate here.

When it comes to buying a property, the average price is about $53,000. Compared to Ohio's $140,000 median or the national median of $230,000, the reduced cost of living might be a significant advantage.

Quality education for your children

The Ohio Department of Education has consolidated a complete summary of district performance based on competency exams and report cards. In addition, depending on the requirements of particular families, each district offers various programs.

If you have school-aged children, do your research on each school district before you start looking for a home. What appears to work for one family may not work for another. However, regardless of where you choose to settle down, you can guarantee that your kid will receive a good education in this city.

Festivals and a lot of activities

If you adore festivals, you'll be glad to know that this city enjoys getting together to celebrate. Residents of Cleveland, for example, have been commemorating St. Patrick's Day since 1842. It means that on March 17th, you can watch parades celebrating Cleveland's Irish heritage and dress up in festive clover hats and sip a green beer.

The annual Cleveland Pride celebration, which attracts thousands of citizens, musicians, and merchants to promote tolerance, is another lure.

Aside from the popular sports, winter, summertime, and the abovementioned activities, other day-to-day activities keep singles and families entertained. Here are the areas you should consider visiting:
Cleveland Metroparks Zoo
The Cleveland Orchestra
Cleveland Museum of Art
Playhouse Square
Amazing public transit system
Cleveland also offers a fantastic and reasonably priced public transit system, which is impressive given the city's size. Though some people still believe that driving is quicker, Cleveland's public transportation system is world-class. The RTA's rapid transit system, dubbed "the Rapid," makes commuting around Cleveland safe and straightforward.
You won't even have to pick up your friends from the airport if they're coming to town for a visit. Taking the Red Line Rapid train from the airport to the downtown area costs less than $3.
Cons
Constant road construction

Cleveland's highways seem to be under construction all of the time. Orange barrels and potholes are typical sights, making it difficult to maneuver the construction-related traffic.

Overwhelming sports fan

It might be either a good or a drawback. If you support a club from another state, you will see the city's excitement, but you have a high tendency to get overwhelmed by it. Furthermore, if you are not a sports fan, you can get easily irritated.

The Princeton Review, for example, ranked Ohio State's sports supporters as the most annoying in the country.

Employment market

The job market in this city is not as good compared in other cities. You can find it challenging to obtain a job since the opportunities are limited. If you're looking for work, it's a good idea to look into the finance, automotive, and health industries.

Furthermore, the job market in Cleveland caters primarily to college graduates.

Snow

If you don't like snow, you may want to think again about moving to Cleveland. Because this city gets roughly 62.5 inches of snow each year, you should be ready to do your fair proportion of snow shoveling.
Albuquerque or Cleveland – Which Is More Expensive?
The overall cost of living index (taxes excluded) states that Albuquerque, New Mexico, is 25.6% more expensive than Cleveland, Ohio. The most significant component in the cost of living difference is the median home cost. The median home cost is 273% higher in Albuquerque.
The table below presents the cost-of-living indices written in percentage:
| | | |
| --- | --- | --- |
| Living expenses | Albuquerque | Cleveland |
| Housing | 88% | 23.1% |
| Food & Groceries | 96.0% | 93.5% |
| Health | 81.1% | 82.4% |
| Utilities | 97.2% | 94.9% |
| Transportation | 89.4% | 90.5% |
Data is 100 = US National Average
> 100 means more expensive than the national average
< 100 means cheaper than the national average
Housing Cost
Albuquerque's cost of housing is 281.0% higher than in Cleveland. Albuquerque's median home cost is $203,500, whereas Cleveland has only $53,500.
Utility Cost
Albuquerque's cost of utilities is 10.4% cheaper than in Cleveland. The essential utilities for water, electricity, cooling, heating, and garbage for 85 square meter apartment cost $184.19 per month in Cleveland, whereas, in Albuquerque, you will spend only $140.94.
Food and Groceries Cost
The cost of food and groceries in Albuquerque is 2.7% higher than in Cleveland. For example, Albuquerque's regular milk price is $0.83 per liter, higher than the $0.74 of Cleveland.
Transportation Cost
Albuquerque's transportation cost is 1.2% less expensive than in Cleveland. You will spend $2.50 for a one-way local transport ticket in Cleveland, but $1.00 only in Albuquerque.
Healthcare Cost
Albuquerque's healthcare cost is 1.6% less expensive than in Cleveland. In Cleveland, you will spend an average of $446.29 for RX drugs, while that is only around $433.50 in Albuquerque.
Is Albuquerque Bigger Than Cleveland?
Based on the 2020 city population census, Albuquerque is 34% more extensive than Cleveland. Albuquerque is 58.58% bigger than Cleveland in the land area.
With 187.7 square miles of land, Albuquerque had 564,559 residents and was considered the largest city in New Mexico in 2020. It ranked the 32nd spot for the most populous city in the United States and 4th in the southwest.
Meanwhile, because a more significant share of the metropolitan population resides beyond the center city, Cleveland's city proper ranked as the 54th most populated city in the United States, with a population of 372,624 in a land area of 77.74 square miles.
Is Albuquerque Safer Than Cleveland?
With 100 as the safest, Albuquerque and Cleveland have crime indices of 1 and 2, respectively. In comparison, the annual crime rate in Albuquerque is 63.28 per 1000 residents, whereas Cleveland has reported a lower rate which is 58.29 per 1000 residents. Thus, you are safer in Cleveland than in Albuquerque.
Albuquerque's violent and property crime rates are almost twice higher than that of its state. The city has reported an annual average of 35,723 crimes. If you live in this place, you have a probability of 1 in 75 and 1 in 20 to be victims of violent and property crimes, respectively.
Meanwhile, Cleveland has an annual number of crimes of 21,719, 15,438 in property crimes, and 6,281 in violent crimes. There are 278 crimes reported per square mile in the city, higher than the 25 of the state. You have a chance of 1 in 24 to be a victim of property crime here.
Is Albuquerque Warmer Than Cleveland?
The average temperature in Albuquerque ranges from 27°F to 93°F throughout the year, whereas Cleveland has 22°F to 81°F. Thus, Albuquerque is warmer than Cleveland.
Summer in Cleveland is sunny, humid, and partly cloudy, while winter is cold, snowy, windy, and generally cloudy; the temperatures can seldom be falling below 7°F or rising over 89°F. Whereas in Albuquerque, summer is hot and dry, and the winter is frigid, snowy but short, and the temperatures in the city can drop below 18°F or rise over 99°F.
If you want to visit these cities for warm-weather activities, the perfect time in Albuquerque is from late May through late September, whereas Cleveland is from mid-June to mid-September.
Is Albuquerque Better Than Cleveland?
Based on the most recent reports, Cleveland welcomed 19.6 million visitors in 2020, whereas Albuquerque has reported only 6.2 million international residents annually. Thus, Cleveland has better advantages that attract more visitors than Albuquerque.
Albuquerque's rich culture, proximity to art galleries, distinct cuisine, and brewing scene are the major of achieving 6.2 million annual visitors. The city continues to improve its efforts to invite more inhabitants in the coming years.
On the other hand, travel and tourism will continue to be essential for Cleveland's future. With 9th consecutive record-breaking years and its visitation growth rate above that of the country and the state, the city met its target of 20 million annual tourists in 2020 because of its low living expenses, festivals, and many activities.
Your decision in choosing between these two magnificent cities is now entirely up to you. Both cities have their advantages and disadvantages, but it's up to you how you'll handle them.
Have you made your decision already? Where do you consider moving to? Let us know your thoughts below.