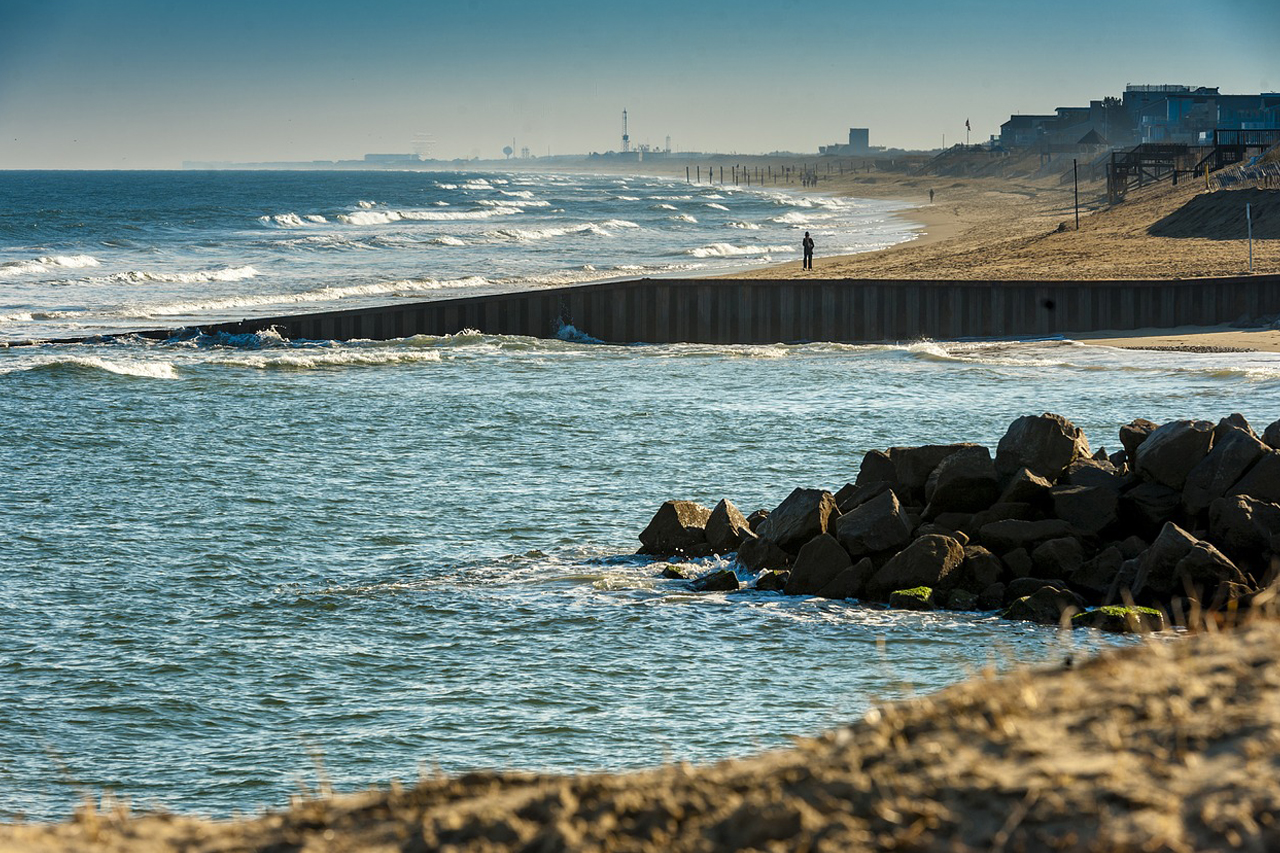 When we talk about southeastern Virginia, a vibrant coastal city, Virginia Beach, will always come to mind. The town caters to thousands of visitors since it is the ultimate oceanfront destination in Virginia.
The city is home to cultural heritage, arts and entertainment venues, family-friendly destinations, and loads of restaurants or an impressive culinary scene. People below the legal age have various things to do and explore in this beautiful coastal city.
So, read this guide and discover the Top 11 Best Things to do in Virginia Beach if under 21:
1. Apex Entertainment Virginia Beach
The Apex Entertainment is located at 4621 Columbus St. 100, Virginia Beach, VA. It is an entertainment center with more than 85 000 square feet of property. The center offers a whole day of fun with various activities, including arcades, bumper cars, laser tag, escape rooms, a go-kart track, and more.
The place is open for all ages and can accommodate those below 21 years old. You can spend long hours in their 24 lanes bowling center, enjoy thrilling and hyper-realistic VR activities, and choose old-fashioned video games from over 95+ arcade game offerings. For you and your friends, Apex Entertainment has a 4,000 square feet laser tag arena and three Escape Rooms available.
Make your weekend memorable by inviting your friends or family to Apex Entertainment Virginia Beach. This place can serve you everything from entertainment to delicious food. Bowl with more fun and excitement, or head straight to the breakout Escape rooms. After a day of the game, grab a meal or drink at their in-house American restaurant.
2. Central 111
For some spooky but memorable experience, Central 111 is the place. It is a premier destination on Hampton's Road, Virginia Beach, offering great tapas, a lounge venue, and an exciting ambiance. It is also considered the ultimate music venue downtown.
Central 111 offers its patrons an excellent music ambiance with comfortable lounges, an impressive interior, and sumptuous food offerings. Entertainment is also overflowing in Central 111, with the hottest DJs in town. You will enjoy a fun and exciting evening with your friends when you visit Central 111.
When you visit downtown, have a great stop at Central 111 for a social and relaxing dining experience; check out its wide selections of tapas made from the freshest ingredients. Wait for the happy hour, and dance the night away while enjoying the hottest DJ's playlist.
3. Virginia Beach Funny Bone Comedy Club & Restaurant
The best way to get entertained in Virginia Beach is by visiting a comedy club. If you want to spend hours of amusement and laughing, Virginia Beach Funny Bone Comedy Club & Restaurant should be at the top of your list. The club offers a whole entertainment package with music, comedy shows, and dialogues.
Funny Bone has been in the comedy business for more than 30 years. The venue has brought nationally recognized comedians, including Jerry Seinfeld, Tim Allen, Jim Breuer, and Ellen Degeneres. The place is living proof of a successful comedy enterprise with great artists and entertainment offerings.
Aside from these veterans, Funny Bone consistently introduces the freshest and up-and-coming humorists. Here you will discover local talents with the potential to make it big internationally. There is a local restaurant which keeps you complete on your visit. More than that, the venue also holds children's comedy and magic shows for reservation.
4. Hunt Club Farm
For those who love to spend time with nature and farm animals, there is a place for you in Virginia Beach. Hunt Club Farm is a family-owned and operated attraction in the city, boasting around 30 acres of farmland open for everyone to see. Here, cows, chickens, goats, sheep, and donkeys are inside the Petting Farm area.
When you visit its Farm Market, you can enjoy a bounty of fresh and seasonal produce from the property. Here you can get the newest options from plants, herbs, fruits, and vegetables. There are flowers and bushes available that you can add to your garden or landscape.
Hunt Club Farm also provides the perfect venue for community gatherings.
You can enjoy popular themed events like Harvest Fair, Easter Egg Hunt, and Spring Fling.
There are also dedicated activities for youth, such as the Summer Farm Camp and Hunt Club Farm.
5. Escape Room Virginia Beach
Located at 4317 Bonney Road, Virginia Beach, VA, Escape Room Virginie Beach is the ideal hangout place for those under 21. It has several themed escape rooms which you can choose according to your personality and number in a group. You can choose from The Con Artist, King Neptune's Trident, Sorority Seance, and High Noon Saloon.
If you love playing agent and want to feel the suspense and thrill of discovering things, you can choose The Con Artist. Check out King Neptune's Trident escape room for treasure hunting and mythical explorations. For dual players, Mission 30 is the best escape room for you.
Experience the thrill and joy of solving mysteries and puzzles in Escape Room Virginia Beach. You can invite your friends of up to 8 members and have fun discovering the key to exit points. Invite your mystery buddy, and challenge yourselves with the challenges waiting for you at Mission 30.
6. Crowne Plaza Virginia Beach Town Center
Exploring Virginia Beach means having the best accommodation near the entertainment and beach destination. If you are going with your family, the Crowne Plaza Virginia Beach Town Center must be at the top of your list. With this venue, planning your day and water adventures would be easy.
The Crowne Plaza Virginia Beach is a premium hotel accommodation in the city. The place is near the Towne Center, Resort Oceanfront, and even local naval stations. It has around 12,000 square feet of event space and offers a convenient location during your stay.
Planning a travel adventure here is easy. With this location, you can conveniently spot shops, boutiques, and restaurants while enjoying a beachfront view and the sun. It is also near other fantastic destinations like Back Bay National, Wildlife refuge, and False Cape State Park.
7. Virginia Aquarium & Marine Science Center
If you are fascinated with marine life and other aquatic animals, do not miss visiting the Virginia Aquarium & Marine Science Center. The center has more than 300 hands-on marine exhibits and is home to several stingrays and horseshoe crabs. The place also offers real-life interaction with otters, turtles, Komodo dragons, and sharks.
There is so much fun stuff to do in this aquatic center. You will be immersed in the beauty of marine life when you explore its more than 300 permanent exhibitions. Other fascinating activities include ropes courses, ziplining, 3D theaters, and film screenings.
Check out the Divers in Aquariums and watch them interact with the marine creatures inside the largest aquarium in the city. Catch a fascinating exhibit with the center's Animal Ambassadors, where they provide you with up-close encounters with marine animals. Participate in Gallery Programs and broaden your knowledge about aquatic creatures and their way of life.
8. Virginia Museum of Contemporary Art
If you want to educate yourself about the culture and heritage of Virginia Beach, the number one place you should visit is the Virginia Museum of Contemporary Art. The museum offers a rotating art display of great pieces, including sculptures, paintings, print, and photography. It makes the exhibitions fresh and diverse for its patrons.
The contemporary art museum holds interesting and notable exhibits about black and Hispanic modern art. It also showcases a photography exhibit of First Landing State Park, demonstrating the colorful history of this landmark. The museum is open to young adults and has a venue for kids to learn and play with its ARTlab children venue.
Marvel at contemporary artists' beautiful and artistic pieces showcased in the Virginia Museum of Contemporary Art. Have an enjoy an immersive and informative museum activity. Come with your friends and engage in a group tour where you have an educational experience about the displays and contemporary artists' famous exhibits.
9.ViBe Creative District
Murals, art galleries, themed cafes, hip restaurants, and novelty stores will greet you visiting the ViBe Creative District. The district was conceptualized upon the productive collaboration of more than 200 artists to create exciting works of art. The ViBe Creative District showcases over 350 pubic art and is accessible to everyone.
The ViBe Creative District, as an NGO, worked with the City of Virginia Beach Office of Cultural Affairs so it could work holistically through private and public funding. The display is not just about artistry but a good deal of research and hard work to deliver truthful information to the public. The initiative became a massive success because of its excellent collaboration with the city government, business sector, and non-profit organizations.
Spend a whole day exploring ViBe Creative District with your friends and families. Stop by its vast murals, and marvel at the talent and passion exerted by different artists in this district. Check out its themed cafes and quirky restaurants serving a well-curated and delicious menu. Discover specialty shops offering creative and exciting items.
10. Ocean Breeze Waterpark
Aside from its famous beaches, Virginia Beach also offers artificial water venues through its waterpark. The Ocean Breeze Waterpark is a significant venue for kids, youth, and families to spend their summer vacation. It is full of exciting water activities through its lazy river, wave pools, and splash zones.
The Ocean Breeze Waterpark is the premier waterpark in Virginia Beach, with more than 30 slides and attractions. It showcases around one million-gallon wave pool, mile tubing river, themed water playgrounds, and its new addition to the interests, Operation Splashdown. You will have a fantastic and memorable experience visiting this waterpark in Virginia Beach.
Have fun in the sun, water, and waves with your travel buddies and explore the various attractions in the waterpark. Enjoy its world-class rides and experience the waters of Virginia Beach. Keep yourself full and hydrated and spend some time in its park snacks while grabbing a bite of its funnel cakes, slushies, and other food park offerings.
11. False Cape State Park
If you want a different destination in the city, you can visit one of Virginia Beach's beautiful state parks. The False Cape State Park is more than a 4,000-acre lot found on the Currituck Banks Peninsula. The park has plenty of hiking and bike trails every athletic person would love to try.
You can also visit its environmental educational and primitive facilities on foot or by bike. There are also trams available going to the Back Bay National Wildlife Refuge. It is nearby the shoreline which you can also access through a boat ride.
Explore the state park a little further, and see its village's church and other structures. You can see establishments made of cypress wood that stood straight even after a wreck. Have a short detour at the park's Wash Woods Environmental Education Center and check how it has been converted to a hunt clubhouse over the years.
Virginia Beach is a place where every 21 years old and below can enjoy the beautiful sandy beaches while exploring the other entertainment aspects of the city. It is full of great destinations and events centers where you can engage in artistic and health-related activities.
The list provided here offers you the best about the city. And in case we miss out on something, we are happy to include it on the list. Just comment below, and we will be delighted to hear from you!