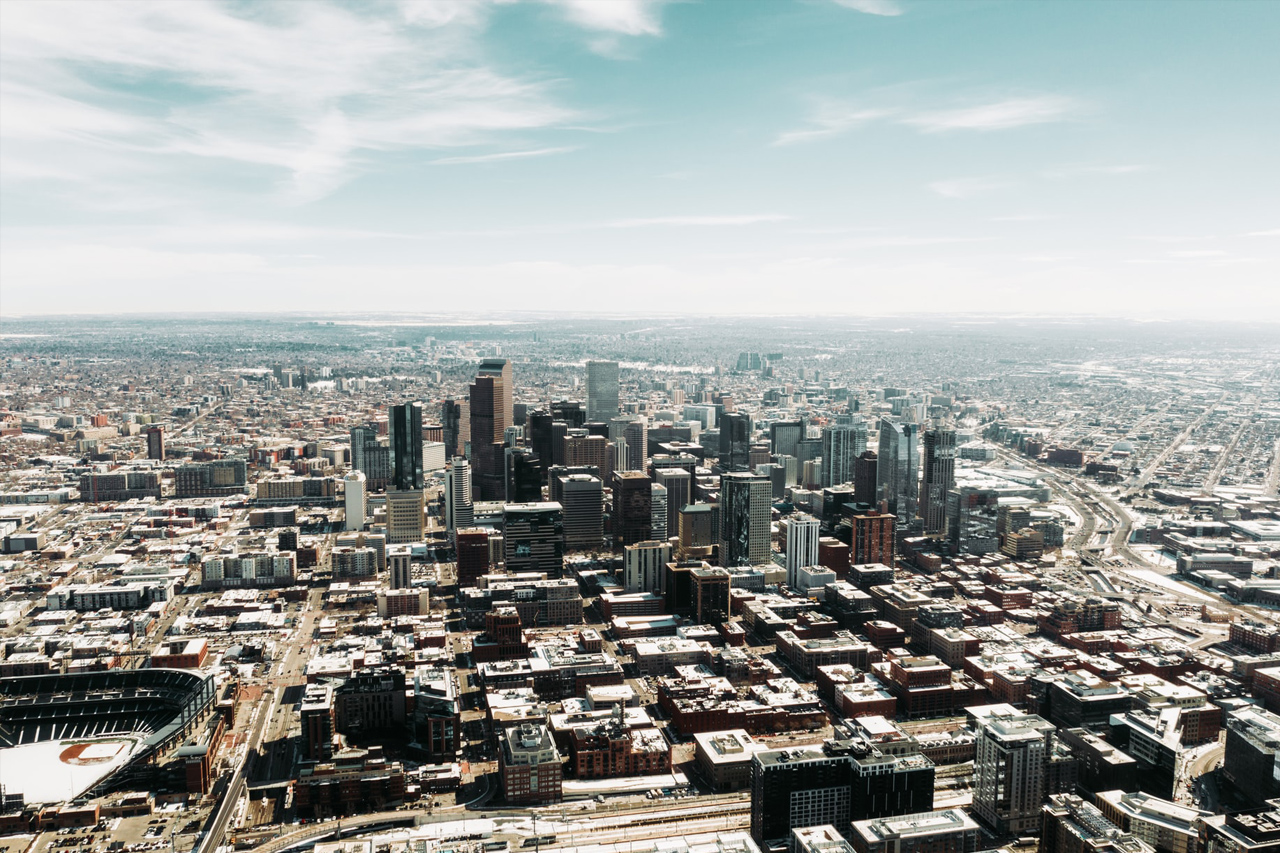 Sitting at the foothills of the Rocky Mountains is the city of Denver.
Denver is a city with significant firsts and iconic events that make it a great place to live in Colorado.
About 100 miles away, Katharine Lee Bates reached the top of Pikes Peak. It was here that she wrote America the Beautiful.
Denver is also a beautiful city.
When you move to Denver, Colorado, you will get a lot of advantages. One of the significant advantages is the weather.
Here, you will get big blue skies almost the whole year. It is also a city with several sporting events, galleries, and many cultural opportunities to experience.
Denver is a city with many artists, authors, and several other groups that find a lot of inspiration from the city.
Since 2010, hundreds of people have relocated to Denver. Those who moved to the city saw more positive reasons than negative.
Here, I will help you decide whether Denver is the city for you or not.
Read on to find out more.
Is Denver, CO, a good place to live in? The Mile High City
Denver is becoming one of the best places to live in the nation. If you are considering moving to Denver, you are in for a treat.
There are several advantages to living in Denver. However, for others, Denver can also be a disadvantage.
Here, I will talk about the benefits and drawbacks of living in Denver. Through this, I hope I can help you make an informed decision about whether you should move or not.
The Good Side
Of course, we have to start with the positive side of Denver.
Beautiful Neighborhoods
One of the most apparent reasons Denver is a beautiful place is its neighborhoods.
The city is home to several great neighborhoods that are available for you. It has communities and areas for everyone.
It does not matter what your price range is. There will always be something for you.
Denver is home to the country's highest-ranked neighborhoods. These neighborhoods scored high in livability scores and safety.
There are different types of neighborhoods in Denver.
Homes also come in wide varieties, including Queen Anne-style mansions and brick bungalows.
There are also furnished apartments and ranch homes. Denver is even home to some Tudor-style homes.
Aside from these, you can also find single-family homes, condominiums, and townhouses in Denver.
To give you an idea, Platt Park, Hilltop, and Virginia Village are some of Denver's best neighborhoods.
Check these neighborhoods out.
And if the homes here are not to your liking, there will always be hundreds of more neighborhoods that are available.
The Four Seasons
Another advantage to moving to Denver is the four seasons.
I am talking about the weather here, which is always fantastic.
In Denver, you can experience summer, spring, fall, and winter. Only a few rare cities in the country have this advantage.
The summers in Denver are not too hot. The winters are mild. You will also realize that springs and falls here are perfect.
A City of Adventure
If you love the outdoors, Denver is perfect for you.
The city is home to several options for an adventurous lifestyle. And no, I do not mean only skiing and hiking.
You can ski or hike in Denver. However, aside from these two popular activities, there are more.
Recent studies show that most of the population of Denver consider themselves active and adventurous.
Naturally so, because in Denver, you get more than just skiing or hiking. Here, you get to choose from a wide variety of water sports. There is jet skiing, water skiing, tubing, and even white-water rafting.
During summer, you can also get into mountain sports like backpacking, rock climbing, or mountain biking.
And for the more adventurous ones, you can also do some flying adventures. These activities include paragliding, skydiving, hang-gliding, and zip-lining.
Aside from the activities mentioned, Denver is also home to about 300 miles of paved biking trails. The bike-sharing network of the city is also impressive.
A Great Getaway
If the activities mentioned above are not to your liking, you can always drive to a nearby city.
In Denver, you will always live close to Grand Junction, Breckenridge, and Beaver Creek.
Denver is also close to other places like Vail, Winter Park, and the Arapahoe Basin. Crested Butte is also a few hours away from the city.
What does this mean?
It implies that you will never be short on options. If you do not find it in Denver, you will always find it close enough.
Cool Schools
The schools in Denver constantly receive high overall scores.
The average overall scores usually amount to about 99.76 out of 100.
D'Evelyn Junior and Senior High School see a graduation rate of 99% every year. It also scores high in college preparedness.
You can check out the Cherry Creek School District to look at your best options. The district has some of the very best in Colorado.
Incredible Dining Experience
To talk about Denver without mentioning their food is a mortal sin.
I know the list will be incomplete without mentioning Denver's unique dining areas.
In Denver, you will always have diverse options of cuisines to choose from in this city.
Here, you can have your taste authentic Italian, Chinese, and Mexican cuisines. Of course, you can also find American food here.
Denver is home to many great restaurant chains. Aside from the famous chains, there are also beautiful local dining places.
You can also try Kike's Red Tacos Tavernetta and El Five. These, and many more, are great dining options in Denver.
The Bad Side
Of course, there will always be a few things that should concern you in Denver.
Here, we will talk more about these things.
High Altitude Living
Denver is famous as the Mile High City.
The nickname is because of its location, about 6,280 feet above sea level.
If you live at such a high altitude, you might experience a few things.
The most common effect is on your skin and hair. To live at a high altitude means you sometimes get dry skin and dry hair.
Nose bleeding is also a common symptom, and so are mild headaches.
Over time, you get used to living at a high altitude. But as you adjust to high-altitude living, expect to experience a few of these things.
Also, living up there means you get a decreased oxygen level. Exercising at first will be difficult.
It's Windy Here
Another concern should be that Denver is a Windy City.
Colorado ranks high among the windiest states in the country. It shows especially when you live in Denver.
The average wind speed here can reach about 20mph. And this can be too much for those not used to windy environments.
What is the cost of living in Denver, CO? Expensive Housing but Cheaper Healthcare
Denver is an expensive city.
When you compare Denver with the national average, you will realize that it is 28.7% more expensive.
The Good Side
When it comes to costs, you will find that healthcare is cheaper in Denver than the national average.
The quality of healthcare here is high. Aside from the excellent quality, it is also cheaper than the national average.
As of this writing, Denver's healthcare costs are more affordable by 7.5% than the national average.
You will also find that the cost of utilities is cheaper. Utility costs are more affordable in Denver by 3.8% compared to the national average.
The Bad Side
One of the most expensive commodities in Denver is housing.
Housing costs in Denver are more expensive than the national average by 84.3%. It is even more costly than the average Colorado home.
Home costs here are higher than in most cities in the US. For example, the median home cost in most cities is US$291,700. In Denver, it is US$534,100.
Food and groceries are also more costly here. Compared to the national average, Denver's food and groceries are 1.9% more expensive.
I can also say the same about the city's transportation costs.
The cost of transportation in Denver is more expensive by 16.1% than the national average.
Overall, this puts Denver at a disadvantage. It is 28.7% higher than the national average, with housing costs being the culprit that pulls up the overall numbers.
Why work in Denver, CO? A City for Young Professionals
Working in Denver has its pros and cons. It is a city for primarily young people. The ideas here are fresh. The air at work is always open-minded. Plus, the city has a thriving and promising economy.
The Good Side
There are many advantages to working in Denver. And here, we will tackle each of them.
A Young City
I should say Denver is a city of the millennials.
About two-thirds of the population of Denver is under the age of 44.
Working here creates an air of open-mindedness, especially at work. The ideas are always fresh and adventurous.
And because of the workforce composition, you will find that workplaces in Denver appreciate work-life balance more.
Here, we see a fast-paced work environment that thrives on creativity and open-mindedness.
A Booming Economy
The economic standing of Denver is booming.
More and more significant businesses are putting their headquarters here. These companies include Century Link, Kaiser Permanente, and Wells Fargo. A few other giants are also building their offices here.
The agriculture, aerospace, and technology sectors are doing well in Denver. These are the industries that provide more jobs to their residents.
Also, I should mention that the median individual income in Denver is higher than the national average by about 25%.
Over the past few years, Colorado has always had a surplus of jobs. The same is true when it comes to Denver. There had been concerns before of businesses being unable to provide sufficient staffing to work.
That means there are more jobs than job seekers here,
Denver is the perfect place to be if you are looking for a job. The growing economy continues to support the residents and those who move to Denver.
Taxes
The income tax rates in Denver are at 4.63%. The grocery rates are also 4% lower compared to the national average.
Compared to other big cities like NYC, San Francisco, Washington, and Seattle, Denver has lower taxes.
Yes, the cost of living here may be higher. However, when it comes to taxes, Denver takes a reasonable amount from your income than other bigger cities.
The Bad Side
There are a few concerning things in Denver. These are those you have to know before you move.
Let me tell you more about them.
The Worsening Traffic
As days go by, the traffic situation in Denver becomes worse.
You will not get any break from it at all.
The main roads are always packed on weekdays.
The same is true even on weekends.
The traffic situation in Denver is not good at all. This issue is what the city government should look into in the coming years.
The Transport System
Moving to Denver, you must consider getting your car.
The public transportation system in Denver is decent. However, it is not the best there is.
Most of the residents in the city have cars. And this is the reason why there is a worsening traffic situation in the city.
One of the things about public transport is it is not extensive. It is also expensive.
It can take you to certain places. However, it has limitations. Public transport is only good if you are living in the city center. If you live outside Denver's city center, you must have a car.
In recent years, the public transportation system in Denver is seeing developments. However, the developments are not enough for it to be the best for now.
—-
Denver is a great city in Colorado.
It has all the amenities you need in a big city. Plus, it has all the activities you could appreciate.
In Denver, you will never run out of things to do.
You only have to deal with living at a high altitude. Also, the worsening traffic is something you have to consider.
If you get past these hurdles, Denver is perfect.
Are you moving to Denver soon?
Let me know.