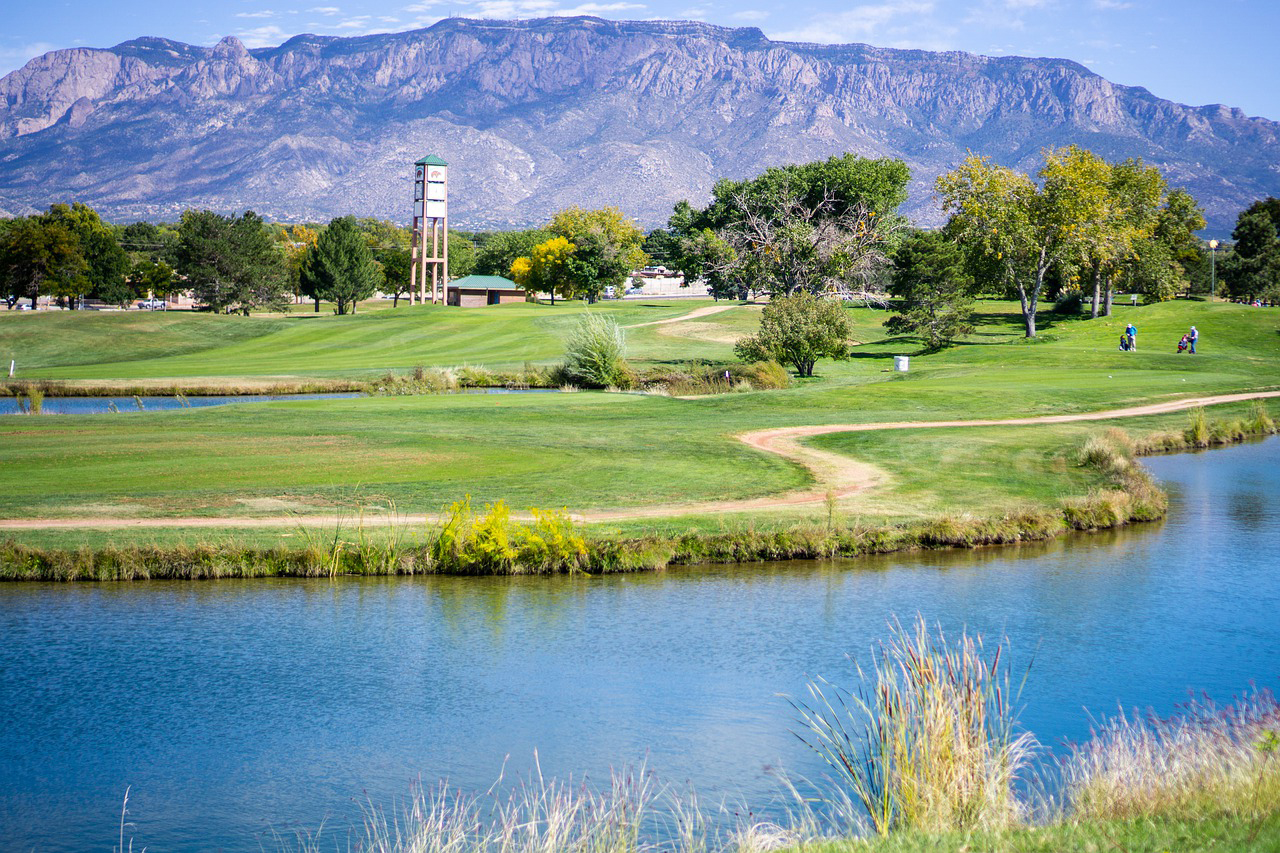 Albuquerque (ABQ), the state capital of New Mexico, is located in the high desert. Its contemporary Downtown center contrasts with Old Town Albuquerque, which dates back to the city's establishment as a Spanish colony in 1706.
The Old Town district is densely packed with old adobe structures, including the San Felipe de Neri Church, five museums, and stores offering Native American goods, making it ideal for anyone under 21 looking for thrilling activities.
When you visit Albuquerque, New Mexico, you get a sense of the Southwest's wide cultural and natural variety. Apart from the Old Town, you'll soon realize that Albuquerque has a lot more to offer
Are you planning a trip to Albuquerque and wondering what to see and do? We'll take care of you! We have a list of the best things for people under 21 to do in this city.
1. Albuquerque International Balloon Fiesta
The Albuquerque Balloon Fiesta is the world's biggest hot air ballooning festival and the most photographed event globally! It takes place in October and attracts hundreds of balloonists and thousands of visitors worldwide for nine days of magnificent hot air ballooning activities.
Several events will occur throughout the festival, including the mass ascension of hundreds of balloons, gas balloon racing, balloon glows, and balloon contests.
Every morning, over 600 brilliantly colored balloons soar from the 78-acre Balloon Fiesta Park in northern Albuquerque, filling the sky for a week. Soon before daybreak, the mass launch is followed by the "Balloon Glows," where the balloons are lighted against the night sky.
After you've had your fill of ABQ's hot air balloons during the International Balloon Fiesta, don't miss out on the rest of New Mexico. It includes visits to Santa Fe, one of New Mexico's most culturally and artistically diverse cities, and Taos, home to a gorgeous historic Pueblo and a diverse collection of native artists.
2. New Mexico State Fair
The New Mexico State Fair typically takes place at Expo New Mexico in September.
It offers a variety of enjoyable activities! There are plenty of musical performances, rodeo activities, activity booths, and information booths.
There's also fantastic cuisine and festivities to anticipate. The menu items are Turkey legs, corn on the cob, and other delicious delicacies. At the food stalls, there are options for everyone in the family! BBQ stands, dessert stalls, and hot dog stands are all available.
The interesting fact about the food kiosks: you can buy a cup of lemonade and receive a fresh cup of lemonade every day. Always keep an eye out for unique, low-cost items and special food bargains!
The carnival is one of the New Mexico State Fair's primary events. Don't miss the thrilling carnival roller coaster rides, cotton candy, and skill-testing games. Each ride is enjoyable, and each New Mexico State Fair has a Ferris Wheel that provides a spectacular perspective of the Albuquerque region.
At the New Mexico State Fair, you have the chance to ride a couple of attractions and pause to observe the current events.
3. Explora Science Center & Children's Museum
In the heart of Albuquerque's Old Town, Explora is a cutting-edge interactive learning institution. From the outset, Explora has been a confluence of brilliant ideas.
It all began in 1983 with two independent groups with similar goals: one wanted to create a "Children's Exploratorium," while the other wanted to develop a "Science and Technology Exploratorium."
Over 250 exhibit science, technology, and art activities allow you and your friends to study together. Adult Night, which includes Explora at-home kit, is one of the events for adults appropriately for people under 21.
Don't miss the semester-long and seasonal camps and exciting educational activities like Family Science Nights and the Youth Intern Program throughout the community to maximize your experience here. You can also invite your teachers to participate in educator seminars and professional development opportunities.
4. The Historic El Rey Theater
El Rey Theater, which opened in 1941, has gone through various building and use transformations and has been renamed several times. This theater has established a strong presence in Albuquerque's entertainment scene, putting on multiple events. Another reason for the attraction of this location among residents is its history.
This theater offers unique music venues that provide the trendiest gatherings and most remarkable encounters. The facilities offer cutting-edge, next-level, spectacular events ranging from private concerts to corporate meetings.
It does not end there; you (or your family or friends) can rent this location for any special event.
This site, used to shoot the movie 21 Grams, is ideal for a wedding or a conference. So if you have friends who are going to be married soon, you can refer this place to them.
5. ABQ BioPark
The ABQ BioPark, nestled along the Rio Grande River just southeast of Old Town, is a must-see for anybody looking for a peaceful day outdoors.
An aquarium, a botanic garden, a zoo, and Tingley Beach are all located inside this sprawling park. The aquarium's 285,000-gallon shark tank is a big draw with youngsters or people under 21, and the zoo's 200-plus species (including snow leopards, kangaroos, and polar bears) will keep you entertained.
Don't forget to spend a day seeing the 36-acre botanic garden, which offers several exotic plant species, carefully groomed grounds, and calm strolling trails if you're not interested in the animal world. During a summer vacation to Tingley Beach, you can also take advantage of the many hiking, biking, and fishing options.
6. Indian Pueblo Cultural Center
The Indian Pueblo Cultural Center is a gateway to New Mexico's 19 Pueblos. This museum has both permanent and temporary displays of Pueblo culture from the beginning to the present.
A long day at the Indian Pueblo Cultural Center is unforgettable, and there are various yearly events, concerts, and exhibits here. For a memorable and intimate experience, see their gallery of Pueblo artists' murals. Discover the Pueblo people's heritage of resilience via their own words and voices in the exhibit "We Are of This Place: The Pueblo Story."
The center hosts a significant event to reclaim Columbus Day every year. The day starts with a morning prayer and continues with live art displays, merchants, traditional Native dances, and a celebration of indigenous people and their ancestors.
The Indian Pueblo Cultural Center's most outstanding event that you should not miss is American Indian Week, a celebration of Native American art, culture, and food in all forms.
Expect traditional dances throughout the day, with Native American art specialists offering seminars and unique artwork for sale in the afternoon. The courtyard changes into a lively marketplace brimming with ceramics, jewelry, paintings, and more on the second weekend!
7. Seasons Rotisserie & Grill
Seasons Grill Old Town has built a basic, American style of cuisine centered on the finest and freshest ingredients. It has created a remarkable dining experience by combining a casually sophisticated dining room with the thrill of an open display kitchen.
The kitchen is at the heart of a restaurant's operation. Diners are brought inside the high-energy world of a restaurant kitchen in action when they visit Seasons' open kitchen. A wood-burning barbecue and rotisserie serve as the focal point.
The ambiance formed by the counter seating gives a dramatic perspective of the culinary action, and the atmosphere established throughout the restaurant emits an infectious enthusiasm. The dining area is decorated in warm terracotta and ocher tones, with natural wood finishes and handcrafted light fittings.
Simple meals created with incredibly fresh ingredients are the core of The Seasons' menu. Don't miss the classics like rotisserie roasted prime rib, grilled center-cut beef sirloin, and oak-fired jumbo sea scallops that benefit from the warm, smokey tastes of the wood-burning grill give.
8. Sandia Peak Tramway
The Sandia Peak Tramway, located on the outskirts of Albuquerque, is the world's second-longest tramway. The tramway's path climbs almost 4,000 feet up Sandia Peak, providing spectacular views of the surrounding landscape. There's always something fresh to view on the tramway, from snow-covered hills to lush green woods, no matter what season you go.
Even though the tram journey is just around 15 minutes in one direction, there is enough to do once you arrive. After your lovely excursion, you can dine and drink at the tramway's top and bottom restaurants.
Don't forget to visit the Sandia Peak Ski Area, which is open in the winter, while its numerous adjacent hiking routes are available in the summer. In the evening, New Mexico offers spectacular sunsets, followed by the captivating spectacle of flashing city lights.
9. Petroglyph National Monument
Petroglyph National Monument preserves one of North America's greatest petroglyph sites, with patterns and symbols cut into volcanic rocks about 400 to 700 years ago by Native Americans and Spanish migrants.
While you're here, take advantage of the park's many hiking paths. The Rinconada Canyon Trail is a popular tourist attraction because it provides vistas of more than 300 distinct petroglyphs. There will be several glimpses of the old artwork as you journey along these trails.
Another wonderful trek is the Piedras Marcadas Canyon! Its short length and low to moderate difficulty level make it an excellent choice for hikers of all ages and abilities. Other day-use sites have hiking trails, beautiful vistas, and even the Petroglyph National Monument Volcanoes.
After a day of seeing one of Albuquerque's most fascinating historic sites, relax at one of the city's most luxurious and convenient lodgings. The Bottger Mansion in Old Town is a landmark Albuquerque bed & breakfast with magnificent accommodations, excellent facilities, and a warm welcome. If you have the money to use, don't miss this luxurious experience.
10. National Museum Of Nuclear Science & History
The National Museum of Nuclear Science and History aims to highlight the varied uses of nuclear science in the past, present, and future for individuals interested in learning more about the narrative of the Atomic Age. There is something for everyone to know about atomic theory, atomic pioneers, the complexity of World War II, and modern-day breakthroughs in nuclear medicine.
You can explore the museum and get a vivid grasp of nuclear science and history through temporary and permanent exhibitions. The museum has exhibits and educational activities that highlight the range of people and events that have shaped the atomic era.
Don't miss the "Dark Cube: Heisenberg's Race for the Weapon," which concentrates on a thick, two-inch charcoal-black cube made entirely of pure uranium metal. It is a metal that Nazi scientists hung with 663 other similar cubes during World War II in a bid to build the world's first atomic weapon.
11. The Turquoise Museum
The Turquoise Museum, open since 1993, is an excellent venue to learn about turquoise mining and production history. The museum includes a wealth of information about the country's top turquoise mines, how to distinguish between various varieties of turquoise, how to discern fake turquoise from genuine turquoise, the history of turquoise, and much more.
You will love the 90-minute guided tours, where you will learn a lot of helpful information and see an extensive collection of turquoise. You'll also appreciate learning about the family's long gemstone mining and research history. There's a souvenir shop and a lapidary shop on-site, too, where you can see how artists polish turquoise.
The museum is a block away from the San Felipe de Neri Church in downtown Albuquerque. San Felipe de Neri Church is also a must-see while visiting the museum, even if you are not religious. Visitors praised its serene environment and well-preserved interiors and architecture.
This guide to the top things to do in Albuquerque if you're under 21 can help you plan your trip. Those are a few excellent ones to get you started!
We hope that you find this post helpful. Is there anything else you'd want to mention? Let us know what exciting you discovered in Albuquerque by commenting below.