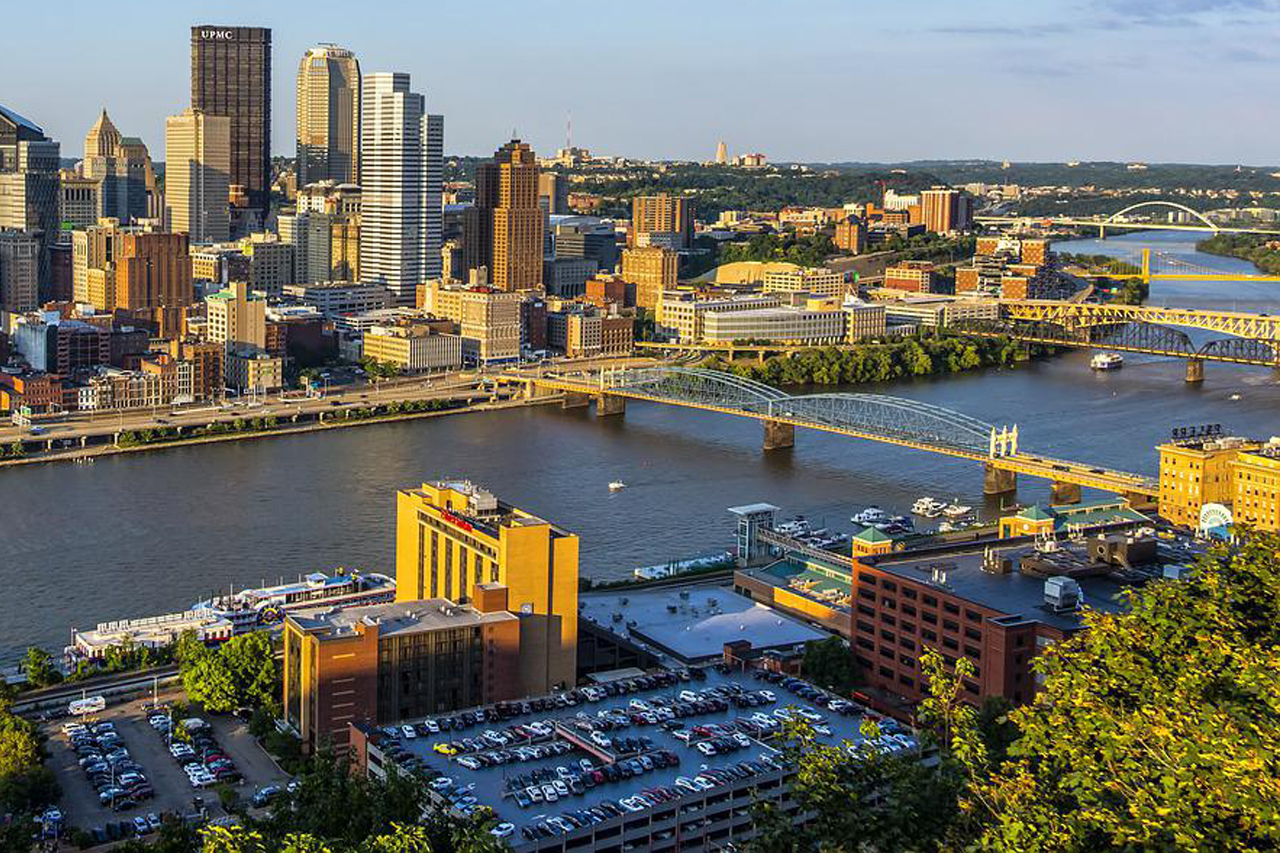 Pittsburgh is a small and beautiful city. It thrives and always has a special place in many people's hearts.
Most of the residents have been living in Pittsburgh since they were young. Others moved here for university and eventually worked in the city after graduating.
It doesn't matter what brought people to Pittsburgh.
As soon as they come here, they always find a reason to fall in love with the city.
Are you thinking of moving to Pittsburgh?
You must read everything you can about the city. Immerse yourself in the pros and cons of living here.
And if you can only see yourself living here after reading, go ahead and move.
I'll go through Pittsburgh, Pennsylvania's benefits and drawbacks of living here.
After reading the article, I hope you can make an informed decision before moving.
Good luck!
Is Pittsburgh, PA, a good place to live in? Most Tech Savvy City in America
Pittsburgh, PA, is famous for its steel industry.
Over the years, it shed its reputation and transformed into one of the most tech-savvy cities in the United States.
It is no wonder that Google, Uber, and Apple have their technology centers here. Also, Pittsburgh is on top of the list regarding innovations in green energy.
One of the best huge cities for living in is this one. The city is also home to a diverse population, beautiful neighborhoods, and several attractions.
Overall, living in the city is fantastic.
And here are the reasons why.
The Good Side
There are tons good reasons why one must move to Pittsburgh.
Here are a few significant points to consider.
The Quality of Education
If you are moving with your kids, I have good news.
The quality of education in Pittsburgh is top-notch.
Pittsburgh is a city with about 75 public schools. And this number can be overwhelming. What is more impressive is these schools have at least a B rating.
If you are moving with your kids to Pittsburgh, there will always be schools that can stimulate their brains well.
A City of Sports
Pittsburgh is a city that has sports in its veins.
It is a paradise for sports fans.
Here, residents can watch professional hockey games. There are also football and baseball games here.
If you are a sports fan, you will love living in Pittsburgh.
A professional game is always a minute away from your place.
A City of Rich Culture
One of the many advantages of living in Pittsburgh is the availability of many activities for your entertainment.
Aside from the activities, the city is also rich in culture.
If you love a city that is rich in culture, Pittsburgh will always have a place in your heart.
For example, The Benedum Center and the Heinz Hall of Performing Arts are in this city. You can always get your dose of musical and theater performances in these two locations on any ordinary night.
And if you love museums, you will also like them here.
Pittsburgh has a wide array of museums that you can visit. The Andy Warhol Museum and the Carnegie Museum of Art are some of the most famous.
Both of these places are magnets to thousands of tourists every year.
A Small City with Big Activities
Pittsburgh is a small city.
Now, this should come as a disadvantage to some people who love bigger metros.
However, if you are the type of person who dislikes dirty subways and overpriced housing and rental costs, the city is for you.
Pittsburgh is a small city where dirty subways are inexistent. The housing and rental costs are also lower than in most major cities.
The city has a fine arts scene where you can enjoy a night out. The Steel City Improv Theater and the Pittsburgh Ballet Theatre are two of the most prominent areas you can visit.
Plus, there is an ice rink at PPG Place. You can also drop by PNC Park or Heinz Field on a lazy weekend afternoon.
No matter where you look, Pittsburgh has a lot to offer. And, advantageously, these attractions lie minutes away from each other.
A Livable City
Recent reports show that Pittsburgh, PA, is one of the best cities for you.
Thousands come here to retire.
Over the last few years, the city enjoyed a healthy job market. It also has affordable housing options.
The residents, also known as Yinzers, enjoy a high quality of life. There is always some physical activity you can participate in here.
The city also has amenities that make a living here comfortable and convenient.
The Bad Side
Now, not everything in Pittsburgh is good.
There will always be a few things you must take note of before moving.
Are you ready to discover its major turn-offs?
Read on to find out.
Bad Weather
It is typical for you to consider the weather while choosing a place to call home. How pleasant is the weather in this new city?
This factor is important because the weather will always impact your emotional state.
When it is sunny, you will always have the urge to experience life.
Cold and gray weather can result in a gloomy mood.
In Pittsburgh, it is the latter. The weather is always cold. The atmosphere is that of gloom.
The weather here is always bad.
Let me explain more of this.
The city barely gets sunny weather.
And so, that urge to be out and experience life is always out of the window. You might as well forget about it.
Let me tell you that it always rains here. Pittsburgh may even be getting more rain than Seattle or any other city.
The cold is worse than anything.
The city can be too cold, especially during winter.
There may be a lot of activities available, but will the weather cooperate?
What is the cost of living in Pittsburgh, PA? A City with Cheaper Healthcare
The cost of living in Pittsburgh is an advantage if you want to move here.
The city is cheaper by about 12.5% than the national average. The overall cost of living alone is enough reason to move here.
The Good Side
There are several good reasons why you should move to Pittsburgh.
The cost of housing is one of them.
Of course, before you move to another city, you will always look at how expensive or affordable housing is. Housing costs always take out a massive slice of your monthly budget.
Fortunately, housing in Pittsburgh is affordable.
Compared to the national average, it is 38% cheaper here when it comes to housing costs. It is even more affordable than the average housing cost in Pennsylvania.
The median home cost in Pittsburgh is US$218,400. This amount is relatively lower than the national average of US$291,700.
You will also realize that the cost of healthcare is cheaper in Pittsburgh.
Compared to the national average, healthcare is 14.3% more affordable here.
The Bad Side
Not all of these commodities can be bad.
When looking at costs, it always depends on your consumption.
For example, the food and groceries in Pittsburgh are 1% more expensive than the national average.
However, if your food consumption is not that much, you will find that food and groceries will not hamper your budget.
However, for this discussion, food and groceries are more expensive in Pittsburgh than the national average.
The same is consistent regarding the costs of utilities and transportation.
Utility costs in Pittsburgh are 2.3% higher than the national average. It's also interesting to note that the highest expenditures around here are related to transportation.
It sits at 5.5% above the national average.
The commodity includes the cost of taking a taxi, public transportation, and even gas.
Why work in Pittsburgh, PA? Strong Tech Industry
One of the primary reasons why you should work in Pittsburgh is the affordable cost of living. It is livable and a perfect destination, primarily if you work in technology.
The Good Side
There are several good reasons why working in Pittsburgh will do you good.
Here are a few of them.
It Is Cheaper in Pittsburgh
As you already know, the overall cost of living in Pittsburgh is cheaper than the national average.
It is an outstanding achievement, especially since the city is the second largest in the state. You would expect that homes and other commodities here are expensive. But no, they are not.
And this is an advantage because your monthly paycheck will go a long, long way.
Instead of spending so much of your budget on other commodities, you can put the extra money in your savings account. Or you can even invest them and put the extra money to good use.
Now, that's a brighter future for you!
A Booming Technology Industry
Pittsburgh maintained its image as a technology hub. It is one of the rising technology hubs in the country. You will find that most of those that work in the technology sector go here to find work.
Google, Intel, Facebook, Apple Inc., and RAND have their presence maintained here in Pittsburgh.
There are also organizations here that can develop significant innovations. Such organizations include the Pittsburgh Technology Center. Pittsburgh LAN Coalition and the Pittsburgh Supercomputing Center.
Aside from these companies and organizations, the city is also home to Argo AI, Guru.com, Songwhale, Petrosoft, and Modcloth.
There are also global headquarters that you will find here.
Jobs, Jobs, and More Jobs!
Now, you already know that most giants in the technology industry make their presence known in Pittsburgh.
These companies are here because they believe in the city's economic standing.
And because of their presence in Pittsburgh, the benefit trickles down to the city residents.
These companies generate jobs. And because there are jobs, we see a decrease in unemployment rates in the city.
It will always be an advantage for you if you are in the technology sector and you come to work here. Rest assured, you will never run out of jobs in Pittsburgh.
And if you are not from the technology sector, there will also be jobs here.
If you can remember, several schools call Pittsburgh home. If you are in the education sector, you can find a job here, too.
The Bad Side
Now that we are discussing the advantages of working in Pittsburgh let's talk about something else.
This factor is lurking behind the shadows. See if this could change your mind.
High-Income Taxes
I have bad news for you.
Income taxes in Pittsburgh are higher than in other cities in the country.
Income taxes can amount to as much as 3%. And yes, this tax rate should bother you, especially if you are considering moving to Pittsburgh for work.
Imagine that 3% of your earnings would go somewhere else. Instead of allocating the 3% to other essential aspects of your budget, it goes down as income taxes.
When you compare the state with other states like Texas, this is a significant disadvantage. Texas does not collect income taxes from its residents. Pennsylvania (and Pittsburgh) does.
—
Pittsburgh is a city of many opportunities.
It has museums, delicious food, and many other amenities that would benefit you if you come to work here.
However, there is an issue with the city's cold weather and the high-income taxes. Would you be able to get past these challenges?
If these two factors do not deter you, then Pittsburgh is perfect.
It is a smaller city compared to the others.
It has a low cost of living. It is also a more livable city.
After reading this article, would you move to Pittsburgh?
Let me know.