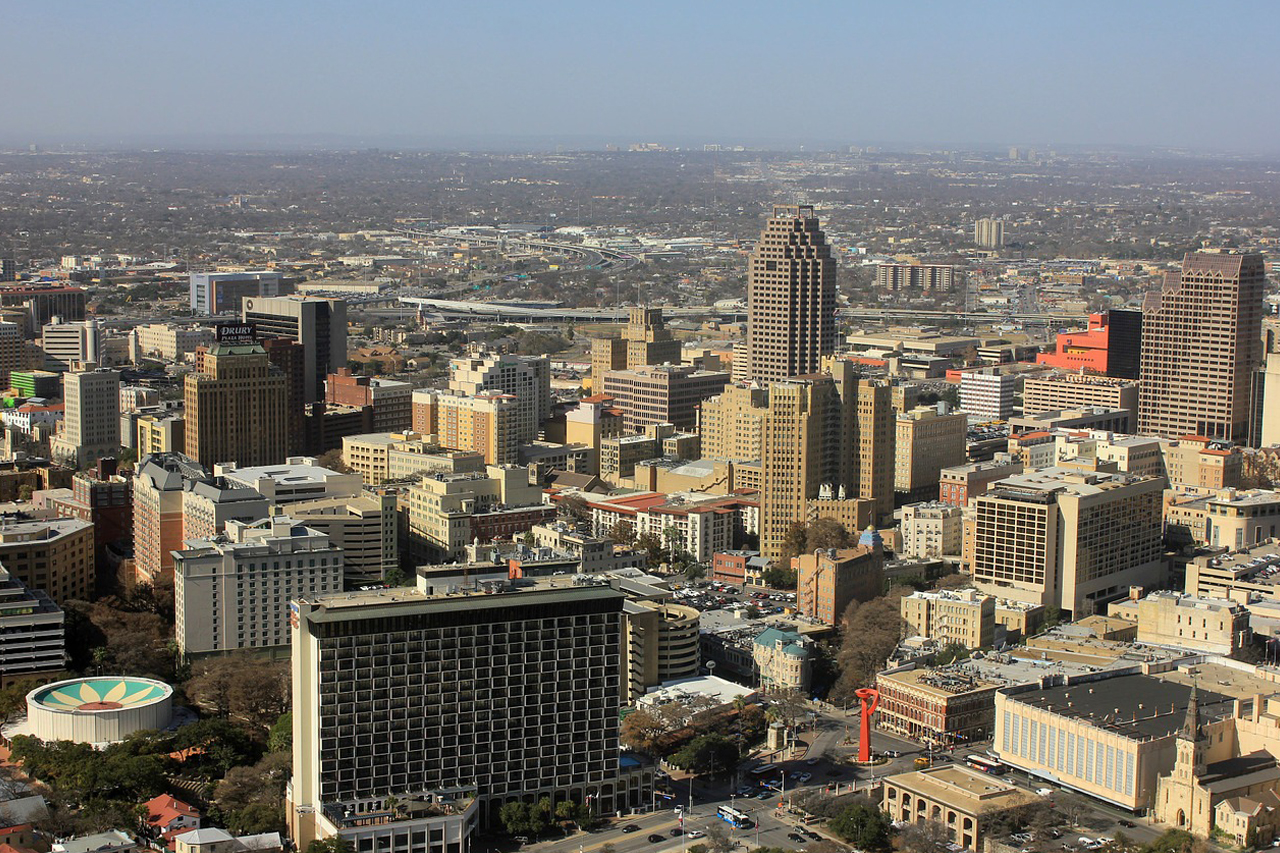 San Antonio, Texas, is a significant Southern metropolis in the United States that positioned itself as a top tourism destination.
The metroplex is known for its Hispanic culture and Spanish colonial activities, evidenced by the hotspots you may visit here if you want a short holiday.
Along with its 504.64 square miles of land, it is home to Texas's distinct landmarks like the Alamo and River Walk. Also, it houses fantastic historical districts, entertainment venues, food options, and recreational locations that you may not realize are easily accessible without a car.
However, there are a handful of zones, activities, and things to do here, and visiting them would take more than a day. Thus, we handpicked a list of the +12 best things to do in the city that will make you love it even more.
1. San Antonio – The Saga
If you want to view a free and stunning sight in town, go to the renowned San Antonio – The Saga. This one-of-a-kind light performance and video art projection by international artist Xavier de Richemont deserves recognition.
The Saga projection encompasses 7,000 square feet of light, color, and audiovisual narrative cast onto the magnificent façade of San Fernando Cathedral, the country's oldest cathedral.
This light show is a must-see for everyone, including residents, Texans, and international visitors. Thousands of people flock to see the free 24-minute spectacle, and the venue is spacious enough to have a pleasant view from anywhere.
San Antonio – The Saga is my top recommendation for things to see in town, and it may also be a favorite site. So, do not miss seeing the greatest and the most charming display that is lovely and unusual.
2. Monster Mini Golf
The Monster Mini Golf is up for business if you seek a casual and enjoyable way to spend the day in San Antonio. Laser tag, mini-golf, arcade, virtual reality, laser maze, and arcade are the attractions available to visitors.
With their enhanced equipment, mazes, and games that you can enjoy for yourself or the entire family, your entertainment activity here becomes even better. Although the decor is a little eerie, it contributes to the zone's positive sentiments.
Monster Mini Golf has an indoor cafe named Stella that serves light refreshments if you become hungry before or after getting into the fun activities here. There are lite snacks like pretzels, hotdogs, sandwiches, and plenty of cool beverages to satisfy your hunger.
It is undoubtedly one of the top leisure zones in San Antonio and a must-see for everyone.
3. Morgan's Wonderland
Morgan's Wonderland is another entertaining and fascinating thing in San Antonio. It is a theme park for everyone, and one of its best features is that it embraces persons with disabilities.
This welcoming setting provides the happiest possible experience for its visitors. On April 10, 2010, Morgan's Wonderland opened as the world's first theme park dedicated to people with special needs.
I highly recommend starting with Pirate Island, then moving on to the Flutterby Theater and the Whirling Wonder. Then you can stroll the rest of the area.
If you get weary of wandering around, climb aboard the Wonderland Express and ride all over the 8-acre lake with your entire family in this 1930s-style train that departs from Sensory Village's depot.
This amusement park is perfect for spending a full day trip if you have a limited time in San Antonio and seek an all-in-one spot.
4. King William Historic District
The King William Historic District, on the southern part of downtown, is not only rich in historical treasures but also a great site to enjoy a magnificent view of historic structures and lush flora.
The district includes irrigated farmland that previously belonged to the Mission San Antonio de Valero, often known as the Alamo. The region has grown into a beautiful neighborhood of large, stately homes in the Greek Revival, Victorian, and Italianate styles. Just walking around this neighborhood gives me a pleasant feeling.
The Upper Mill Park, the King William River Walk, and the Johnson Street pedestrian bridge are among the additional attractions of the King William Historic District and the wealthy homes and buildings.
If you are looking for a classical place to see, the district is the best selection. It does not cost anything, plus this one is always open to the public.
5. AMF Ponderosa Lanes
The AMF Ponderosa Lanes facility is at 2118 Goliad Road. This entertainment location features a variety of bowling options and handcrafted beers, beverages, and American cuisine.
AMF Ponderosa Lanes is a subsidiary of Bowlero, a global bowling franchise that sees the potential to open a location in San Antonio.
The zone is ideal for everyone to come to play, have fun, and enjoy a unique dining option with various attractions. You will be amazed by the variety of arcade games available here, and you could easily spend an entire day exploring their facilities.
They have weekly and monthly deals on everything from food to discounted prices on their amenities, which you will undoubtedly enjoy. After playing, if you are hungry, they serve great meals ranging from traditional wings and oven-fired pizzas to unique drinks and locally brewed brews.
So come in, relax, and make the most of your trip by stopping at this downtown gem.
6. Hopscotch
San Antonio will never disappoint you with its unique facilities, including an immersive art gallery in the name of Hopscotch.
You may relate this to a similar pop-up zone in New York. However, this one is the most visited spot if you are in Texas. The exhibition of various art types here is a visual feast.
It opened in 2018 as a one-of-a-kind venue for both locals and visitors to admire art in a combination of ways while enjoying tasty drinks. When I visit San Antonio, I always try to swing by Hopscotch since it elevates your expectations of a gallery experience. The giant ball pit is one of the best things here too!
A public-facing lounge with a full bar, oversized patio, food truck, and gift store are all inside the 20,000 square-foot area. You can sip, unwind, and relish the beautiful surroundings in the middle of the city.
7. Boudro's on the River Walk
River Walk is among the top tourist destination in San Antonio that lures thousands of locals and tourists in a year. It also houses a handful of good restaurants named local favorites like the Boudro's.
Boudro's on the River Walk is the talk of the town because of its delicious menu offerings, which keep visitors returning for more. My favorite dishes to order at this Texan cafe are the tableside Fresh Guacamole, Blacked Prime Ribs, Lobster Tail, and Mesquite-Grilled Texas Quail.
Cocktails include the Lemon Drop Martini, Prickly Pear Margarita, and others. Boudro's also caters to parties of 1 to 20 individuals who can dine on a Rio San Antonio barge while cruising around the river bend.
The food here is premium and tasty, and it is no surprise that visitors, particularly those from out of town, dine here.
8. Carmen's De La Calle
One of the soundest things that you can also see in San Antonio is Carmen's De La Calle. This place is not your ordinary dining option, though, and here is why.
Carmen's Da La Calle is San Antonio's charming little tapas and wine bar. Operating for more than 20 years, it raises the standard for a pleasant night out for locals and visitors with an ever-changing worldwide menu and enthusiastic nights of flamenco dancers, jazz, or world music.
This location will provide great entertainment and delicacies, a terrific combination of different regional cuisines. When you feast here, you feel as if you have traveled worldwide.
They got the best Paellas, Baked Empanadas, Roasted Brussels Sprouts, and Tortilla Española tray. You surely can get unique entertainment while dining here at Carmen's.
9. Guenther House
San Antonio's Guenther House is another classic restaurant that you need to dine at whenever you are in town.
The owners then built the establishment in 1859, and this restaurant, museum, and gift shop first opened its doors in 1988. It serves an all-American breakfast that includes goods created with Pioneer Flour Mills components.
If you want to start your journey to San Antonio with a delicious brunch, this is the place to go. I appreciate this dining space because it has a cozy feel, as if you are eating a satisfying meal in your own home. It is no wonder that sightseers and even residents start their days here.
What a lovely zone inside to enjoy a hot chocolate with classic pancakes, Biscuits & Gravy, and Strawberry Sweet Cream Waffle in a historic courtyard overlooking the river.
So, make the most of your Texas vacation by visiting the Guenther House.
10. Ripley's Haunted Adventure
If you are looking for a great and creepy adventure without lurking too far from downtown, Ripley's Haunted Adventure San Antonio is easily accessible.
The establishment is one of San Antonio's most unusual spots, and it will spark your interest, as it did ours before we arrived.
Ripley's Haunted Adventure's multi-million-dollar haunted house takes haunted houses to the next level with actual performers and unique effects. It was terrifying, and if you have a weak heart, you should avoid entering this chamber.
Scares lurk around every corner of this eerie refurbished mansion, ready to "welcome" you. That shriek you hear is either yours or your family and friends.
If a frightening adventure is not your thing, there is a tomb raider 3D experience and the Guinness Museum within the venue. So, if you are courageous enough, get those tickets and be ready to scream.
11. Rosario's Mexican Cafe Y Cantina
If you ask locals where the best location in San Antonio to eat Tex-Mex cuisine is, they will answer you with Rosario's Mexican Cafe Y Cantina.
Since 1992, the restaurant has served a delicious southern meal to the entire community. They have two branches, one in the South Town at 910 Alamo Street and the other at 9715 San Pedro on the North Side. Both locations include live music to complement your dining experience.
Rosario's Mexican Cafe Y Cantina also has the most incredible salsa in town, which you can match with chips for an even better taste. The Puffy Taco Plate, Cheese Enchilada, and Guacamole & House-made Tostadas are other great items I recommend.
Give Rosario's a place on your roster where it belongs, and you will be shocked at how good they are.
12.La Villita Historic Arts Village
San Antonio never runs out of unique spots that make its creative side evident, and this one that we will get to tour is the La Villita Historic Arts Village.
La Villita presently occupies one artsy square block in the heart of downtown San Antonio, on the southern bank of the iconic San Antonio River Walk.
The Artisan community is on the National Heritage list, with various architectural styles ranging from adobe structures to early Victorian and Texas vernacular limestone homes. It has a one-of-a-kind appearance that is certainly deserving as a backdrop in your photographs.
La Villita is now a cherished Artisan and Entrepreneur district, with over 25 stores and galleries showcasing local handmade goods and hosting over 200 events each year. Undoubtedly, you will get things to do here, from strolling around to eating out at La Villita Café and Guadalajara Grill, to sum up, your trip.
13. Thirsty Aztec
Thirsty Aztec is the go-to drink pop-up store in San Antonio's famous Riverwalk District.
The space has been open since 2017 and is San Antonio's newest hotspot, offering frozen cocktails and beer to go. There is an extensive range, and they combine great beverages to provide something for everyone to drink while visiting the River Walk.
We enjoyed icy cocktails, margaritas, micheladas, and ice-cold beer at Thirsty Aztec. They got Jello Shots, Pina Colada, and Mango Margarita too.
Apart from refreshments, the establishment has a mini-golf course too. This spot is ideal if you want to unwind and play for a while in the region. Because this is River Walk's only mini-golf course, it is regretful to let it pass. So, grab those cups, and yes, make sure to return them so you can have more.
May our handpicked list of the top things to do in San Antonio will persuade you to visit this other Southern Texas metropolis during your holiday. There are still a handful of reasons to visit this city and create lasting memories within the confines of this vibrant neighborhood.
It is always a pleasure to give you the best finds to complete your trip schedule. If you think we overlooked something or want to share your adventure, please feel free to leave your thoughts, and we will respond as soon as possible.
Thank you, everyone! See you on our next trip!