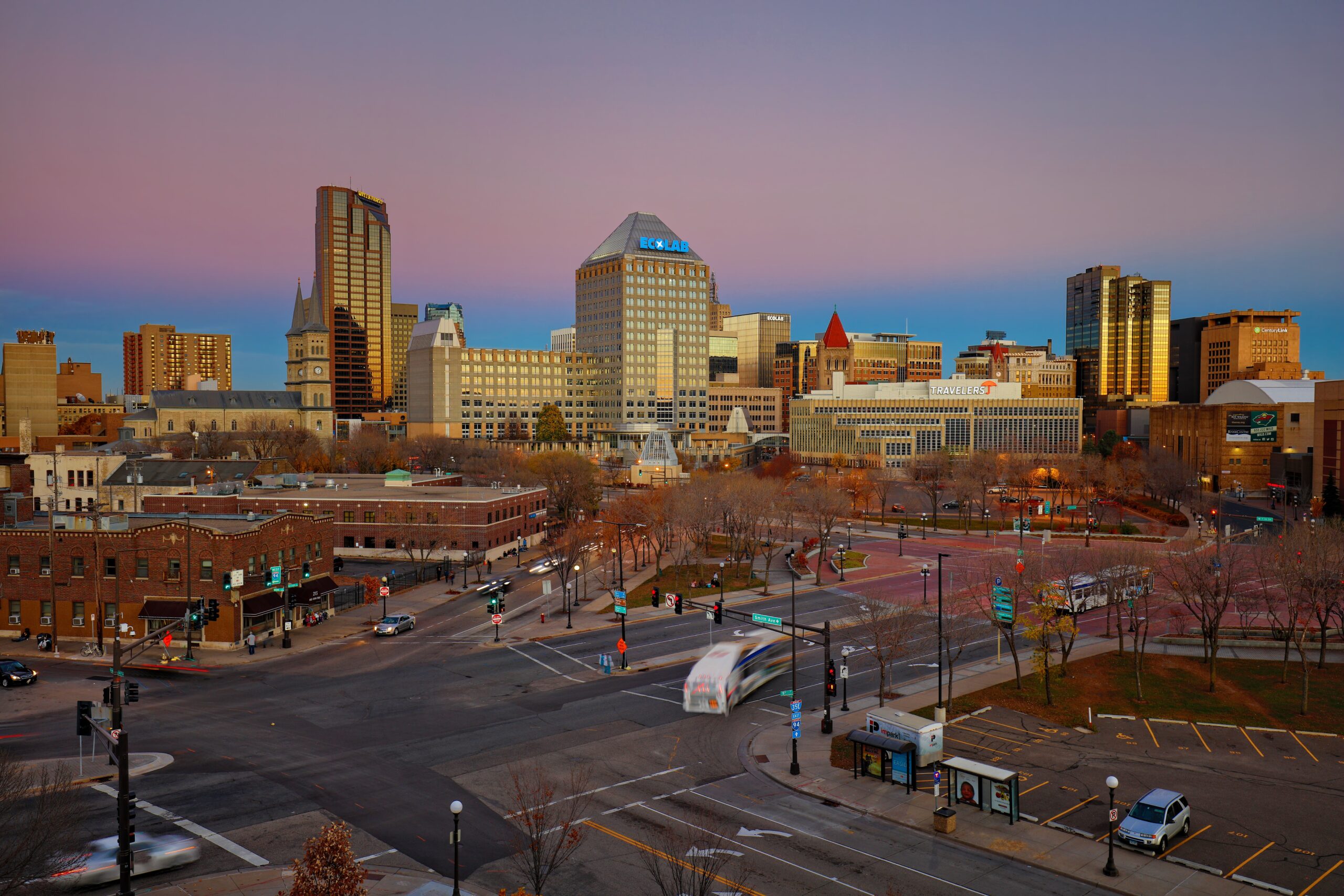 Environment-conscious transit, reasonable prices, and high living standards make St. Paul the best place to live. On the other hand, Anaheim is full of exciting places to discover, yet moving to this city can get tricky due to high living expenses.
Anaheim is a haven for families, singles, and young professionals. People flock to Orange County's center for various reasons, including the weather, municipal services, and high quality of life.
St. Paul, Minnesota, is a thriving and diverse city with a friendly Midwestern environment that attracts families, young professionals, and retirees alike.
If you are looking for a safe city with low costs and shorter summers, St. Paul is the place for you.
What are the Pros and Cons of Anaheim vs. St. Paul?
Anaheim offers many shopping options, sports teams, and entertaining events but few public transit options. Contrastingly, St. Paul experiences bitterly cold winters yet guarantee high-living standards and excellent school reputations.
Living in St. Paul
Pros
Environment-friendly transit

For St. Paulites, environmentally-friendly mobility is a top priority. Their Pedestrian Plan, which strives to protect and promote the safety and wellbeing of walking, has received almost 4,000 contributions.

Nice Ride bikes are also available for rent from the city. Bicycling and ridesharing are so popular that people carpool or bike to work more frequently than the national average.

The Green Line, a metro light rail that runs 24 hours a day between St. Paul and Minneapolis and has over 20 stations, is always open.

High living standards

St. Paul's cost of living and living standards are often higher than the national average, and people appear to value the higher standards apparent in excellent education, parks, well-maintained streets, and outstanding healthcare.

The city is also home to Gillette Children's Hospital, Regions Hospital, Bethesda Hospital, and St. Joseph's Hospital. In addition, the biggest hospital in the east metro, United Hospital, is also in St. Paul.

Families, career professionals, company owners, students, and retirees call the city home, with many opting for condominiums and single-family homes. Residents enjoy the river, lakes, footpaths, pubs, and restaurants, creating a sense of community.

Summit Avenue

Summit Avenue, the country's longest-surviving avenue of Victorian residences and structures, is in downtown St. Paul. The Boulevard has massive Gilded Age mansions, notably James J. Hill's 36,000-square-foot estate, once the richest man in Minnesota.

Festivals and fairs

St. Paul has a variety of festivals and fairs throughout the year, providing something for everyone's taste.

You can find artists, cuisine, and performances suggestive of a typical Asian night market at Little Mekong Night Market. You can enjoy Irish music, dance, cooking, and family activities at the Minnesota Irish Fair.

The Como Zoo and the Lantern Lighting Festival are two family-friendly attractions in St. Paul. Furthermore, the Como Town amusement park is ideal for children.

In addition, the mall's closeness to Bloomington, Minnesota's world-famous Mall of America, gives an extra chance for kids of all ages to enjoy shopping, dining, entertainment, and a themed amusement park.

Excellent school reputations

St. Paul's public school system is one of the largest in the state, and it has a good reputation among parents. It provides a head start program and early childcare services in addition to K-12 and recreational activities.

Universities and colleges in St. Paul include Concordia University, Northwestern University, Macalester College, Macalester College Bethel University, and St. Paul College.
Cons
Bitterly cold winters

Extreme weather is typical in St. Paul, especially during the winter.

Winter in the city is severely cold, with temperatures dropping below zero and wind chills making it feel much worse.

Blizzards, which may linger for days, are also typical. Driving might be hazardous until the roads are clean.

Fewer job options than Anaheim

St. Paul's significant businesses include retail, professional services, manufacturing, healthcare, food, hospitality, finance, and educational services.

Nevertheless, St. Paul has a higher rate than Anaheim's unemployment rate. Hence, the metropolis provides fewer job options to its residents than Anaheim.
Living in Anaheim
Pros
Shopping options

Apart from Disneyland, one of the best things to do in Anaheim is to get glam at South Coast Plaza. Because this isn't your average shopping mall—big-name designers and critically regarded eateries abound—you might want to see but not touch.

High-end evening dresses, fine artisan furnishings, Harry Winston jewelry, and Christian Louboutin heels with trademark red soles are available in South Coast Plaza. It's a taste of Rodeo Drive without the need to travel to Los Angeles.

Hockey and Baseball

Aside from Disneyland, one of the best things to do in Anaheim is to attend a professional hockey game or a big-league baseball game, depending on the time of year.

The Anaheim Ducks, the city's favorite hockey team, have wowed fans since its inception in 1993, based on the film The Mighty Ducks. Locals and visitors alike go to the Honda Center to cheer on the squad, dressed in orange, black, and gold.

If baseball is your sport, make time to see the Los Angeles Angels, an American League MLB team that plays in Anaheim and wears their characteristic red and white home jerseys.

Beaches and mountains

Anaheim residents are never far from a cool plunge in the Pacific Ocean.

Huntington Beach is one of the nearest coastal communities, with 3.5 miles of beautiful shoreline to explore.

Surf City, a half-hour drive south of Anaheim, has long been a favorite destination because of its gorgeous beach, great outdoor activities, and laid-back culture.

Its palm-tree-lined beach stretches for nine kilometers is terrific for lazing and excellent surfing. The city's famed pier juts out into the Pacific Ocean, with strolling, bicycling, and rollerblading available along the beach's boardwalk.

The coastal city boasts a plethora of beachside pubs and nightclubs to enjoy in addition to its sun-kissed sands and surf areas. Main Street is also home to some of the best boutiques and restaurants in the city.

The mountains aren't far away either. Pine forests, stunning waterfalls, and miles of great hiking paths may be found in the Santa Ana Mountains, just east of Anaheim.

Events

There is always something to do in Anaheim, thanks to the city's vibrant calendar of events held throughout the year at the city's several state-of-the-art venues.

The city's two major league sports teams, baseball and hockey are based at Angels Stadium and the Honda Center. Both venues host many popular events regularly.

Angel Stadium is about 10 minutes southeast of the city center. Its action-packed games make for a thrilling event at one of the league's oldest ballparks.

On the other hand, the Honda Center hosted Ariana Grande, Katy Perry, Imagine Dragons, and Maroon 5.

Lower unemployment rate than St. Paul

Anaheim is a tourism sector reliant metropolis. Despite the pandemic, the city has a lower unemployment rate than St. Paul. In comparison, Anaheim only has a 4.30% rate, while St. Paul had 4.90% as of December 2021.

With the pandemic almost over and more relaxed restrictions, Anaheim's economy might thrive more.
Cons
High-priced overall living costs

The living costs in St. Paul are lower compared to Anaheim. It is easier to move to St. Paul if you don't have enough savings to afford the high-priced living costs in Anaheim.

Housing costs are the greatest significant barrier to affordability in California, and Anaheim is no different. In Anaheim, where the average home costs over $500,000, living in an apartment is usually more enticing than buying a home.

Few public transit options

If you want to use public transportation to get around Anaheim, you may encounter some challenges. There are few public transit choices in the city.

It will also be challenging to move around without a car in Anaheim because it is a car-dependent city.

If you need to travel about quickly in the city, you should consider buying a car.
Anaheim or St. Paul – Which is cheaper?
The overall cost of living in St. Paul is 34.5% cheaper than Anaheim's. House prices are 63.2% less in St. Paul. Other expenses such as groceries, transportation, food, and health are more costly in Anaheim, excluding utility fees.
| | | |
| --- | --- | --- |
| Living expenses | Anaheim | St. Paul |
| Housing | 257.1% | 94.7% |
| Food & Groceries | 102.5% | 100.2% |
| Health | 95.9% | 78.9% |
| Utilities | 97.4% | 97.5% |
| Transportation | 118.0% | 109.6% |
Data is 100 = US National Average
> 100 means more expensive than the national average
< 100 means cheaper than the national average
Housing
Housing expenses in St. Paul are 63.2% less pricey than in Anaheim. St. Paul's total rent for one person is only $2,106.00 per month compared to Anaheim's $2,587.00.
Food & Groceries
Food and grocery prices in St. Paul are more affordable. A 1.5-liter water bottle in St. Paul is only $1.75, compared to $2.02 in Anaheim.
Health
Healthcare costs are more costly in Anaheim. St. Paul's doctor's visit price is 17.7% less than Anaheim's $108.
Utilities
Anaheim's utility fees are marginally cheaper compared to St. Paul's. A one-minute local prepaid mobile tariff is only $0.22 in Anaheim, whereas it costs slightly higher in St. Paul for $0.25.
Transportation
St. Pauls's transportation fees are lower than in Anaheim. A regular price for a monthly pass for public transportation is $67.50, only in St. Paul. Meanwhile, it costs $69.00 in Anaheim.
Is Anaheim bigger than St. Paul?
St. Paul has a higher unemployment rate, less dense population, a slightly more extensive land area than Anaheim's. Therefore, Anaheim has a better economy than St. Paul yet is more populated and has a smaller area size.
In terms of geographical area, St. Paul has 56.22 mi² with a 317,664 population. On the other hand, Anaheim has an area of 50.88 mi² with a 350,986 population.
The unemployment rate in Anaheim was 4.30% in December 2021. On the other hand, St. Paul has a higher unemployment rate (4.90%) than Anaheim.
As a result, St. Paul has a somewhat lower economic standing than Anaheim yet is less dense and more extensive.
Is St. Paul safer than Anaheim?
St. Paul has a lower crime index of 51.99 than Anaheim, which has a crime rating of 53.24. Although the safety scales in both cities are almost identical, St. Paul's score is higher. Thus, St. Paul is a safer option than Anaheim.
St. Paul has a favorable safety scale of 48.01, higher than Anaheim's safety scale of only 46.76. Hence, the crime index in Anaheim is higher than St. Paul's.
The crime count in both cities is almost similar. However, crimes such as drugs, corruption, and bribery are more prevalent in Anaheim.
Therefore, St. Paul is marginally safer than Anaheim.
Is Anaheim hotter than St. Paul?
Anaheim is hotter than St. Paul due to the city's higher peak temperature longer sunny days. St. Paul experiences 83°F, whereas Anaheim experiences 85°F. Hence, Anaheim is hotter than St. Paul.
The summer season in Saint Paul is hot and humid, while winters are cold, snowy, and windy, with the weather being partly gloomy throughout the year.
Throughout the year, temperatures usually vary from 9°F to 83°F, with temperatures seldom dropping below -10°F or going over 91°F.
Anaheim's winters are long, arduous, and bleak. Moreover, Summers in Anaheim are short, hot, and dry. Throughout the year, the temperature in Anaheim ranges from 46°F to 85°F. In addition, temperatures rarely drop below 39°F or rise above 94°F.
There are only 111 sunny days yearly in St. Paul, and the warm climate happens from mid-June to the end of August. In contrast, Anaheim's warm months are from mid-July to the end of October and have 280 average sunny days annually.
Hence, Anaheim is hotter than St. Paul.
Is Anaheim better than St. Paul?
St. Paul is a safer city that offers a cheap cost of living and a cooler climate. Anaheim has a lower unemployment rate than St. Paul but has high prices. Therefore, St. Paul is better than Anaheim.
St. Paul's huge advantages over Anaheim are its cooler temperature, cheap living costs, and safer community. The city also gives importance to its environment by using an environmentally friendly transit.
On the contrary, Anaheim's central location is fascinating with its proximity to neighboring mountains, beaches, and metropolia. Adventure activities are plentiful in Anaheim besides its Disneyland. The city boasts better job growth than St. Paul.
Despite these Anaheim's advantages, migrating to a city with no job and enough money will be troublesome. On top of that, Anaheim is less safe compared to its counterpart.
Therefore, St. Paul is better than Anaheim.
St. Paul versus Anaheim – Where do you consider moving? Let me know your thoughts below.