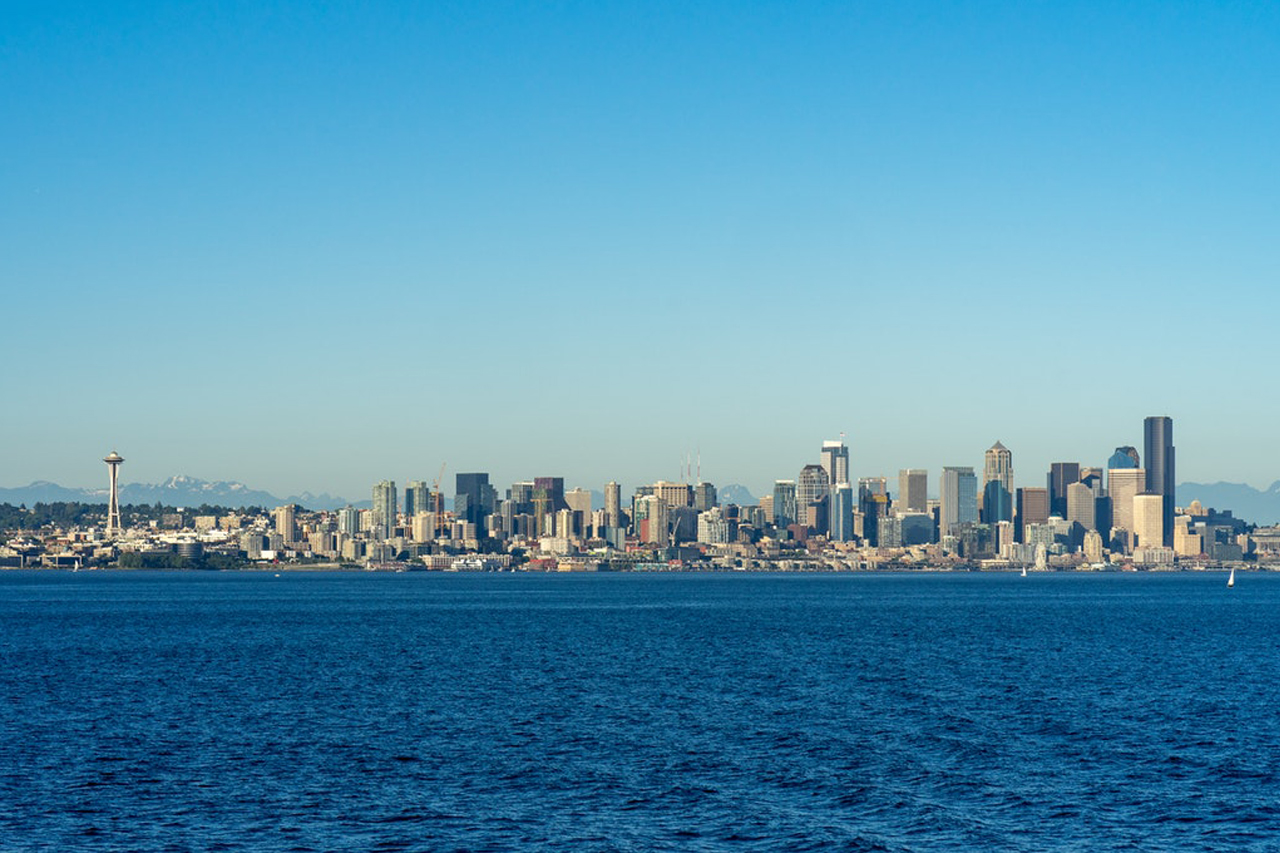 The City of Seattle, located on Puget Sound in the Pacific Northwest, is a central metropolitan area encircled by water, mountains, and evergreen forests. It has thousands of acres of parkland. Also, it's the state's most populous city and home to Microsoft and Amazon.
But do you know that you can enjoy its attractions without a car? Museums, parks, tours, and other exciting attractions are just a few things to see and do in this city.
Here are my 12 things to do in Seattle without a car.
1. Kerry Park
Kerry Park, which contains a children's play area and offers a great perspective of Seattle and Elliot Bay, is a favorite photographic site.
The park was adorable! It's tiny, but the views are spectacular. There's plenty of street parking in the vicinity, some even free! I believe most of them were genuinely free. It was also near a residential neighborhood, so many residences had excellent architectural work to be seen.
It was cold when I went (early May), so pack a heavy jacket because it can get windy. However, I'm sure the weather will change, so come on a good, clear day if you can. I arrived around sunset, so seeing the evening with the Seattle skyline was a wonderful experience.
If I were to show guests about Seattle, I believe this would be one of the stops on my itinerary. When I went, I liked how there weren't many people there and how you could shoot pictures. I also spotted some adorable dogs enjoying a tiny game of frisbee fetch.
2. Alki Beach
Alki Beach is a favored spot for folks who prefer relaxing and playing in the ocean, although the waters are usually too cold to swim in. Rollerblading, jogging, picnics, and watching the sunset are all popular activities on the 135-acre parks.
It is one of the most popular beaches in the neighborhood, and I've only had a few chances to photograph its tranquility because it's often packed.
Many people are unaware that the beach was the first stop for new settlers in 1851 when Chief Seattle met them. On the pilings of Duwamish Head in 1907, Looff created an amusement park.
There are numerous benches and seating spaces where visitors can relax and take in the scenery. Trees give shade as you enjoy a fantastic picnic or whatever else you choose to do.
I have fond memories of this location. I've spent nights and days here. In the park, although not on the beach, dogs are allowed. They are always friendly individuals.
3. Seattle Center
Initially built for the 1962 World Fair, the 74-acre Seattle Center is a park, arts, and entertainment center. Though it contains many attractions, it is most famous for The Space Needle.
I enjoyed the International Fountain, which is hidden or concealed north of the Space Needle to most tourists. It's a large, open fountain where folks can wade in and see how the spray nozzles are assembled, Bellagio-style, to music.
Beware that some nozzles are far more potent than others. Other venues I've explored in the past include the Chihuly glass museum.
There are also plenty of halls for events and exhibitions. The grounds are well-maintained and perfectly functional, even though they're almost 60 years old.
Don't forget to check out all the sculptures throughout the campus. So get a pleasant stroll in while you're already here for the Space Needle or something else.
4. Lake Union
Lake Union is a freshwater lake wholly within the municipal limits of Seattle, Washington. Gas Works Park, a popular venue for summer concerts and Seattle's huge Fourth of July fireworks spectacular, is located on the lake.
It is a gorgeous, predominantly freshwater lake that offers countless recreational options to anyone who lives near its shores and spectacular views for those who do. On a lovely day like the one I recently visited, many people will be boating, kayaking, paddleboarding, or simply relaxing at parks all along the lake.
Many places along the lake, such as Lake Union Park on the south end, allow you to jump right in and swim. While there isn't a continuous, designated route around the perimeter, you can get a good walk or run-in by weaving your way around the neighborhood's sidewalks and footpaths.
Of course, the floating home from "Sleepless in Seattle" is located on the western coast. If you're paddling or boating by, you might be able to see it from a distance.
Overall, Lake Union is one of Seattle's many attractive features.
5. Discovery Park
Discovery Park, with 534 acres, is Seattle's largest public park. The park sits on Magnolia Bluff, offers views of the Cascade and Olympic Mountain ranges, and overlooks Puget Sound.
When looking at a map of Seattle, I've always believed it looks like an X-ray of a knee joint, with Ballard on the north, Magnolia, Queen Anne, and Lake Union on the south, all divided by the Lake Washington ship channel.
The western end, or "point," of the southern side of this "knee joint" is occupied by Discovery Park. It's so big that it's difficult to see everything simultaneously, including the paths, beaches, recreational spaces, and an old lighthouse.
While exploring the region, I came across the Daybreak Star Cultural Center, home to a non-profit that helps Native Americans in the Seattle area. You can appreciate paintings, carvings, and other forms of artwork from the exterior of the building, although the interior is not accessible to the general public.
6. Seattle Bites Food Tours
With Seattle Bites Food Tours, you can sample food from all over the city to get a sense of what the culinary world of Seattle has to offer. A visit to Pike Place Market is one of the tour's highlights.
It was a fantastic way to see Pike Place Market. The meeting location was easy to locate, and our tour guide was excellent. He told us anecdotes about the market's and the area's history and information on the delicacies we were sampling and the businesses and individuals who made them.
I've been on a lot of cuisine tours. It's one of my best tours. The experience was well-organized and amusing, and the samples we tried were both copious and tasty.
If you have the time, I recommend adding a Seattle Bites food tour to your plan, and if you live in the region, you should go as well because I'm sure you'll learn something new.
7. Museum of Flight
The Museum of Flight is the world's biggest non-profit, autonomous aviation and space museum! With more than 175 aircraft and spacecraft, tens of thousands of artifacts, millions of rare pictures, dozens of exhibitions and experiences, and a world-class library, the museum and its staff bring the remarkable history of flight.
My initial reaction upon entering this location was that it was pretty extensive. If you want to examine everything in great detail, you will need to devote the entirety of the day to the task. It took us almost 5.5 hours to complete it.
Since coming here, I have gained a lot of knowledge and developed a greater interest in aerospace.
The Airpark, where we were allowed to go inside John F. Kennedy's Air Force One, was my favorite museum section. It is a fantastic opportunity to step inside a significant historic structure.
A word of caution, though, if you don't have the patience to read through everything, this is probably not the right place to go. Boredom would likely come upon you quickly. On the other side, if you are very interested in history or airplanes, you will adore being here.
8. Olympic Sculpture Park
The Olympic Sculpture Park, affiliated with the Seattle Art Museum and open to the public all year, has a stunning collection of outdoor sculptures in various styles and subjects.
There are a few strange and enormous sculptures in this park, one of which is a unique fountain that looks like a water show!
When I initially laid eyes on the sculptures, my initial reaction was that they were pretty attractive. When I first saw some of them, I was perplexed since I had no idea what they were or why a random silver tree sculpture was there.
Another feature I liked about this park is that it provides a fantastic view of the Puget Sound and allows you to get closer to it because it is adjacent to a beach. Pocket Beach appears to be a section of the Olympic Sculpture Park.
Because of the cool water display that suddenly stops and starts, my favorite sculpture here was the "Father & Son Fountain." This sculpture park's uniqueness appealed to me!
Since the water seems exceptionally clear and shallow here, the sea is very tranquil compared to other ocean sites I've visited.
This park is one I'd suggest! The sculptures were entertaining to look at, and it was entertaining to speculate on each. Having a fantastic view of Puget Sound when I was at this park was also quite pleasant.
9. Savor Seattle Food Tours
On the Savor Seattle Food walking tour, you will discover the best-kept culinary secrets in the area. Learn the area's history while eating fresh, local food. The adventure length, the meal pairings, and the topics covered all vary. There is also the option of holding private events.
When you first get there, you meet at a comedy theater. Chairs were set up inside, which helped us mix and mingle with the people in our group.
Restaurant after restaurant, we were presented a little history and what it brings to Pike Place. From donuts to chowder, mac, and cheese, the Savor Seattle Food Tours does nothing but make you want to stay in the city forever.
I enjoyed a taste of many of Pike's Place's famous shops. Many had long lines, none of which we had to wait in. It was also good to get a sampling as there is so much to offer, and we wouldn't even know where to begin.
10. Seattle Public Library
The Seattle Public Library is a remarkable piece of architecture because it has eleven stories and more than 362,000 square feet. The library provides patrons with a wide range of resources, including books, computers, and databases, amongst other things.
It is, without a doubt, one of the most stunning contemporary libraries that I have ever had the pleasure of visiting. Both the interior and outside are incredible.
The neon yellow walls by the escalator weren't my cup of tea, but other than that, I don't have any more constructive criticism to offer. The inside is spotless in every respect.
I truly wish that my city had a library like this one. They made it simple for individuals to find anything they were looking for, which is another incredible thing. If I find myself in Seattle again, I want to pay another visit to this establishment.
11. Green Lake Park
There is a good reason why Green Lake Park is such a well-liked tourist destination in Seattle. Running, cycling, rollerblading, walking, fishing, or paddleboarding are just some of the activities available to people of all ages and abilities.
The possible activities to get fit include rowing, basketball, soccer, tennis, spike ball, and yoga.
You can also rent equipment to use while on the water. When I need to clear my head and get some exercise while taking in a beautiful and relaxing vista, I adore coming here.
The lake has an approximately 2.8 miles long loop, and many piers circle the lake. The circle is designed to only run in one direction and is divided up into parts into two sections by pedestrians and cyclists. In addition, there are a lot of spots where you can have a picnic or sit and rest.
So, I recommend this park as well when you're in Seattle.
12. Lincoln Park
Lincoln Park is the principal multi-use park in West Seattle, and it features a variety of family-friendly activities. It has a hundred acres inside and is likely the largest waterfront park in West Seattle.
Even though most of the location contains natural space, there is still enough room for recreational activities like walking, biking, picnicking, swimming, and even boating (without motors).
The park also offers a plethora of walkways, which you can use to explore the park's pristine shoreline and wooded areas.
The bluff walk travels through the park in a forested environment and offers views of the sound. It relates to other paths that lead to the shore, where one can continue their walk at various points along its length. The views of the sound, the islands, and the ferry traffic are spectacular.
Thank you for reading my list of the most amazing things you can do in Seattle if you don't have a car.
Have you ever been to the City of Seattle? What was the most exciting experience you've ever had? What did I overlook? Please leave a comment below sharing your ideas with everyone else!