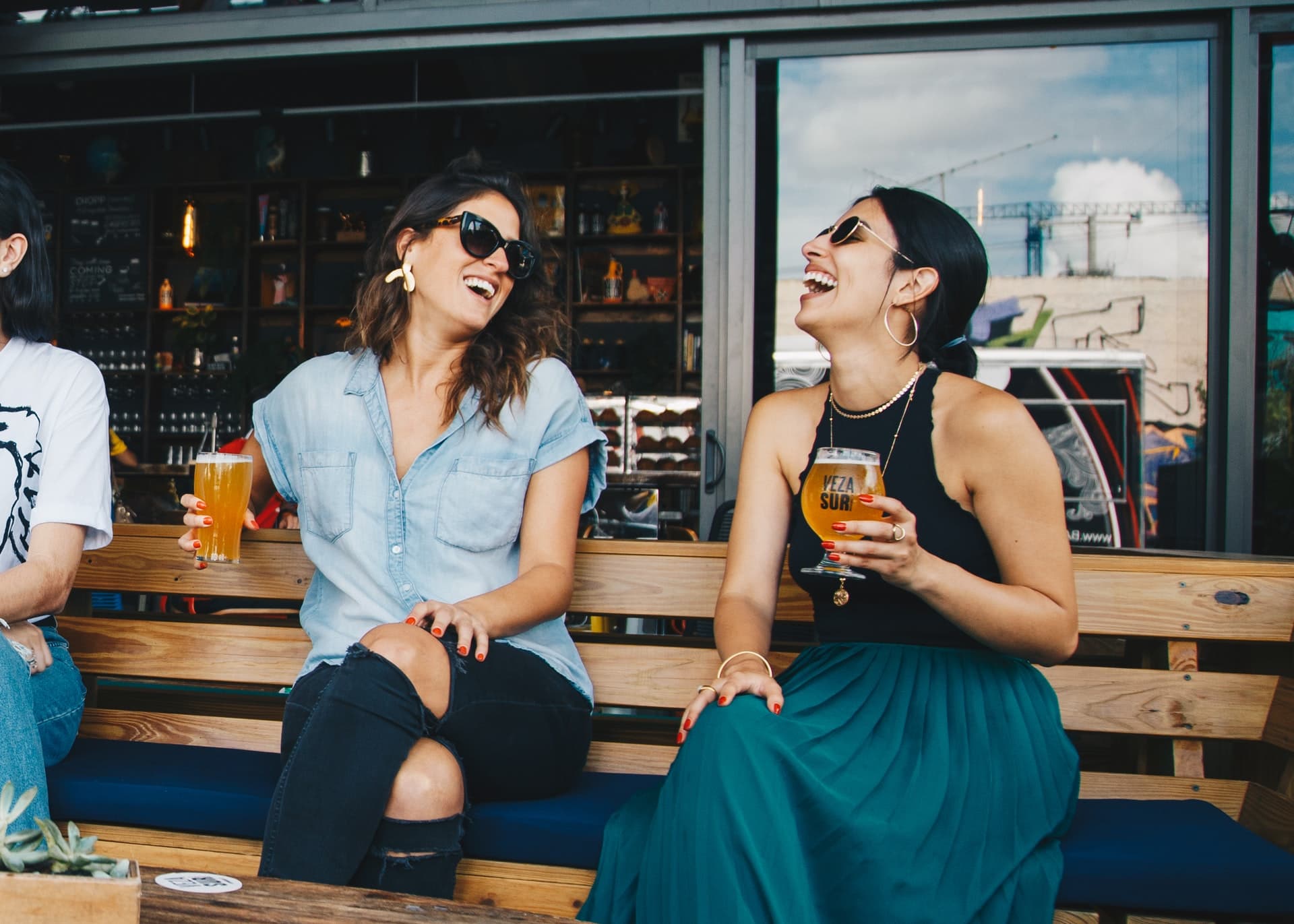 Visiting a Muslim country is different. It is way more conservative than any other country in the world. There are some restrictions that you need to abide by in order not to offend locals and Muslims.
Muslims strictly follow the Quran, their holy book. According to the Quran, alcohol is considered haram, prohibited or sinful. Most Muslims usually obey this rule. You will not see them openly drink alcohol in public. It is way stricter in ultra-conservative Muslim countries as well.
Morocco is more of a liberal country compared to other Muslim nations. Drinking alcohol in Morocco is legal. The alcohol consumption is allowed in a very discreet way. Tourists can drink in licensed hotels, bars, and restaurants in the country. Alcohol is available in supermarkets as well.
Yet, it would be best if you kept in mind that it is still a Muslim country. Alcohol is well-regulated in Morocco, where individual sections are separated solely for liquor. It is far away from the leading supermarket proper. Purchasing outside these sections may send you to jail once you get caught.
Again, you can legally drink alcohol in Morroco. It is still essential to be mindful of the rules about its consumption. After all, you must follow government regulations in a foreign country at all times.
Is alcohol expensive in Morocco?
While drinking alcohol in Morocco is legal, it comes at a higher price tag. Alcohol consumption is well-regulated in Morocco, as well as its price. Being a cafe culture more than a drinking culture, it is way expensive to drink alcohol here.
Alcohol in Morocco is expensive and heavily taxed compared to other countries in Europe or even in the Middle East. Buying a 25cl domestic beer will already cost you $4.30 in a Moroccon bar, and a Casablanca will cost around $7.30. Imported drinks are pricey as well. A small bottle of Heineken, for instance, costs $5 already.
The drinking culture in Morocco comes at a higher price tag, and it is very much regulated in certain areas. Of course, alcohol in the country is not available everywhere. It is not available anytime as well. There are certain places and times that you can drink alcohol freely in Morocco.
You can access alcohol in big cities, especially in hotels, bars and restaurants. Yet, alcohol in these places is way more expensive. If you want to buy a drink at a lower price, you can do so in supermarkets. Ask around as there is an alcohol section in Morocco separately. Alcohol shops are open until 8 pm as well. So, don't look for available free markets to buy a drink beyond that time.
Even though alcohol is allowed in the country, only licensed ones are permitted to sell. You cannot openly drink alcohol in public areas. Even licensed bars and hotels have spots where people can drink alcohol. They are usually strategically located in rooms without windows. The public eye cannot see those who are drinking any liquor.
Alcohol during Ramadan can still be legally consumed. Of course, people practicing the Islam religion are strictly prohibited. Tourists are allowed. If you are a foreigner wanting to drink during this time of the year, you can do so. There are bars and shops in Morroco that serve drinks even during Ramadan. Yet, you need to present your passport with a non-Muslim name on it before you get to buy a drink.
What alcohol do Moroccans drink?
Even though the drinking culture in Morocco is not massive, you can still enjoy drinking hour. Of course, imported liquors are way more costly than those locally produced.
Yes, Morocco has its own locally produced drinks that entice both locals and tourists. Beer and wine in the country are being produced domestically. Those locally produced are the favourite ones in the country. They have different types of wines and beer as well.
People in Morocco occasionally drink alcohol. Domestically produced wines and beers are often the preferred alcohol of Moroccans. Popular local beers in Morocco are the Casablanca, Stork and Flag Speciale. Wines are also available in Morocco. Mahia is a local drink in Morocco that is made from figs. It is a clear liquor that is traditionally made by the Jewish settlers in Morocco.
Vodka and whiskey are the best options if you like hard spirits. They are way more expensive than the local ones, of course. So, here is the list of beer and wines which you can find in Morocco for a drink:
Flag Special

It is considered the most favourite beer in Morocco since 1973. It comes in different sizes like 25cl, 33 cl and 50 cl. The regular bottle is priced at $1.5.

Flag Special Gold

The Flag Special Gold is the preferred drink during summers. You will see bottles of Flag Special Gold in the alcohol sections of supermarkets in Summer. Some people would choose the gold variant than the original Flag Special.

Flag Pils

The Flag Pils is the only Moroccan liquor that comes in a specific 33cl bottle and 50cl cans. It is almost the same with Flag Special as well.

Stork Premiere

If you want the cheapest drink, you can get it in Morocco. The Stork Premiere is the right pick. It is also available in cheap local bars at a very reasonable price.

Casablanca

Casablanca is the most popular beer in the country. The liquor was created in 1996 for export only. Yet, it became locally accessible in the country and turned out to be a people's favourite.

Cuvée du Cabernet President

Wine is also available in Morocco. The Cuvée du Cabernet President is a famous cheap local wine among the locals. Yet, there are several wines that you can try as well, like the Bonassia and La Cuvée du Terroir.
Wine in Morocco is different from other wines that you usually drink. Instead of white or red wine, you will often encounter a grey wine tasting. It becomes interesting. The grey wine is a type of wine that is domestically produced in the country.
Vineyards are also present in the country. You can visit Domaine du Val d'Argan that produces excellent wine as well. Yet, some wines produced by local vineyards in Morocco are only for export. You will not see them being sold in Moroccan supermarkets.
Is alcohol illegal in Marrakesh?
Marrakesh is a popular tourist spot in Morocco. It is an imperial city in western Morocco and is considered to be one of the holiest. It is home to mosques, palaces and other gardens as well.
Alcohol consumption is strictly regulated in Morocco. How much more in a Medina like Marrakesh? The Medina, Marrakesh does not have too many pubs or wine bars, unlike other cities in Morocco.
Alcohol is illegal within the walls of Medina in Marrakesh. Drinking alcohol in this area is considered as a sin. Further, it is prohibited to sell alcohol inside the walls of the Medina to prevent people from drinking. Only fancy bars and restaurants can serve alcohol.
Yet, outside the walls of Medina, you can find several cafes that serve alcohol. The Guiliez is one and the Grande Cafe' de La Poste. If you want to have a drink, you can choose these places to buy alcohol. It is more lenient in terms of alcohol consumption in these places than in Medina's walled area. Yet, don't be surprised that the price of alcohol is also skyrocketing.
Where can I buy wine in Marrakesh?
You can buy wine and spirits in different shops in Marrakesh. There are plenty of wine shops in areas like Hivernage area or Guelize. They are outside the walls of Medina in Marrakesh.
Here are the best shops where you can buy wines, spirits and beer in the area:
Nicolas

It is a shop founded in 1822. Nicolas is located in the Hivernage area. You have good staff that can assist you in wine tasting as well. You can have a better pick if you want a good tasting wine in Morocco.

Atelier de Vin

It is located in Guelize outside the Medina. It is in close competition with Nicolas. You can get good advice from their staff as well. They have champagne and other spirits in Atelier de Vin. You can enjoy a wide selection of their wine while choosing the best one that suits your palate.

Carrefour

It is a part of the famous French supermarket food chain in Marrakesh. You can have cheese and bread that can go along with your wine. You can have a wine tasting yourself without assistance from the staff.

Acima

The Acima is located in Guliez in two of its supermarkets. You can have a wide selection of wines where you can choose and buy. Yet, compared to other wine shops or Carrefour, wine and spirits here are limited.

Label'Vie

It is another alcohol shop inside a supermarket. There is a variety of wine, beer and spirits here as well. If you stay in a hotel and want a drink or two, you can easily access Label'Vie.
What is Berber whiskey in Morocco?
Of course, Muslims are not allowed to drink alcohol based on the Quran. Cafe culture is more prevalent in the country than drinking culture. There are restrictions on drinking alcohol in the country. Thus Moroccans prefer caffeine.
Caffeine and tea are preferable in Morocco than alcohol. The Berber whiskey is considered the national drink of Morocco. Moroccan tea or the Berber whiskey celebrates hospitality and tradition among the people.
It came from the word 'uisge beatha' that translates to 'water of life'. The drink itself is a concoction of tea and mint brewed along with sugar to taste. Berber whiskey is an all-day drink in Morocco. Locals will drink it from sunrise until sunset. It elevated the tea culture in the country, as people preferred to drink it after meals.
It is a symbol of hospitality where visitors served with Berber whiskey when they visit. Since it advances the tea culture in the country, it is usually ritualistic as well. There are varying ways to prepare Berber whiskey based on respective family traditions. Some will not bring the tea to a boil, while others prefer a top spot. Depending on the level of bitterness they want, methods are often customized.
Morocco may be a Muslim country, yet alcohol culture is still present. It is a misconception, of course, that drinking is illegal in the country. The government of Morocco, of course, has more relaxed rules compared to the locals.
You do not need to worry. You can drink and enjoy yourself in this country as long as you follow the government rules and regulations. So next time you visit Morocco, have a taste of Flag Special Gold or even the famous Casablanca.
You also have the option to visit vineyards for a good wine tasting. It is up to you how you can enjoy drinking in Morroco while being sensitive to the locals' culture and customs. And, yes, it is legal to drink alcohol in Morocco.