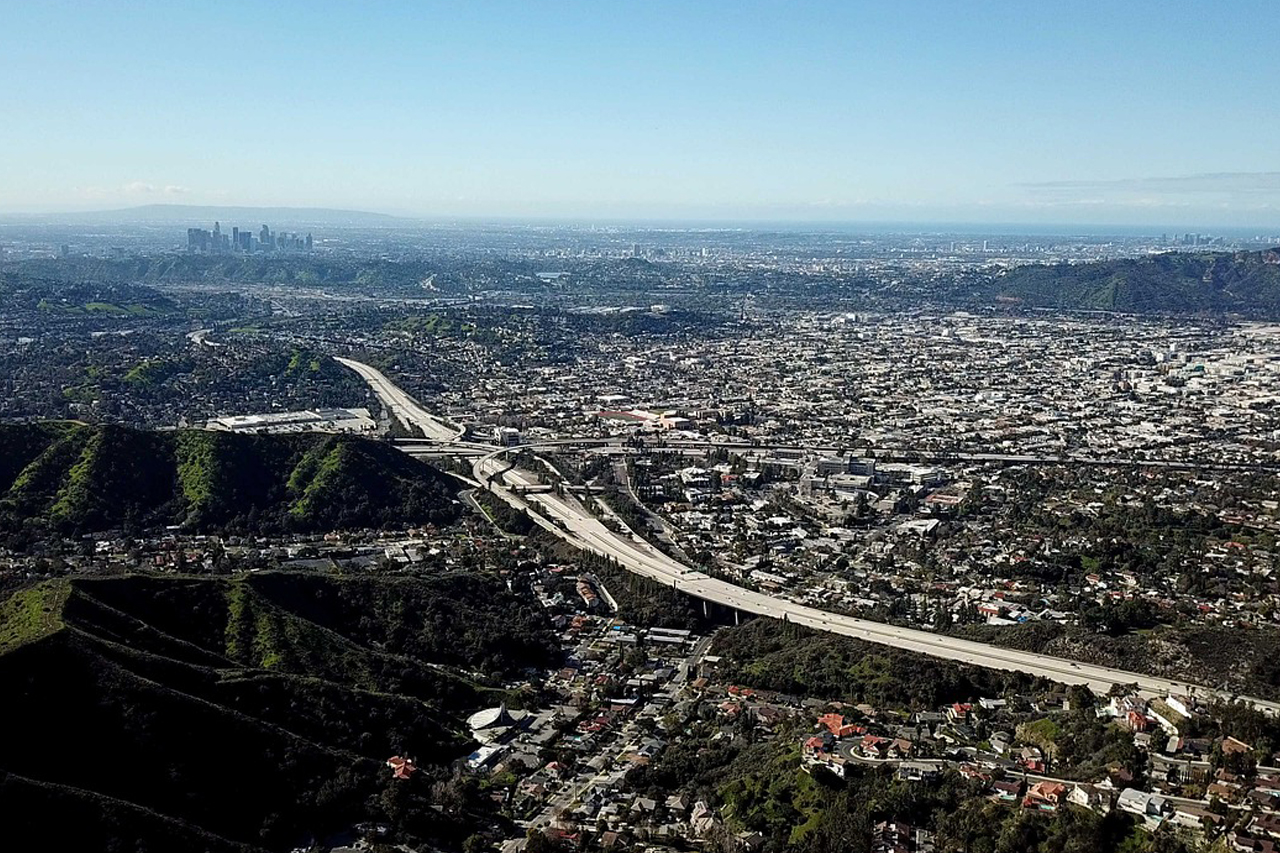 If you are fond of ice cream, you will be surprised that Glendale, California, was home to the largest chain of ice cream parlors globally, Baskin Robbins. Situated an estimated eight miles north of the City of Angels or Los Angeles, Glendale is more than a popular neighbor of this famous city.
Glendale also boasts numerous attractions like other cities located in California. Even locals here don't need a car to run daily errands. Additionally, traversing the metropolis without a car is the least of your worries because of its high bikeable and walkable score. It is also culturally diverse, with 54.5% of the locals being of foreign descent.
My vacation in Glendale is one of the most memorable ones. The city is full of unique things to do that separate it from other cities in America. Thus, based on my vacation here, I have compiled a list of +12 things to do in Glendale without a car.
1. Museum of Neon Art
Founded by Lili Lakich and Richard Jenkins initially in Los Angeles in 1981, the Museum of Neon Art finally found a permanent location in Glendale in 2016. Since its move to Glendale, it has become the city's iconic spot where locals and tourists flock to see and learn everything about the Neon Art.
The Museum of Neon Art is the only one of its kind in the world that devotes exclusively to the art of electric media with outstanding samples of the historic neon signs. For more than three decades, the museum has showcased rotating exhibits of various creations of neon artists worldwide. Classes like Intro to Neon Art are available for anyone interested.
Currently, 183 items compose the Museum of Neon Art's set of collections ranging from artifacts, clocks, and glowing signages. I mainly had my eyes set on the neon sign signature pieces of the Brown Derby and Grauman's Chinese Theatre, which are among the popular ones. Do not miss the chance to visit this iconic spot unique to Glendale.
2. Brand Boulevard
In N Brand Blvd, Glendale, CA, is a historical and currently commercial district called Brand Boulevard. Thanks to its closeness to the Pacific Electric railway line in 1904, the place became the city's epicenter and main thoroughfare. Moreover, it also derived its name from Leslie C. Brand, a local civic supporter, and local entrepreneur.
Brand Boulevard is known for its strong cafe culture and great bookstores for bookworms or book enthusiasts. It offers plenty of retail stores, cafes, bookstores, restaurants, and shops that help you choose the best souvenir.
Exploring Brand Boulevard had me spending more than half of my day because of its endless store selection. Located here is one of the city's registered historical landmarks, the Alex Theatre. Initially established way back in 1925, Alex Theatre's successful restoration in 1993 helped it become the performance arts center known today.
3. Deukmejian Wilderness Park
Situated at 3429 Markridge Rd, Glendale, CA 91214, Deukmejian Wilderness Park is a rugged park with 709 acres of land primarily undisturbed. It has an elevation range of approximately 2,159 to 4,775 feet. In 2009, a vast fire incident almost burned the park to the ground but fortunately did not.
Deukmejian Wilderness Park's Park Center is where you can do most activities such as relaxing, walking, exploring, hiking, picnicking, etc. It is also close to the Glendale Park Ranger Station and the historical facility of Le Mesnager Barn. You can also find various local fauna and flora, including poppies, yellow monkeyflowers, and Canterbury bells.
Visiting the Deukmejian Wilderness Park had me witness one of the scenic views of the Crescenta Valley. Another thing not to miss here is the Le Mesnager Barn facility which depicts a unique example of a two-story vernacular rock building.
4. Doctors House Victorian Museum
Doctors House Victorian Museum is one of Glendale's remaining two Queen Anne-Eastlake Victorian Homes. Historical records reveal that the Victorian home had a roster of about a dozen doctors who occupied the area during its history, which led to its name. Initially constructed in 1888, the house moved to its current location in 1979 to avoid demolition.
Glendale Historical Society has managed the Doctors House Victorian Museum since it faced a demolition threat. Here, you can take a guided tour facilitated by the GHS or rent out the lawn area and pavilion for special events. In the early 1900s, Nell Shipman, a Canadian silent movie star and producer, lived here.
I joined a guided tour in Doctors House Victorian Museum and saw an exhibit dedicated to Nell Shipman. The Victorian house boasts a vintage and gorgeous interior you can't ignore. If the house's history and beautiful architecture excite you, don't forget to visit this site.
5. Raffi's Place
Glendale is notorious for having a large population of residents of Armenian descent. One in four residents in the city are Armenian or even part Armenian. Therefore, eating at an authentic Armenian restaurant like Raffi's Place should be on top of your Glendale Tour bucket list. You can find Raffi's Place at 211 E Broadway, Glendale, CA 91205.
Located near the famous The Americana at Brand, Raffi's Place offers a one-of-a-kind dining experience by combining and serving authentic Middle Eastern and Persian cuisine. Some of the popular dishes served here are skewers and kebabs. It also has indoor and outdoor settings with exemplary service and high-quality ingredients.
It was my first time tasting authentic Mediterranean flavors straight from the culturally diverse Glendale's local restaurant, Raffi's Place. Their Chicken Soltani and Tourshi are my personal favorites, and I don't mind coming back for more of its taste. Thus, Raffi's Place is one of my most suggested restaurants in the city.
6. Din Tai Fung Dumpling House
Another authentic foreign cuisine to include in your itinerary is the Din Tai Fung Dumpling House at 177 Caruso Ave, Glendale, CA 91210. The famous Taiwanese eatery chain was initially a cooking oil company in 1958 but ventured into a steamed dumpling and noodle restaurant chain starting in 1972. Now, it established its flavors in Glendale.
Din Tai Fung Dumpling House achieved a Michelin star rating in 2010 for its Hong Kong branch and earned praise in The New York Times' international publication. Aside from Asian food included on the menu, such as truffle dumplings and potsticker dishes, the Taiwanese restaurant offers Asian-style cocktails like slushies and boba teas.
I treated myself to Chicken Spicy Wontons and Sweet Taro Xiao Long Bao from Din Tai Fung Dumplish House for lunch during my vacation at Glendale. If you love to try authentic Taiwanese cuisine, this restaurant is the place to be.
7. Forest Lawn Memorial Park
A privately-owned cemetery located at 1712 S Glendale Ave, Glendale, CA 91205, Forest Lawn Memorial Park has been operating for over a century as a non-profit cemetery and is an integral part of Southern California. Initially opened in 1906, the iconic memorial park also features a museum and caters to events.
Forest Lawn Memorial Park is where the late A-list Hollywood celebrities, including Michael Jackson, Nat King Cole, Walt Disney, and Carole Lombard, find this their resting place earning the place a moniker, "Glendale's Walk of Fame." Most people travel here to pay homage to their late favorite artists.
You might also want to check out the Forest Lawn Museum. It is home to the Western Hemisphere's two most giant religious artworks: The Last Supper & The Poet's Windows and The Hall of Crucifixion-Resurrection.
8. Glendale Center Theater
Located at 324 N Orange St, Glendale, CA 91203, Glendale Center Theater is a family-owned longest-running weekly operating live theater in the United States. It opened its doors in 1947 by founders Ruth and Nate Hale, who are Salt Lake City actors. The theater was once known as Hale Centre Theatre.
Glendale Center Theater has a 110 seating capacity theater-in-the-round hosting various yearly productions, including classic Broadway musicals, new works, comedies, and a children's theater. Because of the theater's seat design, patrons can sit on all sides of the Glendale Center Theater's stage.
Glendale Center Theater also caters to these if you are looking for a place to hold a party or special events. For those who want to experience what an over 74 years old theater can offer, Glendale Center Theater should be on top of your bucket list.
9. Mignon Chocolate
Great news to chocolate lovers! Mignon Chocolate has been Glendale's best local chocolate shop serving people with sweetness since 1935. Situated at 936 N Brand Blvd, Glendale, CA 91202, this Ukrainian family-owned business initially started in 1910 in Ukraine before opening a branch in Glendale.
Since I love chocolates, visiting Mignon Chocolate feels like a sweet dream. It is one of the city's huge destinations because of its locally unique ingredients and family recipes passed down from one generation to another. Mignon Chocolate is also among Southern California's rare chocolatiers that use local produce.
Among Mignon Chocolate's best sellers that you must not miss are Hot Chocolate BOMB, Dark Chocolate Collection, and Truffle Collection. You can also opt for their Build-Your-Box and freely include your favorite flavors.
10. Roslin Art Gallery
Roslin Art Gallery is one of Glendale's one-of-a-kind galleries showcasing Armenian artists, history, and artworks. Moreover, it seeks to promote Armenian art to the public and to pay homage to the greatest Armenian artist, Toros Roslin. You can find Rosin Art Gallery at 111 W California Ave, Glendale, CA 91203.
If you know only a little bit of information about Armenia, Rosin Art Gallery gives answers to the questions you seek. There are contemporary and classical Armenian art pieces never seen before here. Some of the things that you can expect to see here are art books, greeting cards, jewelry, magnet, posters, bookmarks, and postcards.
I am particularly fascinated by the jewelry pieces on display here in Rosin Art Gallery. You can expect all of their jewelry pieces to be 100% made of sterling silver and are on limited edition; if you are interested in knowing more about Armenia, head on to Rosin Art Gallery as soon as you arrive in Glendale.
11. The Americana at Brand
Located downtown at the heart of Brand Boulevard is The Americana at Brand. It is one of the destinations that made Glendale famous in California. Even people from Los Angeles and neighboring cities come here to dine, shop, eat, and live at this destination powerhouse.
It has 15 acres full of shopping outlets, including 75 diverse shops to visit and a wide array of dining options. The Americana at Brand also boasts a cinema with an enormous seating capacity of 3,000 spectators. Some of the world-famous retail shops you can find here are Forever 21, Barnes and Noble, and Nordstrom.
I had a great time watching a movie at The Americana at Brand's Pacific Cinema. After that, I spent a late afternoon at the open park and entertained myself with the musical shows played every hour. Better not miss the opportunity to explore the shops here at The American at Brand.
12. The Glendale Galleria
Another one of Glendale's shopping areas is The Glendale Galleria, situated at 100 W Broadway Suite 100, Glendale, CA 91210. Operated and owned by Brookfield Properties Retail Group since 2002, they opened The Glendale Galleria intending to create a vibrant and valued surrounding for people that live and work there.
The Glendale Galleria provides over 1.6 million square feet of business and retail space. It is a three-story shopping mall and is among USA's highest grossing. Globally famous brands also have their shops here, like Macy's, Uniqlo, Bloomingdale's, and Zara. Also, various huge restaurant chains are here, such as In-N-Out Burger and Chipotle.
Besides shopping and dining here at The Glendale Galleria, don't forget to check their upcoming events to maximize your experience. If you find it hard to traverse a big shopping center, don't worry because they also have a map ready for download.
Glendale is more than just a neighbor city situated north of LA. It is also a metropolis home to different iconic and unique landmarks that certainly captivates the hearts of tourists and locals.
I appreciate you reading my Glendale travelogue, and I hope my list of things to do helped you decide which places you want to visit soon. Comment down below and engage in conversations with others, starting by letting us know which of the sites above you would love to see the most.