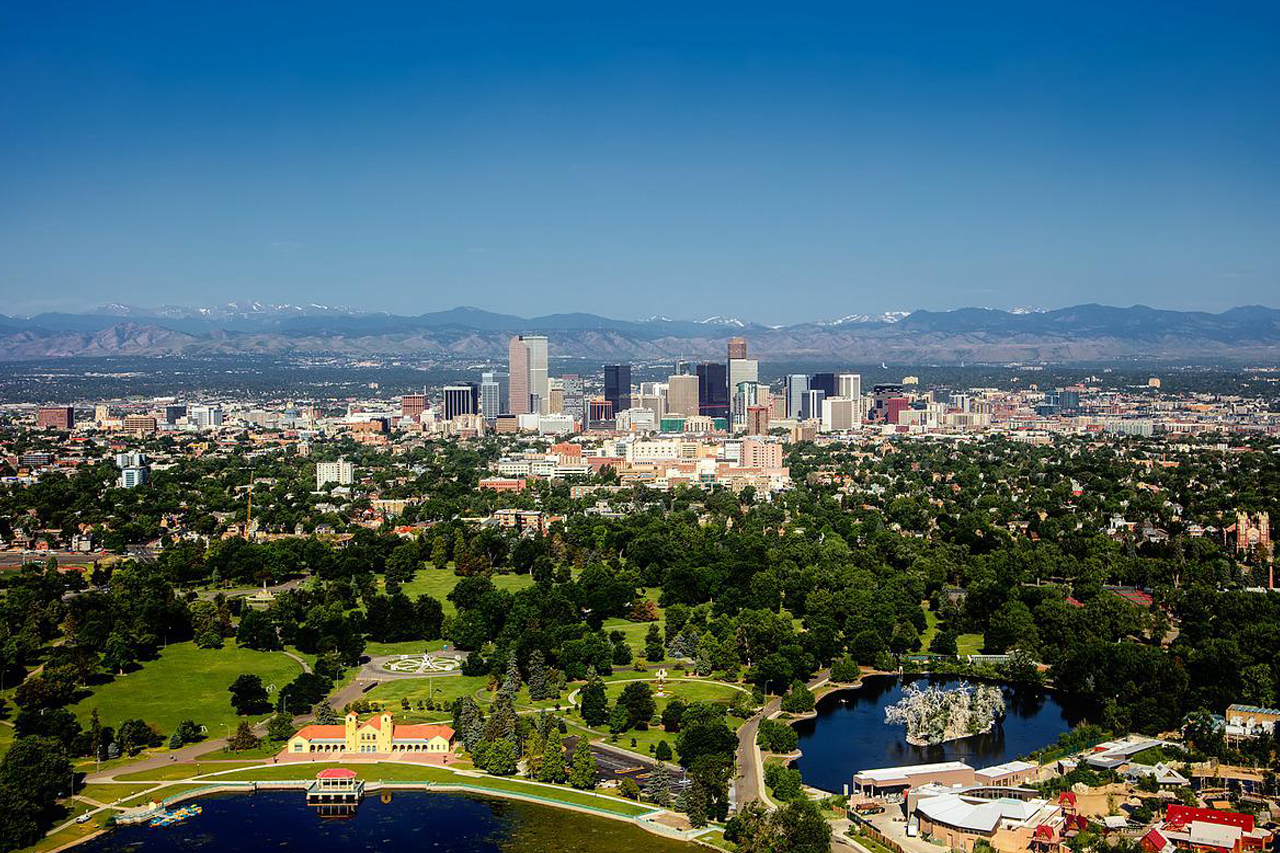 The Mile High City, Denver, has improved its public transportation over the years. Aside from this improvement, the city is also walkable, making it easy to explore without a car.
You will be surprised by the variety of modes of transportation available in the city, such as the light rail network, buses, pedicabs, bikes, tuk-tuks, and horse & carriage.
You can explore and enjoy several popular tourist spots in the Mile High City on foot, like the downtown area, historical buildings, restaurants, etc. After a fascinating vacation in Denver, I think that the metropolis should be on top of everyone's bucket list. Thus, I came up with +12 things to do in Denver without a car.
1. 16th Street Mall
Designed by the late world-known architect I.M. Pei, 16th Street Mall tops the list of the most walkable tourist spot to explore in Denver. Constructed in 1982, the European-style mall offers free mall rides for its visitors. The road is blocked, and you do not need to worry about the vehicles coming back and forth from the vicinity.
Many trees provide shade, so walking under the sun is pleasant. The moment I set foot in the 16th Street Mall, I was in awe of the numerous shops, plazas, fountains, and restaurants. My eyes dazzled when I put my sight on people playing musical instruments and chess in the middle of the street.
Located near the south end of 16th Street Mall is the Denver Pavilions. There are over a dozen restaurants, shops, and movie theaters in this area. Moreover, before moving to the next tourist spot, their Soundwalk is a must-try. I heard various noises emanating from the 16th Street Mall's sidewalk grates.
2. Denver Union Station
About 37 minutes from the Denver International Airport is the Denver Union Station. The original building, Denver Union Depot, opened its doors to the public way back in 1881. However, due to an unfortunate fire incident in 1894, an urgent rebuilding resulted in the new Denver Union Station, 40 feet taller than its initial height.
The 100-year-old Mile High City landmark, Denver Union Station, was once a train station and became the crown jewel and cultural hub. Inside the enormous, beautiful historic building is a roster of comfort food, high-end restaurants, retail stores, and the award-winning Crawford Hotel.
I enjoyed dining in one of the exciting restaurants in the Denver Union Station, the Pigtrain Coffee Co, named after the trains transporting truck trailers on flatbed rail cars. Their iced coffee menu boasts locally roasted Conscious Coffee and espresso, which coffee lovers like me must not miss.
3. Byers-Evans House Museum
Built and owned by William and Elizabeth Byers and then inhabited by the influential Evans family, the Byers-Evans House Museum is a significant historical house that has been home to some of the city's most outstanding women since 1883. In 1990, the house opened its doors as a museum.
The Byers-Evans House Museum underwent two restoration periods, 1912 and 1924. Nowadays, most families' properties are still inside the house and are for visitors to explore and take inspiration. You can see notable items inside the house like Josephine Byers' weaving and leather carvings.
Although the house was eerie for me, it was nice to have a tour guide explain and introduce us to its history. It is not permissible to enter the house without a tour guide since History Colorado currently operates it as the Center for Colorado Women's History.
4. Civic Center Park
Civic Center Park is notably Denver's picturesque green space that is the perfect spot to go for a walk with nature. It is also accessible by light rail or free mall ride. Located at 101 14th Ave., Denver, CO 80204, the park's 100-year history began thanks to the Evans family.
It is Denver's only National Historic Landmark, with 25,000 feet of flower beds blooming in the summer. Everyone can tell that Civic Center Park is the metropolis' downtown urban oasis that lets you enjoy the green space in the middle of the city. It is also ideal for community gatherings where various events happen, including huge festivals, fairs, and concerts.
Visiting Civic Center Park gives a short pause after a long walk in the city streets. The vast area provides plenty of public art collections and beautiful landscapes exclusively found in Denver. Staying for a while in the park renewed my energy after a long trip.
5. Historic LoDo Walking Tour
LoDo or Lower Downtown is among Denver's oldest commercial areas. Even though the site has a sordid past, nothing stops people from exploring the different historical places. However, it can get tricky to traverse LoDo by yourself due to its numerous buildings to discover that you may not want to miss.
Going around LoDo is better with the help of a guided tour. Thanks to the Historic LoDo Walking Tour, tourists were given in-depth information about the beginnings and hidden gems of the area. Several fascinating stories, events, and local hotspots in the 1.5 miles scope of the tour.
Suitable for one and a half hours, I was able to visit historic shops such as the EVOO Marketplace, The Blake Street Vault, The Oxford Hotel, and more. LoDo is a combination of the past, present, and future of the Mile High City that is worth the long walk.
6. Avanti Food and Beverage
Situated at 3200 Pecos Street, Denver, CO, Avanti Food and Beverage is the newly built popular hotspot in town. The new hotspot combines two food concepts: European market-style and food trucks. You can easily access Avanti Food and Beverage by riding a bus through the Denver B-cycle.
Since I love to go on food trips to other cities, Avanti Food and Beverage is a must-visit and highly recommended. There are seven vendors you can choose from and two full-service bars. You can freely walk around the food hall and order as much as you like upstairs and downstairs. The upstairs greets you with an admirable view of downtown Denver.
The most memorable dish for me is from Meta Asian Kitchen. It is a dish inspired by a famous Taiwanese street meal called "Jian Bing." I can't help but savor their delicious brunch dish: Steak & Eggs Jian Bing. Furthermore, Meta Asian Kitchen has been included in the 12 Best Chinese Restaurants list in Denver by Westword.
7. Denver Microbrew Tour
The Denver Microbrew Tour introduces you to one of the city's pride: beer. Denver is known to have one of the best beers worldwide. The world's most brewery-dense neighborhood, RiNo District, is in Denver. Thus, the best way to make the most of your brewery tour is to join the Denver Microbrew Tour.
It is a must to try the beer in the Mile High City. The Denver Microbrew Tour has a new tour located in the infamous RiNo District, where several murals and street arts await you. Breweries included in the RiNo Beer and Graffiti Tour are Our Mutual Friend Brewing, Stem Ciders, Ratio Beerworks, and Epic Brewing.
Aside from beer tasting, I also received a free souvenir tasting glass from Denver Microbrew Tour. The murals and street arts in the RiNo District complete the unique ambiance of the area.
8. Downtown Aquarium
A short bus ride is all you need to arrive at the Downtown Aquarium from the Union Station. Purchased by Landry's Restaurants, Inc. in 2003 as Colorado's Ocean Journey Aquarium and re-opened on July 14, 2005, as Downtown Aquarium, this tourist attraction is the best spot to meet the different marine animals in the city.
You can find over 500 species of animals in Downtown Aquarium. They also boast millions of gallons of diverse underwater exhibits such as the Dive Lounge, Stingray Reef touch tank, Aquarium Restaurant, the Nautilus Ballroom, 4D Theater, and Aquatic Carousel.
I am fascinated with its 4D Theater among its countless exhibits to explore. It is an immersive 15-minute movie experience that changes based on season and holiday. I have watched their Sea Lion 4D movie that touched my heart because of its coming-of-age tale of a sea lion named Ott.
9. Elitch Gardens Amusement Park
Elitch Gardens Amusement Park is more than just an ordinary well-known attraction in Denver. It holds many fond memories for many of its citizens since it opened in 1890. It was also the first of the city's many achievements: the first botanical garden, motion picture, and children's museum.
The amusement park isn't too far from Denver Union Station. It only takes one ride via light rail to arrive at this fun park. Although some rides were closed when I went there, it didn't make the activity less fun. Some rides available in the Elitch Gardens Amusement Park are Tower of Doom, Hollywood & Vine, Brain Drain, Boomerang, and Star Flyer.
All rides were thrilling and fun, which left me laughing and grinning. However, if I were to compare them, I highly recommend the Tower of Doom. This ride shows one of the best views of Denver while getting lifted at the 200-foot top mark.
10. Clyfford Still Museum
Located at 1250 Bannock St, Denver, CO 80204, Clyfford Still Museum opened at the end of 2011. The mission of the establishment is to showcase and promote the artworks of Clyfford Still, one of the most relevant painters of the 20th century. His paintings have striking vibrant colors and abstract shapes.
When I visited Clyfford Still Museum, they had nine galleries full of Clyfford Still's artworks and details of the stories behind his paintings. During the guided tour, there are about 3,125 art pieces to discover and commend. Aside from admiring his works, the museum also offers a hands-on art creation studio and events.
Unlike other museums, I am amazed that they have outdoor terraces you can relax after an hour of touring the museum. A tranquil space where you can absorb all the information about Clyfford's commendable artistry is an excellent approach unique only in this museum.
11. Marco's Coal-Fired Pizzeria
Following a long day in the sun, a coal-fired pizza is a great dish to eat for dinner while in Denver. The pizzeria won Pizza Today's 2015 Independent Pizzeria of the Year years ago, which is quite impressive. You can find Marco's Coal-Fired Pizzeria at 2129 Larimer Street., Denver, CO 80205.
Despite the harsh competition in the pizzeria industry, Marco's Coal-Fired Pizzeria stands out well in the Mile High City. Their thick-crust Sicilian-style pizza differs from its competitors because of the rigorous process they have to follow to allow their dough to get that perfect crunchy golden crust.
I suggest ordering their C.B.D. or "Colori Di Bandiera," an all-time customer favorite pizza. Ingredients of the specialty pizza include rosemary, sausage, marinara, mozzarella, red onion, and pistachio pesto. It's incredible how all the elements blend and create that mind-blowing taste that makes dinner better.
12. Kirkland Museum of Fine & Decorative Art
Kirkland Museum of Fine & Decorative Art is among the metropolis' premium museums. The museum aims to inspire visitors and locals through the beauty of design and art by presenting more than 30,000 works made by over 1,500 artists and designers.
Three significant collections divide paintings according to their period. Currently, some artworks found in the museum are about 150 years old. Meanwhile, there are 4,400 works showcased publicly. More importantly, the works of Colorado's distinguished painter, Vance Kirkland, are publicly available in this museum.
There are various art-inspired gifts inside the Kirkland Museum of Fine & Decorative Art store. All proceeds go towards the museum's mission, exhibitions, and educational initiatives in every purchase. I got mine Vance Kirkland-inspired coasters and notecards that I am happy to bring home as souvenirs for my loved ones.
Exploring the Mile High City doesn't have to cost you a hundred bucks for gasoline, nor renting a car is necessary to enjoy everything the city offers. All you have to do is to look for guides that will help you maximize your time and effort without worrying about how to navigate your way in a foreign city.
It was a pleasure to share my journey in Denver without a car. I hope this has piqued your interest in making that getaway plan and seeing the fantastic tourist attractions in Mile High City. If you have any suggestions for exciting locations to visit in Denver, comment below.