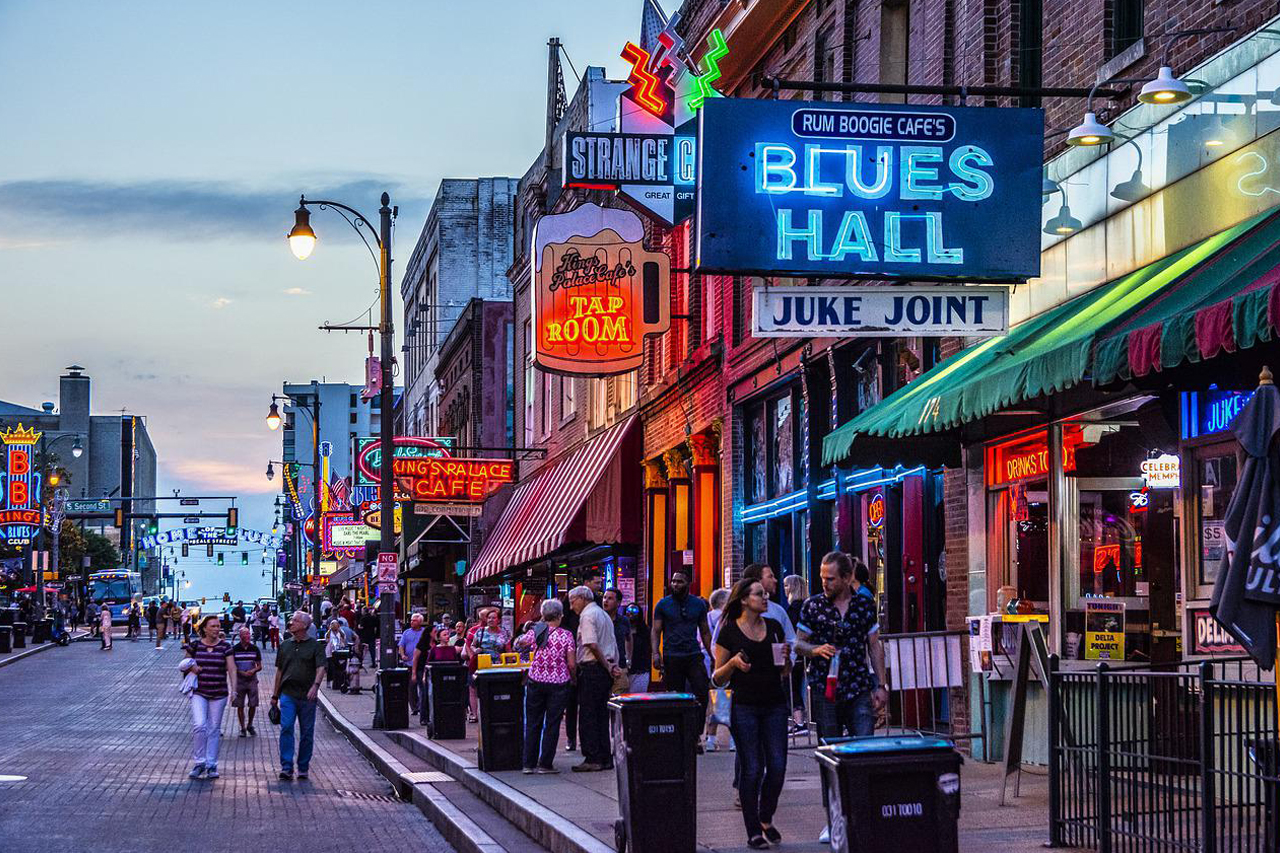 Memphis, located in the bustling state of Tennessee, is the ultimate Home of the Blues and the birthplace of Rock' n' Roll, with a rich musical heritage and barbeque cuisine. While these fantastic finds are the main reason for visiting this destination, there are other ways to enjoy Bluff City.
This metroplex's 304.62 square mile land area in Shelby County and along the Mississippi River spreads a good placement of historical landmarks, dining spaces, and leisure spots that you can reach from its City Center to the not-so-distant neighborhood.
If you are worried about not having a car, the metro bus system can help.
So, unless you take on the challenge of exploring this metropolis, we outlined a selection of the top things to do to make your Memphis vacation memorable.
1. Overton Park Conservancy
Memphis has vast greenery in its space, with over 162 parks and oversees, and one of the most notable is Overton Park Conservancy on Poplar Avenue.
This green space has amenities that everyone, especially children, will enjoy. They have unique playground equipment, such as rope climbing, that is not typical of plastic toys.
Overton Park Conservancy also has extensive trails surrounding it, which I enjoy. Runners and nature enthusiasts, such as I, want the four miles of dirt trails that wind through the 126-acre Old Forest.
The path is easy, and you will feel at one with nature. However, if you are not a fan of trails, the park's formal gardens are ideal for relaxation and scenery.
Most people consider this park an oasis in the city center that is well worth visiting, and I agree. So reserve your top spot for this neighborhood.
2. Graceland
Graceland, the retired residence of music legend Elvis Presley, is one of the must-see iconic mansions.
Undeniably, it is one of the most notable places in America, ranking second only to the White House in terms of guest attendance. The colonial mansion has a distinct style apart from its similar hotspots.
When you enter Graceland, you will notice Elvis Presley memorabilia hanging around the house in various rooms. Aside from the pieces inside the house, you can see Elvis' vintage automobiles and other sizeable items in his backyard.
A fun fact about the place is that it is also the ground where Elvis lies, and visitors flock here to commemorate his significance by decorating and lighting his grave.
It is one of the places you must see in Memphis because of its cultural significance. You did get to see the music legend's mansion.
3. Stax Museum of American Soul Music
Memphis will never be without music, and the Stax Museum of American Soul Music is its pride and joy in celebrating its musical culture and heritage.
This museum, located on the Southside, provides a fun and interactive experience for anyone to appreciate any music genre through notable documentary pieces, video displays, videotapes, and exhibits of the most outstanding musical instruments, pictures, and tracks.
The Stax Museum is around 15 minutes from downtown and is easily accessible for you to visit. Book your tickets online for easy admission.
There is also a small shop where you can purchase t-shirts and other items to complete your museum tour. It takes more than two hours to finish the whole thing. The soul music representation of this zone in Memphis is remarkable and something that you do not want to miss.
4. A. Schwab
If you are looking for a one-of-a-kind tourist attraction on Beale Street, look no further because A. Schwab is the best spot.
This zone is a small, family-owned souvenir shop tucked away in the famous Beale Street's vintage brick storefronts. You can find assorted items here, including the best Memphis-themed gifts and more of which are musical instruments that highly represent the city.
I like how they sell handmade crafts, trinkets, and plenty of bizarre items that you might want to buy just for fun. There is also a vintage soda machine to get a cold drink.
If you want to go on shopping binges and bring home those big bags of candies, A. Schwab is unquestionably the best place to include on your bucket list. It is quirky, fun, and full of items you cannot help but buy.
5. Memphis Zoo
When you hear animal sounds, you will know you have arrived at the right place for the best day travel in Bluff City.
Memphis Zoo is a stunning massive collection with over 3,500 animals housed in hundreds of houses and habitats. It obtained great attention for its well-kept animal shelter and being one of the best zoos in the country.
The most valuable feature of this area is that you can see domesticated animals up close and in their natural environment. You get to visit Komodo Dragons lurking around its "dragon's lair," and if you are brave enough, you might even get a close-up look inside with the assistance of zoo staff.
If you do not appreciate the realm of animals that much but want to do something educational and fun in this area, the Memphis Zoo is unquestionably a worthwhile stop for your day trip.
6. Beale Street
Undoubtedly, Beale Street is Memphis's most vibrant and iconic lane that overlooks the Mississippi River. This bustling neighborhood houses a handful of restaurants, shops, museums, pubs, clubs, and other remarkable spots worthy of your day and night trip.
Beale Street's location allowed its avenues to be a hub of travelers and a large audience coming from people who went in and out of the port long before it became a bustling commercial district.
You will notice the footprints of vintage establishments here over time and museums and other significant stores that continue to make this lane unique.
It's a lovely spot for a day stroll and has a happy hour vibe at night, thanks to the numerous establishments playing loud music. Beale Street is among the top tourist draw in Memphis, and it is well worth a visit.
7. Gus's World Famous Fried Chicken
If you smell chicken, you have arrived at one of the best dining establishments in Downtown Memphis, Tennessee.
On Front Street, Gus's World Famous Fried Chicken is an old-style restaurant that specializes in one thing: Chicken.
I love the old-school vibes of serving here, with a waiting list that still moves quickly and is well worth the wait if it does not.
The spicy chicken with green dried tomatoes is their best seller. If you come in a group, get the snacks with twenty chicken pieces and pair them with beans and slaw for a complete meal. You get a straight deliciousness feeling after the first bite, no joke.
Pies are available for dessert, and you can purchase souvenir cups with free refills here. On occasion, you had to listen to jukebox music. If you happen to get around Memphis, you need to try the delectable chicken brought to you by Gus.
8. South Main Arts District
A few blocks away from the iconic Beale Street, South Main Arts District is another hidden gem.
The property is a vibrant district with gourmet eateries, laid-back bars, microbreweries, and stores selling custom T-shirts and vintage fashion in restored early 1900s warehouses.
The one square mile community is unquestionably a place worth visiting in town where you can see Memphis' best treasures that live up to its name in terms of both music and history.
You need to forward to the annual "Trolley Night," which features free MATA trolley service up and down Main Street (who does not want or need a free ride?), accessible art exhibits, and extended hours for most eateries and shops.
The Blues Hall of Fame is nearby, as the Memphis Farmers Market.
South Main Arts District will undeniably revisit your cultural curiosity and your modern trip to Memphis for shopping and dining galore.
9. Minglewood Hall
On Madison Street, Minglewood Hall, about a mile west of the revitalized Overton Square, will greet you with live music and a small crowd.
This zone allows guests to attend a show and visit a nearby bar for after-hours chill time. When hosting a free-standing event, the entertainment venue can accommodate more than 1,650 people.
They hold private events here, and I attended one in one of the private VIP suites, which is also nicely decorated. They even have boxing matches and MMA fights here that you do not want to miss.
Minglewood Hall has a limited food option too, but you can still get food here or at one of the local restaurants along its lane. Overall, the space is one of the best event venues in town and should be on your list of places to visit.
10. Shelby Farms
Shelby Farms is one of the largest urban granges in the United States and, without a doubt, the most visited and stunningly beautiful place in the country. This magnificent creation stretches for miles across the Tennessee countryside, home to anything because of its rich ecosystem and top-notch environment.
Do you have any thoughts on how big this place is? There are approximately 4,500 acres of green space and 10.65 miles of urban trail. It is a community treasure, and there is plenty to do here, including a play area for kids, hiking and trails, summer camps, and even ample space for your dogs at the dog park.
You can also rent pedal boats and bikes, take a guided lake tour, have cocktails for older people, and do other activities.
Shelby Farms should be on your list of places to visit because of its fun activities and beautiful scenery.
11. Sun Studio
Memphis is the residence of the best rock and roll music of all time, and you can see it on Sun Studio.
The zone is one of the oldest places where famous musical legends documented the world's first rock song in the early 1950s. It nourished the career opportunities of people who became famous names.
Tours are available every hour for those interested in learning about the history of rock music. Among the notable people who have set foot here are the legendary Elvis Presley and the iconic Johnny Cash. You will be able to see vintage musical instruments used by the late B.B. King. And Elvis' microphone.
In addition, if you can't get enough of Sun Studio, you can buy some souvenirs at the vintage shop where you can appreciate its 50s decoration and many memorabilia that will relive more memories.
Memphis's other half is music so does this iconic studio.
12. Central BBQ
Central BBQ is open and grilling on Butler Avenue downtown in Memphis, where smoke is.
This BBQ joint is one-of-a-kind when preparing delightful meats marinated for twenty-four hours and using hickory and pecan woods and their intricate dry rub herbs that make your favorite meal top-notch.
Memphis barbeque in Central BBQ hits differently, so I dine there whenever in town. Some of the necessary menu items on your plate include a slab of ribs, a pork sandwich, and pulled chicken. All sides are also delicious that you keep coming back for more.
It is just minutes away from the National Civil Rights Museum, so you can grab something here before visiting the galleries.
You will never taste something like this in any town in Tennessee, so come here hungry and fill your stomach with Central BBQ's best-selling meats.
13. Arcade Restaurant
Our last stop on this fantastic trip is the oldest cafe in Memphis in the name of Arcade Restaurant.
Speros Zepatos, who immigrated from Cephalonia, Greece, founded the diner in 1919. The original structure was small, and they prepared food on a potbelly stove.
However, the Arcade Restaurant changed as time passed, but the delectable menu remained the same. You will have the best breakfast and lunch meal when you arrive in Memphis. Handcrafted pizzas, large breakfast plates, and a 50's-style interior welcome you as you enter the diner.
The Deep-Fried French Toast was incredible, and the Sweet Potato Pancake was one of the best I have ever had and will be back for more. If you happen to stay here, eat as many meals as possible to fill your stomach with food and your mind with historical information.
The Bluff City encloses all its beautiful finds in its rich cosmopolitan paired with historical importance and musical influence that you can get to without needing a car.
Memphis will give you a big reason why it is one of the best places in the southern United States and a great location in Tennessee.
We enjoy making these top picks for you, and we hope you appreciate our efforts. Leave your words below if you would love to share your experiences, particularly in these places and activities, or if you know of any other fun things to do.
See you on our next adventure!