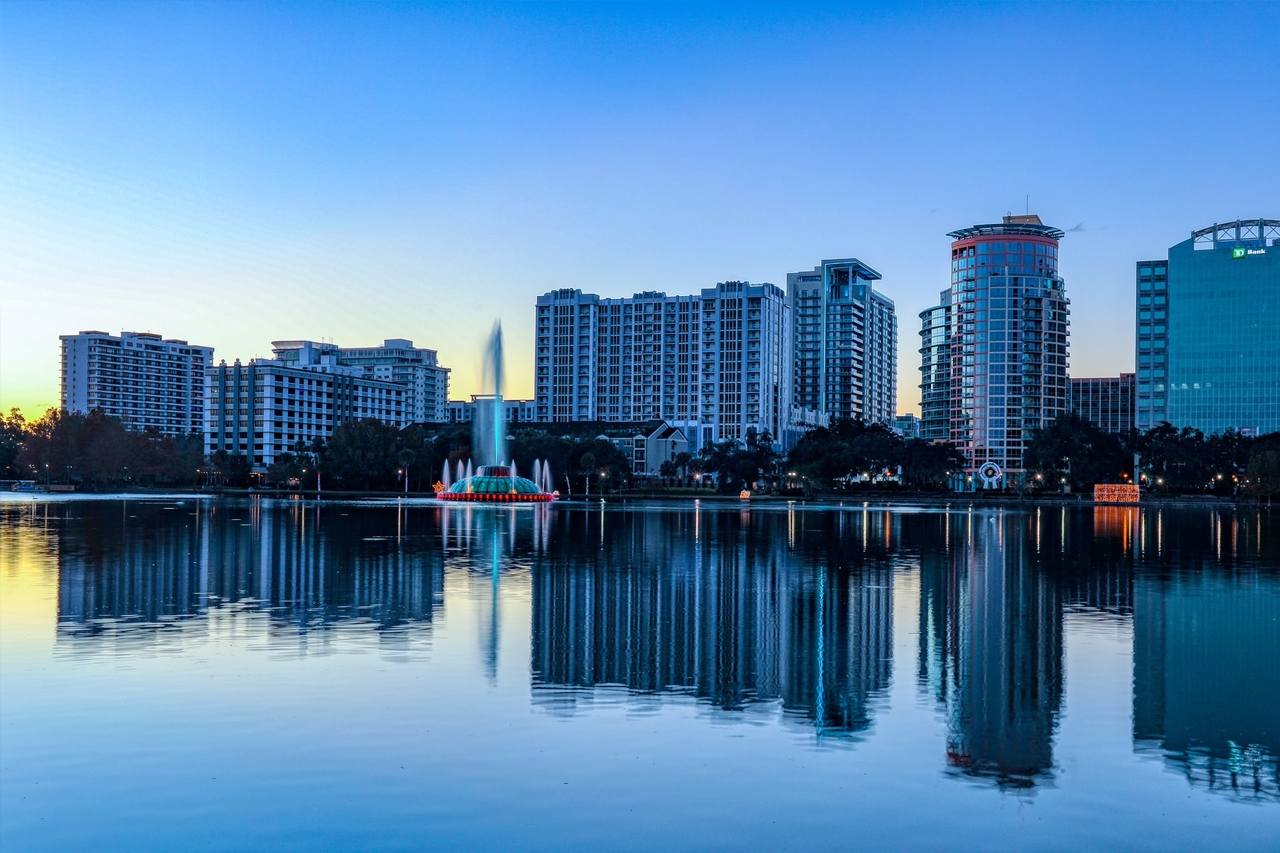 The city of Orlando in Florida is a Mecca for exceptional theme parks.
If you are a fan of theme parks, you should have already heard of Orlando's theme parks. And yes, the city can indulge you in your culinary longings.
But Orlando is more than just the theme parks.
Aside from Walt Disney and Universal, the city is also home to a beautiful garden. It also has a lake, a center for performing arts, and a park that can rival elsewhere.
It is tempting to spend the day in one of these theme parks when in Orlando. Or, to make things easier, you can immediately choose to go to a waterpark. I don't blame you.
Orlando is just that.
But today, I curated 11 of the best places to visit when in Orlando.
The list includes a garden, a park, a lake, and theme parks.
Enjoy!
1. Walt Disney Resort
Who in the world is not familiar with Walt Disney?
When anybody mentions Orlando, the one thing that always comes to mind is Walt Disney. And I cannot blame you.
You can never make a list about Orlando without Disney on it.
For many people, the park is synonymous with the city of Orlando. And this is for a good reason.
Because for many, visiting the Walt Disney Resort is the ultimate thing you should do when in Florida.
The resort has everything that you need. It has hotels, dining, theme parks, and even mini-golf courses. The resort also has water parks and everything that you could ever want.
The resort is constantly adding new lands and rides.
Some of the most notable highlights include Rise of the Resistance at Star Wars: Galaxy's Edge.
You can, of course, do all the other stuff that visitors do when visiting Disney. These include seeing the princesses, looking out for Mickey and Minnie, etc.
2. Universal Orlando Resort
In a different dimension, here we have the Wizarding World of Harry Potter, Transformers, and the Amazing Adventures of Spiderman.
No matter which of them excites you, they are all at the Universal Orlando Resort.
One thing you have to know, however, is that you need to plan your trip.
It is because being in the resort can be overwhelming. It is easy to get lost between rides and parks of Universal Studios Florida.
If not lost, you could be falling in line for a more extended amount of time. The time you lined up for a ride or a show can sometimes be even longer than the ride or show itself.
There is a VIP Universal Experience, though. But it is expensive.
However, should you decide on getting the VIP Universal Experience, you could also reap the benefits.
With the VIP Universal Experience, you get complimentary valet parking, behind-the-scenes tours, and even priority access and reserved seating for some shows.
The VIP option is expensive. But it is worth thinking about.
3.SeaWorld Orlando
Similar to Universal, SeaWorld Orlando also changed the resort in the past few years.
We know SeaWorld in Orlando as an attraction with animal habitats and shows. Recently, the park added several roller coasters for the thrill-seekers.
As of this writing, the famous roller coaster ride is Manta. And this is no ordinary roller coaster since you have to ride it face down.
So, yes, you get to go through all those turns, nosedives, and twists while facedown.
SeaWorld provides its visitors with affordable animal encounter options for animal lovers. This option should be your ultimate chance to be up close and personal with your favorite sea animal.
4. ICON Park
ICON Park is famous for the many restaurants that dot the area.
There are more than 40 restaurants, shops, and entertainment options in this place.
Being here, you can easily see and enjoy rides like the Orlando Starflyer. It is a high-flying swing that is about 450 feet tall.
If the Orlando Starflyer is not your thing, you can go for more relaxed activities.
Why not try touring around the Madame Tussauds Orlando wax museum?
Here, you can see lifelike models of famous personalities. You would most likely see Wonder Woman, Taylor Swift, and even Walt Disney at the wax museum.
As I mentioned earlier, the park has many restaurants and dining areas. And so, when you are hungry, drop by the Sugar Factory. This place offers the best milkshakes and burgers in the whole park.
The park also houses Orlando Eye.
Opened in April of 2015, the 400-foot Eye is the tallest observation wheel. It has 30 air-conditioned capsules that could catapult you to the top, giving you a fantastic view of Orlando.
Suppose you can time your ride a few moments before sunset, do it. It provides the best view you can ever have.
5. Old Town
Step back in history by visiting Old Town.
Old Town shows Florida of many decades ago. It is a re-creation of the state that features shops, several dining options, and an amusement park.
This park is a retro destination and has always been a popular tourist attraction. The attraction is also perfect for day trips. Or if you want to have dinner and go for a stroll, doing it in Old Town is a recommendation I could give.
On some days, there is live entertainment available. There are also shows on other days.
Make sure to check out their calendar before you go.
And by the way, they have a classic car show and drive. It happens every weekend.
Don't miss that out.
6. Lake Eola Park
Relaxing should be the word that is synonymous with Lake Eola Park.
Here, you can easily take a relaxing stroll around the lake. Once done strolling around the lake, you can also take another walk around the park.
The park is a few minutes away from downtown Orlando. You won't miss it if you are in town.
Walking around the lake, you will see picturesque views of the downtown skyline. The walk takes less than a mile and will not tire you out.
You can also rent swan paddle boats and be on the water with the swans if you feel like it.
Also, right inside the park is the Walt Disney Amphitheater. The theater usually hosts movies, performances, and live concerts.
The serene park and the lake are the famous nearby area for runners. Running here makes it easier for runners to keep track of their distances. The sidewalk that surrounds the lake, as mentioned, is about a mile long.
But as I mentioned earlier, the lake and the park are not just for those who stroll or run.
You can enjoy lazy afternoons here with a good book or a picnic basket. Or better yet, you can sit around and do nothing at all.
7. Fun Spot America
Just off the International Drive is another iconic attraction in Orlando, Florida.
Fun Spot America is a park that features some of the world's best go-kart tracks. It is also where you will find the first-ever wooden roller coaster in Orlando.
Compared to other amusement parks in Orlando, Fun Spot America is smaller. And there are perks here in larger theme parks that you cannot find here.
But there is fun in Fun Spot America.
For starters, admission is free. You only get to pay for the attractions that you want to see. There is also a Single Day Pass which allows you access to all the attractions. But if you only want to pay for the rides you choose, ignore the Single Day Pass.
What makes the park interesting is its concern for kids and their welfare.
The park offers a free Chauffeur Pass. The pass allows an adult to go with a child on rides that kids cannot ride alone. And that's enough concern shown here.
Also, I must say that the tickets here are more affordable compared to larger parks.
If you want fun without breaking the bank, Fun Spot America
8. Dr. Phillips Center for the Performing Arts
The Center for Performing Arts is Orlando's perfect spot for live music and Broadway shows.
In the past, shows like Hamilton and several other family-friendly entertainments made their way into the center.
When without live shows, you would easily find the center showing family-friendly flicks like Ferris Bueller's Day Off.
But the most exciting shows are those where you will find the Orlando Philharmonic Orchestra performing.
Here, the orchestra will play the musical score live while you watch the movie.
The Dr. Phillips Center for the Performing Arts is also home to the Orlando Ballet. You will constantly find the Orlando Ballet giving our performances like The Jungle Book and The Nutcracker.
The center sits right at the heart of downtown Orlando. And aside from hosting award-winning productions, the center is also home to different masterclasses.
These events should be the perfect opportunities for creative people to meet up and network. Here, you will find opportunities to interact with those that work on stage productions like actors, crews, and the like. These events are also perfect venues to share ideas.
9. Discovery Cove
Unlike any other amusement park in Orlando, Discovery Cove is a part aquarium and part all-inclusive resort. It is also partly a waterpark.
Such a mix of all three characteristics makes Discovery Cove a popular choice among families on vacation.
Here, the whole family can lounge away, spending the day relaxing in the water. You can also snorkel and spend a few moments with tropical fish.
The one thing you have to put to mind is that Discovery Cove has limited capacity. Remember that all food and drinks here are already included.
Once booked, your ticket will already include everything.
All you need to do is to show up.
10. Harry P. Leu Gardens
If you are looking for an outdoor adventure, look no further.
Here, you get to have the outdoor adventure you are looking for without the Florida swamps.
Harry P. Leu Gardens is a stunning, beautiful, and walkable garden. The area is 50 acres, covered in beautiful flora and fauna, and is only a short drive away from downtown Orlando.
Donated to the city of Orlando in 1961, the garden and historic home are a source of enjoyment for locals and visitors alike.
There are also movie nights in the area. The movie nights are perfect for families and friends.
Aside from movies, you will also find educational seminars here discussing various topics.
The garden started with the efforts of an industrialist, Mr. Leu. he traveled the world, bringing rare plants and seeds back to the park.
The garden of 50 acres boasts tropical and semi-tropical plants. Beautiful landscapes, trickling streams, and meandering trails abound the property.
Completing the picture are oaks that are hundreds of years old, surrounded by a bounty of camellias.
Visit the Tropical Stream Garden and the Leu House Museum when in the area.
11. Legoland Florida
Another favorite destination in Orlando is Legoland, Florida.
And this is something that needs no explanation.
Legoland is one of the top options for day trips when in town.
Here, you will find Legos brought to life with full-size creations throughout the park.
What sets Legoland apart from the other parks is its rides.
The rides here focus on the kids, making it easier for families to maximize all the fun and excitement when at the park.
And with the recent addition to the park, Peppa Pig, I am sure everybody will be excited.
Legoland is constantly adding rides and theme parks. Soon, there will be theme parks for people of all ages.
Also, there is a Legoland Florida Resort where you and your family can book an overnight stay.
The rooms are family-friendly and colorful. Plus, there is a complimentary breakfast buffet for everyone!
—
Orlando, Florida, is more than your usual Walt Disney Resort destination.
There are several other options when in the city. You would have enough opportunities to last you for the whole duration of your vacation. And if you are not able to visit all of them, you can at least have something to look forward to on your next visit.
Orlando has everything you could ever ask for in a city.
It has theme parks, lakes for relaxation, and some educational attractions to feed the mind.
Plus, the food here is delicious.
And so, no matter whether you are 21 or 40, there will always be something for you.
Do you have any other attractions you would like added to the list?
Let me know.