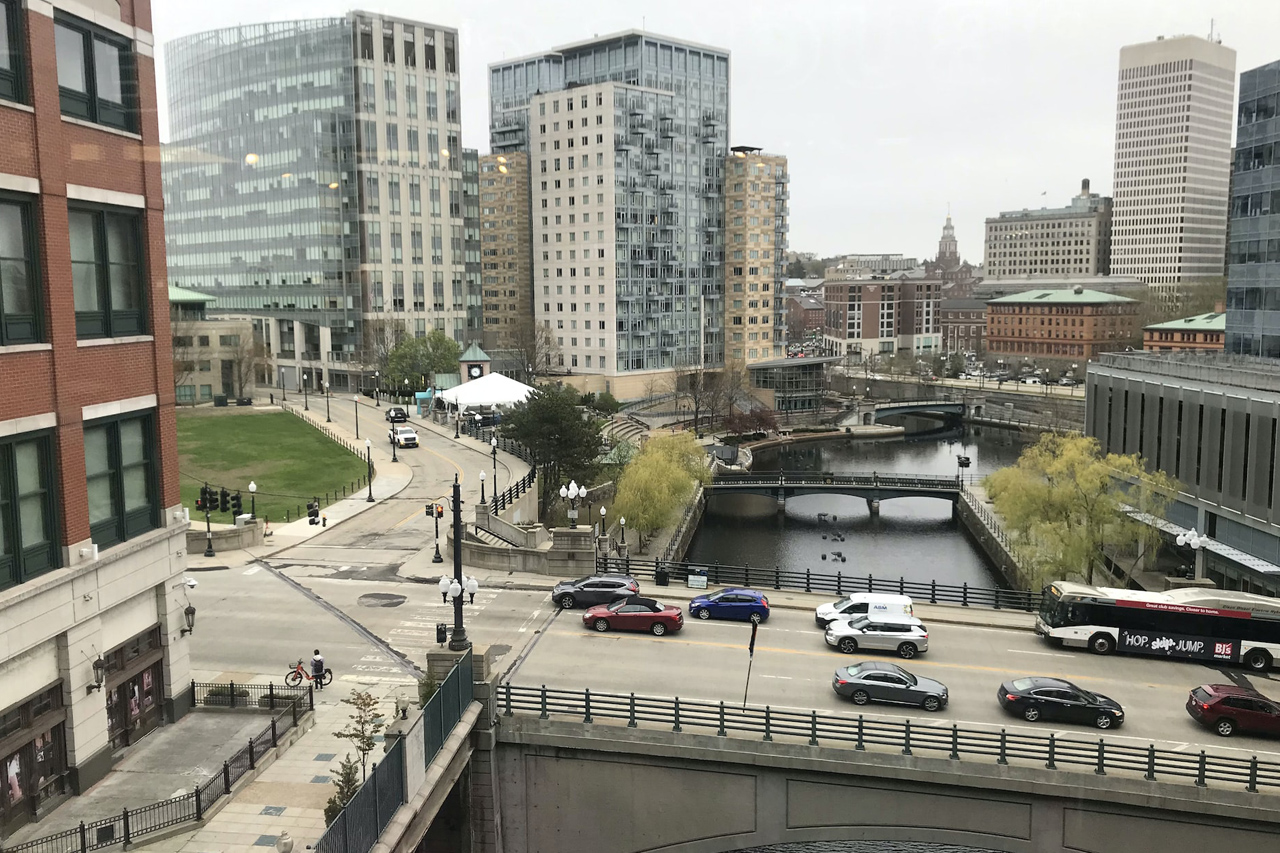 Rhode Island is one of the smallest states in the country. It is also densely populated.
Historically, it is the first state to renounce British rule. It is natural to find that patriotism runs deep in the hearts of many of this small but mighty state.
Rhode Island, nicknamed the Ocean State, is famous for its beautiful sandy shores. Equally popular are its seaside colonial towns, all of which are beautiful.
One of these towns is the capital of the state, Providence.
Established in the 1600s, Providence is one of the oldest cities in the country.
The city brings to the core a quaint New England vibe. It retains the vibe while keeping up with the times.
Providence is a perfect city for you if you are into this type of community.
It is thoughtfully planned. It is an urban city with beautiful infrastructure.
The architecture, while historically significant, are all feasts to the eye.
Is Providence, RI, a good place to live in? Enjoy the Best Beaches in the Region
Providence is a densely-populated city.
Despite the population density, it retained its small-town vibe.
While living here, there are several pros and cons. However, the advantages overshadow the disadvantages.
The city is in a convenient location. It comes with a rich culture and history. Plus, the city is also full of outstanding schools for your kids.
The population density is the sole factor you need to be concerned about.
There might be a slight concern with the cost of living and the increasing poverty rate. However, these are minor considerations.
Overall, Providence is an excellent place for you and your family.
The Good Side
Providence in Rhode Island is full of great things that attract people to move here.
When moving to Providence, you should be prepared for the following.
Providence Schools in Abundance
Providence does not have enough public schools.
However, if you are looking for private schools for your kids, Providence has them.
The city boasts some exceptional private schools. There's Gordon, Lincoln, and Moses Brown as great examples.
In other cities, money and connections always get you into a private school. I am not saying this is true all the time. However, most of the time, we encounter the same concern with schools.
In Providence, there is always room for newcomers.
Plus, the private schools here come with offers of financial aid. And yes, they check your income for you to qualify. Not only that, but they match your expenses, too.
However, if the tuition fees for private schools are too much for you, you can always opt for more affordable options. And yes, these schools are as good as the expensive ones.
You can check out the parochial Bay View Academy.
The Ocean State Montessori is also another decent choice. Finally, you can also go to the Jewish Community Day School.
All of these institutions are amazing. A lot of education takes place here. Not only that, but they also learn about cultural immersion, language, and a lot more.
A K-5 option is the Henry Barnard School. It is a laboratory school at Rhode Island College that brings top-notch private school education. Additionally, it is more affordable than similar items in the city.
However, there is a waitlist here.
Overall, there is no shortage of exceptional schools in Providence. There will always be a school good enough for your kids. You only need to turn up.
Friendly Neighborhoods
Another advantage to moving to Providence is its friendly neighborhoods.
Here, you will surround yourself with friendly suburbs.
The neighborhoods in Providence retain that friendly and small-town vibe. The communities are also diverse and maintain an urban culture.
In Providence, it is common to run into your governor at a local coffee shop. And it's normal.
Also, the city is walkable.
Most people walk as much as they can. And that's healthy.
Beautiful Nature
Rhode Island has some of the best beaches in the region.
The beaches in other states are too cold. In Rhode Island, the beaches are low-key rocky ones.
There are also protected surf beaches like Sand Hill Cove. You can also check out open ocean beaches like Westerly.
Aside from the beaches are well-maintained parks and playgrounds. And for sure, you might have already heard of a zoo in the area.
Unlike other states, driving here is easy. Going to another location is also short.
The location of the city is fantastic. A few miles outside the city, you will see farms where you can do some berry or apple picking. And these activities add to the charm of the town.
Amazing Location
Providence is such a fantastic location that you can easily access almost anything.
To get somewhere, you must drive for about three hours in other major cities.
Here, the longest it takes is about 45 minutes to an hour.
The car can provide convenience. But it is not exactly a necessity. Residents who relocated here from bigger cities realize they do not need a car much.
The city's public transportation system is effective. It is also simple and reasonably priced.
In Providence, they have an Amtrak station.
Amtrak can take you straight to bigger cities like NYC or Washington DC. You can also travel to Philadelphia through Amtrak.
Commuting is easier here.
You can take advantage of the public transportation system for convenience.
Rich in History
Another thing to watch out for is the rich history of Providence.
The city was founded in 1636 and is one of the oldest cities in the country. There are several centuries of rich history that residents here can read about in local libraries.
Providence was a major player in the Revolutionary War. It also played a significant role during the Industrial Revolution.
The city preserves tons of resources to protect its rich history.
If you enjoy history, Providence will win your heart.
You can see a number of historical attractions inside the city. One of these is the John Brown House Museum.
You can also swing by The Stephen Hopkins house or Brown University. Finally, the Swan Point Cemetery is another point of interest you should not miss.
In Providence, you will experience and read about American history in great detail.
The Bad Side
You have to consider several things before you decide to move to Providence.
The city is not perfect.
Here are a few flaws you have to know.
The Quality of Public Schools
If you have noticed, the schools I mentioned earlier are primarily private.
There may be less expensive choices, but they are mainly private institutions.
It is because public schools in Providence have yet to impress.
Many people who move here opt to send their kids to public schools nearby, like Barrington. The public schools in East Greenwich are also more decent.
The standard of the city's public schools needs to be raised if there is anything.
The private schools here are top-notch. But the public schools have yet to prove their worth.
An Increasing Poverty Problem
The average poverty rate in the country is around 10-13%. In Providence, it is higher.
Providence has a poverty rate of 22.98%, and that is an alarming number.
There are under-funded communities in the city. The majority of them are on Providence's south side.
More than half of those who live under the poverty line are people of color.
If there is something that the city government has to look at, it is the increasing poverty rate of Providence.
What is the cost of living in Providence, RI? A Beautiful City with a Higher Cost of Living
Providence's overall cost of living is more expensive than the national average. The overall cost of living here is 5.1% higher.
The Good Side
It's a good thing there are cheaper commodities in Providence.
The cost of healthcare is one of the best advantages you can get here.
Healthcare costs here are cheaper than the national average by 15.6%. And with everything that is happening in the world today, I am sure this is something that you can appreciate.
People now look at health differently. Additionally, we are placing more importance on maintaining our health and having quick access to medical care when necessary.
Surprisingly, the cost of housing is also lower than the national average here.
As of this writing, housing costs are 9% cheaper in Providence than in other American cities. This rating equates to a median home cost of barely US$290,000. The amount is slightly lower than the national average of US$291,700.
If you are moving to Providence, rest assured that you will have more affordable properties.
The Bad Side
The most expensive commodity in Providence is the cost of utilities. Currently, it is 15.5% more expensive than the national average.
Sure, utility costs can be under your control.
You can consume less electricity or opt for a lower internet connection package. However, it can only do so much. Overall, the utility costs in the city are higher than in most of the cities in the country.
Also, the cost of transportation here is more expensive by 11.4% than the national average. The only consolation you get is that the public transportation system is efficient and reliable. At least your money for transport is being put to good use.
However, if you are working in Providence, you can perhaps look into properties near your workplace. That can save you money in terms of transportation costs.
Finally, the other commodity that is also expensive is food and groceries.
Food and groceries are more expensive here by 5.1%. And like the cost of utilities, you can put the price of this commodity into your own hands.
You have control over your grocery budget. However, if you let yourself go and get whatever you want without efficient planning, you can spend more on groceries.
Why work in Providence, RI? Enjoy the Perks of Lower Tax Rates
It is a great decision to come and work in Providence, RI.
The tax rates, a modern airport, and the type of workforce are some of the best reasons why working here is an advantage.
The Good Side
There are so many reasons why Providence is a great place to work. The unemployment rate here may be higher. However, there are several reasons one should be hopeful and continue working here.
Let's discuss.
Easy Access
Rhode Island has one of the best airports in the country.
The T.F. Green Airport in Warwick is one of the most convenient. It is also one of the best. And since the state is minor, working in Providence provides you with easy access to this airport.
With such easy access to airports, you can be hopeful of more companies coming in to invest in the city.
Going to conventions is also easier. All you have to do is to drive a few minutes from home, and you have access to flights going out of the state.
Smart and Creative Workforce
The people in Providence are intelligent and witty.
In the vicinity are Brown University and the Rhode Island School of Design. Because of this, you can easily find people who are more creative and think out of the box.
These types of people can provide you with efficient solutions at work.
You can also get the best workforce if you start working here.
Aside from that, an office of intelligent and creative colleagues will be a good foundation for a healthy work environment.
Tax Rates are Lower
In Providence, the tax rates are lower than the national average.
For example, the average sales tax rate in the country is 7.3%. In Providence, it is slightly lower at 7%. Such a low sales tax rate can equate to more savings from your end.
We are also seeing a lower income tax rate in Providence.
The national average for income tax is 4.6%. In Providence, the income tax rate is only 3.8%. These low tax rates significantly impact your overall cost of living.
The Bad Side
Of course, there will always be a bad side to things.
Here are a few things to watch out for when working in Providence.
A Higher Unemployment Rate
As previously mentioned, the unemployment rate in Providence is higher than the national average.
The U.S. averages 6% when it comes to unemployment rates.
Providence has an unemployment rate of 8.6%.
There is a 2.6% difference, with Providence having more unemployed residents than an average American city.
There was an increase in the job market in the previous year. There is also a prediction of a job market growth of 28.6% in the next ten years. However, this growth rate is lower than the average forecasted growth rate of 33.5%.
A More Expensive Cost of Living
As I mentioned earlier, living here is slightly more expensive than the national average. It is about 5% higher, to be exact.
This rating can have an impact on your salaries and wages.
Before you move to Providence, you have to ensure that you have a job that pays you well. The job should allow you to live a comfortable lifestyle while in Providence.
Of course, Providence is more affordable if you come in from New York or Chicago. But if you are from a smaller metro or city, you might find that the difference in the cost of living can be a bother.
—
In conclusion, the cost of living and the high unemployment rates in Providence are the only factors that should stop you from moving here.
If you get past these factors, Providence is an excellent place to live.
It has the best neighborhoods. It also provides you with several activities to keep you occupied. Plus, the private schools here are some of the best in the country.
Are you moving to Providence soon?
Let me know.